How are you doing today? I'm doing fine, though I am suffering from severe Texas withdrawal. That's what happens when you spend almost two weeks back home and are spoiled by the bounty of good food available in the Lone Star State.
While I do have a few new recipes to share with y'all in the next few weeks, first I thought I'd show you some pictures from my trip, as a few of you kept asking the question, "What do you like to eat when you return home?"
For starters, when I pulled into Austin I was craving barbecue but it was a hot day and after three hours on the road I didn't want to stand in a line outside. Instead, I opted for the air-conditioned comfort of Stiles Switch, where I had a light lunch of brisket, sausage, and ribs.


The next day, I found myself in San Antonio, where the first order of business was some puffy tacos from Ray's Drive In.



The next morning before leaving town, I had a bean and cheese taco and a cactus taco from El Milagrito.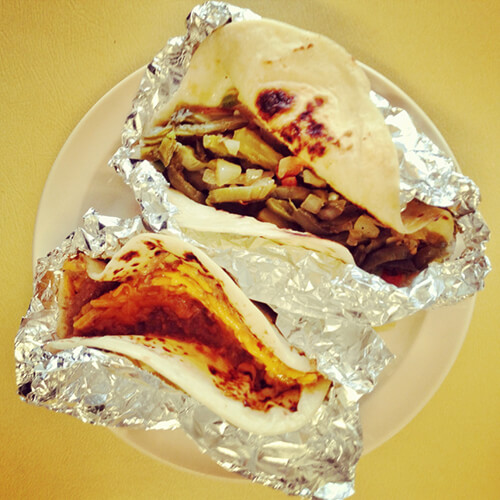 That day was spent mostly on the road, as I had to drive to Alpine, so I didn't eat much but the views were spectacular.


That evening, I decided to see the Alpine Cowboys play the Roswell Invaders. Nothing compares to a minor-league baseball game on a pleasant summer evening.


While the Cowboys ended up losing, I came up a winner as they were serving Frito pies at the ballpark that night.
The next morning, I drove to Marfa for an excellent chorizo and bean burrito with a fiery green chile salsa. Everything was made from scratch and the people were so warm and welcoming you felt as if you were in a dear friend's home.


I had two days to get back to Houston from Alpine, so I decided to spend the night in Laredo on the way. If I told you how many meals I ate in my short time there, you'd be shocked, but the food was so good and I wanted to try everything. While it's hard to choose favorites, this steak Tampiqueña platter from La Carretera was near the top of my list.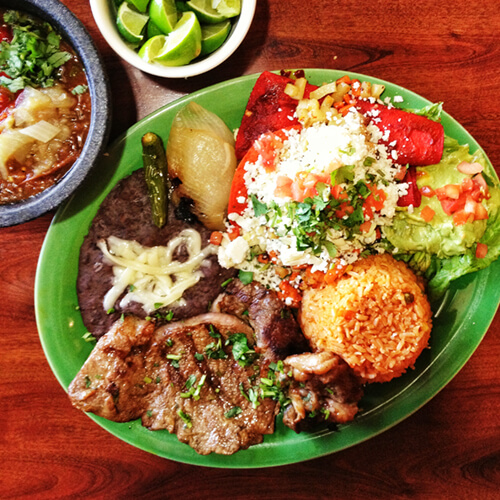 Along the way, I stopped into a couple of grocery stores. At a natural-foods store, I was amused to see Velveeta on the shelf, but not all that surprised with it being Texas and all. Then on a visit to HEB, I spotted many delicious things but these Shiner Bock borracho beans may have been the most exciting new-to-me item on the shelf.


While I could have spent more time grocery shopping, I had to get to Houston so back on the road I went. When I finally arrived, I took a trip down memory lane, enjoying the Mexico City dinner at Molina's, which is comprised of a queso puff, a beef taco, a chalupa, cheese enchiladas, a tamale, guacamole, rice, and beans. For starters, I had their Jose queso dip. I was hungry, so I ate the whole thing.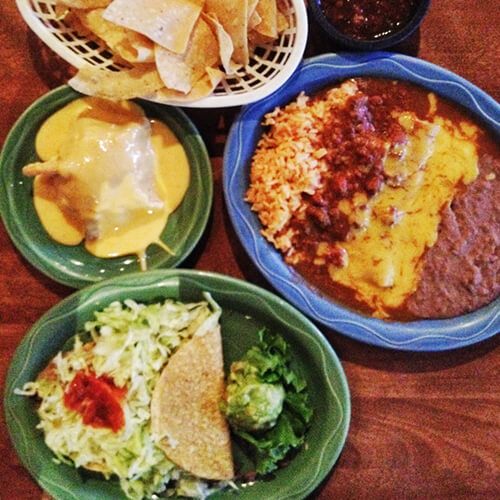 My final meal in Texas was had at Soto's Cantina, my mom's local spot that also happens to serve some of the best Tex-Mex in the Houston area. There I enjoyed my favorite combination, which is a taco al carbon, a chicken enchilada verde, a tamale, rice, and beans.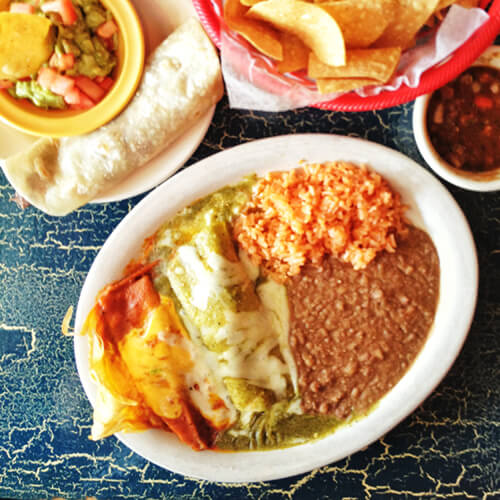 Of course, besides the food, I had a delightful time going to bookstores and meeting some of you at my signings. It was also fun seeing my book in other shops such as Buc-Eees, with their famed Beaver Nuggets just a small stroll away.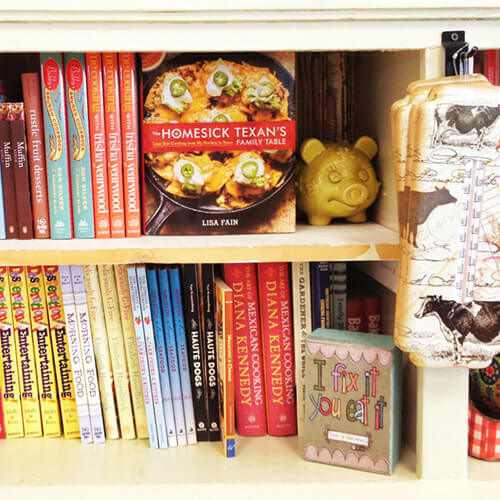 A big thanks to all who helped make my trip to Texas so memorable. You made me feel at home and I look forward to returning again in the fall!