Was October a strange month for y'all? It sure was for me. Every time I turned around, it seemed something had gone awry. Whether it was the computer meltdown we had in Phoenix, my erasing almost 200 photos when I accidentally formatted the wrong memory card, gifts I had ordered being sent to the wrong people, important emails ending up in the junk-mail folder or just the endless games of phone tag I played with my friends, almost nothing I did this month was clear and simple.
Now some people chalked up these bizarre twists and turns in communication to Mercury being retrograde. And my being a Gemini, I was doubly doomed as this planet is my ruler. But I don't believe in that stuff. Not really, anyway. But since Mercury is supposed to un-retrograde soon (I'm not quite sure what a planet going retrograde really means), let's hope that the rest of the year proceeds without too many more hiccups.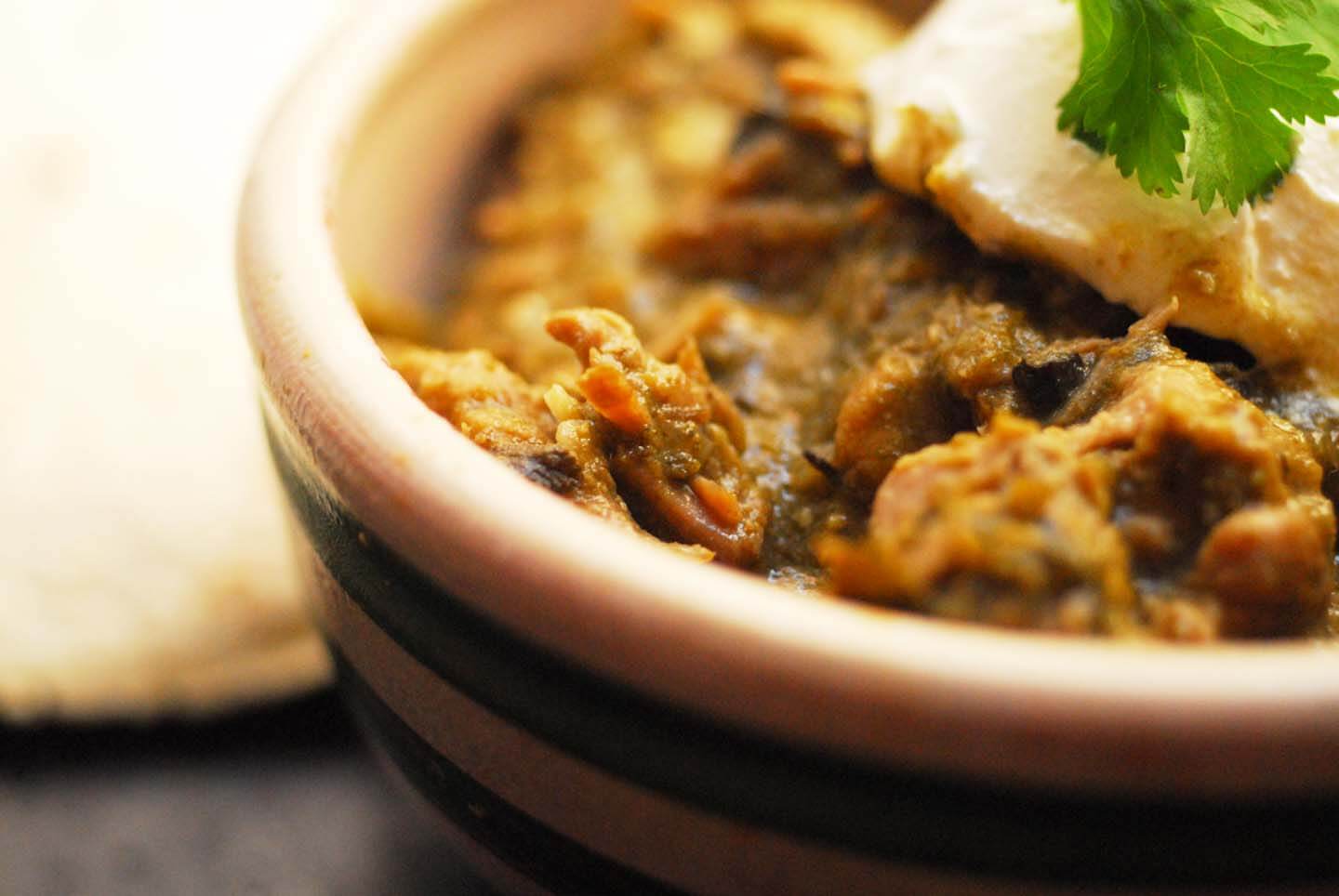 As I've been fiddling with one mishap after another, I'd forgotten that October was National Chili Month, an occasion I'm always eager to celebrate. And now that we have proper jacket-and-scarf weather happening in New York City, spending a few hours at the stove is a welcome prospect. Heck, downright necessary as it can get quite nippy inside my apartment.
Last year I discussed the merits of Texas Red. That will always be my benchmark chili—the one to which all others will be compared. But a few years ago I got it into my head to start making green chili as well. I thought it would be festive, especially around Christmas, to have big bubbling pots of red and green chili side by side. I didn't hail from a green chili tradition, however, so I turned to a friend from New Mexico on how to make it since that state is known for its green chili.
We were at the movies and I didn't have a pen or paper handy, so I asked him what he put in his chili just hoping I'd remember. He told me a list of ingredients and his method, which after watching the film I promptly forgot. No matter, I didn't use a recipe for my red so I reckoned I didn't need one for my green.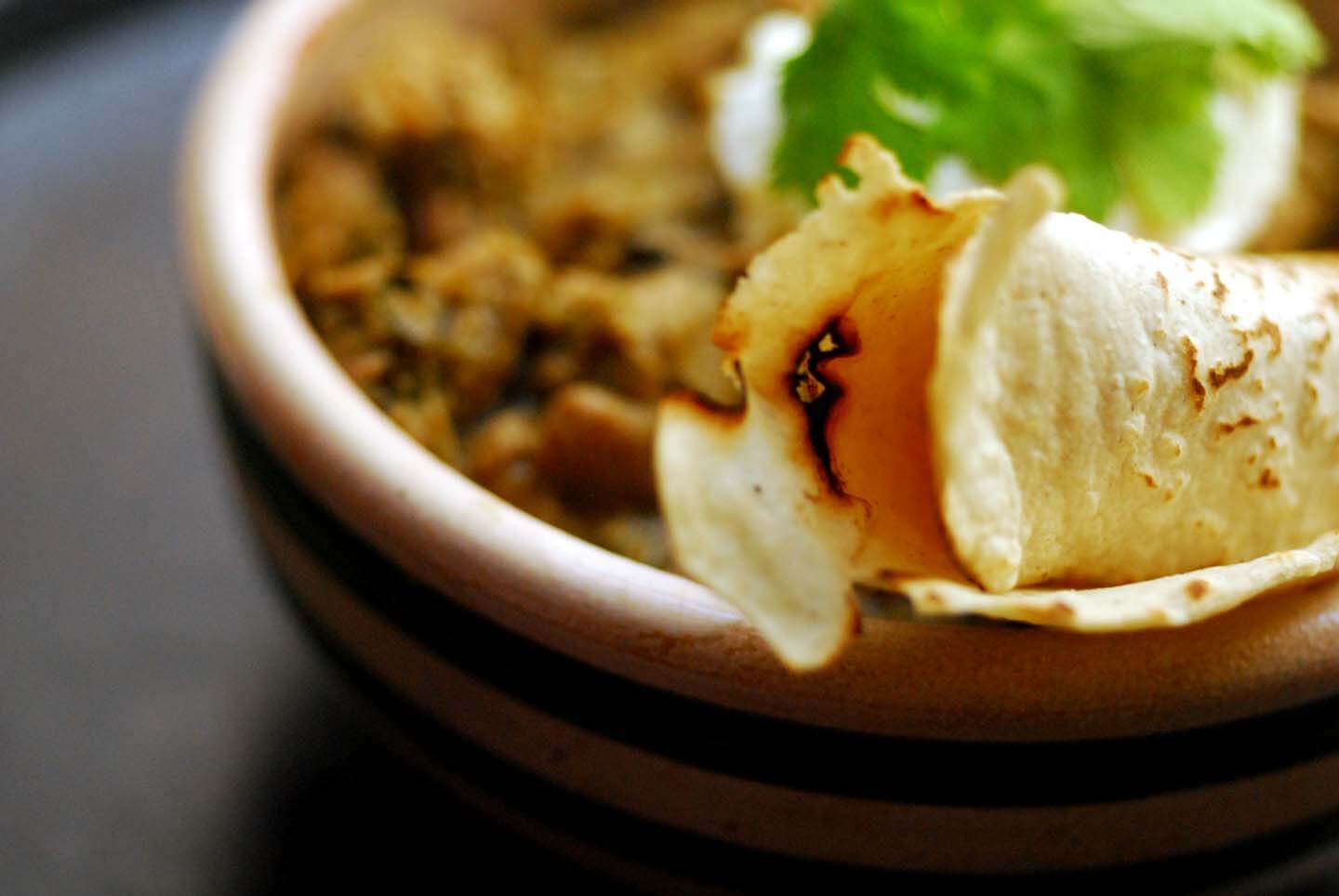 I simmered pounds of chopped pork back with only green chiles (jalapenos, poblanos and serranos) and only green herbs (cilantro and Mexican oregano). I threw in some tomatillos, chicken broth, beer, garlic and onions for good measure, and after a few hours I had a pot of tender pork nestled in a thick, fiery gravy. It wasn't exactly green, but there were enough green spots dotted around the bowl for me to feel triumphant. Plus, the texture was dense, as a good chili should be, but the tomatillos and cilantro added a welcome brightness. I loved it.
Soon after, my New Mexican friends invited me over for dinner. And on the menu was green chili—New Mexican green chili. And while they shared similar ingredients, it was nothing like mine. Where mine had heat, theirs was more subtly spiced. Where mine stuck to the spoon, theirs was more liquid with distinct chunks of meat. Two completely different dishes, and yet both were welcome on a cold night. "I guess I didn't follow your directions very well," I told my friends. They laughed and said it didn't matter, as my version, while essentially wrong could still be considered right.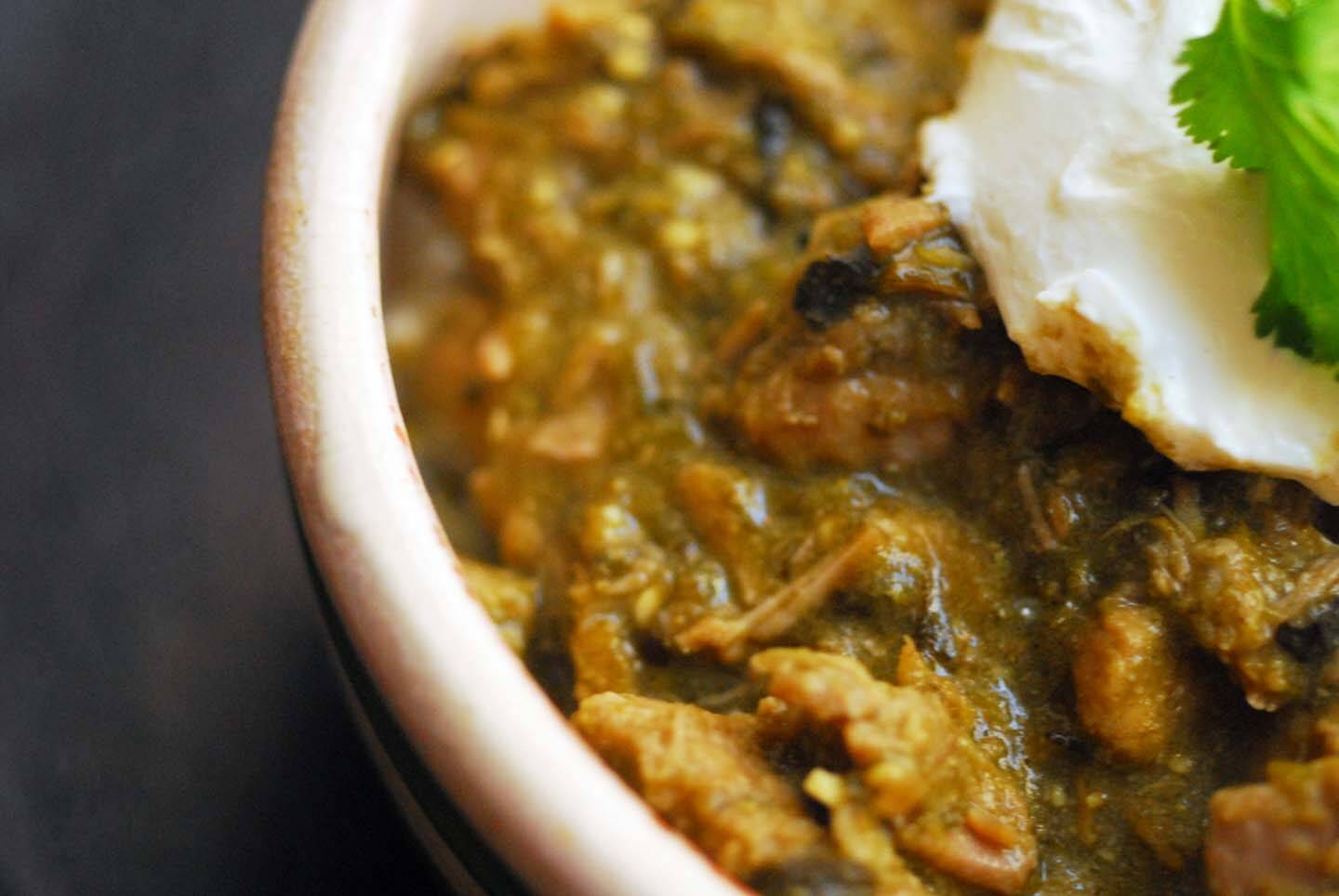 So even if I didn't make green chili the New Mexican way, my green chili is still worthy of the name. And it's also a darn fine pleasure to eat. So in celebration of National Chili Month and in honor of miscommunication I present to you my green chili—proof that sometimes a misunderstanding can lead to something good.
Texas pork green chili
Ingredients
6

poblano peppers

2

tablespoons

bacon grease

Salt and pepper

4

pounds

boneless pork butt, cut into 1-inch cubes

1

medium yellow onion, diced

6

cloves

garlic, minced

4

Serrano chiles, seeded and chopped

4

jalapeños, seeded, stemmed, and chopped

1

pound

tomatillos, husked and chopped

2

cups

chicken broth

1

cup

Mexican lager

2

tablespoons

ground cumin

2

tablespoons

dried oregano

1

cup

chopped cilantro

1/4

cup

masa harina

Sour cream, for serving

Warm tortillas, for serving
Instructions
Roast the poblanos under the broiler for 10 minutes, turning once, or until blackened. Place in a paper bag for about 20 minutes. After this, the skins should come right off. Then seed and dice the peeled poblanos.

In a large soup pot or Dutch oven, heat up 1 tablespoon of the bacon grease on medium-low heat. Lightly salt and pepper the cubed pork and add to the pot, browning on each side, about 2-5 minutes per side. You may have to do this in batches. Once browned, transfer the pork to a large bowl, pouring into the bowl the pan juices. 

Return the pot to the stove and heat up the remaining tablespoon of bacon grease on medium-low heat. Add the onion and cook until translucent, about 5 minutes. Add the garlic and cook for 30 more seconds. 


Return the pork and its juices to the pot, along with the poblano chiles, Serrano chiles, jalapeño chiles, tomatillos, chicken broth, Mexican lager, cumin, oregano, and 1/2 cup of the chopped cilantro. Turn the heat up to high, bring to a boil and then turn the heat down to low and gently simmer uncovered for 2 hours, stirring occasionally and skimming any fat from the surface.

After 2 hours, add the rest of the cilantro and taste and adjust seasonings, adding more if needed. Continue to cook uncovered for another hour to 1 hour or until the pork is tender.


To thicken the chili, on a separate dish, mix the masa harina with some of the chili liquid until a thick paste is formed. Slowly stir this into the chili until it's well incorporate without any lumps. Continue to cook for another 15 minutes. Goes great with sour cream and tortillas.
Notes
You can use fewer Serrano and jalapeño chiles if you want it to be less fiery.