Ancho chile shrimp quesadillas
For me, driving through Texas is therapeutic. Seeing the big sky, the wide-open spaces, the cattle, the trees, and the cacti out my window is always a pleasure—coming from New York, it's always a memory come to life.
Last week, however, another memory returned—that dreadful feeling when you look into your rearview mirror, and see flashing lights from the car behind you. I thought I was being careful, but when I looked at the odometer I saw that I was indeed going a bit too fast. Yep, for the first time in 20 years, I was going to get a speeding ticket.
Pathetic doesn't even begin to describe my pleading with the officer. I explained to him that it was an honest mistake, and that I hadn't meant to go fast. I said that I had a clean record and that surely there were more criminal types out there who deserved a confrontation with the law. As a last, desperate attempt at getting out of the ticket, I told the policeman that I was scared to be driving by myself in such a remote area, and I was in a hurry to return to civilization. Well, he didn't buy any of it (and in hindsight, I'm lucky he didn't haul me to jail). So when he handed me my ticket, I simply said, "Thank you," and bid him goodnight.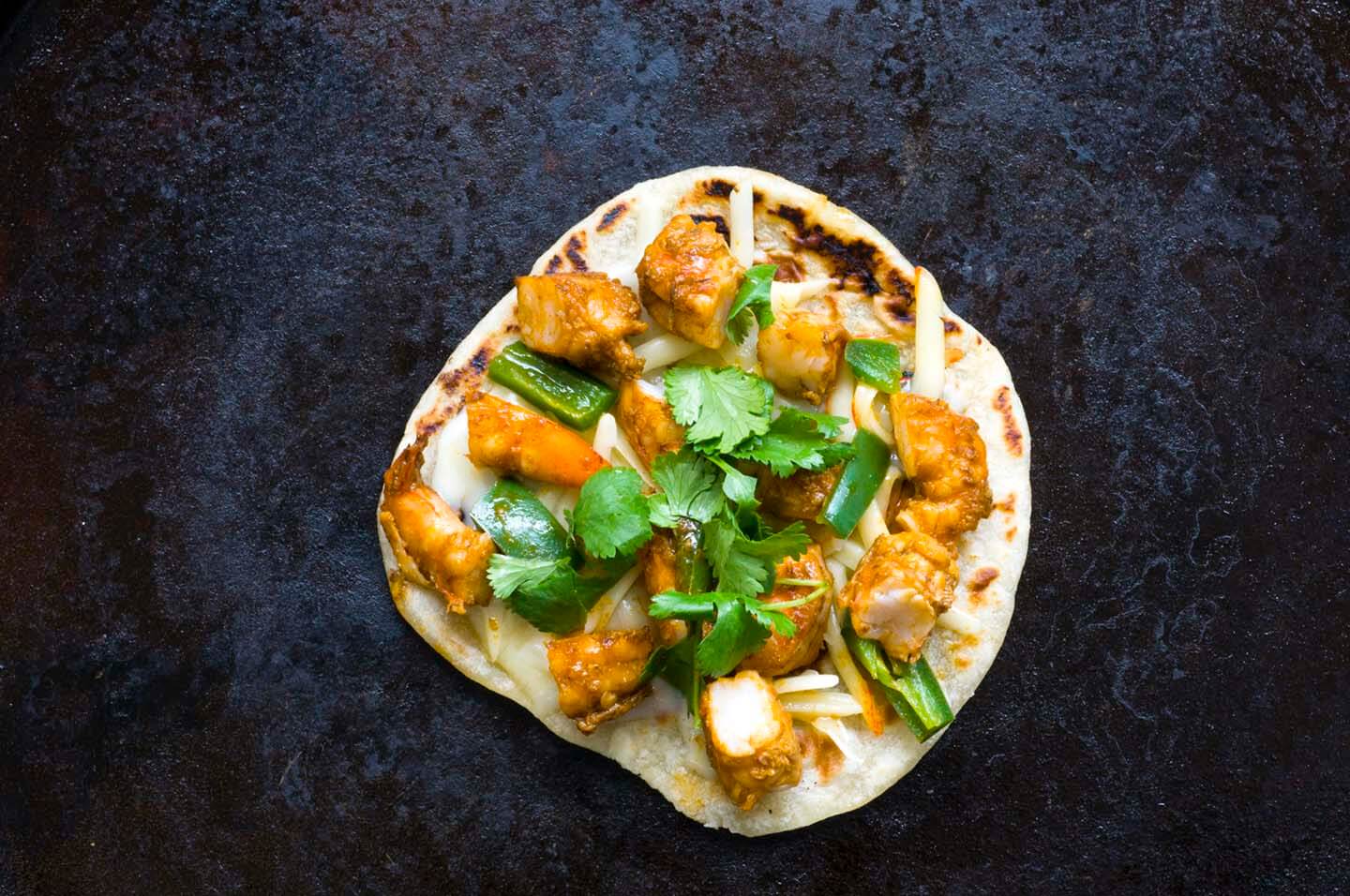 It was getting late, and as I was in the middle of nowhere, by the time I returned to a place where I could grab some dinner, all of the restaurants were closed. My remaining choices were gas-station food, Whataburger or a 24-hour taco joint. I'd already enjoyed a couple of Whataburgers on the trip, so I opted for the taco joint, seduced by its offer of shrimp quesadillas. Well, that was a mistake, as it was a handful of rubbery shrimp that had been sealed with bland cheese into a cardboard tortilla. I was disappointed.

There were a couple more days spent in Texas, and I did finally eat some excellent shrimp dishes—meals that helped fade my memories of that mediocre shrimp quesadilla. But when I returned to New York, I was still craving one—a shrimp quesadilla that had some flavor, some life, and some snap.
One of the things I love about shrimp is that it's a terrific match for so many flavors. I'm partial to citrus and chiles, so I decided to pair mine with an ancho chile and orange marinade that was a little earthy, tangy and sweet. To assemble my quesadillas, I used a combination of creamy Monterrey Jack along with tangy Muenster. I also added some chopped jalapeños, and when I saw a few slices of bacon leftover from breakfast, I added them to the quesadillas, as well.
I don't think I have to convince you that shrimp, jalapeños, and bacon are a winning combination. Plus, besides the time spent marinating the shrimp, the quesadillas came together in almost no time. These shrimp quesadillas could work as either an appetizer or a meal, best served with salsa and guacamole.
Of course, a quesadilla recipe is about as simple as a grilled cheese recipe—but the star of this dish is the shrimp flavored with ancho chile and orange juice, which, if you're not in the mood for a quesadilla, can also be eaten on their own, with rice, with pasta or spooned over some grits.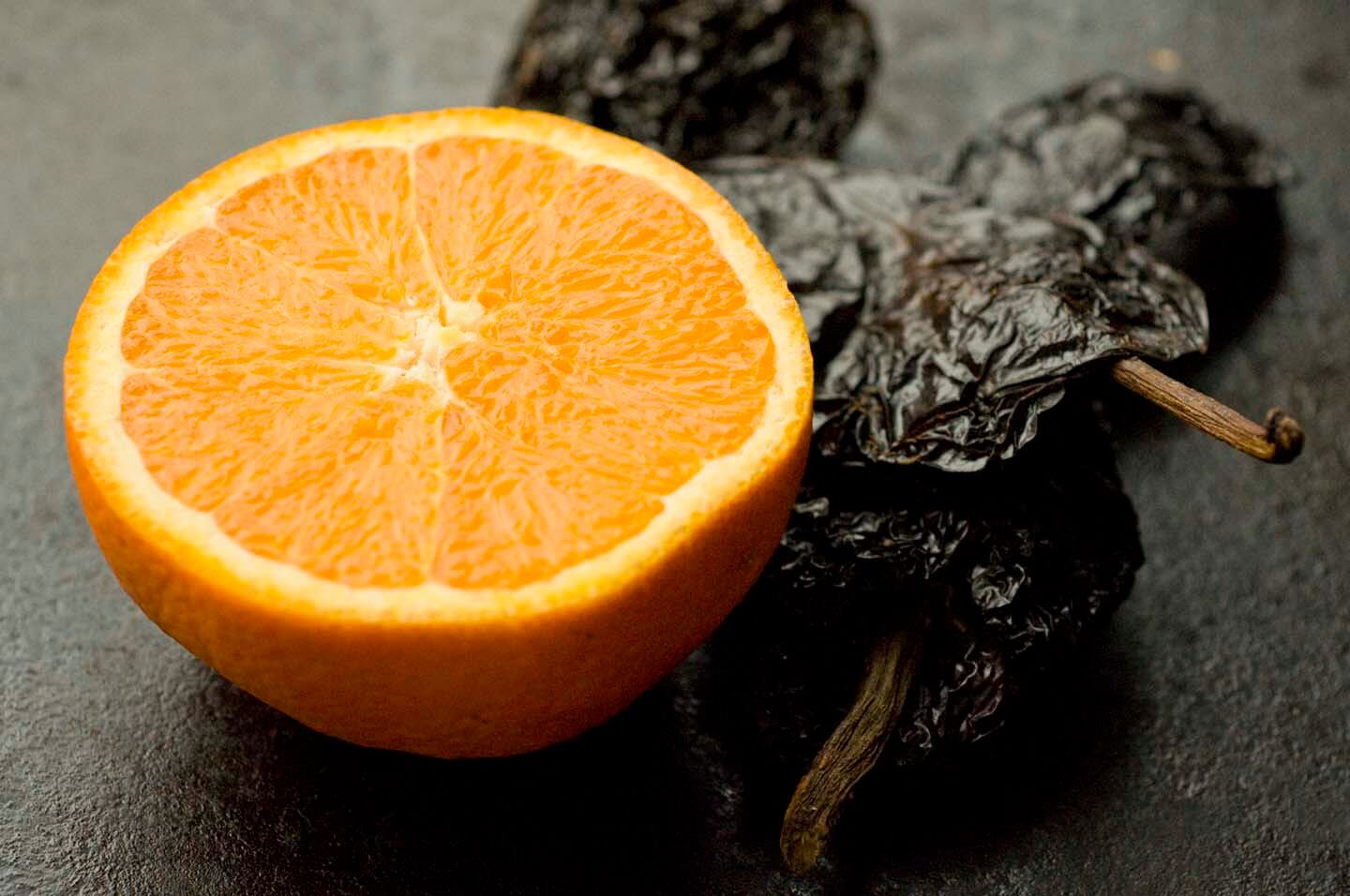 So yes, while I'm a bit upset about my now tarnished driving record, if getting a speeding ticket is what it took me to make quesadillas with an excellent batch of ancho-chile shrimp, then I reckon I can't complain too much.
Ancho-chile shrimp quesadillas
Ingredients
Ingredients for the shrimp:
1

dried ancho chile, stems and seeds removed

1/4

cup

orange juice

1

tablespoons

lime juice

2

tablespoons

olive oil

1/2

teaspoon

ground cumin

1/4

teaspoon

ground allspice

Pinch

of cayenne

2

cloves

garlic, roughly chopped

Salt to taste

1

pound

of large uncooked shrimp, 31-35 count, heads removed, peeled and deveined

1

tablespoon

unsalted butter
Ingredients for the quesadillas:
1

tablespoon

unsalted butter

8

flour tortillas

1

cup

shredded Monterey Jack cheese (4 ounces)

1

cup

shredded Muenster cheese (4 ounces)

2

jalapeño chiles, stems and seeds removed, chopped

1/4

cup

chopped cilantro

2

cooked pieces of bacon, crumbled (optional)

Salsa, for serving
Instructions
In a dry skillet heated on high, toast the ancho chile for about 10 seconds or just until it starts to puff. Fill the skillet with enough water to cover chiles. Leave the heat on until water begins to boil and then turn off the heat and let the chile soak until soft, about 30 minutes.

Drain and rinse the chile, and place into a blender. Add to the blender the orange juice, the lime juice, olive oil, the ground cumin, ground allspice, cayenne and garlic. Blend until smooth. Add salt to taste.

Pour the ancho-chile and orange marinade into a nonreactive container, and add the shrimp. Toss to coat and then store in the refrigerator for 2-8 hours.

To cook shrimp, melt the butter on medium-low heat in a large skillet, and add the shrimp, cooking for a couple of minutes on each side or until pink. (You may have to do this in batches.) Roughly chop the cooked shrimp and toss with some of the pan sauce, if you like.

To make the quesadillas, in a clean skillet heated to medium, melt another tablespoon of butter. Add a tortilla and cook it on one side until it puffs (about 30 seconds). 
Flip the tortilla over and sprinkle over entire surface 1/4 cup of the Monterey Jack, 1/4 cup of the muenster, 1/4 of the chopped shrimp, 1/4 of the chopped jalapeños, 1/4 of the bacon, if you're using it, and a tablespoon of chopped cilantro. Top with another tortilla, and after cheese has melted and the two tortillas stick together, flip the quesadilla and cook for a couple of minutes more. 
 Repeat procedure for the remainder of the filling and tortillas. Cut into slices and serve warm with salsa.