When I recently went to go vote, there were boxes of kolaches at the polling station for people to snack on as they waited in line. What struck me was that while there were plain sausage and jalapeño sausage kolaches, this being Dallas, absent was the Houston and Southeast Texas favorite, the boudin kolache.
Now, when I say kolache, what I really mean is klobasnek, as these were the contained pastry that was stuffed with savory sausage, and the kolache is instead the open pastry with a sweet filling. So, some may know them as sausage kolaches, but their true name is kloabsnek, with the plural being klobasniky.
As for those who are unfamiliar with boudin, it's a rice and pork sausage that originated in Louisiana Cajun country. You might also see it spelled as "boudain" though purists insist that the addition of the "a" is incorrect. There is also a French sausage known as boudin, which is a blood sausage, but the American version gets its funkiness from pork (or chicken livers) instead.
I have a recipe for homemade boudin, which I haven't made since I've returned to Texas since it's now available to me. That said, while I can find the sausage at the stores in Dallas, you still don't see the ubiquity of boudin-enhanced dishes that you'll encounter in East and Southeast Texas, such as said boudin kolaches.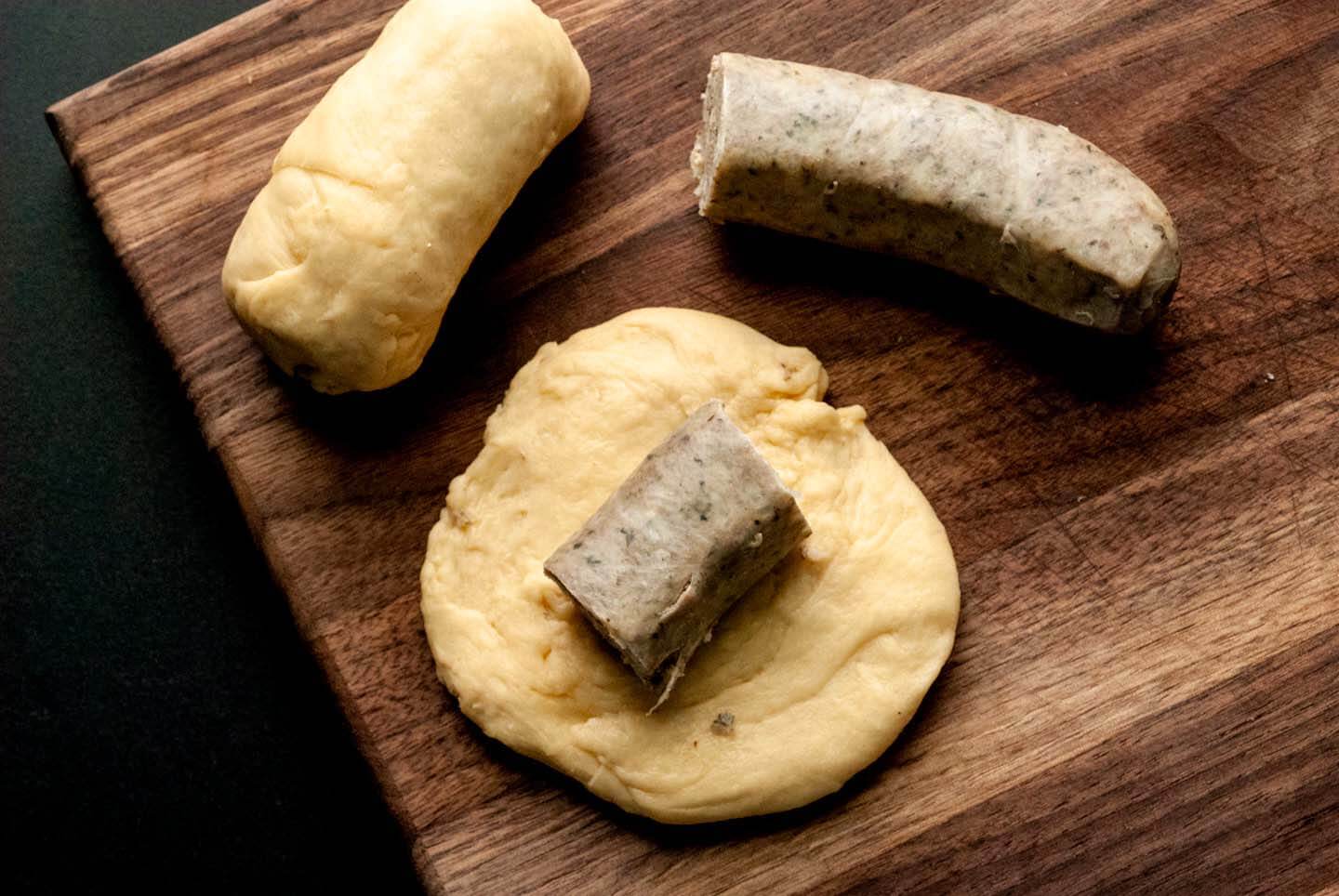 There is much debate about the origin of boudin kolaches, as some stipulate they came out of Louisiana while others attribute the Cambodians that own and operate many of Texas's doughnut shops as the creator of the combination. I have no idea. What I do know, however, is that they started to gain popularity around 2007 in the Houston area and the Beaumont area.
At first, they were simply a weekend special at Houston doughnut shops such as the Shipley's on Main. Later, however, they started appearing daily and my first time enjoying one was at V&K Donuts, a Cambodian-owned doughnut shop in the Houston suburb of Jersey Village.
To be honest, I wasn't sold on the idea of a rice-and-pork sausage being inside a roll, as I felt that might be a bit too heavy on the starch. But as I tucked into the still-warm tender pastry and tasted the savory, peppery blend of pork, herbs, and aromatics, I decided that the two made good companions after all.
There is no definitive way to prepare a boudin kolache, as some simply slice the sausages while others remove the filling from the casing before adding to the dough. Likewise, some pastries are sweet and soft while others are buttery and rich.
For mine, I prefer to keep the boudin in its casing as I find it's easier to contain in the dough. And my pastry, which is an adaption of an old Czech-American recipe from the town of West (considered by some the kolache capital of Texas), is sweet and buttery.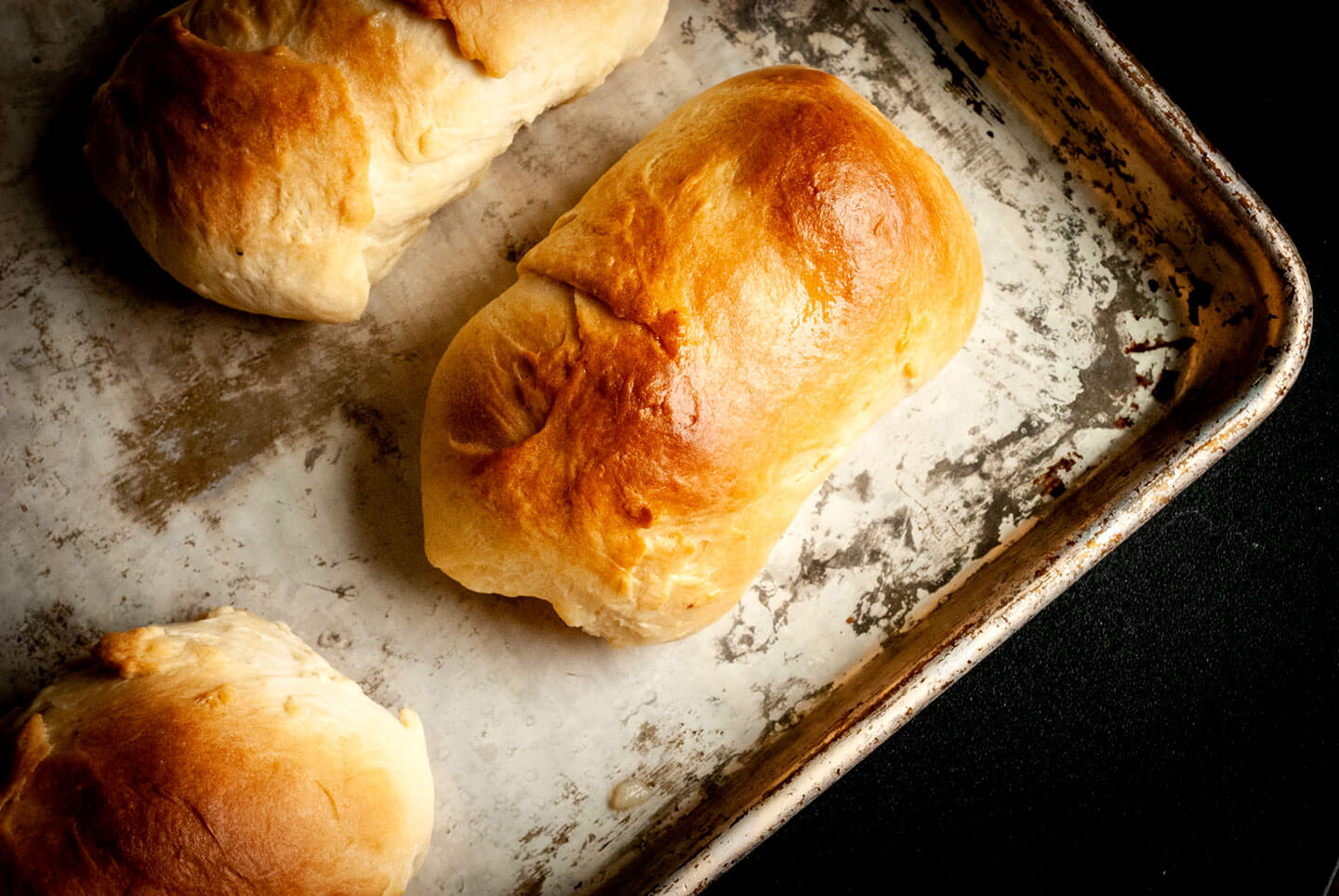 Making kolaches isn't a casual undertaking, but once you get your dough prepared, you can fill it with anything you like. In my past efforts, I've often focused on the fruit fillings, such as strawberry.
Yet even though I'm back in Texas, there are still regional specialties that are not common across the state. So, I share with you a recipe for boudin kolache, a savory, hearty breakfast pastry that is a distinct taste of Southeast Texas with its appealing blend of Czech, Cajun, and Texan cuisines.
—————
Would you like more Homesick Texan? Well, I've started offering additional recipes for paid subscribers to help with the costs of running the site. While I'm not taking anything away, if you'd like to support Homesick Texan and have access to exclusive, never-seen-before subscriber-only posts, please consider becoming a member; annual subscriptions are as low as $25. Thank you for reading, your consideration, and your support!
—————
Boudin kolaches
Ingredients
1

cup

whole milk

8

tablespoons

unsalted butter, divided

2 1/4

teaspoons

active dry yeast (1 envelope)

1/4

cup

granulated sugar

1/2

teaspoon

kosher salt

3 1/2

cups

all-purpose flour, divided

2

tablespoons

vegetable oil

2

large egg yolks

12

ounces

boudin sausage, cut into 8 pieces
Instructions
On low heat, warm the milk and 4 tablespoons of the butter until the milk is just beginning to steam, but not boiling, and the butter is melted. Remove from the heat.

Pour the milk and butter into a large mixing bowl, then stir in the yeast, sugar, salt, and 1 1/2 cups of flour. Cover the dough and let it rise until it's bubbling and porous, about 30 minutes.

After the dough has risen, beat together the oil and egg yolks. Pour the eggs into the risen flour mixture and blend. Slowly stir in the remaining flour until the dough comes together and is soft but not sticky. Pour the dough out onto a floured surface and knead for about 5 minutes or until smooth. (Alternatively, you may use the dough hook on a stand mixer and mix until it's a smooth ball.)

Place the kneaded dough in a lightly oiled bowl and cover. Allow to rise until doubled in size, about 1 hour. (That said, the sugars within the dough become more complex the longer the dough rises. So, if you allow the dough to rise slowly over 4-5 hours, the baked kolaches will be more brown and have a more complex flavor.)

Grease or line a baking sheet with parchment paper. After the dough has risen, punch it down and pull off 8 even-sized pieces. In your hands, roll pieces into balls and then flatten them to about 4-inches round in diameter. Place in the center of each piece of dough a piece of boudin. Fold one side of the dough to the other and seal by pinching on all sides. Cover and allow to rise for 45 more minutes.

After 45 minutes, preheat the oven to 375°F and melt the remaining 4 tablespoons of butter. Brush the tops of the kolaches with half the melted butter, and then bake uncovered for 15-18 minutes or until lightly browned. When you remove the kolaches from the oven, brush the tops with the remaining butter. Serve warm, though they will keep for a couple of days and they also freeze well.
Notes
In Texas can find boudin in the packaged sausage section of most grocery stores, as well as specialty meat markets in East and Southeast Texas. If it's not available, it's not difficult to make the filling, and then you can simply place several tablespoons of it in the center of the dough, uncased.

Technically, this dish should be called boudin klobasniky, in keeping with the correct terminology for Tex-Czcech pastries that are rolled around a savory filling, such as sausage, That said, I've never seen this term used at any kolache or doughnut shop.