"Two cups of sugar?" I said to myself as I read over my great-grandma Blanche's recipe for buttermilk pie. That amount sounded outrageous! But when I mentioned this to a smart bunch of folks, they nodded their heads and said, "Ah, that must be a recipe for buttermilk pie." And even though I was dubious, I decided to adhere to the wisdom of my elders and bake this sugar-loaded pie as apparently that is just how this pie is done.
Now, if you're unfamiliar with this old Southern dessert you may be asking, "What is buttermilk pie?" Well, as the name implies, it's a custard pie made with buttermilk. And while it may sound strange to the uninitiated, take note that Texans have long been resourceful with buttermilk, as for many years it was both inexpensive and widely available. But here's where defining buttermilk pie becomes tricky, at least for me.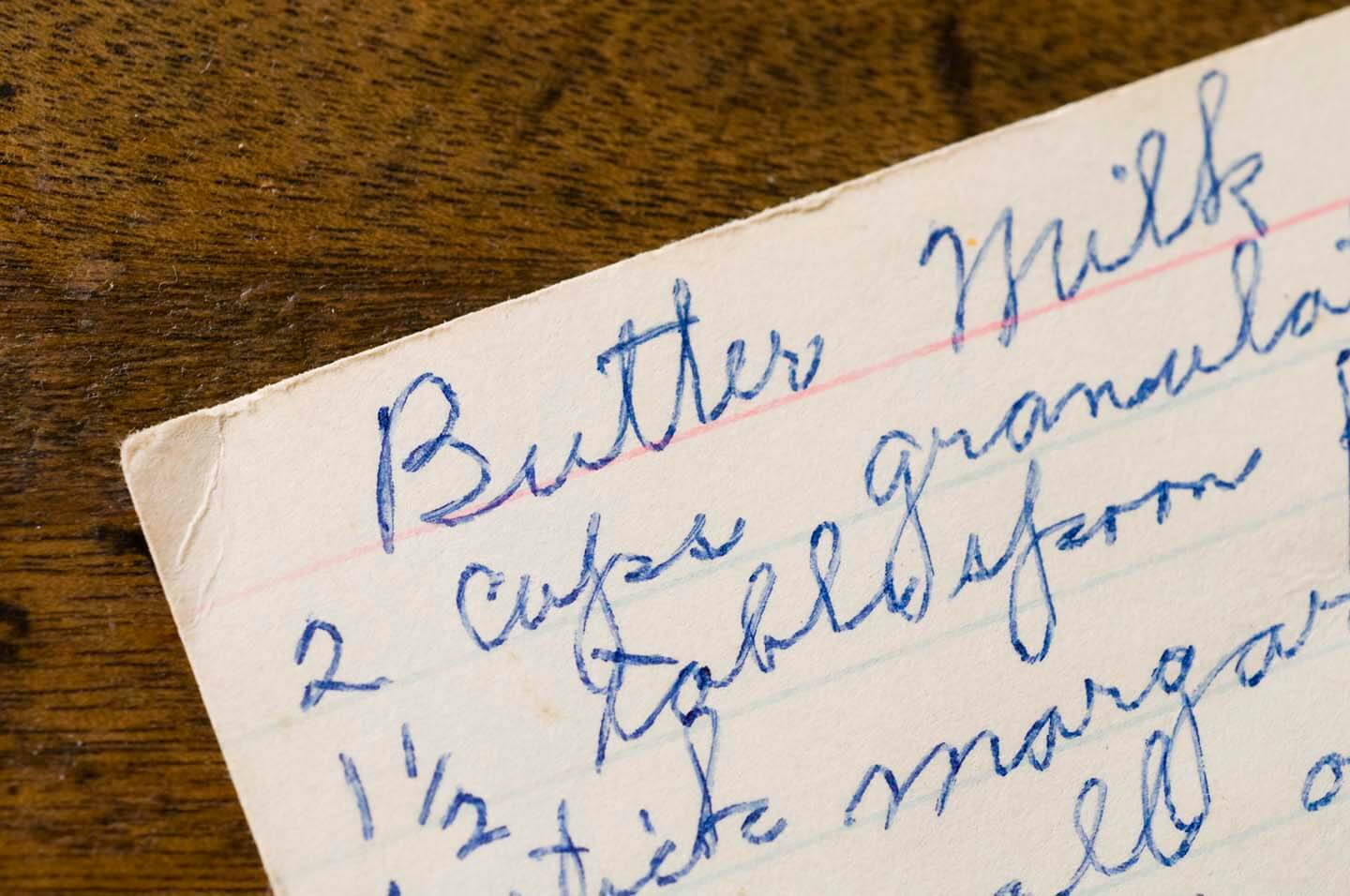 The interesting thing about my recipe is that Grandma Blanche titled it buttermilk chess pie, which begs the question: are chess pie and buttermilk pie the same thing? I used to think that they were not, as I have a chess pie recipe that does not include buttermilk. But perhaps it is simply a variation. I wish I had the answer to these questions, but I don't. But as I wait patiently for one of you to shed light on this topic I will occupy myself by baking my great-grandma's buttermilk pie.

Now, to make this pie is a cinch as you simply mix together a custard filling that includes buttermilk, eggs, flour, corn meal and vinegar, and then you pour it into a partially baked pie shell and cook it until it's set. The hardest thing about making this pie is being patient as you'll be keeping it in the oven for a while and your home will begin to smell divine.
Not a fan of buttermilk? I wouldn't worry as this is a luscious dessert. It has a sweet and slightly tangy custard that is wonderful to eat as is, completely unadorned. But if you desire, you could spiffy it up by topping it with some seasonal fruit, candied nuts or a drizzle of sorghum syrup. Many people serve it at Thanksgiving as it sits well on the holiday table with the pecan and sweet potato pies. But you certainly don't need to a cold-weather holiday to enjoy a slice or two.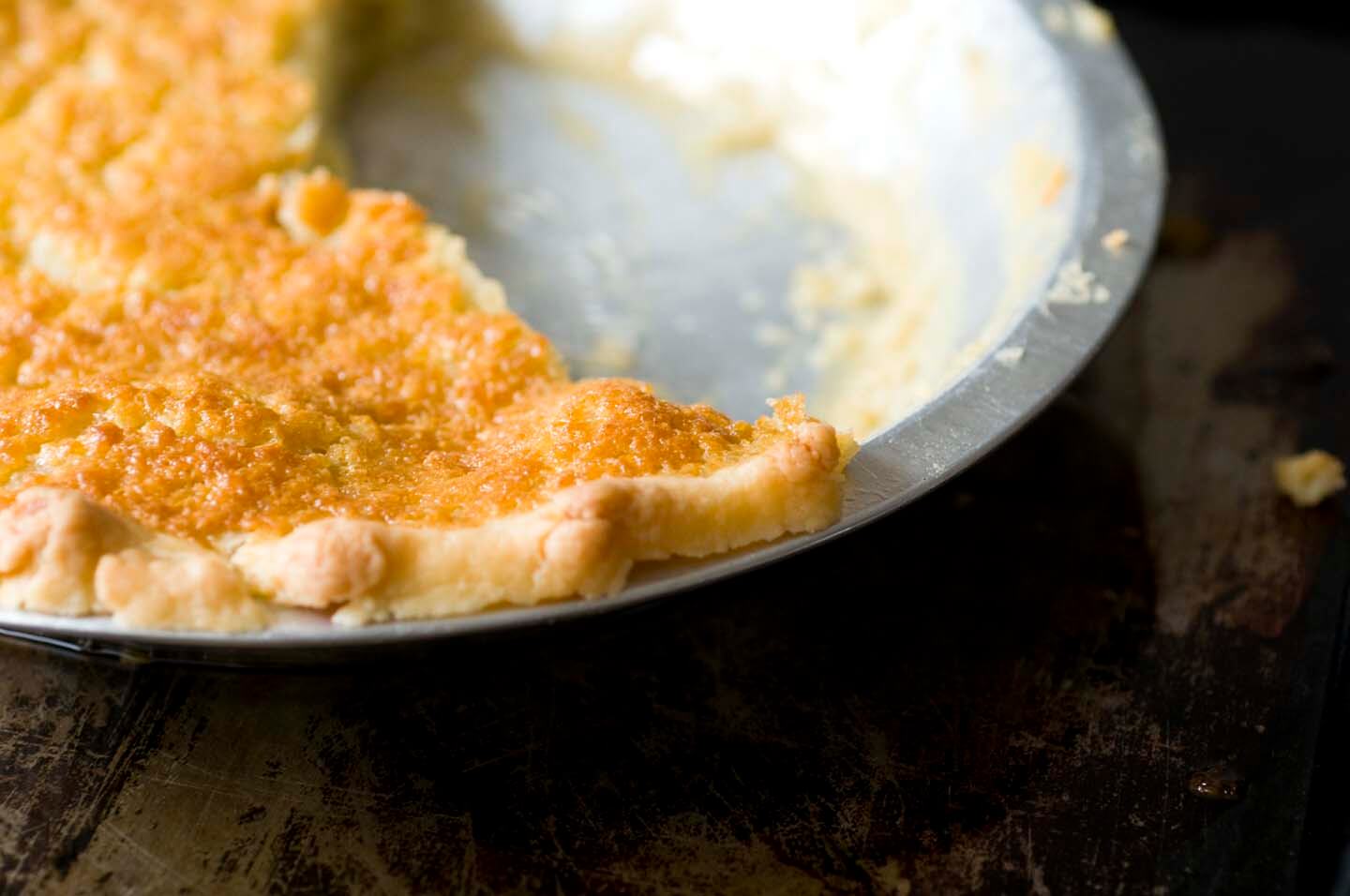 And yes, in case you're wondering, those two cups of sugar do make for a sweet pie but I wouldn't cut it back too much or it will just taste wrong. Don't worry as I did: Great-grandma Blanche knew what she was doing.
Great-grandma Blanche's buttermilk pie
Ingredients
1

9-inch unbaked piecrust

2

cups

granulated sugar

1 1/2

tablespoons

all-purpose flour or 1 tablespoon flour, 1/2 tablespoon cornmeal

8

tablespoons

butter (1 stick), softened

3

large eggs, beaten

Pinch

of salt

3/4

cup

buttermilk

1/4

teaspoon

baking soda

1

teaspoon

vanilla extract

1

teaspoon

white vinegar
Instructions
Preheat the oven to 350°F degrees. Place the piecrust into pie pan then slide into the oven and bake for 10 minutes.

Combine the sugar with the flour and cornmeal, if you're using. Cream the butter. Add the sugar mixture to the butter and then stir in the eggs, salt, buttermilk, baking soda, vanilla extract and vinegar.




Pour filling into the partially baked piecrust and bake in the oven uncovered until brown on top and the custard has set, about 45-50 minutes.
Notes
Great-grandma's original recipe called for margarine, but I changed that to butter. I don't think she'd mind too much. And feel free to add a pinch of nutmeg or cinnamon if you want to spice up the custard a bit.