The last time I visited Houston, I arrived at midnight. I was exhausted, but my mom was waiting for me with a to-go container filled with my favorite restaurant dish: enchiladas verdes—corn tortillas wrapped around crisp, juicy cubes of carnitas, dressed with a green salsa thick with avocados, tomatillos, cilantro and onions. And while it's not the most traditional of Tex-Mex dishes, it's what I often crave as there is no finer combination of flavors than salty sweet pork paired with tart tomatillos.
Carnitas, which means little meats in Spanish, come in several guises. Some people serve it stringy, like pulled pork. Some people serve it in huge chunks, with bits of bone still attached. And some serve it in smaller cubes, perfect for popping in your mouth. Though no matter how it's presented, it's always succulent slow-cooked pork that's tender on the inside and crunchy on the out.
The state of Michoaca, Mexico is renowned for its carnitas. And for good reason—they cook huge hunks of pork shoulder in oversized copper pots filled with lard. It's a decadent eating experience as the pork is slick and smooth with just enough texture to keep things interesting. Of course, after eating Michoacan carnitas you immediately fall into a pork-fat coma and can't get up for days. I adore the Michoacan carnitas and have even made them a couple of times when I have had pounds of lard on hand. This past weekend, however, I was a bit short on pig fat and decided to try another recipe to see if I could approximate their porcine excellence without going whole hog.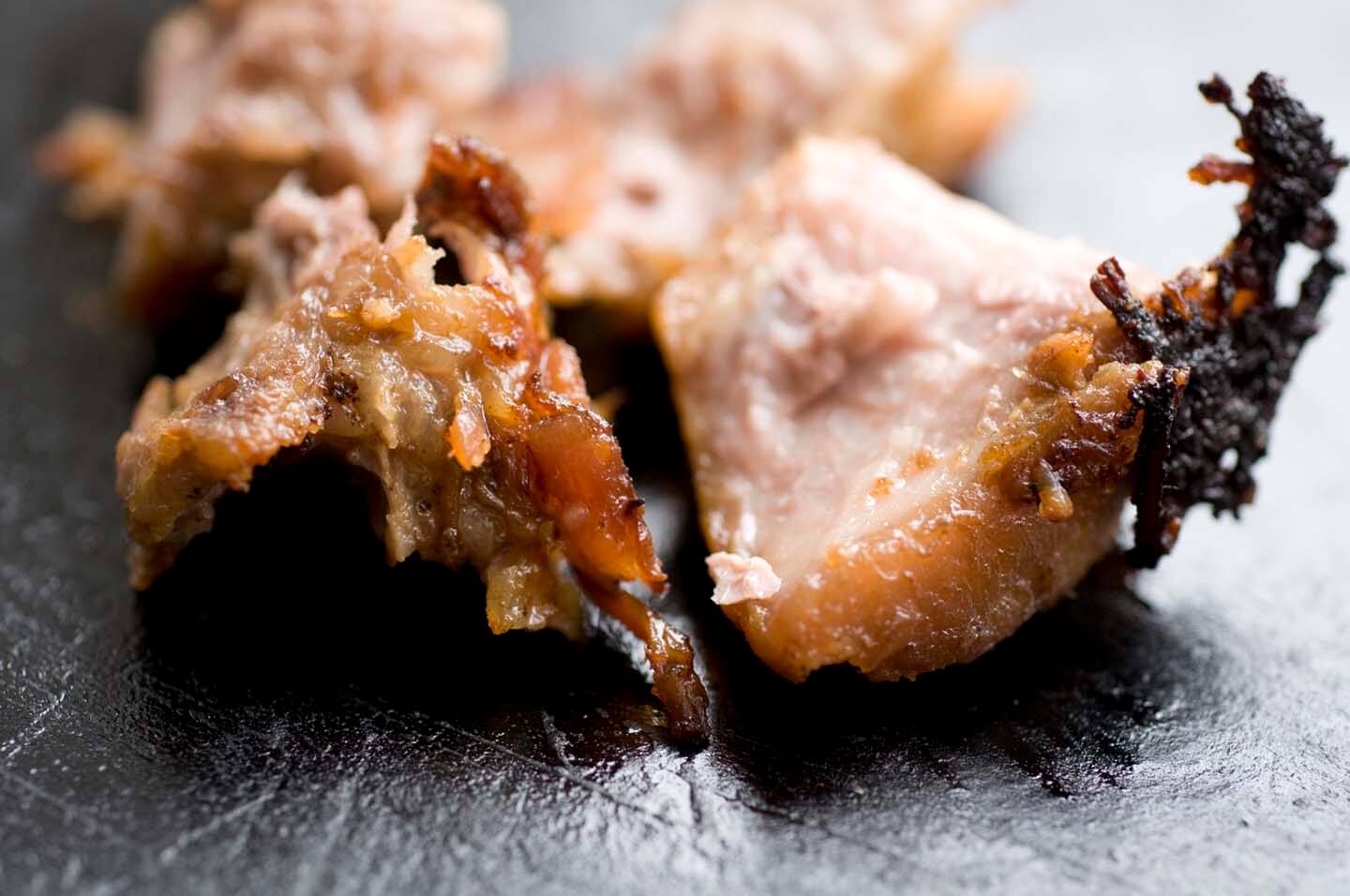 After experimenting with a host of recipes (and suffering a spectacular failure with milk-braised carnitas that ended as an insipid pile of mush), I decided to try Diana Kennedy's method. She recommends cooking the pork shoulder in water until the liquid has evaporated. Because you haven't trimmed the fat off the pork, after the water is gone the pot is filled with rendered pork fat (aka lard!) that browns the outside to a caramelized crisp. It's such a simple method that I had my doubts but figured it was at least worth a try.

Before I made carnitas Kennedy's way, however, I decided to eat some proper Michoacan carnitas as a point of comparison to her recipe. Most of the Mexican restaurants in New York City are owned by Pueblans, but there is one in the Bronx called Real Azteca that is proudly owned by Michoacans. And on a recent rainy Saturday, I hopped on the 2 train and made the journey uptown to eat carnitas made the Michoacan way.
Real Azteca is located in the Longwood section of the Bronx, right off a colorful, bustling stretch of Southern Boulevard. It's a small, clean restaurant with a few seats at a counter and tables in an adjoining dining room. Crowded with Mexican families on this Saturday afternoon, the only seat available was at the counter. But I didn't mind as this way I could watch the cooks press out tortillas and fry up quesadillas.
When I placed my order in Spanish, the man sitting next to me asked if I was aware that these were Michoacan carnitas. I nodded my head and said one word: "Manteca!" which means lard in Spanish. He laughed and said, "Si, si!" I must have made a good decision because two other people came up to the counter and nodded at the griddle saying, "The carnitas here are the best!"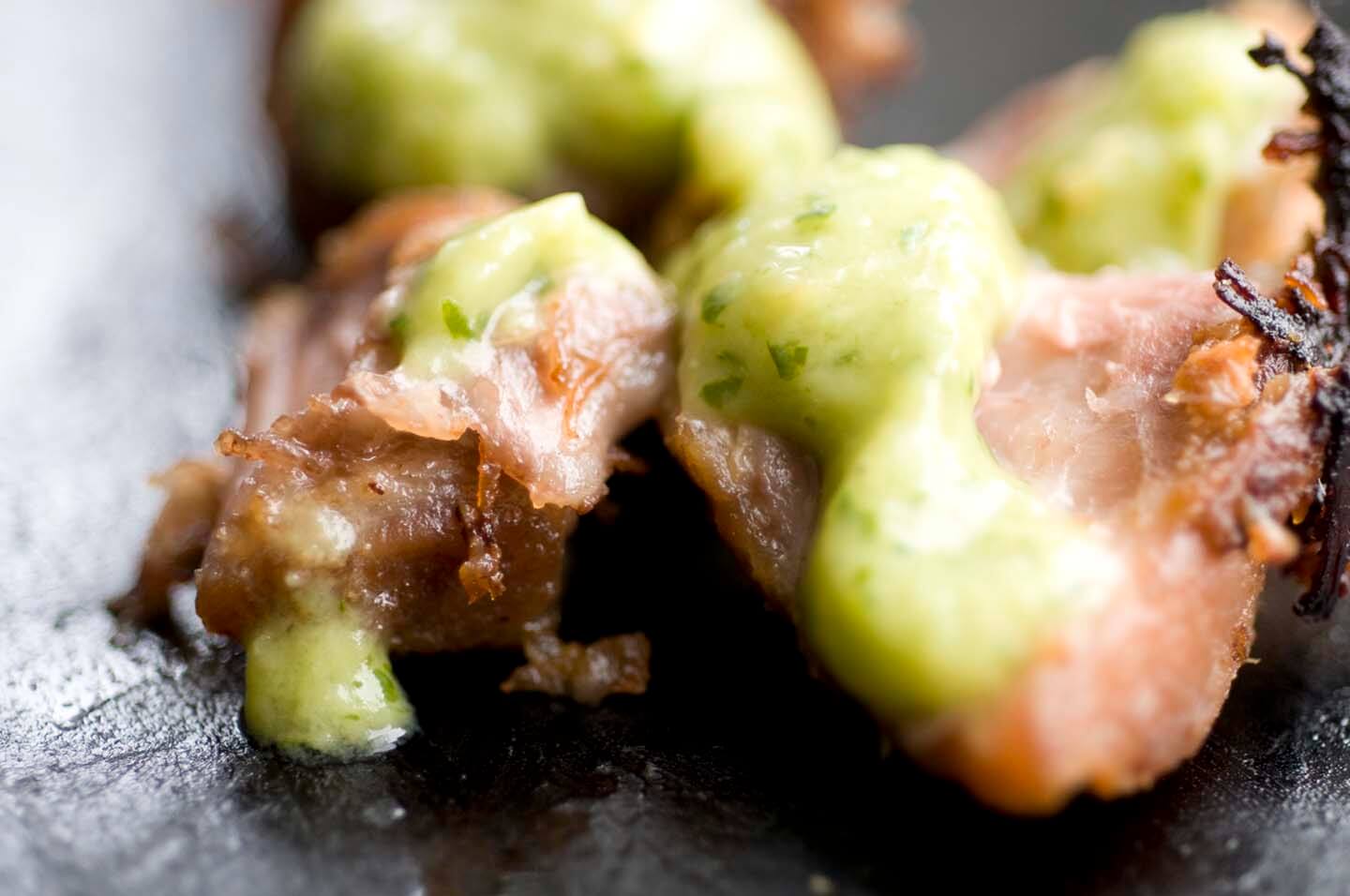 The waitress handed me my plate. Nestled in the freshly fried tortilla were long strands of meat and melted cheese. I topped it with a bright green salsa and took a bite. The pork was silky with a hint of crunch that was balanced by the chewy corn tortilla and tangy salsa. And while I prefer my carnitas to be the more square and chunky version, these were still sublime.
My palate calibrated, I went home and fired up my Dutch oven. I threw in three pounds of boneless pork shoulder cut into two-inch strips. I barely covered the meat with water, added a healthy dose of salt and a bit of orange juice to help with the caramelizing of the meat. I brought the pot to a boil and then turned it down to a simmer, keeping it about 175 degrees. As the water gently bubbled, the fat was slowly rendered out of the pork. After a spell, the pork was no longer cooking in water but was instead cooking in the fat. I made sure it didn't get too hot and after three hours, the meat was done—crisp on the outside and tender and moist on the inside.
I was surprised at how juicy these were since they'd spent most of the time braising in water and not fat, but they were just as succulent as the Michoacan carnitas I'd eaten earlier. And yet because of the time spent in water, they didn't put me over the pork-fat edge—I was actually able to function immediatly after eating them without taking a three-hour nap!
To make sure it hadn't been a fluke, I made another batch the same way and they were equally as delicious. I could eat them in flour tortillas, I could eat them in corn tortillas, I could eat them smothered in green sauce or I could eat them alone. It didn't matter—they were always just what I wanted.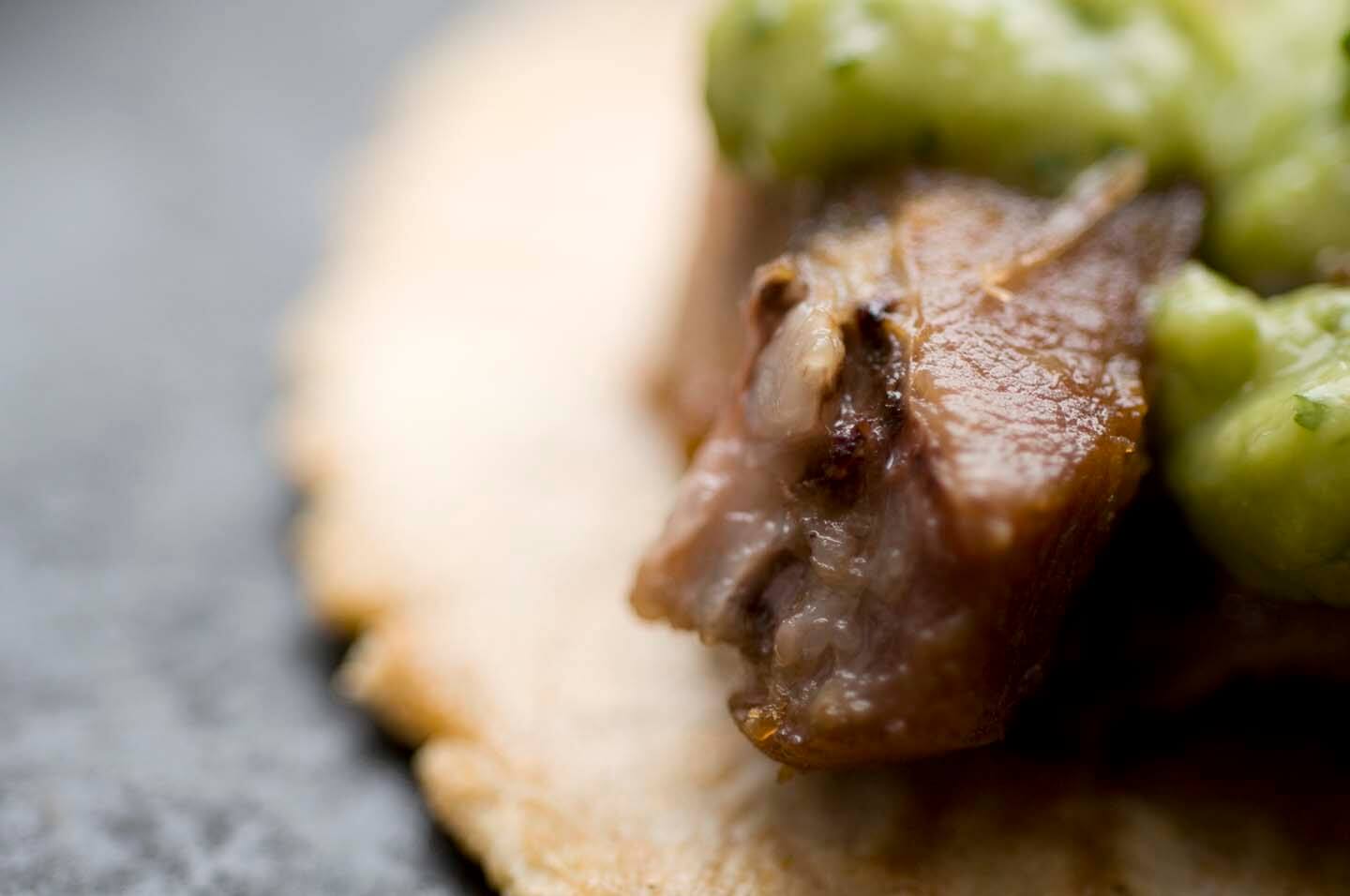 I'm planning a trip to Texas in late August and while I'll be hitting several cities I'm most looking forward to visiting Houston as I haven't been there in over a year. And hopefully my mom will greet me again with a big plate of carnitas served in the form of enchiladas verdes. Though I can be patient since in the meantime I know that I'll be simmering a few batches of these simple yet satisfying carnitas myself.
—————
Would you like more Homesick Texan? Well, I've started offering additional recipes for paid subscribers to help with the costs of running the site. While I'm not taking anything away, if you'd like to support Homesick Texan and have access to exclusive, never-seen-before subscriber-only posts, please consider becoming a member; annual subscriptions are as low as $25. Thank you for reading, your consideration, and your support!
—————

Carnitas, Houston style
Instructions
Cut pork into 2-inchmcubes, add to a large pot with the juice, water, and salt. Bring to a boil and then simmer uncovered on low for 2 hours. Do not touch the meat.

After 2 hours, turn heat up to medium high, and continue to cook until all the liquid has evaporated and the pork fat has rendered (about 45 minutes). Stir a few times, to keep pork from sticking to bottom of pan.

When pork has browned on both sides, it's ready (there will be liquid fat in the pan). Serve either cubed or shredded (pork will be tender enough that just touching it will cause it to fall apart) with tortillas and green chile creamy avocado salsa.
Notes
The key to this recipe is that the meat has fat, so don't trim it! If there's not enough fat on the meat the recipe will turn out too dry. Whether to shred the meat like pulled pork or leave it in cubes I think is determined by what you're used to eating. Texas isn't a pulled-pork state so the texture isn't as familiar as nicely done chunks. Likewise, I think the brilliance of this recipe lies in its simplicity. You can add as many different spices, herbs and aromatics as you like—but if you have good-tasting, happy pork why not let its flavor shine with just a bit of salt? Ultimately, however, making carnitas is a highly personal affair and so make them as they best suit you!