My uncle has said that if I feel joy when cooking then the food I make will always taste good. And whenever I think about my recipe failures, I sit back and ask myself, "Did I feel any joy?" The answer is usually no.
Take the other day. I had been working on a casserole recipe for a year or so, but I could never get all the components quite right. It was frustrating. So, as I pondered what to cook next, I recalled a biscuit recipe from a 1950 edition of the Dallas Morning News and decided to turn my attention to it instead. Baking biscuits always brings me joy.
Now, this recipe differed from the usual as it called for cheese and pecans to be added. I was intrigued. In the recipe-writing style of the day, both the list of ingredients and method were sparse. No specific cheese was named and neither was there a recipe for biscuit dough.
Taking stock of my larder, however, I figured I could make it work. For the cheese, I decided to go with a sharp yellow Cheddar, as that was what I had in my refrigerator. Since I've returned to Texas, there are always local pecans in my pantry, so I used those, and for the biscuit dough, I made my default batch.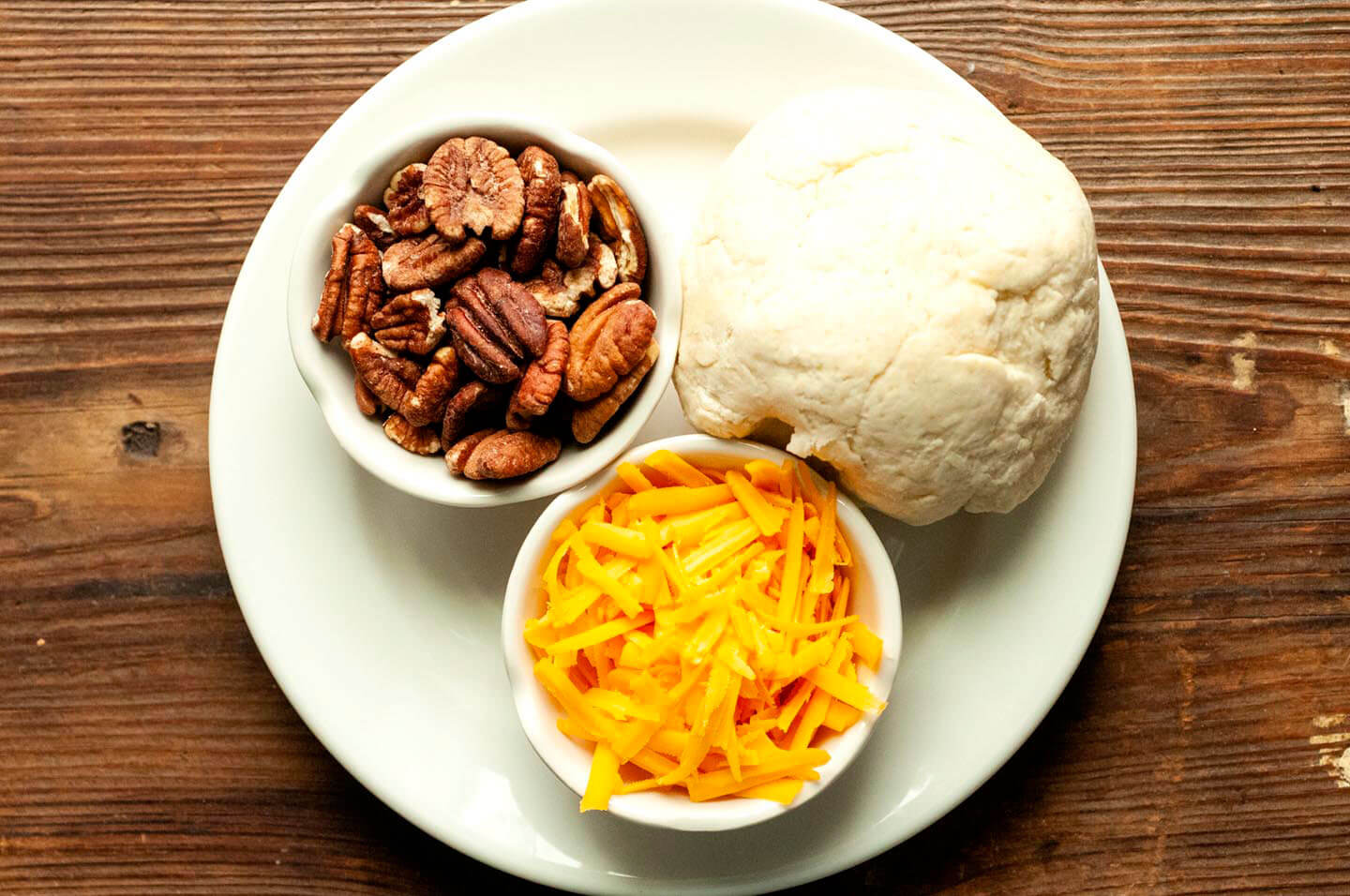 While the Morning News recipe didn't give many specifics, one note it included was to take the shredded cheese, finely chopped pecans, and mix it with cream. (Of course, I had to guess as to how much cream to use). You then roll out the biscuits and spread this mixture over the dough, fold it over, and roll it out again before cutting.
I followed the directions and when I realized I had left all my decent biscuit cutters behind in New York, I choose to cut the dough into squares instead. A sprinkle of more cheese and pecans with a dash of salt are then added to the top of the biscuits before baking.
As they cooked, my home was filled with a warm familiar scent of butter, pastry, and nuts. When I pulled them out of the oven, I was struck by how tall and flaky the biscuits were. And while a couple the pecans on top had burned, they were easily removed and the biscuits were a fine spectacle to behold.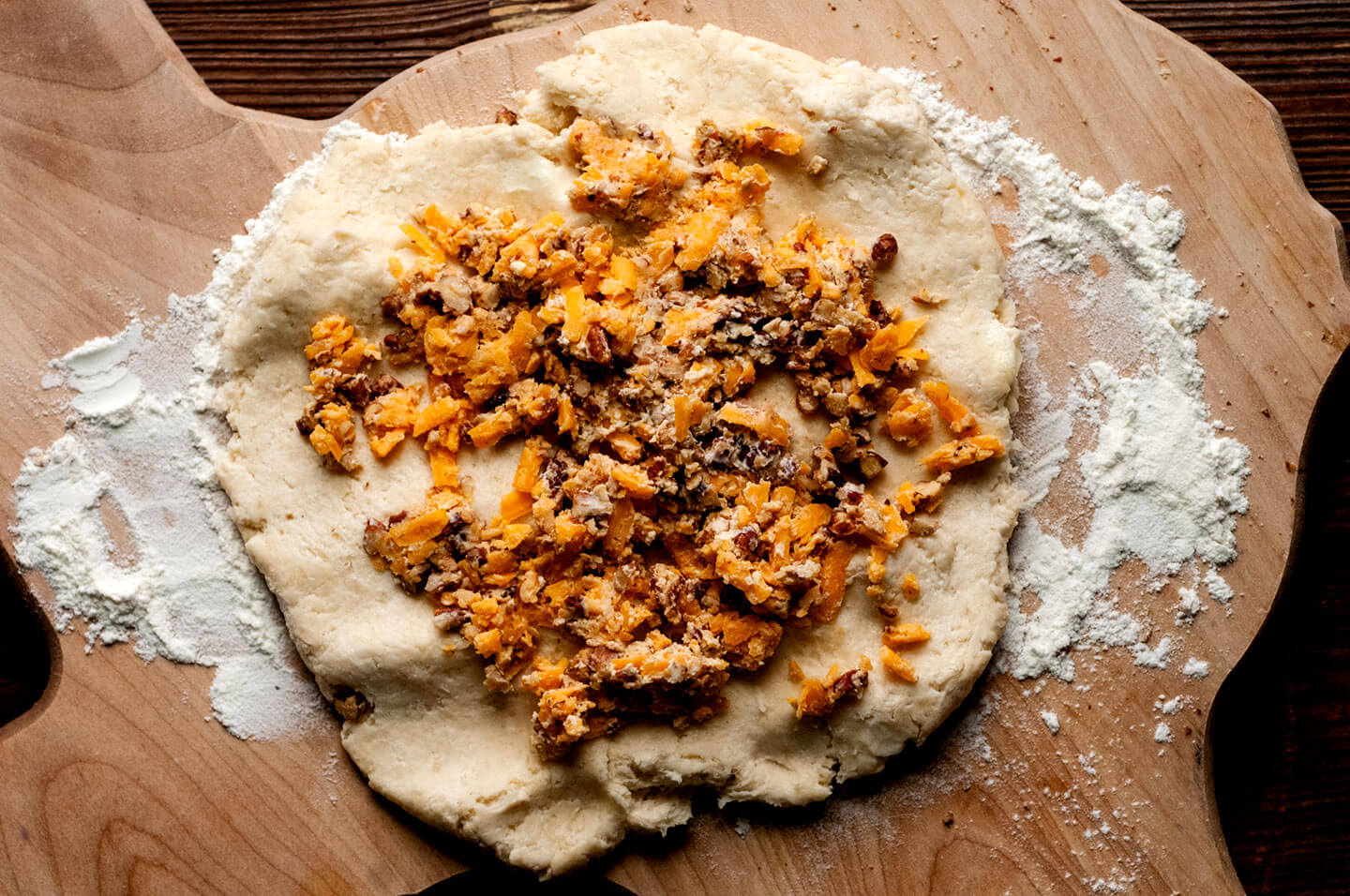 When they were just cool enough to handle (a couple of minutes, tops), I pulled apart a biscuit and marveled at its flaky, cheesy layers. I added a pat of butter, pressed down, and took a bite. It was spectacular.
The biscuit was both a little sharp from the cheese and sweet from the pecans. In fact, it was so tender that no butter was even needed. After finishing it, I popped another into my mouth while they were still warm.
When boxing up the few I had leftover, it occurred to me that this was the first time I'd made biscuits since I'd returned to Texas. It had been far too long, so it was satisfying to be making once again something that I loved. If you are a fan of biscuits, this recipe needs to go into your rotation. They are simple to make, gorgeous to behold, and as they did me, they will bring you great joy.
—————
Would you like more Homesick Texan? Well, I've started offering additional recipes for paid subscribers to help with the costs of running the site. While I'm not taking anything away, if you'd like to support Homesick Texan and have access to exclusive, never-seen-before subscriber-only posts, please consider becoming a member; annual subscriptions are as low as $25. Thank you for reading, your consideration, and your support!
—————
Cheddar pecan biscuits
Ingredients
2

ounces

(1/2 cup) sharp cheddar, shredded

1/2

cup

finely chopped pecans

2

tablespoons

heavy cream

2

cups

all-purpose flour

1

tablespoon

baking powder

2

tablespoons

granulated sugar

1/2

teaspoon

kosher salt

8

tablespoons

unsalted butter

3/4

cup

half and half
Instructions
Preheat the oven to 450°F. Place a rack in the middle of the oven and lightly grease a baking sheet or cast-iron skillet.

Combine the cheese and the pecans and set aside 2 tablespoons for topping the biscuits later. Combine the remaining cheese and pecans with the cream and stir until well combined and almost paste like.

To make the biscuits, stir together the flour, baking powder, sugar, and salt. Cut the butter into cubes and work it into the dough with your hands or a pastry cutter until well combined. Stir in the half and half until a shaggy dough is formed.

Pour the dough out on a floured surface and knead for a minute. The dough should be smooth and no longer wet. (You can sprinkle more flour on the surface if you find that it's sticking.) Roll out the dough until it's 1/4 of an inch thick.

Spread in the center of the dough the cheddar-pecan with cream mixture, then fold the dough over the filling until it's contained.

Roll out the dough again until it's 1/4-inch thick then fold over in half. Form the dough into a rectangle, then using a knife cut the dough into 8 equal squares.

Alternatively, you can use a round cutter to cut the biscuits from the folded dough. (If you go with round biscuits, you may have to gather the scraps and roll out again if you run out of room while cutting.)

Place the cut biscuits on the greased baking sheet close together (so they rise up, not out). Evenly sprinkle the remaining cheese and pecans over the tops then lightly salt. Bake on the middle rack for 15 minutes or until the tops are golden brown. Serve warm.
Notes
For smaller bite-sized biscuits, you can cut the dough into 16 squares.