"Austin made me the best chicken fajitas," said my grandma. "I have never had chicken taste so good."
My uncle is more renown for his squash enchiladas, so I was very intrigued. Now, I have to admit, chicken fajitas are not something I've ever been too inspired to make. Perhaps it's because they're made with boneless, skinless chicken breasts, which isn't the most flavorful cut.
There's also the language purist inside of me, that insists calling something chicken fajitas is simply wrong, as the word fajitas originally refers to the cut of meat. Naming the dish chicken fajitas is like saying it's "chicken sliced steak."
Of course, this battle was lost long ago and it's silly for me to not favor a dish because of its inaccurate name. And you have to admit, there's a thrill when the sizzling chicken arrives on a bed of sautéed peppers and onions, along with the required bowls of pico de gallo, guacamole, and sour cream. A stack of warm flour tortillas makes the meal complete. Fajitas are definitely more than the sum of their parts, and with sweet bell peppers and onions in such abundance these days, I decided to follow my uncle's lead.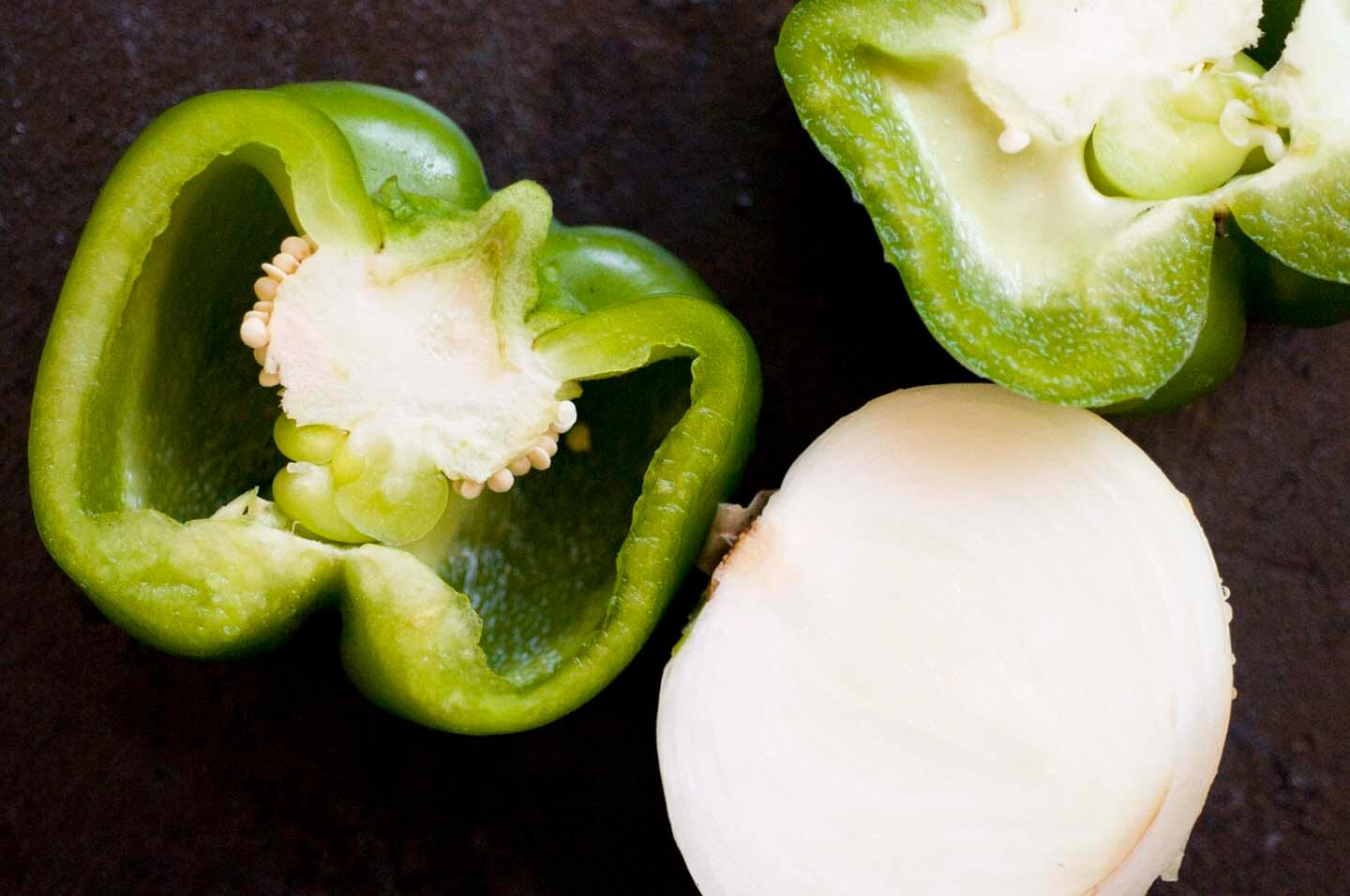 "What did he do to the chicken?" I asked my grandma. She said she couldn't remember everything, but his marinade did contain lime juice and balsamic vinegar. Lime juice is a classic ingredient for a fajita marinade, so that didn't surprise me. But balsamic vinegar? That seemed like an inspired choice, as it's both tangy and sweet. I got in touch with Austin to learn more.
He admitted that it was his first time making chicken fajitas and his marinade was completely improvised. He did indeed start with the standard lime juice and olive oil base, and then threw in the balsamic vinegar, a bit of Worcestershire sauce, brown sugar, Mexican hot sauce, salt and pepper.
It sounded good, so I decided to play around with his basic ingredient list, omitting the brown sugar, as balsamic vinegar is plenty sweet, and substituting a few cloves of garlic and chiles de arbol for the Mexican hot sauce. The marinade was bright and lively, with a bit of heat from the chiles. I threw in my chicken breasts and let it sit for a few hours before cooking.
Now, Austin had grilled his chicken but since I don't have a grill I instead quickly cooked the chicken breasts in a cast-iron skillet. Since I wasn't at the farm the day Austin cooked, I don't really know how his tasted. But if they were at all like the ones I made, then my grandma was correct—this marinade did indeed make a fine fajita. And once I smothered the chicken with guacamole and folded them into fresh flour tortillas, it made for an excellent, end-of-summer dish.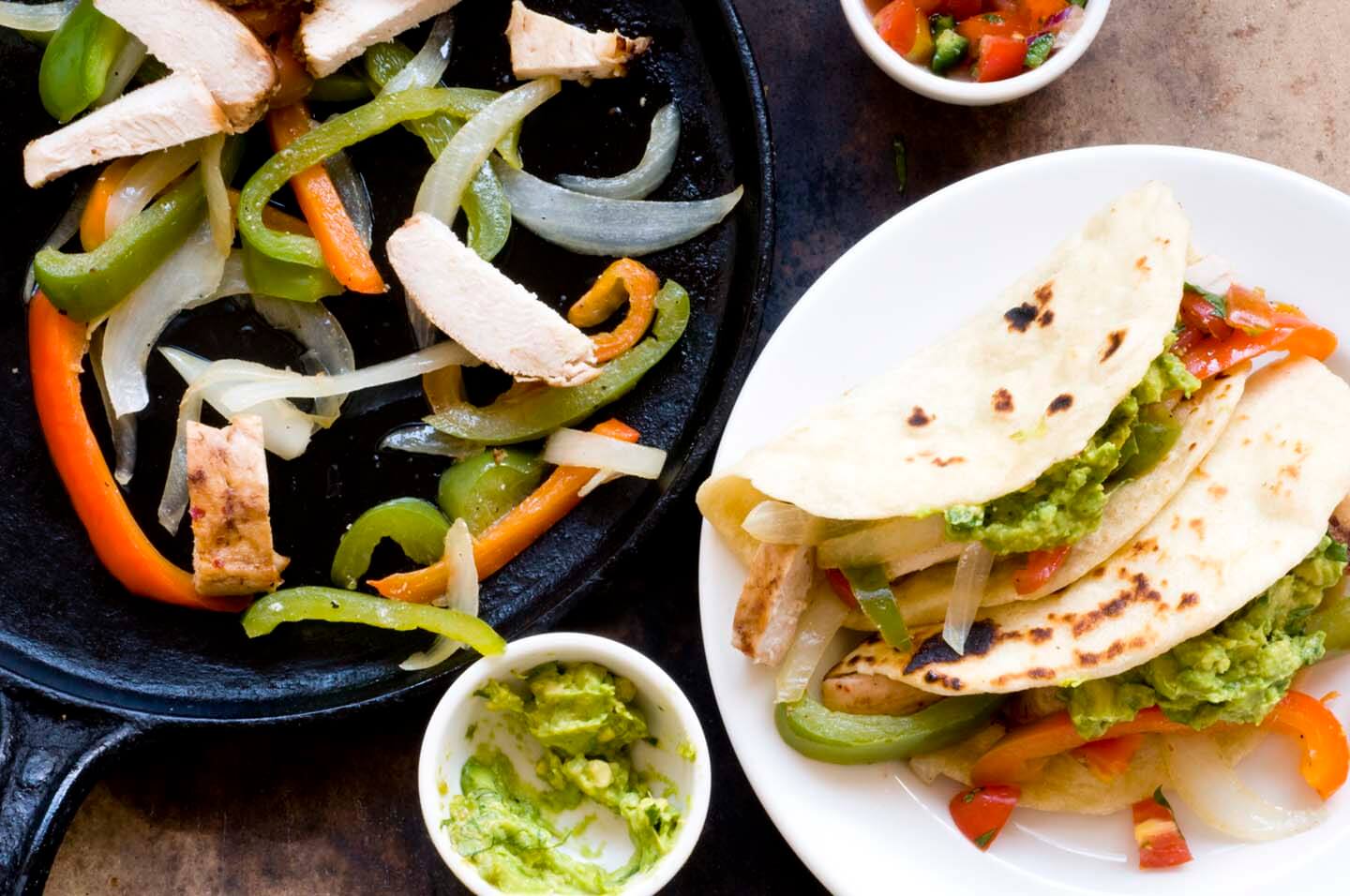 It's strange to think that this long, hot and dry season is officially ending this weekend. It's been a rough one for so many and I hope that there is some relief soon. Whether you're staying inside this holiday or attempting to cook outdoors, may you stay cool and safe. And perhaps make some chicken fajitas.
Chicken fajitas
Ingredients
Ingredients for the chicken:
1/4

cup

lime juice

1/4

cup

olive oil

1

tablespoon

balsamic vinegar

1

teaspoon

Worcestershire sauce

6

cloves

garlic

1

teaspoon

ground cumin

4

dried chiles de arbol, stemmed

Salt and black pepper, to taste

2

pounds

boneless, skinless chicken breasts or thighs
Ingredients for the fajitas:
2

tablespoons

vegetable oil, divided

2

bell peppers, seeded and thinly sliced

1

medium yellow onion, thinly sliced

Salt, to taste

12

flour tortillas

Sour cream
Instructions
In a blender, mix together the lime juice, olive oil, balsamic vinegar, Worcestershire sauce, garlic, cumin, and chiles de arbol. Blend until smooth, and add salt and black pepper to taste. Pour the marinade over the chicken, and marinade refrigerated for at least 1 hour.

To make the fajitas, drain the chicken from the marinade. In a large, heavy skillet, heat up 1 tablespoon of oil on medium heat. Add the chicken, and cook covered for about 5 minutes per side, or until the internal temperature is 160°F. Remove the chicken from the skillet, and allow to rest for 10 minutes.

Meanwhile, add the remaining 1 tablespoon of oil to the skillet, and cook the bell pepper and onion slices on medium heat until tender and soft, about 7-10 minutes. Add salt to taste. While the peppers and onions are cooking, heat up the flour tortillas by either cooking each one over a burner or in a hot, dry skillet for about 15 seconds per side or until they puff.

Slice the chicken and serve with the bell peppers, onions, warm flour tortillas, guacamole, pico de gallo and sour cream, so people can make their own tacos.
Notes
If you can't find chiles de arbol just use serrano chiles. The taste will be a little brighter but still fiery.