Chilaquiles toluqueños (chilaquiles with chorizo salsa)
The other day I participated in a conversation about the difference between chilaquiles and migas. As I've noted before, the two are often conflated because each uses fried corn tortillas. But chilaquiles uses its fried tortillas as a vehicle for salsa, whereas migas uses its for scrambled eggs. They are as similar as a taco and an enchilada.
When I lived in New York, chilaquiles became a popular breakfast item. Many of the Mexican cooks who moved to New York City and opened taquerias were from the Mexican state of Puebla, which is south of Mexico City.
The region is known for its salsas, such as its eponymous mole sauce, which is a complex blend of chiles, aromatics, and often nuts, among other ingredients. Though it also has a lively fresh salsa repertoire. Both go well with all types of corn tortillas, and chilaquiles are no different.
When living there, a friend from Austin called me one day, and said that his local NYC taqueria was offering migas, "But they call them chilaquiles," he added. I hopped on the subway to investigate.
When I ordered the chilaquiles, I received a tall stack of fried corn tortilla chips cut into the usual triangle shape. In fact, they may very well have come from a bag instead of being freshly cooked. The chilaquiles were smothered in a red tomato salsa and on top was a fried egg. A sprinkle of crumbly queso fresco was the final touch. Cilantro leaves and diced onion were presented in a small bowl on the side.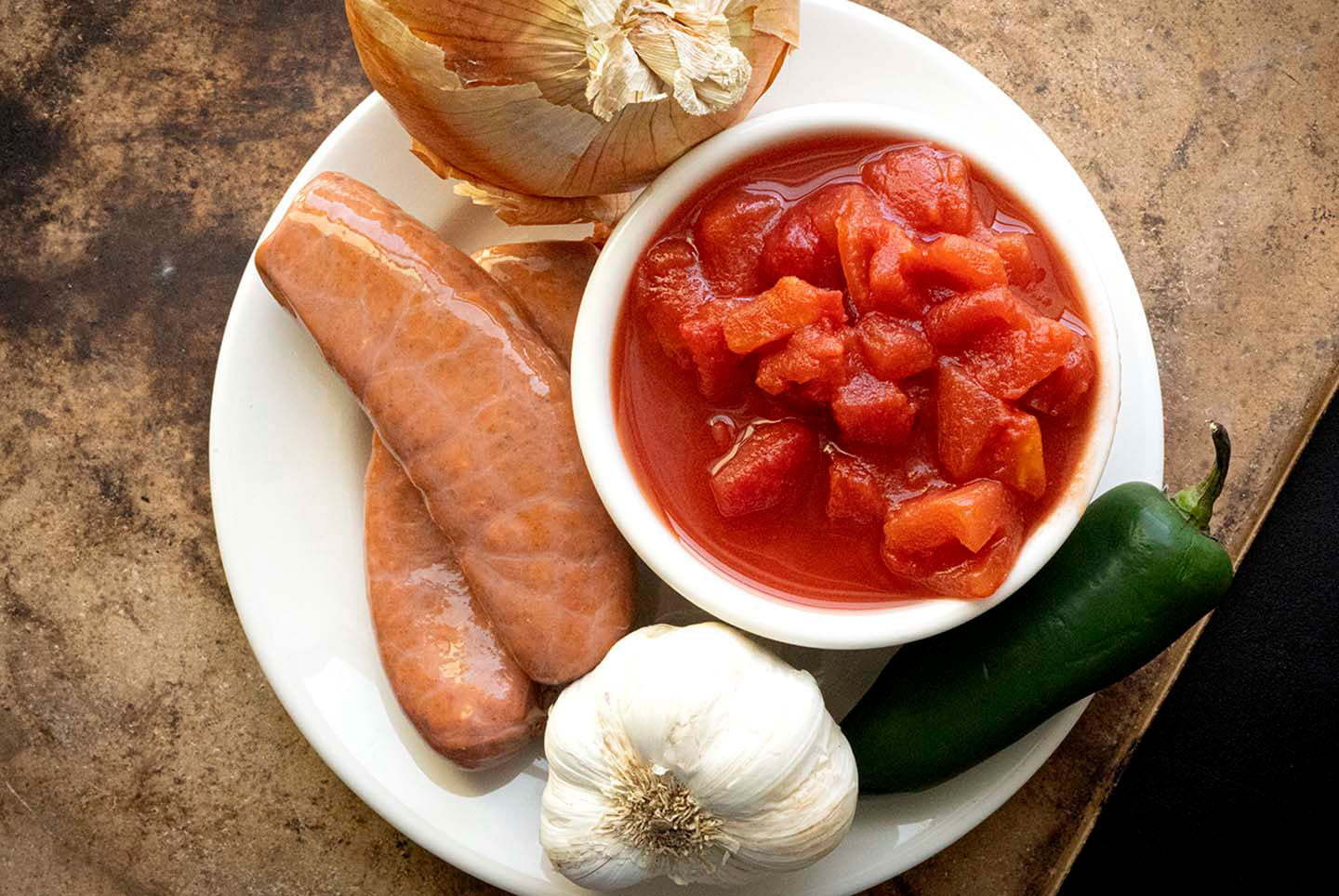 The combination of tortilla, salsa, and runny egg was savory and hearty. I enjoyed it very much, but even then, I knew that my friend was incorrect and this dish had nothing to do with migas. The two didn't taste the same at all.
At the time, chilaquiles were not a popular breakfast item in Texas. Though as more taquerias opened that were focused on Central Mexican cuisine versus our state's native Tex-Mex, chilaquiles became more common, though migas were still beloved, too. The two were a different dish and could be equally enjoyed and appreciated, much like you may order a taco one day, and an enchilada plate the next.
When you travel along the border in the Rio Grande Valley, you also see both. Now, I could go into a regional breakdown of the various styles of migas found across the state, but for today I'll stick with the chilaquiles. Such as the chorizo version I had in Laredo.
The plate came stacked with freshly fried corn tortillas cut into wedges. The salsa generously layered on top was called "toluqueño," a Mexican term that refers to the city of Toluca, the Central Mexican city where chorizo originates.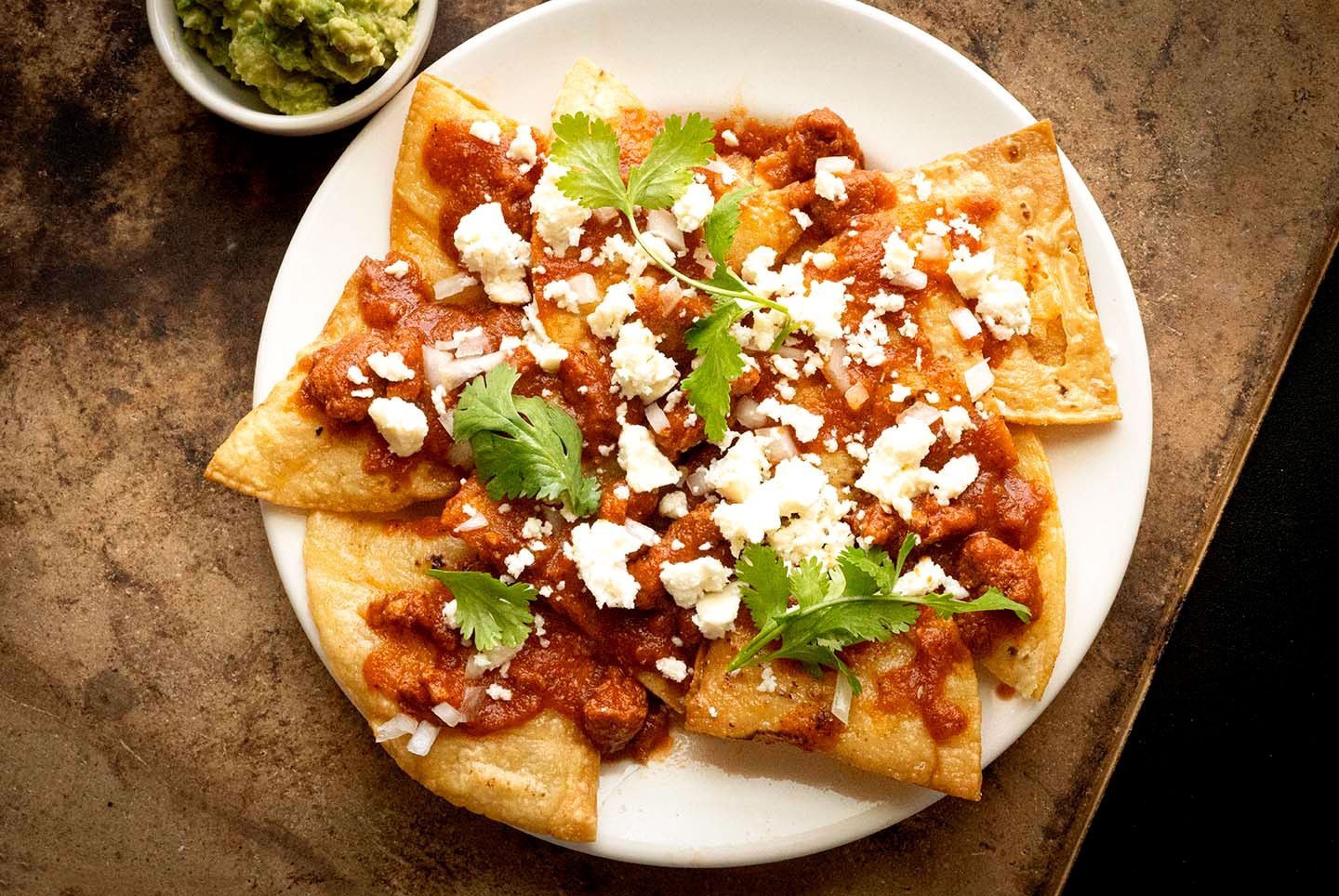 The salsa is a hearty sauce with tomatoes as its foundation and the crumbled, spicy Mexican sausage cooked within. It's somewhat like a Texas chili though it's like a spicy Bolognese, too. When combined with the chips, onions, and a handful of creamy queso fresco, you could also say that it's a border-style take on the beloved Frito pie. Either way you define it, if you love spice, corn tortillas, and cheese, you will love these chilaquiles toluqueño, too.
—————
Would you like more Homesick Texan? Well, I've started offering additional recipes for paid subscribers to help with the costs of running the site. While I'm not taking anything away, if you'd like to support Homesick Texan and have access to exclusive, never-seen-before subscriber-only posts, please consider becoming a member; annual subscriptions are as low as $25. Thank you for reading, your consideration, and your support!
—————
Chilaquiles toluqueños
Ingredients
1/2

medium yellow onion

2

jalapeños, stemmed and cut in half

5

cloves

garlic

1

(28-ounce) can diced tomatoes

1

tablespoon

ground cumin

1

tablespoon

dried oregano

1/2

teaspoon

ground allspice

Pinch

cayenne

1

tablespoon

safflower oil

12

ounces

Mexican chorizo, removed from casing

1

tablespoon

freshly squeezed lime juice

Salt

Safflower oil, for frying

12

corn tortillas, quartered

Diced onions, for serving

Crumbled queso fresco, for serving

Cilantro leaves, for serving
Instructions
Place the onion, jalapeño, and garlic in a pot and cover with water. Bring to a boil on high, then turn the heat down to low and simmer for 10 minutes or until softened.

Add the onion, jalapeño, and garlic to a blender, along with 1 cup of the cooking water. Also add to the blender the tomatoes, cumin, oregano, allspice, and cayenne, and blend until smooth.

Pour out the rest of the cooking water from the pot you cooked the vegetables, and add the oil and chorizo. While occasionally stirring, cook the chorizo on medium-low until fragrant and browned, about 10 minutes.

Pour the tomato salsa from the blender into the pot with chorizo, and while stirring occasionally, continue to cook until the salsa has darkened and slightly reduced, about 15 minutes. Squeeze in the lime juice then taste and adjust seasonings, adding salt to taste.

Meanwhile, while the sauce simmers, in a large heavy skillet heat 1/2 inch of oil on medium-high to 350°F, about 5 minutes. If you don't have a thermometer, you can test the temperature by sticking a wooden spoon into the oil. If it bubbles around the spoon, it should be ready for frying. Line a large plate or sheet with paper towels.

Working in batches, add the quartered corn tortillas to the skillet and cook for 1 minute, turning once, until crisp. Remove with a slotted spatula and place on the lined plate. Continue until all the tortillas are fried. Lightly salt the fried tortillas.

For the chilaquiles, divide the fried tortillas onto 4 to 6 plates, and evenly pour over them the chorizo sauce. Top with diced onions, crumbled queso fresco, and cilantro leaves. Serve with guacamole on the side.