When I was growing up, my mom served a dish she called bean salad. It was made up of pinto beans, along with lettuce, tomatoes, cheese, avocado, and crushed tortilla chips. She dressed it in a tangy red wine vinaigrette.
As a child, I complained about bean salad night, but as an adult, I find myself turning to this combination often, as it's tasty, healthy, and quick to prepare. In fact, when I asked my mom about her inspiration for the dish, she said it was based on the classic Frito salad, a beloved Texan standard not only common on the dinner table but also a favorite for backyard gatherings and potlucks.
While the beginnings of Frito salad are unclear, it had its first press citation in 1955 when the Waxahachie Daily Light said it was to be served at the local schools. Though if it was already a lunch-menu mainstay, then it had probably been served long before that. While I wasn't able to source an earlier printed recipe or mention of the dish by that exact title, in a 1938 advertorial in the Los Angeles Times, the Fritos company did suggest adding its corn chips to salads would provide great crunch.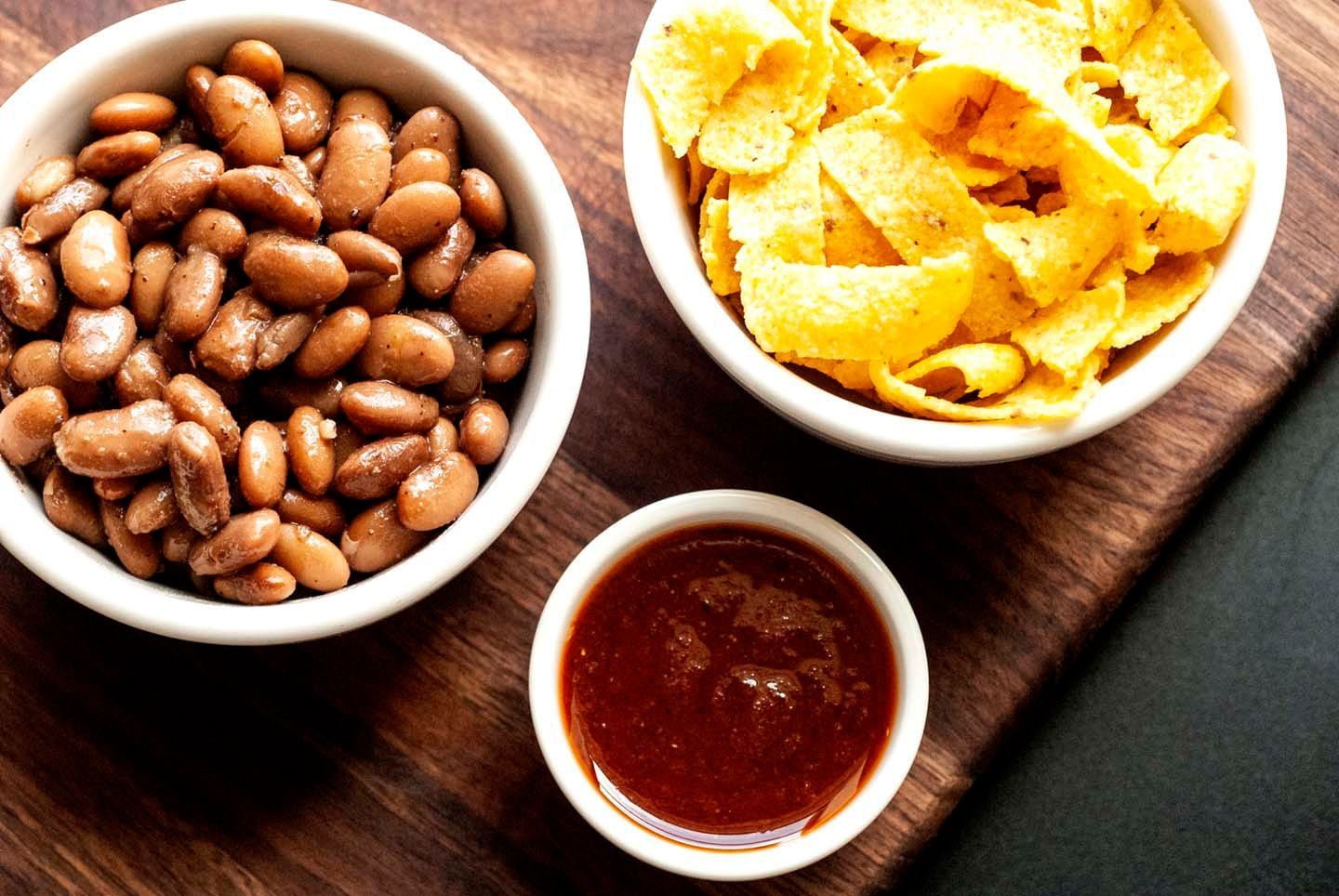 While subsequent press mentions after its Waxahachie media debut touted Frito salad as as a common addition to Texan suppers and parties, the first recipe didn't appear until 1969 in the Plano Star Courier, which seems late in its timeline, as it's obvious people were sharing it and serving it long before that. This rendition called for a head of lettuce, chopped tomatoes, Ranch Style beans, shredded Longhorn cheese, Fritos, and a bottled French dressing produced by Kraft with the brand Catalina French dressing.
Now, what's unique about Catalina French dressing, which was introduced in 1957, is that it has nothing to do with either France or Catalina Island, which is off the coast of Southern California. (In fact, the Catalina Chamber of Commerce once received an email thanking it for its namesake dressing and they were confused as to why this had even occurred!) Instead, this dressing, made with vinegar, oil, spices, and ketchup, is an American invention that goes back to the turn of the century.
Until the early 19th Century, French dressing was always described in American cookbooks as a vinaigrette made from the classic ratio of three parts oil to one part vinegar. Spices and herbs were sometimes stirred in as well. Then in 1897, an American cookbook called Table Talk advised a dollop of mushroom catsup could be included for extra flavor. While no longer a common condiment, mushroom catsup has a similar flavor to Worcestershire sauce. And thus began the adding of catsup (or ketchup) to French dressing, though it would be five more years, in the 1902 book Mrs. Rorer's Cookbook, where the more popular tomato ketchup was advised to be added instead.
When you look at recipes for this America-style French dressing made with ketchup and spices, it was often called "piquant French dressing." Though in 1952, a food column in the Houston Chronicle called its French dressing comprised of oil, vinegar, ketchup, garlic, and chili powder "patio dressing," a term I like very much, as it invokes a relaxing meal served outside.
There is no information on why Kraft chose to call this style of French dressing Catalina, though I suppose it was meant to convey a lifestyle and sense of place, much like ranch dressing or Thousand Island dressing. But even though it's now the standard condiment to Frito salad, as its arrival came after the salad's birth, I find that not only is it more flavorful to make my own dressing, but I've chosen to follow the Houston Chronicle's festive lead for a zesty French dressing, seeing as how it's a Texan salad, after all.
Indeed, Frito salad, with its crisp and cool combination of chopped iceberg, juicy tomatoes, rich cheese, creamy avocados, tart onions, earthy black olives, and crunchy chips, is a fine food to share on the patio with your loved ones on a summer day.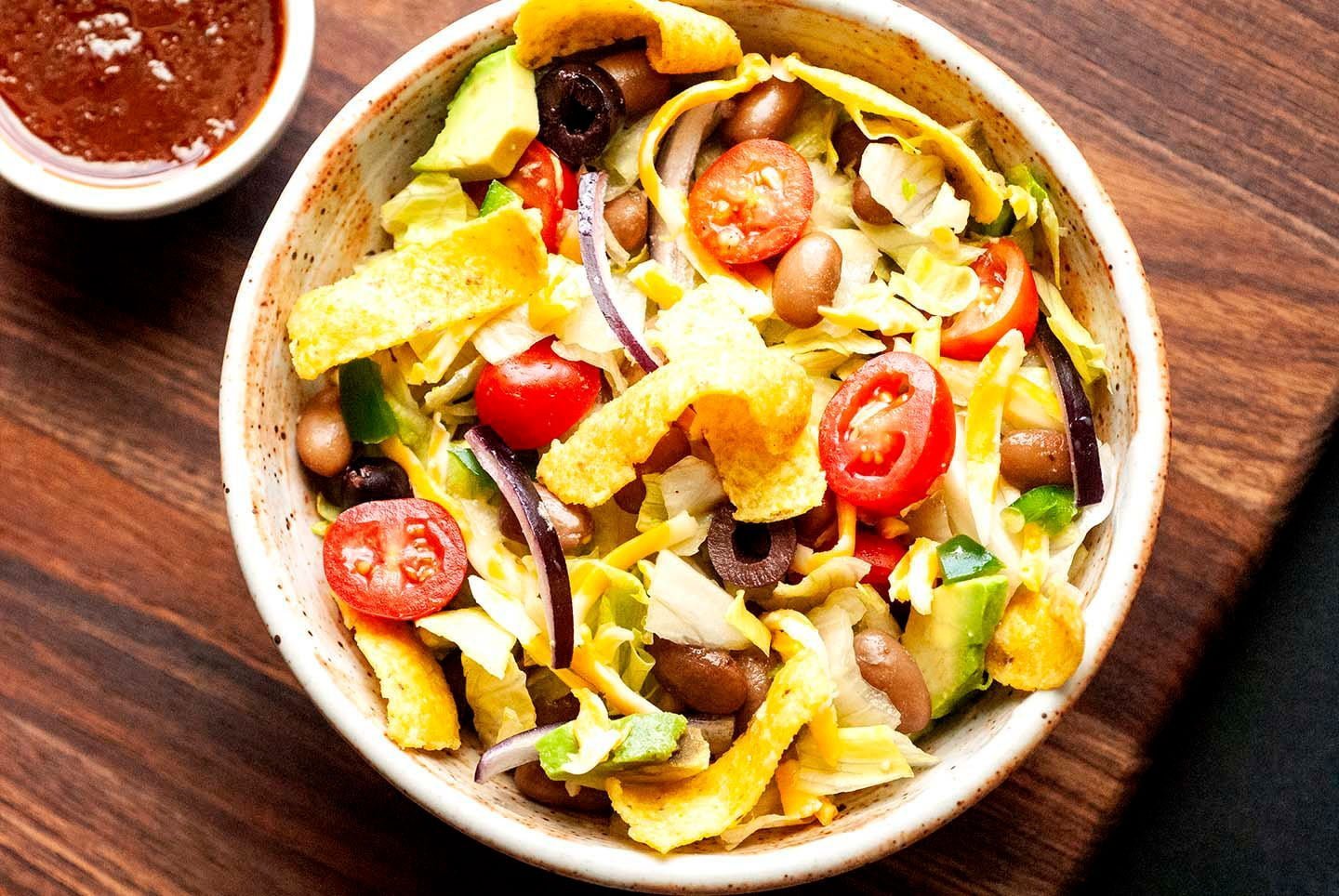 In my second book, I created a fancier version of this dish, but sometimes it's welcome to take the original and finesse it only a bit. So, by using fresh ingredients, and making your own dressing (and perhaps your beans) from scratch, this humble dish becomes easily elevated. Yet it's still familiar and beloved all the same.
—————
Would you like more Homesick Texan? Well, I've started offering additional recipes for paid subscribers to help with the costs of running the site. While I'm not taking anything away, if you'd like to support Homesick Texan and have access to exclusive, never-seen-before subscriber-only posts, please consider becoming a member; annual subscriptions are as low as $25. Thank you for reading, your consideration, and your support!
—————

Classic Frito salad
Ingredients
For the dressing:
1

cup

grapeseed or other neutral salad oil

1/4

cup

red wine vinegar

1/4

cup

tomato ketchup

2

teaspoons

prepared mustard

1/4

teaspoon

Worcestershire sauce

1 1/2

teaspoons

chili powder

1

teaspoon

onion powder

1/2

teaspoon

garlic powder

1/2

teaspoon

kosher salt

1/2

teaspoon

black pepper
For the salad:
1

head iceberg, chopped

2

cups

grape tomatoes, sliced

2

jalapeños, seeded and diced

1/4

cup

sliced black olives

1/4

cup

red onion, cut into thin slivers

2

cups

Ranch Style Beans or other cooked pinto beans, rinsed and drained

1

cup

(4 ounces) shredded Colby Jack cheese

1

avocado, peeled, pitted, and cubed

2

cups

Fritos or other thick corn tortilla chips
Instructions
To make the dressing, add the oil, vinegar, ketchup, mustard, Worcestershire, chili powder, onion powder, garlic powder, salt, and pepper to a jar, put on the lid then shake until the dressing is well blended. Alternatively, you can simply whisk the ingredients together.

To make the salad, toss the iceberg, tomatoes, jalapeños, olives, red onion, beans, cheese, avocado, and chips together until well combined.

Serve the salad with the dressing on the side. If you're taking this to a potluck, add the avocados and Fritos just before serving so they remain fresh.