One weekend, friends were getting together for a backyard barbecue. The hosts were providing the main course and they asked their guests to bring a side dish. When discussing what was going to be shared, one friend said she'd be bringing a cucumber salad. I asked her about the recipe and she laughed saying that it was my recipe. The salad was one of her potluck mainstays.
Because it's been over ten years now since I wrote my first book (which is incredible for me to think about), there are some recipes in it that I haven't made in quite some time. This isn't a terrible thing, however, as it tells me that creativity is endless and instead of ruminating on my past works, I am so busy exploring and making new things that I sometimes lose track of past recipes.
When she reminded me of this salad's appeal on a sultry day, I went back to it to see how it tasted. It's not complicated as it's just a bowl filled with sliced cucumbers, onions, garlic, dill, and sour cream. It was inspired by an old Texas dish that uses the same.
To bring it up to date, there's also jalapeño, cumin, and cilantro included, which gives it a Tex-Mex edge. When I prepared it again recently, I also tweaked a couple of the ingredients, bumping up the garlic and dill to give it even more flavor.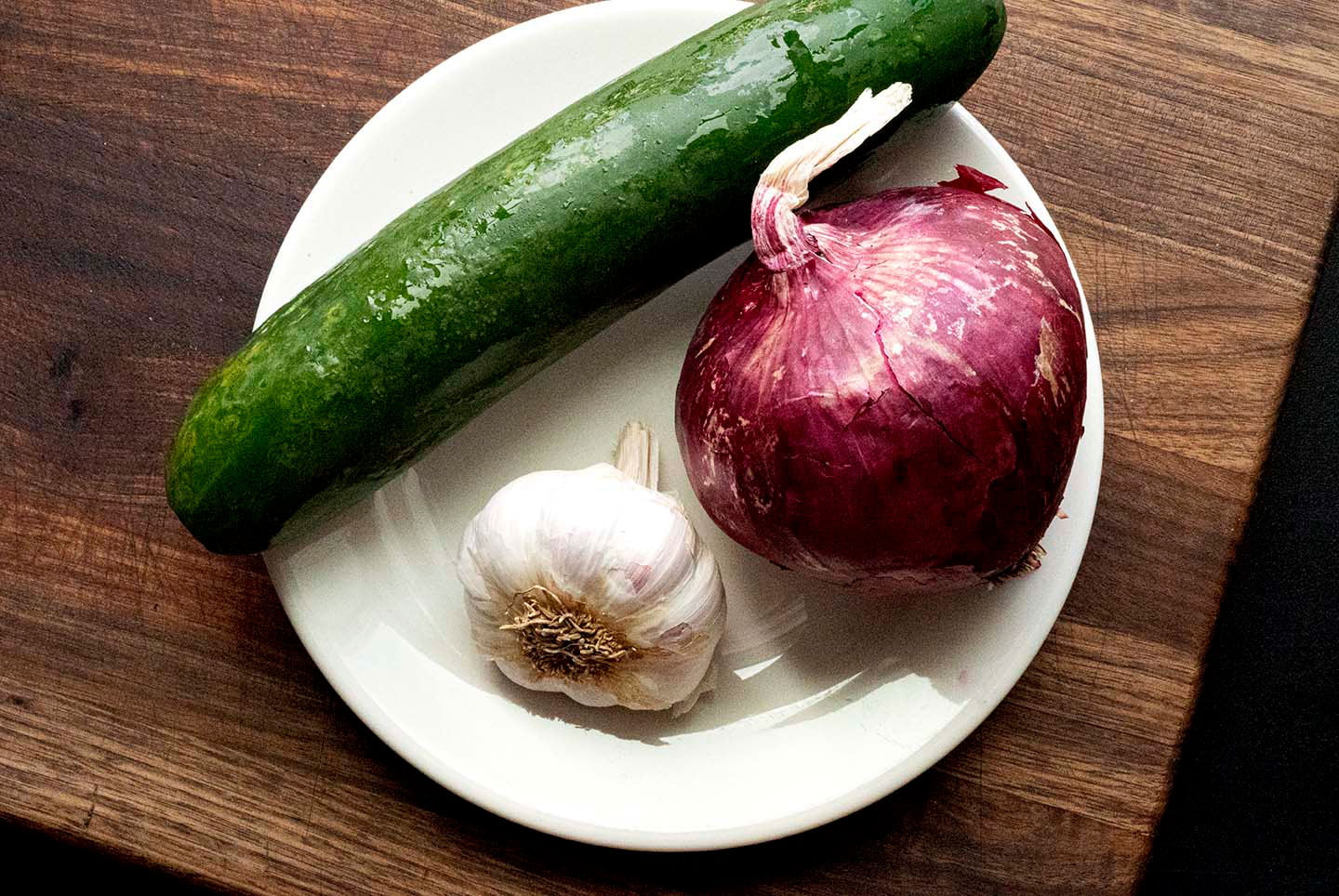 I also changed the name, adding the adjective "creamy" to differentiate it from other cucumber salads that are made with a non-dairy vinaigrette, such as this cucumber and tomato salad.
As the new name implies, the dressing is indeed creamy and can be made with either sour cream or thick Greek yogurt, making it versatile. While it's not a full-on buttermilk dressing or ranch dressing, it's certainly in the same family.
After you toss the cucumbers with the rest of the ingredients, they soften and release their sweet and refreshing juice into the mix. As they soften, they absorb the other flavors and become tangy and savory. It's a vibrant, zesty foil to anything roasted or grilled.
Here is this creamy cucumber salad, which if it's new to you, I highly recommend it for your upcoming gatherings. Whether it be for Father's Day, Juneteenth, Fourth of July, or any get-together where you reconnect with family and friends, it will be a invigorating addition to your summertime table.
—————
Would you like more Homesick Texan? Well, I've started offering additional recipes for paid subscribers to help with the costs of running the site. While I'm not taking anything away, if you'd like to support Homesick Texan and have access to exclusive, never-seen-before subscriber-only posts, please consider becoming a member; annual subscriptions are as low as $25. Thank you for reading, your consideration, and your support!
—————
Creamy cucumber salad
Ingredients
2

cucumbers, cut into 1/4-inch round slices

1

teaspoon

kosher salt

1/2

cup

sour cream or thick, Greek-style yogurt

1

tablespoon

white wine vinegar

1

teaspoon

Dijon mustard

1/4

medium red onion, diced

2

cloves

garlic, minced

1

jalapeño, seeded and diced

1/4

cup

cilantro, chopped

1

teaspoon

dill weed

1/2

teaspoon

cumin

1/4

teaspoon

cayenne
Instructions
Toss the sliced cucumbers with salt then refrigerate for an hour so they can release their excess liquid. After they've released some liquid, drain the salted cucumbers in a colander before using.

For the dressing, in a mixing bowl, stir together the sour cream, vinegar, mustard, red onion, garlic, jalapeño, cilantro, dill, cumin, and cayenne until well blended.

Add the cucumbers to the bowl, then gently stir until they are well coated in the dressing. Taste and adjust seasonings.

Serve immediately or you may cover and refrigerate before serving. Will keep refrigerated for a few days.