Last May, my uncle sent me a photo of a patch of dewberries. When I asked where he'd found them growing, he replied they were in the north pasture. It took me a minute, but it slowly dawned on me that my uncle had found this abundant patch of berries at my family's farm. It was quite a surprise.
When I was growing up in Houston, we had gone dewberry picking in the untamed areas near my house. Because I had never seen these wild blackberries in the Dallas area, where my family is from and where I'd spent the first nine years of my life, I'd just assumed they were a Southeast Texas phenomenon. We all know, however, what they say about those who assume.
Indeed, when I returned to North Texas a few years ago, I heard reports of people picking dewberries all over the area—from Waxahachie to Sherman and all points in between. When driving in more rural areas, I'd pull off the road and look for them in the ditches, in the woods, and along the creeks, which is where you typically encounter the fruit. But I never came across any.
Then came that fateful message from my uncle (who is famous for his salsa). It was shocking to learn that all this time dewberries had been growing on my family's land, which has been with us since the 1840s. I've been visiting our place in Texas all my life and thought I'd explored every nook and cranny, but for some reason, I'd missed this bramble of untamed fruit.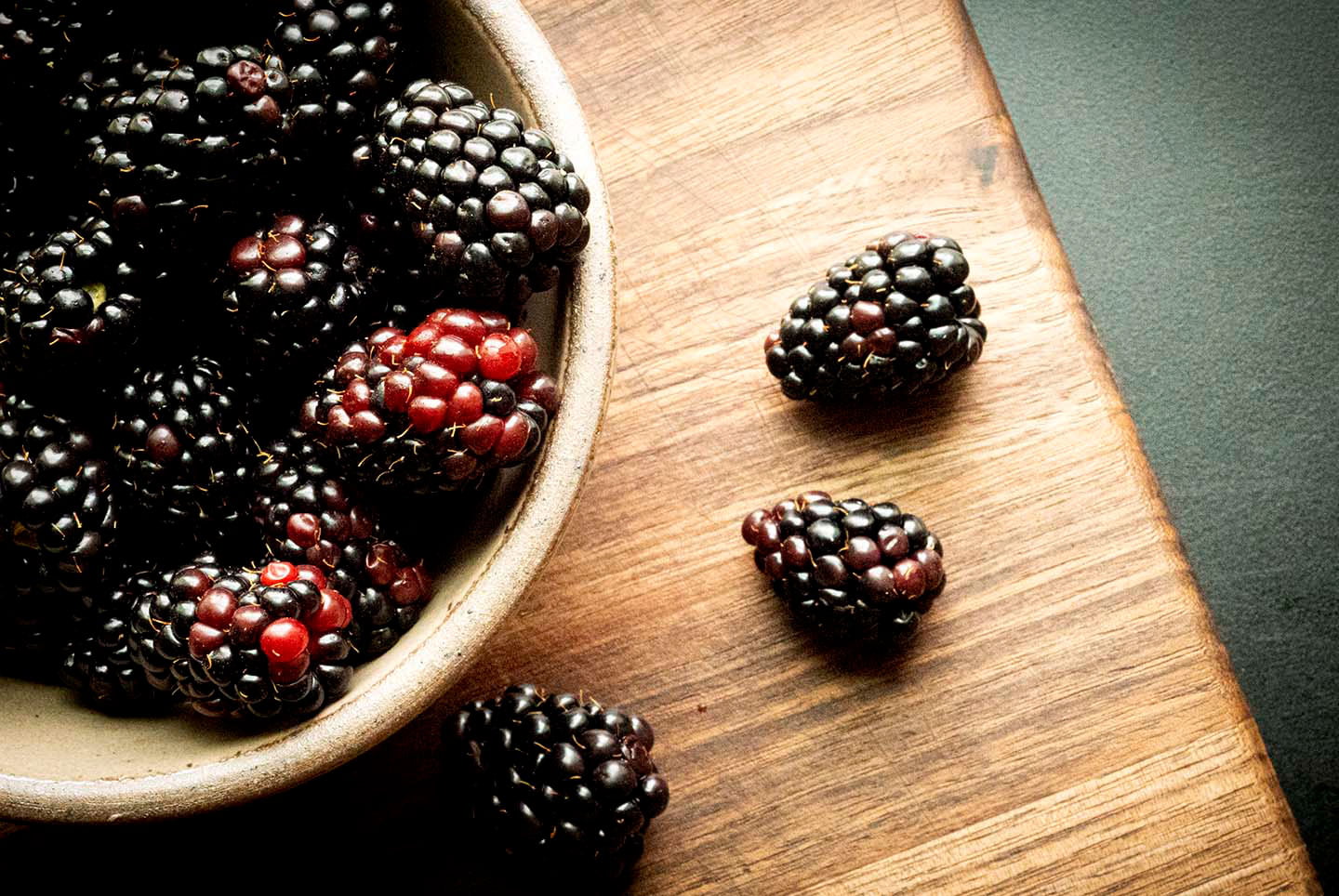 Curious to see them in person, I hopped in my car and drove up to Collin County. When I arrived wearing sandals, my uncle pointed towards a row of rubber boots on his back porch so I could easily walk through the thistles, thorns, and strings of ivy—both poisonous and benign.
As I made my way through the unruly ground, I looked down, and there they were—little black and dark red clumps of seeds and juice. I picked a particularly dark berry that appeared ripe and took a bite. It was juicy, tart, and good.
A few days later, my aunt baked a dewberry cobbler with their haul. She declared it the best she ever had. Fortunately, they had picked enough to cook the recipe. Though sometimes when you encounter dewberries, there may not be a large number, and I began thinking of other ways to preserve what you have. Dewberry jam came to mind, as you can prepare a small batch with just a few ounces.
To make this sweet and tart spread is simple. You toss the berries with sugar, lemon juice, and zest, then let them rest for a few minutes so they can turn soft and juicy. Then you cook the mixture until it becomes thick. A test with a thermometer or a frozen plate will let you know when it's ready. Then you pack it into a jar, let it cool, then dollop a spoonful onto a warm biscuit. It's so good.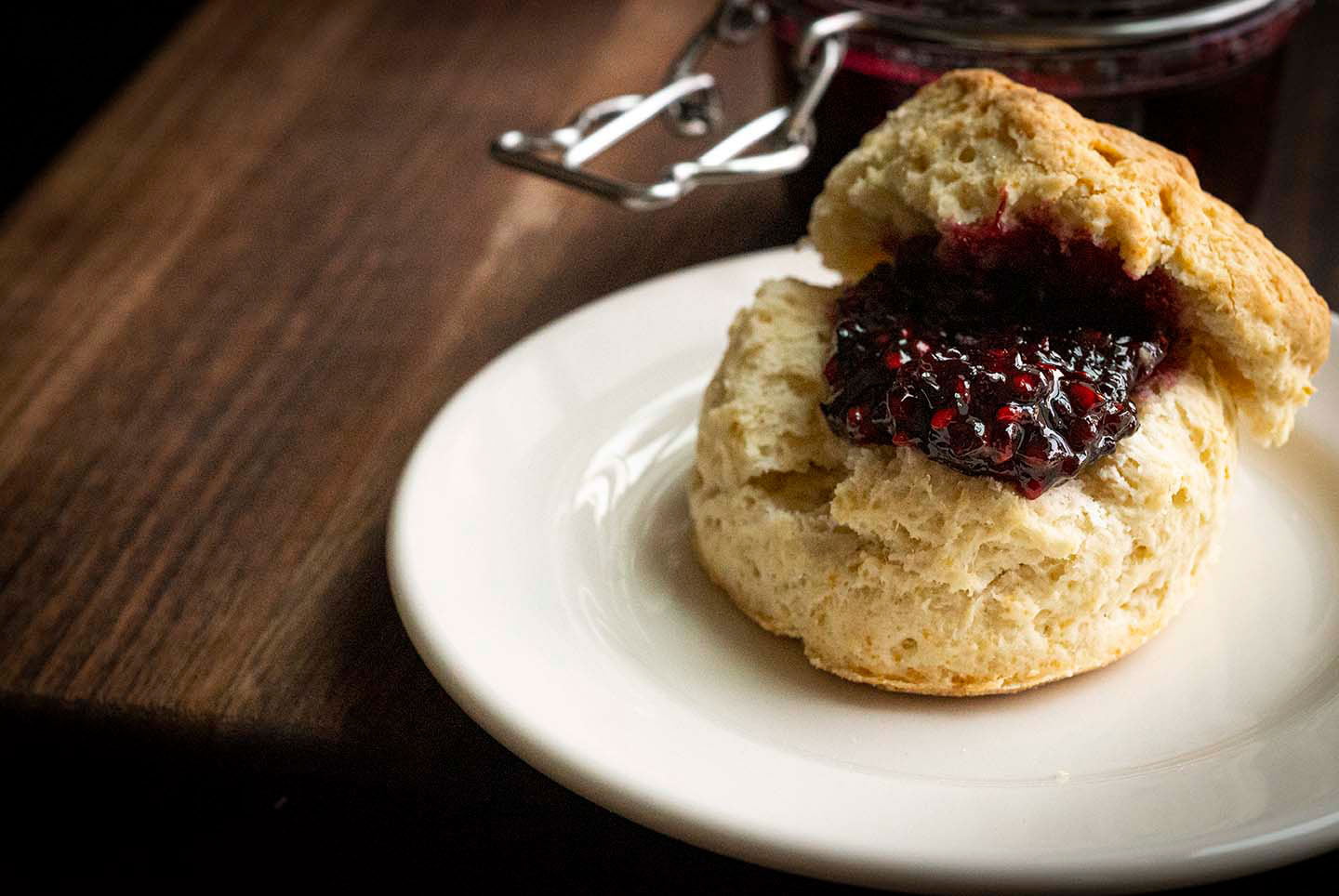 If you haven't found dewberries yet, you can make this recipe with blackberries, too. But keep looking. If you open your eyes, they may surprise you and you'll find that this beautiful fruit has been close this whole time.
—————
Would you like more Homesick Texan? Well, I've started offering additional recipes for paid subscribers to help with the costs of running the site. While I'm not taking anything away, if you'd like to support Homesick Texan and have access to exclusive, never-seen-before subscriber-only posts, please consider becoming a member; annual subscriptions are as low as $25. Thank you for reading, your consideration, and your support!
—————
Dewberry jam
Ingredients
2

cups

(12 ounces) fresh dewberries or blackberries

1

cup

granulated sugar

1

tablespoon

fresh lemon juice

1

teaspoon

fresh lemon zest

1

sterilized pint jar
Instructions
After rinsing, place the dewberries in a saucepan then toss with the sugar, lemon juice, and lemon zest. Allow to sit for 15 minutes or until softened and starting to release some juices.

Place a plate in the freezer. You will be using this later to test the doneness of the jam.

Turn the heat under the saucepan to medium high and smash the berries with a masher. While occasionally stirring, cook until the jam has thickened or has reached a temperature of 220°F, about 15-20 minutes. As it cooks, the jam will get foamy but that's normal.

To test if the jam has set, place a spoonful of it on the plate that's been in the freezer. After a few seconds if the jam doesn't run it's ready.

Pour into the jam into the prepared pint jar and refrigerate. It will keep for 1 month.
Notes
This recipe can easily be scaled up or down, though you will need to adjust the cooking time accordingly.