When I used to go home to Houston, my first stop after I got off the plane was a restaurant called Amalia's. It was a Tex-Mex joint and on the menu there was one of my favorite dishes—enchiladas verdes.
Amalia's enchiladas verdes were the best in their class. The sauce wasn't complex, as it was just a tomatillo, serrano, garlic and cilantro blend. And the meat wasn't fussy, as it was just sweetly caramelized little bites of pork that were both crisp and juicy. But when you combined those two with homemade corn tortillas, melted cheese, onions, avocadoes and sour cream, you suddenly had a plate of food that felt like home.
Now, I realize this is a restaurant dish I'm talking about, and one thing I've learned through the years is that nothing beats home cooking. But there was something to these enchiladas—which I'd been eating since I was 10—that made me happy. Amalia's was a family restaurant so I suspect some love was added to each plate.
But then late last year I received sad news. The owner's daughter had read an article in which I expressed my admiration for the enchiladas verdes, and while she thanked me for the mention she informed me that her mother Amalia had decided to retire and close her eponymous restaurant.
Now, this might sound odd, but the news was devastating—it was almost as if a friend had died. For most of my life this had been my go-to restaurant, with the enchiladas verdes my first choice for a meal whenever I returned to Houston. Heck, one time my mom even got it as a to-go order for me since my flight arrived long past serving hours. She laughed as I came into her kitchen and stood at the counter eating my order of enchiladas straight from the container long past midnight. But if you have a favorite dish that you can't find anywhere else then you completely understand.
Fortunately, the last time I ordered the enchiladas I took notes. "Tomatillo, serrano, cilantro and garlic," was what I had written, which was a good place to start. There were also plenty of photos of the plate to guide me. It wasn't much, but as it was all that I had, it would just have to work if I was going to make this dish at home.
Amalia's salsa had a mellowness to it, which implied it was cooked as tomatillos are pretty tangy in the raw. To recreate it, at first I tried roasting the tomatillos and aromatics under the broiler, but the salsa was too strong and smoky. I then tried pureeing the vegetables with a long cooking time afterwards, but this version was still not quite right.
After a few more unsuccessful attempts, I read about a Hatch chile salsa that boiled everything before throwing the ingredients into the blender. I was a bit dubious, but I tried the method with my tomatillo and serrano salsa. Well, wouldn't you know it—the boiling was the key and the result was a balanced salsa verde that was smooth enough to be eaten on its own but was also an excellent companion to the tortillas, cheese and pork.
While my favorite enchiladas verdes always had carnitas as the filling, you could just as easily use chicken, beans or cheese, too. Though I insist you top the enchiladas with slices of onion and avocado as these add yet another layer of flavor as you tuck into each bite.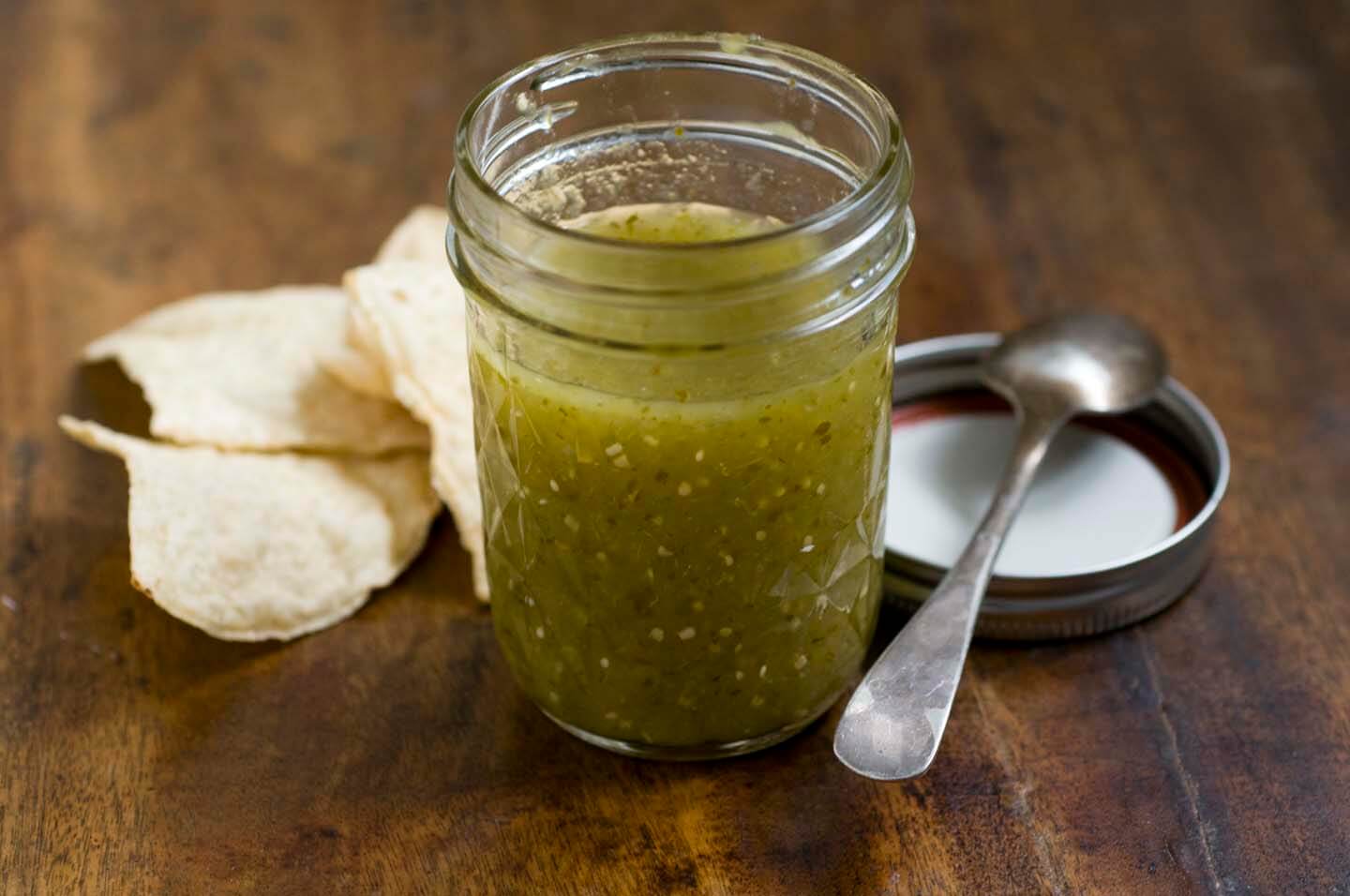 As with all recreations, these enchiladas aren't exactly like the ones I grew up eating, but they're still very good. I'll miss driving straight from the airport to get my plate, but fortunately there are still plenty of other dishes that also say, "Welcome!" You know how it is—that first taste of Texas that tells you that you're home.
Enchiladas verdes recipe
Ingredients
Ingredients for the salsa verde:
1 1/2

pounds

tomatillos, husked

1/2

medium yellow onion, peeled, cut into wedges

3

cloves

garlic, peeled

1 or 2

Serrano chiles, seeded and cut in half

1

cup

cilantro

teaspoon

Kosher salt
Ingredients for the enchiladas:
2

tablespoons

vegetable oil

12

corn tortillas

2 1/2

cups

cooked carnitas or cooked shredded chicken

2

cups

8 ounces shredded Muenster, Asadero or Monterey Jack cheese

Sour cream

1/2

medium onion, peeled, cut into rings

2

avocados, peeled, pitted, and cubed
Instructions
To make the salsa, place the tomatillos, onion, garlic, serrano chiles, cilantro, and salt in a large pot. Add 3 cups of water and bring to a boil on high. Continue to boil uncovered for 10 minutes or until the tomatillos go from a bright green to a light, muted green (If the water doesn't cover them completely, don't add more water just turn the tomatillos in the pot halfway through the cooking so all sides are exposed to the boiling water).

Turn of the heat and let cool for 10 minutes. With a slotted spoon, transfer the tomatillos onion, garlic, chiles, and cilantro to a blender. Add 1 1/2 cups of the cooking liquid and when cool, blend until smooth.(If you don't let the vegetables cool, the steam will make the blender lid pop off, which makes for a bit of a mess.) If the salsa is too thick, add more of the cooking liquid until its thin enough too pour. Taste and add more salt as needed.

Preheat the oven to 350° F. Lightly grease a 9×13 baking dish and spread 1 cup of the salsa along the bottom. In a skillet, heat up the oil on medium-low heat. One at a time, heat up the tortillas in the oil, and then keep them wrapped in a cloth or tortilla warmer until all the tortillas are heated.

To assemble the enchiladas, take a heated tortilla, place 1/4 cup of the cooked carnitas or chicken down the center, and then roll the tortilla. Place filled tortilla in the baking dish and repeat.

Pour evenly over the rolled enchiladas the rest of the salsa. Top with the shredded cheese. Bake uncovered for 15 minutes or until cheese is lightly browned and bubbling. Serve warm topped with sour cream, onion slices and avocadoes.