Everything's better with biscuits
I make good biscuits. Are they the best biscuits? I have no idea. But I enjoy them and when others are around they seem to rapidly disappear. For instance, one time when I had people over for breakfast, I made a batch and left them out on a plate while I busied myself with other things. When I returned, a friend had eaten them all! I asked him why he didn't save any for the rest of us, and he said they were just so tasty he couldn't stop. Fortunately, they don't take long to make, so I quickly whipped up more so my other guests could eat some, too.
Last spring, my grandfather was in poor health. While his spirits were high and his mind sharp, his body required round-the-clock care. My grandmother had taken on the task of tending to him, which left her little time to do other things, so I flew down to Texas to help out for a few days. While I'm not much use outside on a farm (my tractor-driving skills notwithstanding), I can cook and clean, which is how I decided to ease her load. Before I started preparing meals, however, a trip to the grocery store was in order. As I surveyed what was needed, I saw a suspicious-looking cylinder in the refrigerator.
"Grandma, are y'all eating biscuits from a can?" I asked. She admitted that indeed, because she was so pressed for time, she had been serving canned biscuits. That's just wrong, I thought to myself. No one should ever have to eat biscuits from a can, especially when fresh biscuits are such a cinch to make. So I made them biscuits. And like my friend, they ate them all, in between bites saying, "My, my. These are heavenly!"
During the remainder of my stay, I baked a few more batches that they froze so they'd have them to chow on when I wasn't there. And when I returned at Thanksgiving—yep, you guessed it—I was back on biscuit duty. This time, my mom snuck into the kitchen and grabbed one straight out of the oven. When I caught her in the act, she looked guilty. "They're just so good! I couldn't wait," she said. But what people don't understand is I love to make biscuits and as long as people keep eating them, I'll just keep making them!
My recipe is pretty standard and simple, and is open to variation depending on what you want to do with your biscuits. I suppose they'd be more Texan if I used lard and a sourdough starter, but I instead use butter along with buttermilk or cream. Nevertheless, these biscuits are soft and fluffy with a moist, rich crumb. I like to eat them hot out of the oven with butter and honey, but they are just as delicious with gravy or jam or even on their own. And they rise and flake nicely, which I attribute to my beating them a bit.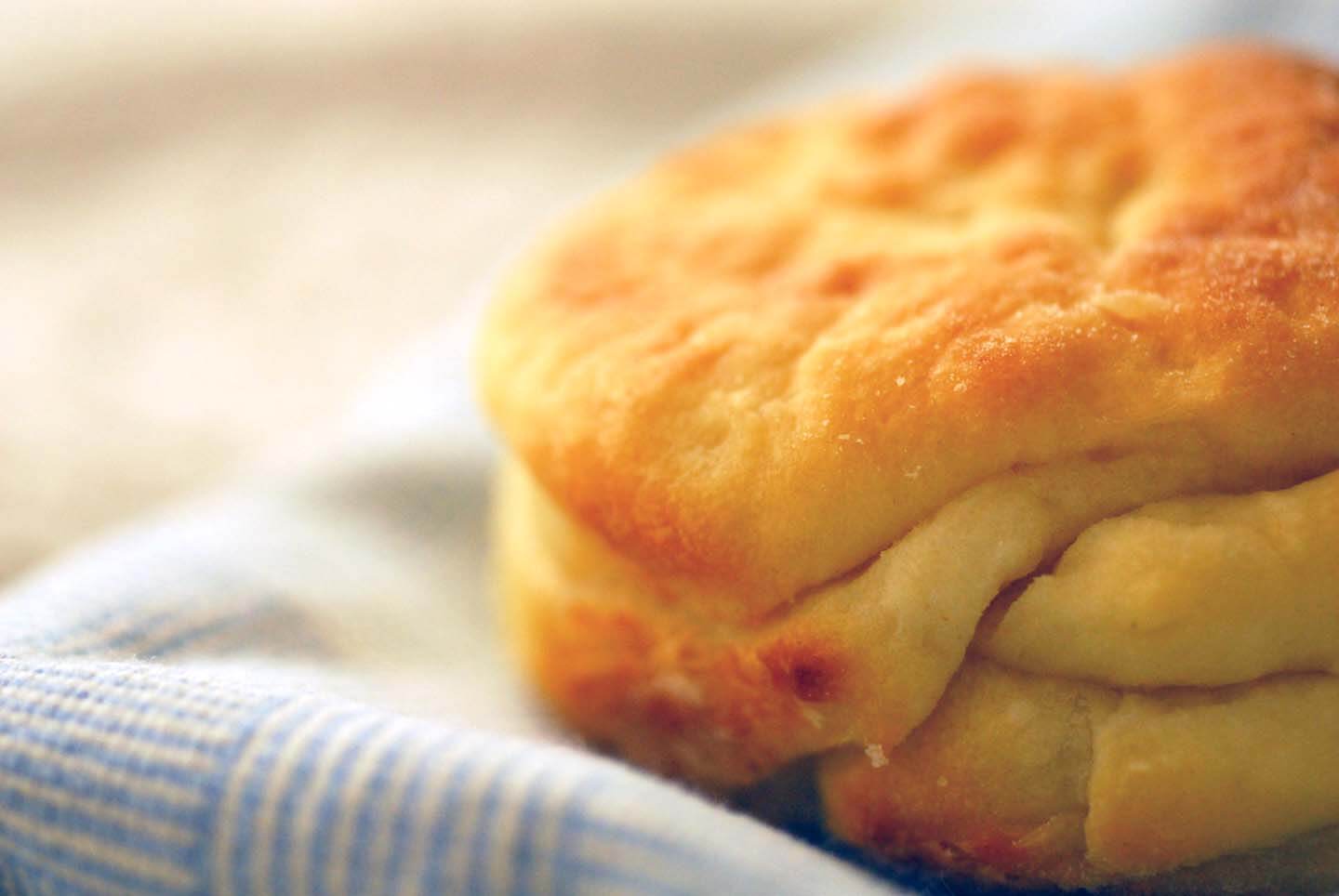 For a bit of background, beaten biscuits are what people made in the days before baking soda and baking powder was around. In order to get the biscuits to rise, cooks would beat the dough with a mallet, rolling pin or even an axe for over half an hour until it blistered. This injection of air into the dough caused them to lift a bit, but beaten biscuits are still pretty flat, crispy and dense. And while I don't usually have the time to make beaten biscuits (even though it's an excellent upper-body workout), I like to think beating my dough a little can't hurt.
I've never thought making homemade biscuits was anything special, but I'm often surprised at how many people are intimidated by the process. Trust me, it's easy. And once you have fresh biscuits that you've made with your own hands, you'll never eat canned biscuits again. Plus you'll make your friends and family very happy.
—————
Would you like more Homesick Texan? Well, I've started offering additional recipes for paid subscribers to help with the costs of running the site. While I'm not taking anything away, if you'd like to support Homesick Texan and have access to exclusive, never-seen-before subscriber-only posts, please consider becoming a member; annual subscriptions are as low as $25. Thank you for reading, your consideration, and your support!
—————
Biscuits
Ingredients
2

cups

all-purpose flour

1

tablespoon

baking powder

1

teaspoon

sugar

1/2

teaspoon

kosher salt

1

stick (8 tablespoons) unsalted butter, chilled

3/4

cup

buttermilk, cream, or half-and-half
Instructions
Preheat the oven to 450° F and lightly grease a baking sheet or cast-iron skillet.

Mix together the flour, baking powder, sugar, and salt.

Cut the stick of butter into pieces, and work into the flour mixture with your hands or a pastry blender until it resembles pea-sized crumbs.

Add the liquid, stirring until a bit loose and sticky.

Pour the dough out on a floured surface, and knead for a minute. Dough should be smooth and no longer wet. You can sprinkle more flour on the surface if you find it's sticking.

Take the dough into a ball, and hit it with a rolling pin, turning it and folding it in half every few whacks. Do this for a couple of minutes.

Roll out dough until it's 1/4" thick, and then fold it in half. Using a round cutter (can use a glass or a cup if don't have a biscuit cutter) cut out your biscuits from the folded dough.

Place on a greased baking sheet close together (so they rise up not out), and bake for 15 minutes or until the tops are golden brown.

If you don't want to roll and cut them out, after kneading and beating the dough you can drop the dough onto the baking sheet with a spoon. They're not as symmetrical (dropped biscuits are also known as cat head biscuits) but they're no less delicious.