Last November, I spent almost the entire month in Texas. Over the course of several weeks, I drove around the state doing book events, visiting with family and friends, and enjoying tons of good food. Usually, I'd eat at least four times a day (I like to try everything when I'm home), so I reckon I had almost 100 meals when I was there. While most of it was excellent, here are 15 that I truly loved. Perhaps it can inspire your own road trip, too.
My journey began in Dallas, and as soon as I got off the plane I drove to Slow Bone Barbecue, where I had a three-meat plate with brisket, cilantro sausage, and ribs along with horseradish cream potato salad, a buttery squash casserole, and fresh-from-the-fryer hush puppies on the side. Everything was soulful and excellent and it was clear that lots of joy goes into their food.
After lunch number one, I headed over to nearby Herrera's, which has been one of my all-time favorite restaurants since I was a kid. There I had a combo plate with a cheese taco, tamale, and beef enchilada. Chili gravy were smothered on the latter two with queso on the first. Three familiar old friends.
In between Austin and Dallas is Waco, where I stopped for a Super Health Burger (it's the sauce that makes it special) at Health Camp, with a small basket of crisp onion rings riding shotgun.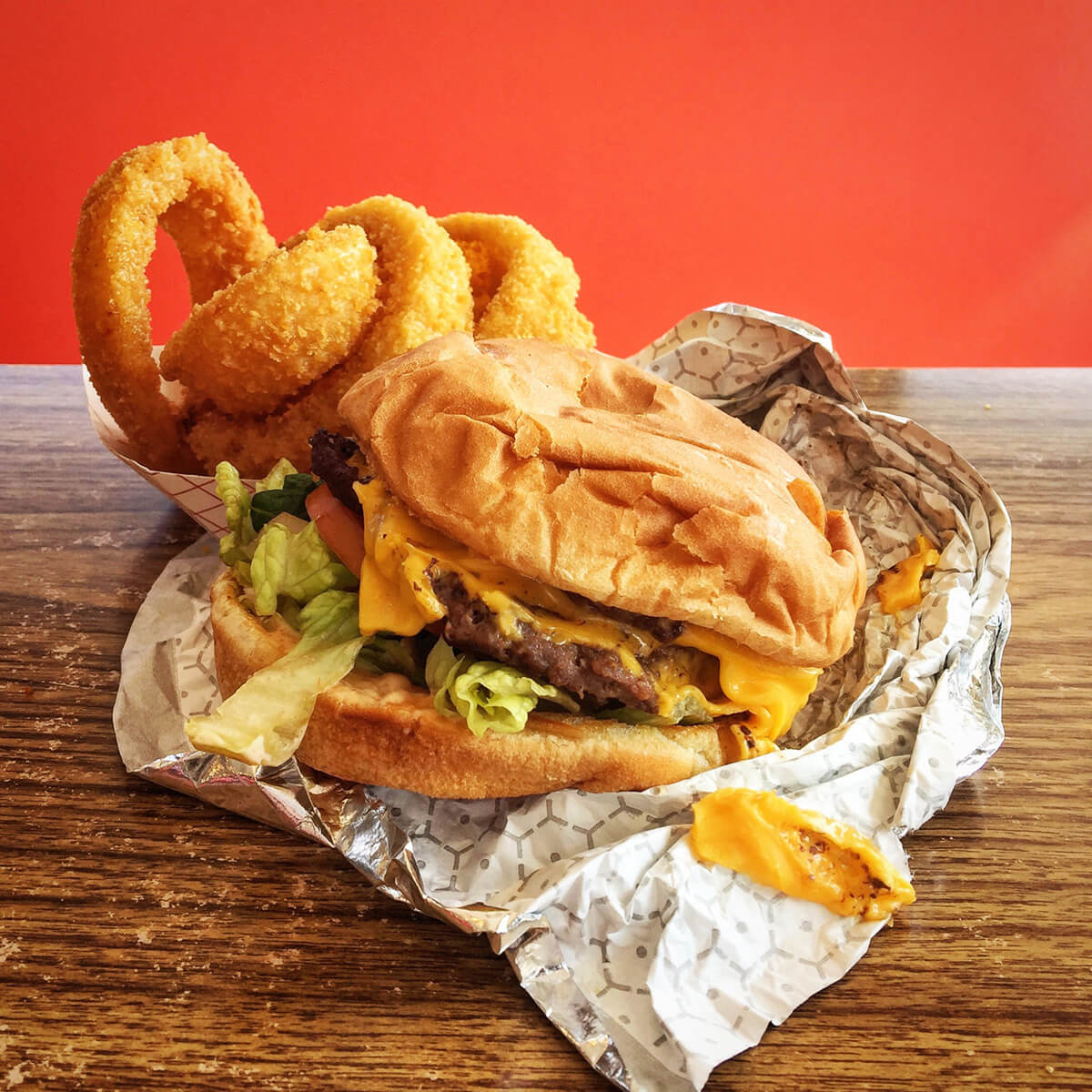 Whenever I'm in Austin, a visit to Matt's El Rancho for a bowl of Bob Armstrong dip is always a must. It's a creamy queso classic served with perhaps the finest tortilla chips in Texas. The corn tortillas are made with fresh masa in house, then they're cut in half, fried, and salted. A deluxe vehicle for delivering queso and hot sauce to your mouth.
After a trip to the tremendous new Austin library, I had lunch at Terry Black's. The brisket, sausage, and ribs were nothing fancy, just a well prepared taste of Texas barbecue. And as an added bonus, there wasn't a long line.
My favorite cheese enchiladas in Austin can be found at Dart Bowl, a bowling alley on the north side of town. You can get a full plate, which comes with beans and rice, but that day I ordered the enchiladas on their own with toasted homemade bread. (I highly recommend this or the homemade rolls they offer over their tortillas, which are store-bought.) A fried egg splayed on top is a solid option, too, though I didn't do it this time as this was my second lunch of the day.
Over three days in San Antonio, I ate my weight in Tex-Mex. First, I began at Garcia's, where they serve slices of smoked tender brisket with homemade flour tortillas, guacamole, rice, and beans.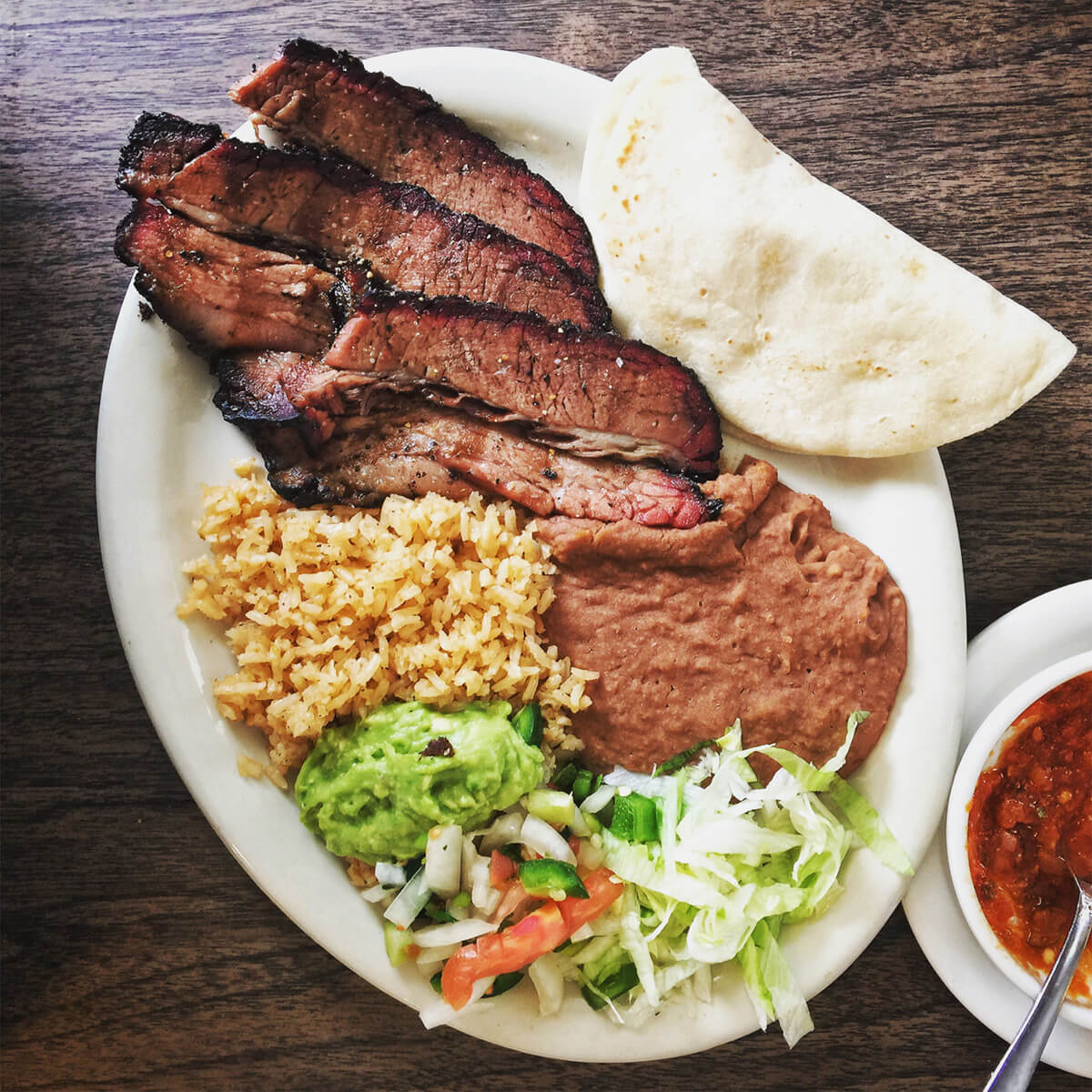 I went to breakfast at Taco Riendo one day, and because everything on the menu looked so good, I ordered a pork chop, a bean and cheese taco, and the jumbo taco Norteño, which was stuffed with refried beans, fajita meat, guacamole, and cheese. "That's a lot of food," said the waitress. Thankfully, there were plenty of to-go boxes on hand.
After doing a cooking demonstration on local San Antonio television, my friend recommended we fortify ourselves for our next television appearance at the Original Donut Shop. Despite the name, the tacos are what people line up for and I had three—a carne guisada, a country sausage and egg, and a bean and cheese. The tacos were fresh and the salsa was robust with plenty of heat.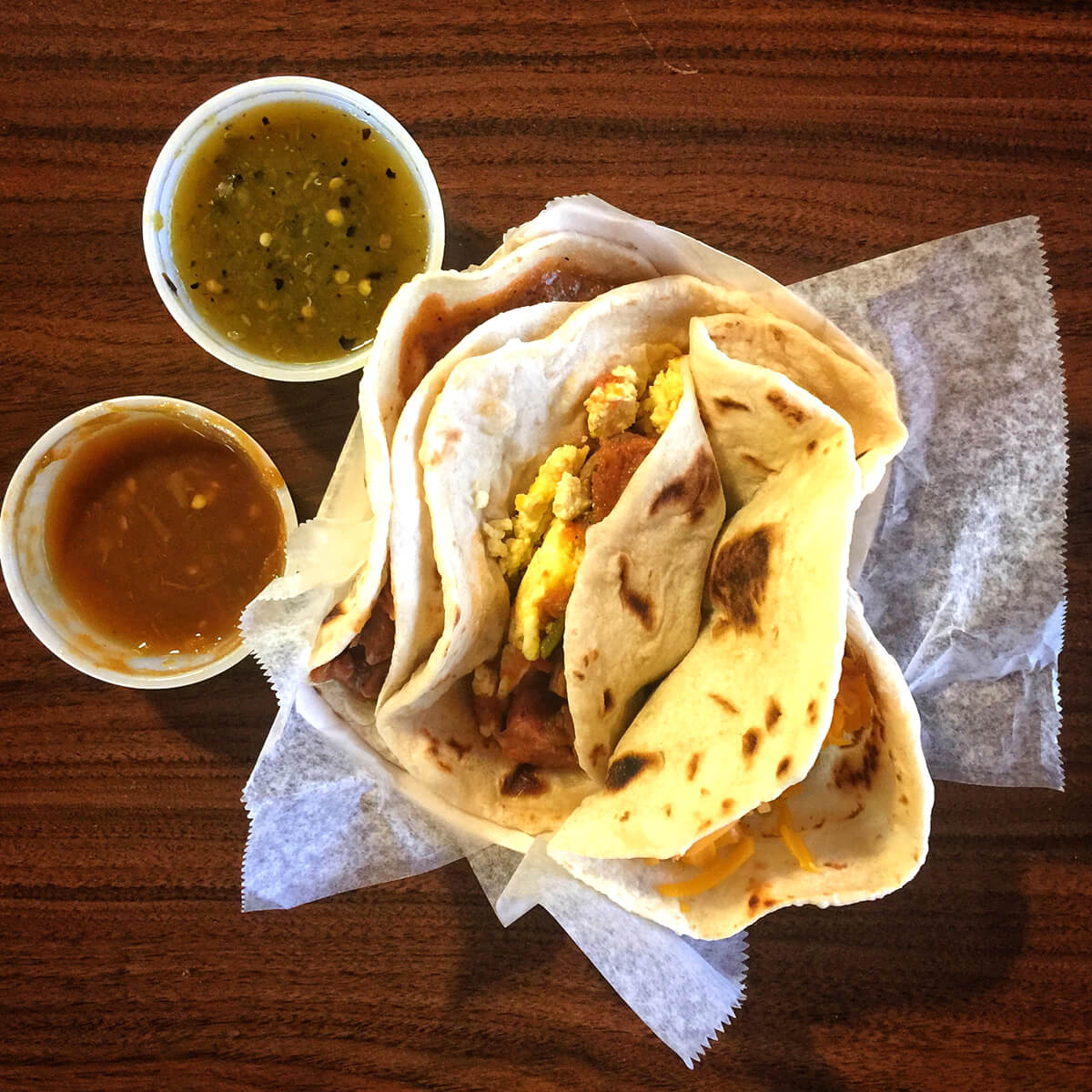 For years, I'd been hearing about the Indian-style chicken-fried steak at Himalaya in Houston that's served with a cashew-coconut cream gravy. Unfortunately, they weren't offering it the day I visited but the waiter suggested their spicy fried chicken, which was juicy and crisp with plenty of kick from the generously applied masala seasoning blend. The chicken wasn't too fiery, but the cool masala-yogurt sauce available for dipping was still appreciated.
A reader contacted me and suggested that while I was in Houston I visit Mi Sombrero, just north of the Heights. "Get the Tommy tacos," he advised. Said tacos were homemade flour tortillas stuffed with tender fajitas smothered in queso, sautéed jalapeños, and onions. "Who's Tommy?" I asked the waitress. A longtime customer, she said. It was his favorite and now it's one of my favorites, too.
My mom's temporary home has a Tomball address and so a visit to Tejas Chocolate Craftory was a must. This is a bean-to-bar chocolate maker that started smoking meat a few years ago. And the chocolate is indeed top notch, but it's their barbecue that's put them on the map. After waiting in a short line (I arrived a half-hour before opening), I ordered a three-meat plate with cornbread pudding and an ethereal carrot soufflé that was a little savory and a little sweet. In fact, while the barbecue was extraordinary, the carrot soufflé was perhaps my favorite thing on the tray.
No road trip across Texas is complete without a stop at Whataburger, where I had my usual—a Whataburger with cheese, lettuce, tomatoes, jalapeños, and mayonnaise. French fries, too. Not pictured are an unsweetened iced tea and two tubs of spicy ketchup.
On the journey between Houston and Dallas, just past Centerville sits the tiny town of Leona. I'd been craving chicken-fried steak and I'd heard this was the place to go. I stopped one afternoon at the Pecan Grove Cafe and ordered a plate that came with a trip to the salad bar, hand-cut curly fries, and thick slices of toast almost juicy with butter. As for the steak, it had been hand battered and fried in a skillet, which yielded a crisp and perfectly seasoned crust that adhered well to the fork-tender meat. To finish, a bowl of thick cream gravy speckled with black pepper was on the side. Besides homemade, this is one of the finest chicken-fried steaks I've ever had.
When I'm in Texas, eating out in restaurants is fun, but nothing satisfies like a home-cooked meal prepared with love. Indeed, my favorite thing I ate on my trip was made by my grandma. One afternoon, to celebrate my book signing that night, she baked me a chocolate pie. And between the two of us, we polished off the whole thing in a day.
As always, it was good to be back home.