The other day I was discussing okra with a friend. He's not usually a fan and thinks it mucks up the plate whenever it makes an appearance. "It's just so slimy," he said. "I don't know how anyone can stand it."
I have to admit that for the longest time I felt the same way. About the only way I could stomach it was when it was fried, but even then I'd more likely say no to a batch than yes. It wasn't until I was introduced to pickled okra that I realized that the slippery green spears could be crunchy, tangy, and crisp.
When talking with my friend, however, he confessed that he recently had fried pickled okra. "It has changed my mind," he said. I wasn't surprised, as indeed most people who feel squeamish about okra at least can take it when it's either fried or pickled. But when you combine both into one dish, even the most reluctant will become a fan.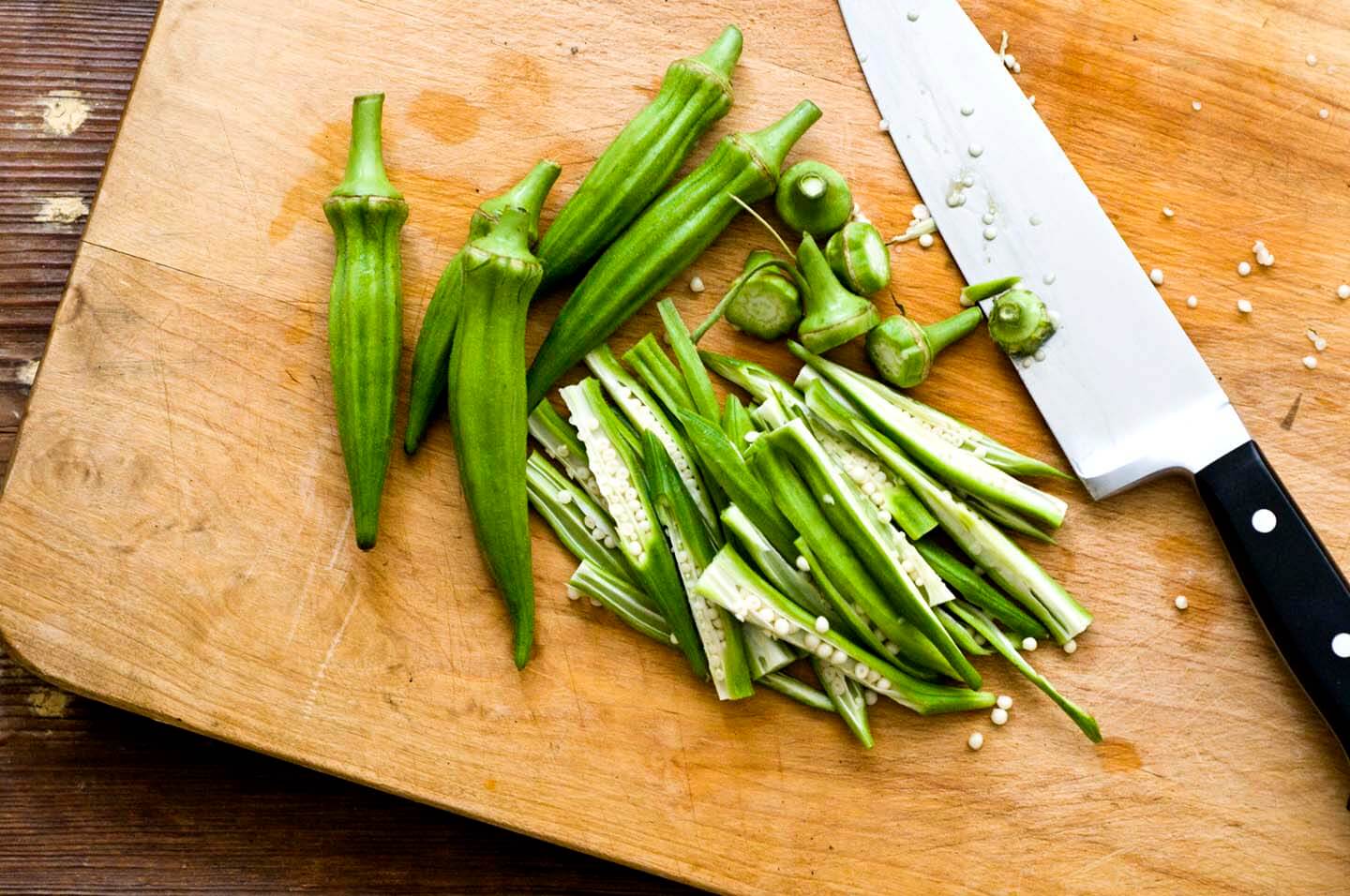 Even though I'm not the first person to fry pickled okra, (when I wrote about fried pickles, many of you said it was great) it's such a brilliant concept that I wanted to come up with a recipe and try it at home. Not to mention, okra is now abundant at the market and people are always looking for ways to cook it.

Because I didn't want to wait overnight for my okra to pickle, I made a quick pickle instead. For my brine, I kept it simple with just vinegar, water, salt, garlic, and a few spices including a dash of cayenne pepper for heat.
While okra is typically sliced into rounds, I'd been hearing about people cutting it into strips, which not only helps with the slime factor but also provides greater surface area for the breading—never a bad thing. I decided to follow suit with my quick-pickled okra. After cutting it, I slipped it into its tangy, spicy bath and in just half an hour the okra was sharp and brightly flavored.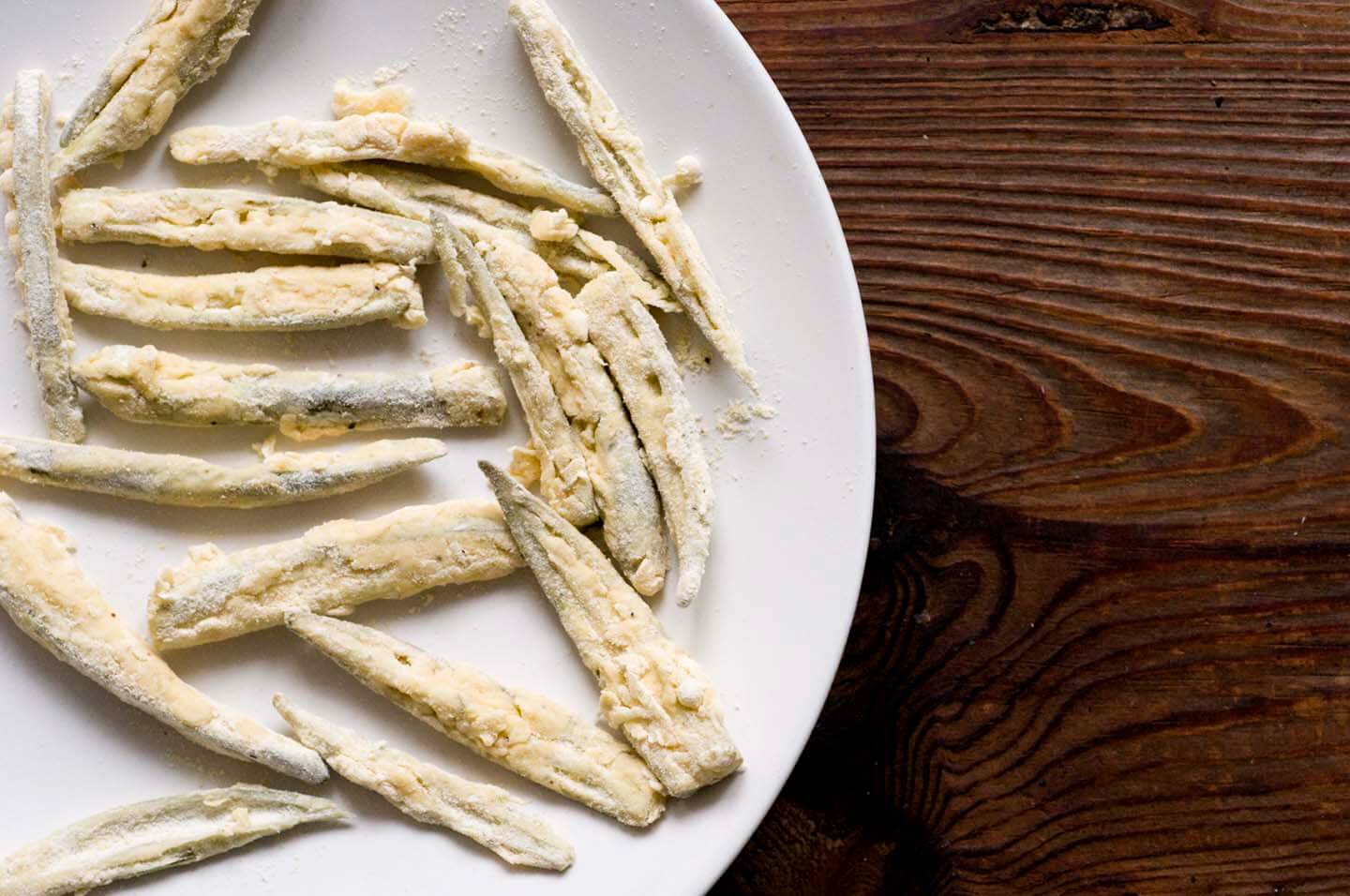 When it came time to fry, for the breading I used a combination of flour and cornmeal seasoned lightly with salt and pepper. At first I tried dipping the pickled strips into buttermilk before dredging, but I quickly learned that the okra had released enough of its thick liquid into the pickling brine that no additional adhesive was necessary—the flour and cornmeal stuck well enough to the okra on its own.
Finally, after frying you need something to dip your okra into, and I chose to make a buttermilk dressing flavored with the spicy okra pickle brine along with some herbs and spices. It was quick, flavorful, and one taste made you question why anyone would buy their buttermilk dressing seasonings in a packet when the from-scratch version is not only a cinch to make but also terrific in flavor.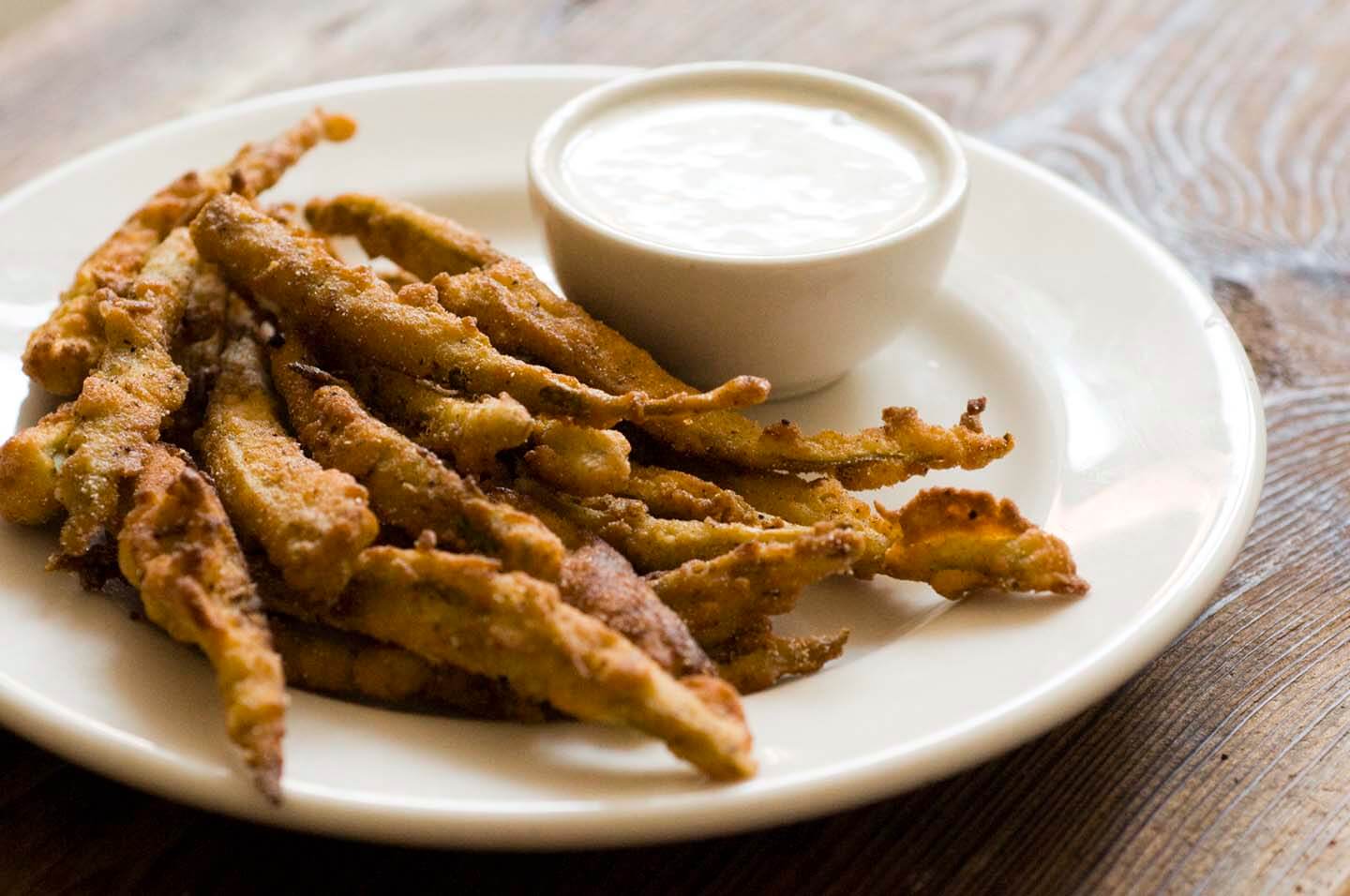 If you're not a fan of okra, this fried pickled version will change your mind. It's tangy, crisp, and an excellent vehicle for a creamy dressing. But the ones who will be most surprised are those who think they don't like okra. I have yet to find anyone who isn't charmed by these crunchy, tangy fried strips, especially when accompanied with a dressing livened up with pickle juice. And after one bite, even the most hesitant will declare okra is indeed worthy of a place on the plate and all the love. A new fan will have been born.
—————
Would you like more Homesick Texan? Well, I've started offering additional recipes for paid subscribers to help with the costs of running the site. While I'm not taking anything away, if you'd like to support Homesick Texan and have access to exclusive, never-seen-before subscriber-only posts, please consider becoming a member; annual subscriptions are as low as $25. Thank you for reading, your consideration, and your support!
—————

Fried pickled okra
Ingredients
Ingredients for the quick okra pickles:
1

pound

okra, preferably pods no longer than 3 to 4 inches

1 1/4

cups

water

1

cup

white vinegar

2

cloves

garlic, crushed

2

tablespoons

kosher salt

1

teaspoon

black peppercorns

1

teaspoon

mustard seed

1/2

teaspoon

dried dill weed

1/4

teaspoon

ground cumin

1/4

teaspoon

cayenne pepper
Ingredients for the dipping sauce:
1

tablespoon

okra pickle juice

1/4

cup

mayonnaise

1/4

cup

sour cream

1/2

cup

buttermilk

1

clove

garlic, minced

1

tablespoon

chopped cilantro

1/2

teaspoon

dried dill weed

1/4

teaspoon

ground cumin

1/4

teaspoon

lemon pepper

Pinch

cayenne

Salt
Ingredients for the fried okra:
Oil for frying

1

cup

all-purpose flour

1

cup

cornmeal

1/2

teaspoon

kosher salt

1/4

teaspoon

black pepper
Instructions
To make the quick okra pickles, slice off the stem of each okra pod, cut in half lengthwise, and then cut each half into 2 or 3 slices, lengthwise. Ideally, each slice should be about 1/4-inch wide.

Place the water, vinegar, garlic, salt, peppercorns, mustard seed, dill weed, cumin, and cayenne into a medium pot and bring to a boil. Turn off the heat and add the cut okra. If the okra isn't completely submerged in the brine, add more water. Allow to sit unrefrigerated and uncovered in the pot for 30 minutes. (If you want to make the pickles ahead of time, place the okra and brine in glass or plastic containers, and refrigerate until ready to use.)

Meanwhile, as the okra is soaking make the dipping sauce. Take 1 tablespoon of pickle juice (straining out any peppercorns, mustard seeds, and okra seeds) from the pot and place into a mixing bowl. Add the mayonnaise, sour cream, buttermilk, garlic, cilantro, dill weed, cumin, lemon pepper, and cayenne, and stir until well combined. Taste and adjust seasonings, and add salt if needed. Refrigerate covered until time to serve.

After the okra has pickled and you're ready to fry, pour 1-inch of oil into a large skillet and heat on medium high to 350°F, about 5 minutes. If you don't have a thermometer, you can test the temperature by sticking a wooden spoon into the oil. If it bubbles around the spoon, it should be ready for frying. Line a large plate or sheet pan with paper towels.

In a large plastic food-storage bag, mix together the flour, cornmeal, salt, and black pepper. Lift the okra out of the brine (it should be a little sticky) and add it to the flour. Shake the bag until the okra is well covered. You'll need to shake hard because some of the okra slices may stick together. Get a plate and then remove the okra from the bag and place the okra on a plate, making sure the pieces are separated.

Once the oil is ready, with a slotted spoon or spatula, lower the dredged okra into the oil and cook until golden brown, stirring once or twice, about 1 minute. Remove the okra with the slotted spoon and place on the paper-towel lined sheet. Repeat until all the okra is fried.

Serve immediately with the dipping sauce on the side.
Notes
Okra tends to get tough and stringy the longer it grows, so choose smaller pods that are 3 to 4 inches in length.