Frito pie with one-hour Texas chili
When my grandparents were in graduate school at the University of Kentucky, they were—of course—homesick Texans. But they soon figured out that they could feel a lot closer to home if they indulged in that Texan classic, Frito pie.
Frito pie—if you are a deprived soul that has never eaten one—is simply a pile of Fritos topped with chili, cheese, diced onions and sometimes, if you're feeling flush, pickled jalapenos and sour cream. In Texas, it's a mainstay at Friday-night football games, county fairs, school-cafeteria lunches, church youth-group suppers and yes, even at home.
Typically, it's served in the bag—you just open up an individual-sized Frito package, ladle on the chili and dip in with your spoon. Though I find when you're eating it at home, a bowl is an acceptable vessel for serving it as well, though some people may argue that is just a bit too fancy for this humble dish.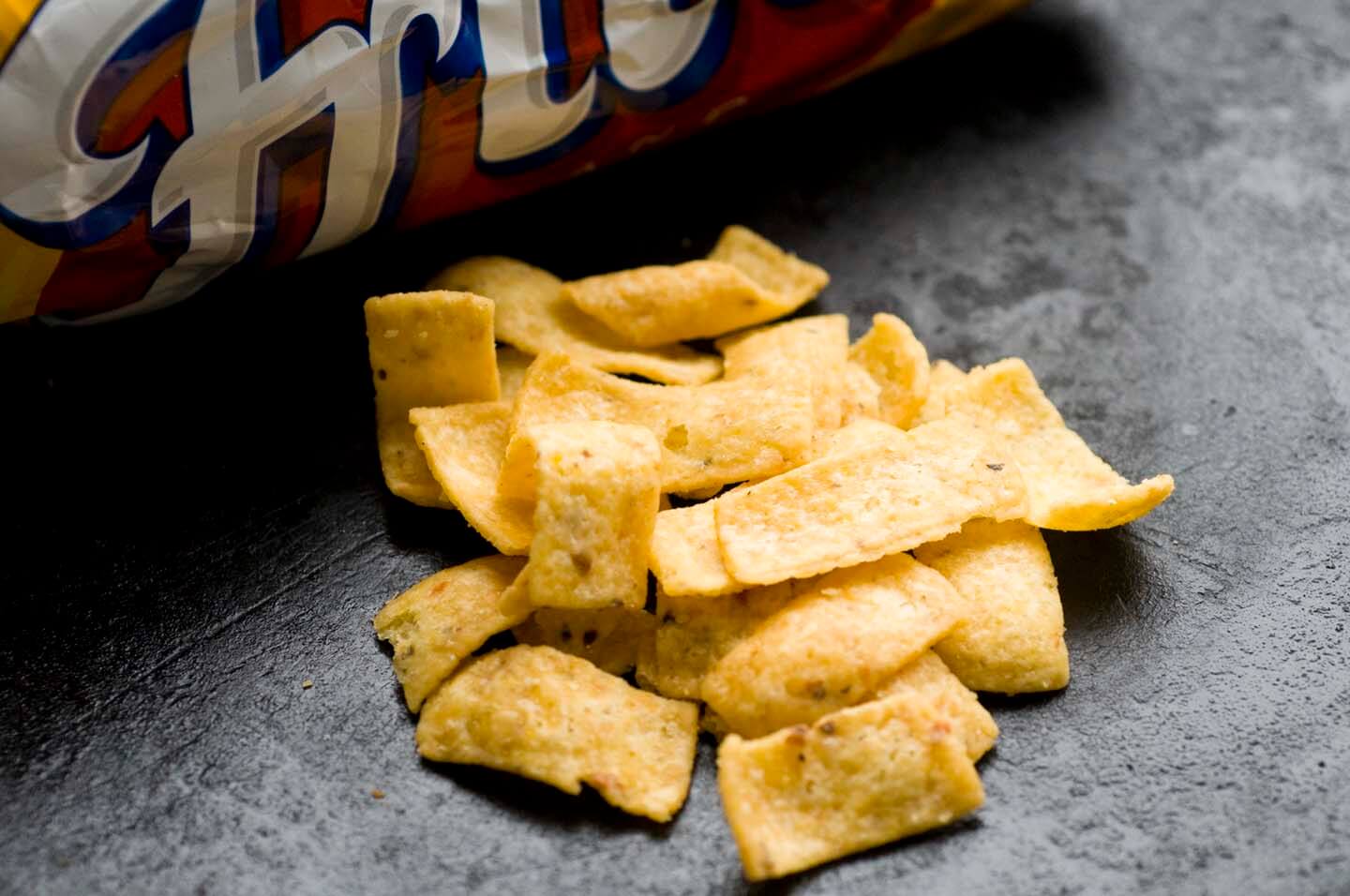 Now, as my grandma recalls, Fritos weren't widely available in Kentucky in the late 1940's—it was still mostly a Texan brand. And forget about even finding that other common ingredient for Frito pie—canned Wolf Brand chili. But they had a Texan friend at school that on trips back home to Corsicana would load up his car with bags of Fritos and cases of chili and bring these treasures back to Lexington. A Frito pie feast would then ensue.
I think those of us who are no longer in Texas can relate to filling our suitcases with beloved foods unavailable in our new home. Fortunately, however, Fritos are now found everywhere so if I get a craving I don't have to go far. But canned chili? I don't even bother with the stuff they sell in New York City as it's always made with beans and without heat or flavor. Nope, when I make my Frito pies, I instead top it with a chili made from scratch.
Frito pie is a simple dish, which means I don't want to spend too much time in the kitchen putting it together. And sure, my usual Texas chili is an all-day affair, slow-simmered cubes of beef richly flavored with a variety of chilis and spices. But for Frito pie, I instead make a one-hour chili from coarsely ground beef. And while it might not be as complex as my other chili, I find that it's still spicy enough to be a fine complement to a pile of corn chips.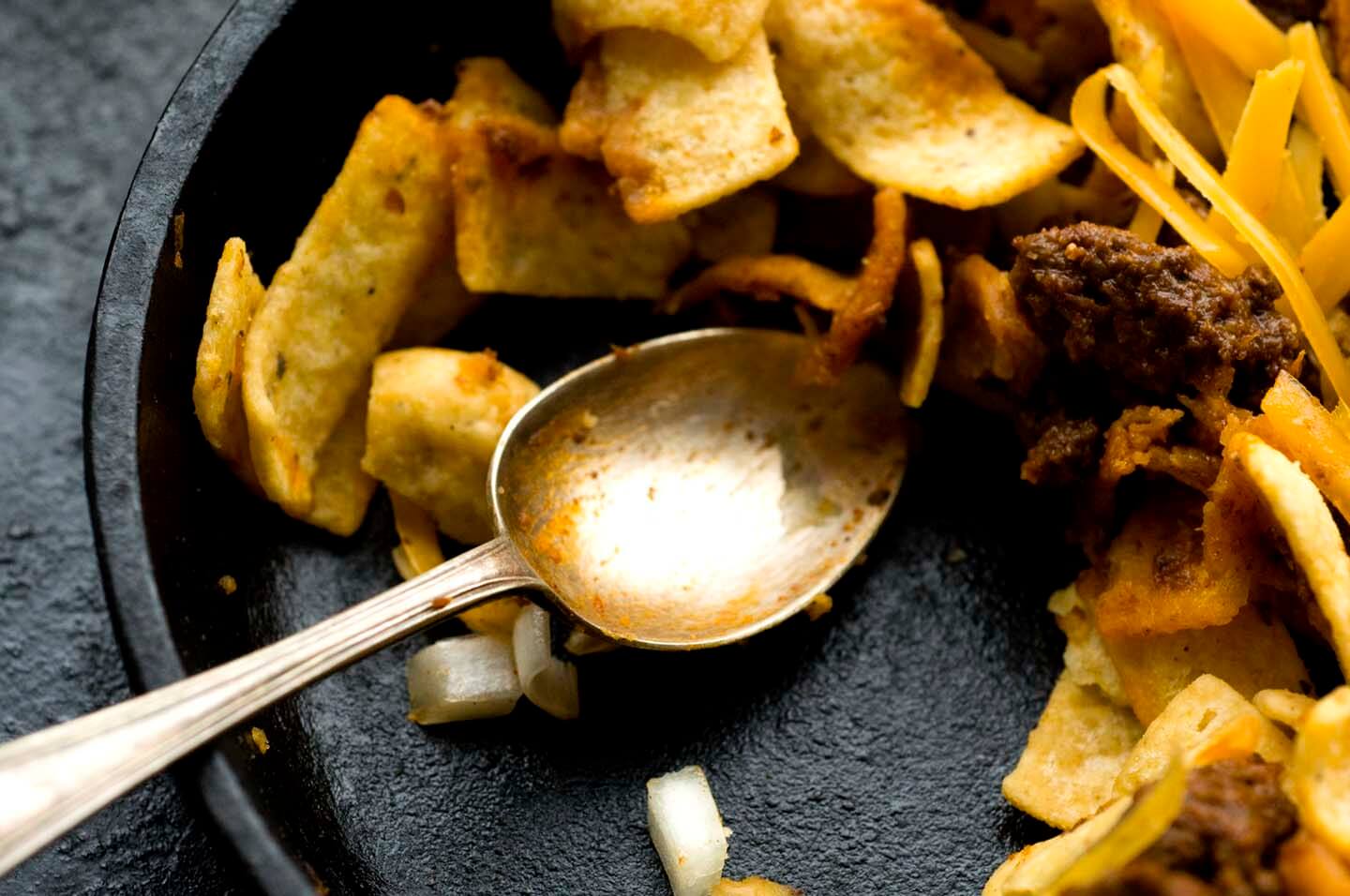 When was the last time you had Frito pie? I have to admit that I don't eat Frito pie nearly as often as I should. But I think my grandparents definitely had the right idea, as tucking into a bowl with friends is a superb way to celebrate home.
—————
Would you like more Homesick Texan? Well, I've started offering additional recipes for paid subscribers to help with the costs of running the site. While I'm not taking anything away, if you'd like to support Homesick Texan and have access to exclusive, never-seen-before subscriber-only posts, please consider becoming a member; annual subscriptions are as low as $25. Thank you for reading, your consideration, and your support!
—————

Frito pie with one-hour Texas chili
Ingredients
Ingredients for the one-hour Texas chili:
6

dried ancho chiles, stems and seeds removed

2

dried morita chiles, stems and seeds removed

1

tablespoon

vegetable oil

1

medium-yellow onion, diced

4

cloves

garlic, diced

minced

4

pequin chiles

1

tablespoon

cumin

1

tablespoon

oregano

Pinch

ground clove

Pinch

ground allspice

5

cups

water

2

pounds

ground beef

2

teaspoons

kosher salt

1

teaspoon

black pepper

2

teaspoons

corn meal or masa harina

(optional, but will thicken chili if needed)

1

tablespoon

freshly squeezed lime juice
Ingredients for the Frito pies:
4

cups

of Fritos

1

cup

shredded cheddar cheese, for serving

1/4

cup

of diced onions, for serving

Sliced jalapeños, for serving
Instructions
In a large skillet, heat the ancho and morita dried chiles on medium-high heat for a minute, turning once. Fill the skillet with water, and just as it begins to steam, turn off the heat and let the chiles soak until rehydrated, about 30 minutes.

In a Dutch oven, heat the vegetable oil on medium low and while stirring occasionally cook the onions until translucent, about 5 minutes. Throw in the garlic and cook for 30 seconds. Place the cooked onion and garlic into a blender. Turn off the heat.

Drain the chiles from the soaking water and add them to the blender along with the chile pequin (you don't need to pre-soak these little chilis). Add the cumin, oregano, clove, allspice, and 1 cup of water. Blend until smooth.

Blend the ground beef with the salt and pepper

, then form the meat into little balls, about the size of a 1/2-inch marble. (This does not need to be perfect, so don't spend too much time doing this. The purpose is to emulate chili chuck, a very coarse grind of beef sold in Texas)

On medium heat, cook the beef while stirring occasionally, until lightly browned all over, about 10 minutes. Add the chile puree and the remaining 4 cups of water, heat on high until boiling and then simmer uncovered on low heat for 45 minutes, stirring occasionally.

After 45 minutes, taste and adjust the seasonings adding more salt as desired. Also, if the chili isn't thick enough for you, slowly stir in the masa harina. Add the lime juice and then cook for 10 more minutes.

To make the Frito pies, divide the Fritos between 4 to 8 bowls and ladle over them the chili. Top with the cheddar, diced onions, and jalapeños.