The good, the bad and the puffy tacos
New York City is shaping up to be a terrific taco town. There are taco trucks scattered throughout the five boroughs, with one even parked just a few blocks from my apartment on Sundays. There are numerous Mexican delis that serve tacos from crowded counters in the back of the store.
On weekends, there are the Mexican vendors at the Red Hook Ball Fields offering tacos to both hungry soccer players and taco-aficionados alike. I enjoy these tacos, but there's only one problem—these are authentic Mexican tacos, two soft corn tortillas stuffed with juicy pork, beef, goat, chicken, chorizo or tongue, topped with cilantro, salsa, onions and a squirt of lime. They are delicious, but they're not Tex-Mex tacos, which can be soft, crisp or puffy tacos, and sometimes that's what I really want.
Classic Tex-Mex tacos fall into two categories: soft tacos, which are made with fluffy flour tortillas, and crispy tacos, which are fashioned from deep-fried corn tortillas. The stuffing in Tex-Mex tacos tends to be less exotic than their Mexican counterparts, with spiced-up ground beef the most ubiquitous. Of course you'll also find stewed chicken, fajita meat and fried fish along with barbacoa de cabeza on Sundays and eggs, potatoes and breakfast meats in the mornings. I love all of these, but that crispy taco filled with ground beef, shredded iceberg lettuce, tomatoes, cheddar cheese and salsa is the true Tex-Mex classic. And when done well, it can be just as flavorful and complex as its more authentic brethren.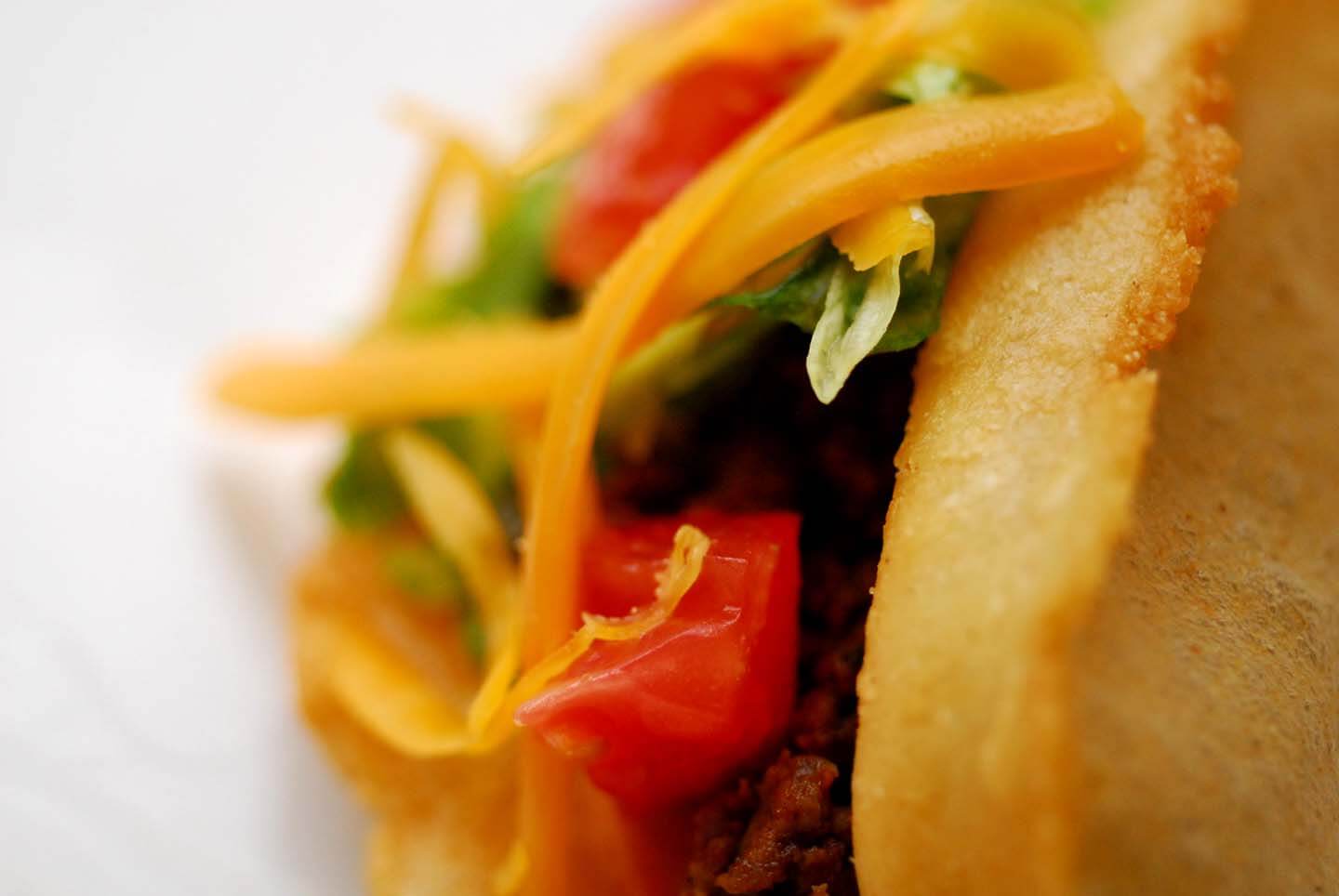 Unfortunately, a properly done crispy taco is a rare find. Fast-food restaurants and grocery stores have cornered the market on mass-produced crispy shells, yet what they're selling is a cold, dry and flavorless enclosure that adds nothing to the taco repertoire; their bad reputation is well deserved.
But try a freshly fried crispy taco and you'll have a revelation. Each bite starts with a satisfying salty snap that soon gives way to a toothsome flow of fiery meat and spicy salsa tempered by the cool lettuce and creamy cheese. And while there is always the risk of some filling escaping the taco and running down your chin, there are enough bumps and craters in this crunchy shell to keep most of it where it belongs before it reaches your mouth.
Homemade crispy tacos are a cinch to make and if you've never had one I highly recommend trying them—you'll never eat one from Taco Bell again. You just heat up a couple of inches of oil in a pot, throw in the tortilla, shape it with a spatula and you're done in a couple of minutes. They taste best with homemade corn tortillas, but even if you use store-bought tortillas what you create will be far superior to pre-fab shells.
And if you want to get really fancy, you can make that San Antonio specialty—puffy tacos. These are made from uncooked masa dough that is pressed and then thrown into the hot oil and as they cook, they bubble up like sopapillas. These delicious puffed shells are airy, flaky and crunchy—a wonderful vehicle for your taco fillings.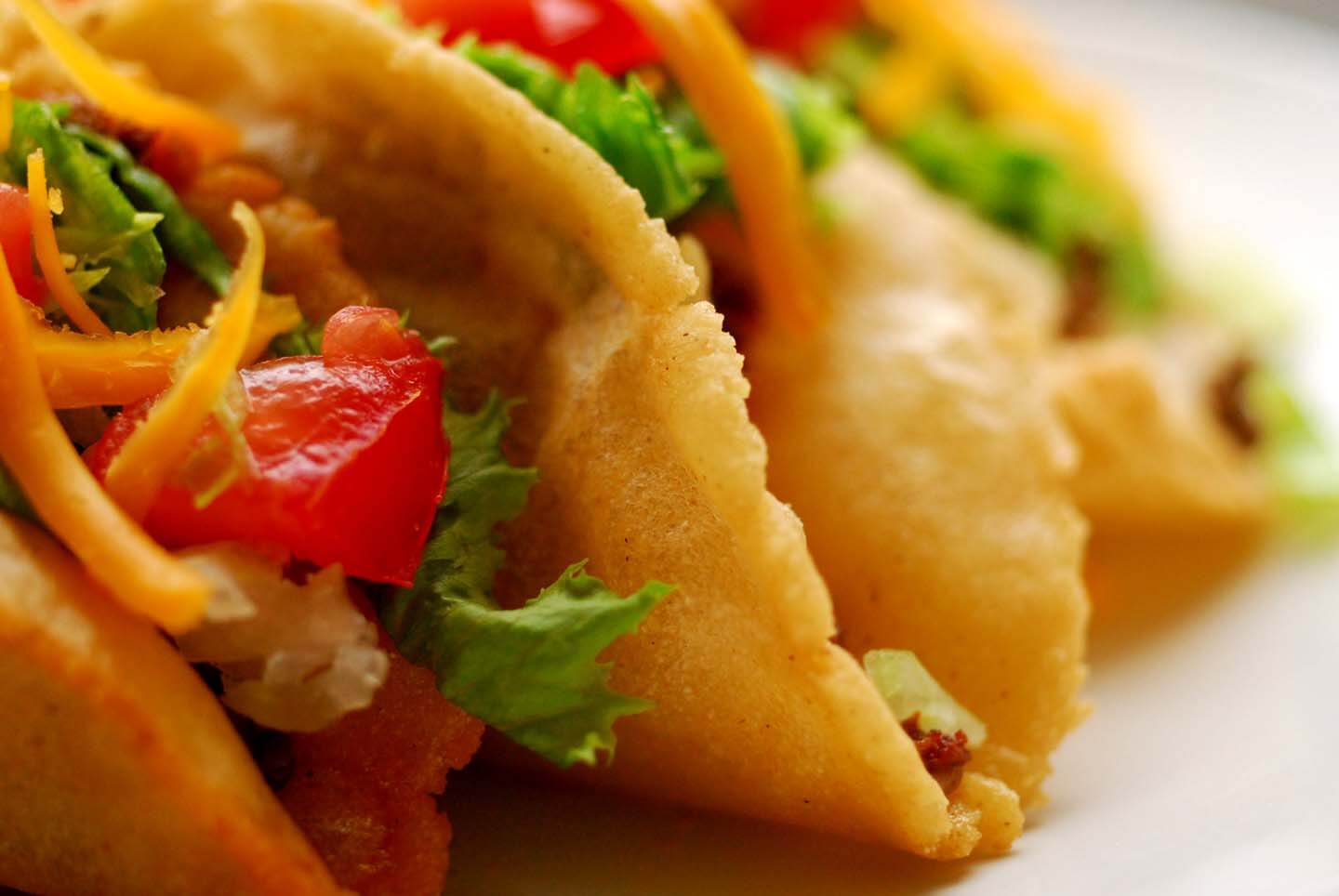 Fried taco shells taste best when fresh out of the oil, so it's wise to have your fillings already laid out for easy stuffing. Growing up, ground beef simmered in hot sauce and chili powder is what we always ate when it was taco night at home. And even though there are countless other ways to fill a taco, sometimes I desire the simplicity of this traditional Tex-Mex treat.
As for other toppings, the coolness of iceberg is preferred over leafier greens, and if you can find red, ripe tomatoes, throw on a few of those, too. If you want cheese, the only one for a classic Tex-Mex taco is orange cheddar. And don't forget a hearty dash of salsa, which is always the finest finishing touch.
My friends and I enjoy traveling to the outer reaches of New York City to eat authentic Mexican tacos and when the tortillas are fresh, the meat is juicy and the salsa is bright, they're sublime. Yet as good as they are, they're just not that nostalgic taste of home.
Perhaps someday a taqueria with freshly fried crispy tacos will open here—and I bet taco-mad New Yorkers would embrace them as well. But no matter, at least they're fun and easy to make, so whenever I have my craving, I can just fire up a skillet of oil, press out some masa, and watch the taco shells puff up and come to life.
Puffy tacos
Ingredients
Ingredients for the puffy taco shells:
2

cups

masa harina

1 1/4

cups

water

1/4

teaspoon

salt

Vegetable oil, for frying
Ingredients for the tacos:
2

tablespoons

vegetable oil

1/2

medium-yellow onion, chopped

3

jalapeño peppers, seeded and chopped

3

cloves

garlic, minced

2

pounds

ground beef

1

tablespoon

chili powder

1

tablespoon

ground cumin

1

tablespoon

dried oregano

1

teaspoon

kosher salt

1/2

teaspoon

black pepper

1/2

teaspoon

cayenne

2

tablespoons

chopped cilantro

1/2

cup

your favorite salsa

1

tablespoon

of lime juice

Shredded cheese, for serving

Shredded lettuce, for serving

Diced tomatoes, for serving
Instructions
To make the taco shells, mix masa harina, water, and salt together until it forms into a soft ball. If it's too dry, add a bit more water a tablespoon at a time.

Divide dough into 16 equal balls, and press out with a tortilla press or roll out with a rolling pin. Keep pressed discs covered with a damp cloth.

Heat up 2 inches of oil in a pot or skillet to 350°F. Gently place a disc in the hot oil and it should immediately start to puff. After 5 seconds, with a spatula, make an indention in the center so it forms a V shape.

Gently cook the shell on each side until light brown and crispy (about 20 seconds for each side).Remove from oil and drain on a paper towel.

To make the tacos, for the meat, heat the oil in skillet on medium heat. Throw in onions and jalapeños, and cook for about 10 minutes. Add garlic, and cook for 1 more minute.

Stir in the beef, chili powder, cumin, oregano, salt, pepper, cayenne, cilantro, and salsa until well combined. While stirring occasionally, cook the meat until meat it's browned, about 15-20 minutes. Taste and adjust seasonings, then stir in the lime juice.

To serve, stuff into shells, then top with shredded cheese, lettuce, and diced tomatoes.