Apple dutch baby with green chiles
There's something about this time of year that makes me feel fresh and crisp, like a first-of-the-season apple. Perhaps it's the cooler air or perhaps it's the shorter days, but I feel an urge to get things done
I used to have a high school teacher who would always say to us, "Don't squander your time!" Of course, when you're 16 you feel like you have all the time in the world so we'd just laugh at him. But these days, with a serious manuscript deadline pointing at me, I finally understand—make every moment count.
The day after Labor Day was always the first day of school when I was a kid. I miss the anticipation, hope and joy that always came with a return to class. And even though these days most kids have been in school since August, I still think of Labor Day as summer's last hurrah. It's a time to slowly slough off the longer, lazier days of the season so you can reveal something more direct and purposeful.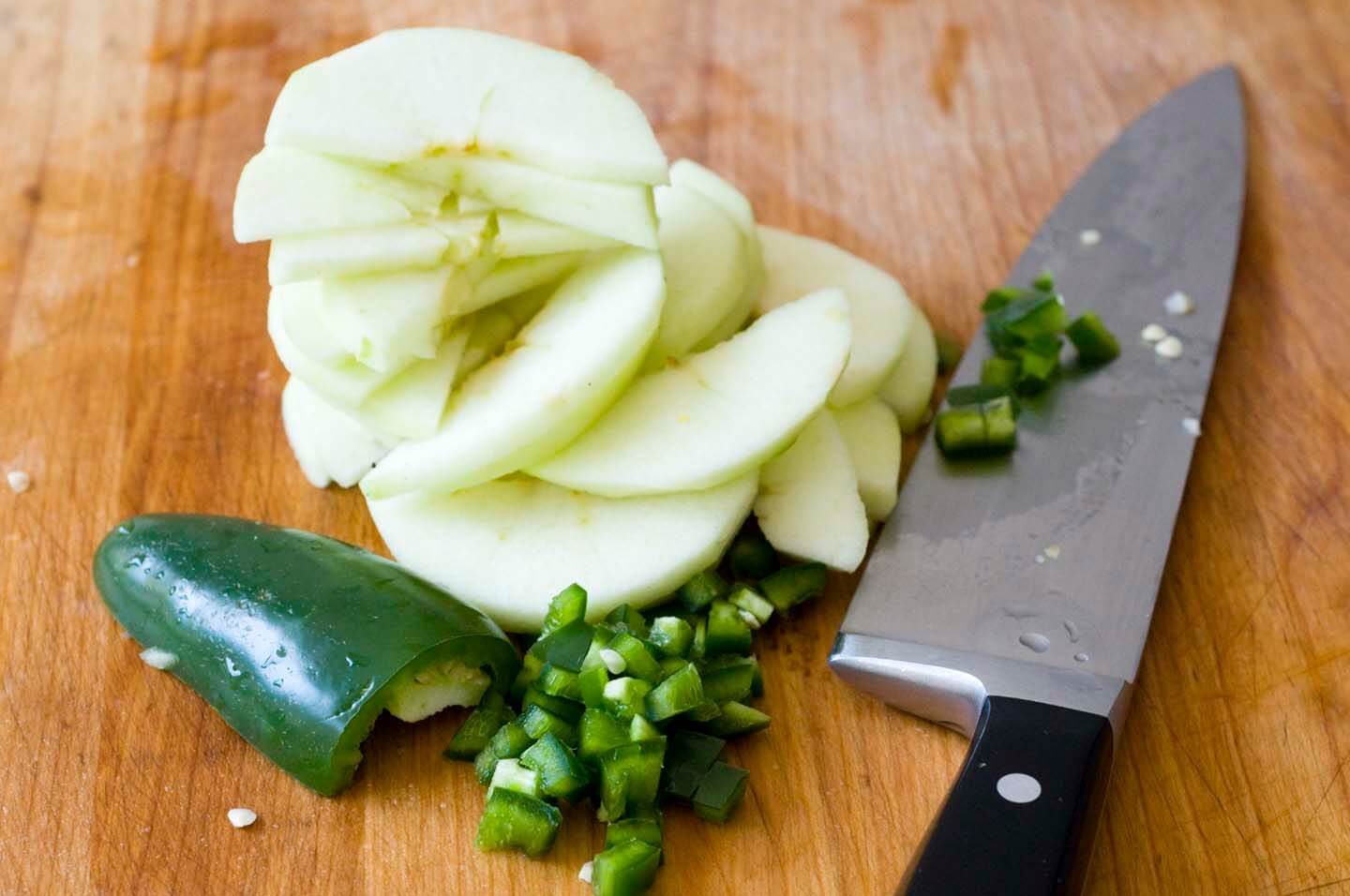 The farmers market reflects this transition with its bounty of both late-summer chile peppers and early arrival autumn apples; it's a time of two seasons. And while you might not usually associate chile peppers with apples, this is the reason why I think that two go together so well.

If you're like me, you probably want a heartier breakfast in the cooler months, though if you're busy you may not have the time to cook an intense morning meal. That's why I like Dutch babies—a baked pancake that comes together with little effort, yet tastes like you spent hours preparing it.
Apples are a traditional fruit included in this dish, but I think you'll like it with the addition of green chiles as well. I use jalapeños for their bright heat, but if you're in Texas and have access to some Hatch chiles, I think they would be a dandy complement to the apples.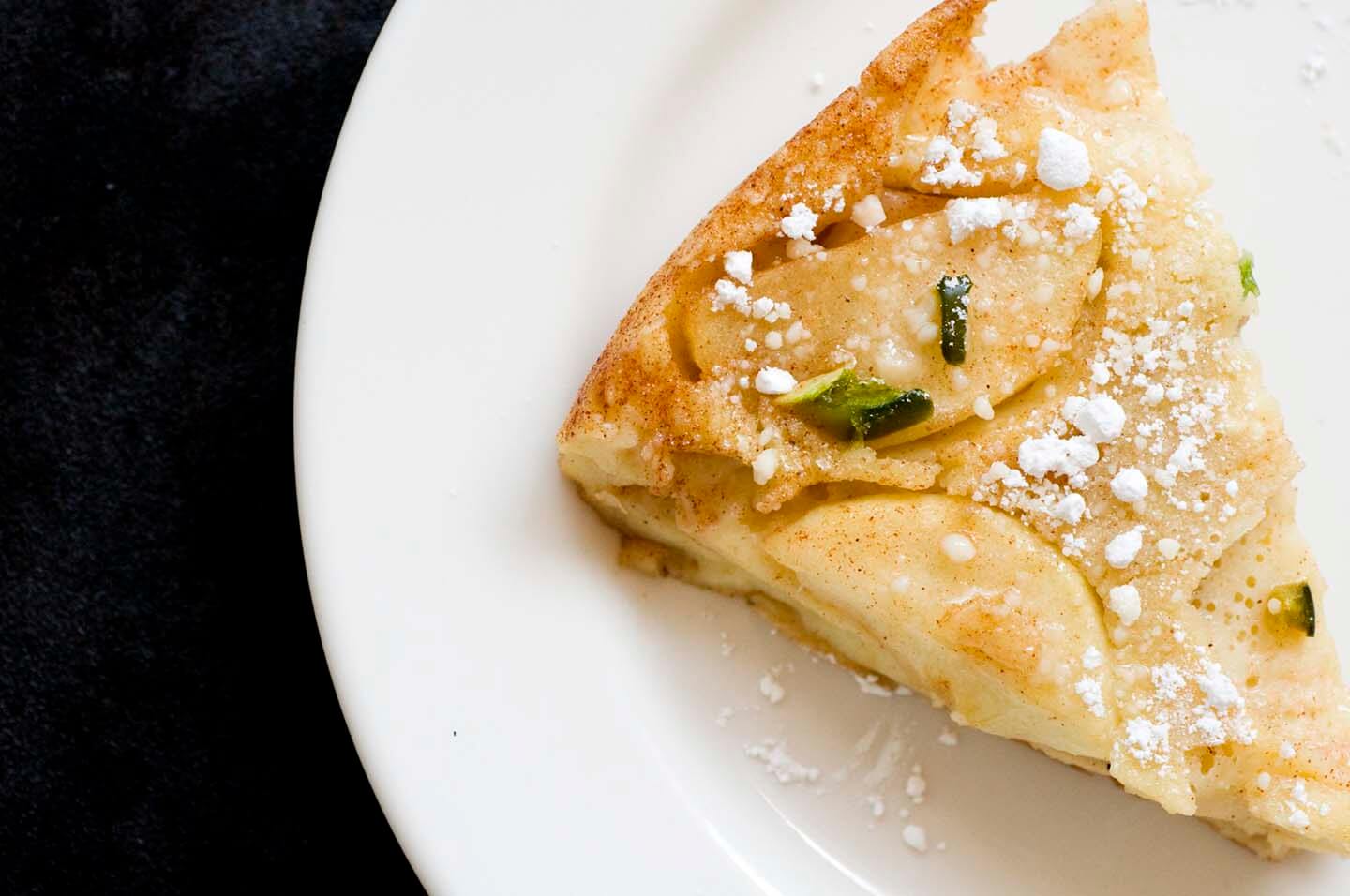 I find that Dutch babies keep for a day or so in the refrigerator (I like to eat them cold sometimes). And they travel well. So if you're visiting friends you haven't seen for a while, a green-chile apple Dutch baby is a super thing to share when you ask the question, "Say, how was your summer?"
Apple dutch baby with green chiles
Ingredients
4

tablespoons

unsalted butter

2

firm cooking apples such as Granny Smith, peeled, cored and cut into thin slices

1/4

cup

granulated sugar

1/4

teaspoon

ground cinnamon

1/2

teaspoon

salt

4

large eggs

1

cup

milk

1

cup

all-purpose flour

1/2

teaspoon

vanilla extract

1

jalapeño chile, stemmed, seeded, and diced

1

tablespoon

powdered sugar
Instructions
Preheat the oven to 425° F. In a 10-inch ovenproof skillet, preferably cast-iron, melt the butter on low heat. Add the apples, sugar, cinnamon, and salt and while occasionally stirring, cook the apples until soft, about 10 minutes.

Meanwhile, in a blender add the eggs, milk, flour and vanilla and mix until a smooth batter is formed. When the apples are done, sprinkle on top of them the diced chiles and then pour over the apples the batter. Bake uncovered in the oven for 15 minutes or until it's puffy and an inserted knife pulls out clean.

Sprinkle with powdered sugar and serve.
Notes
You can substitute Hatch green chiles or poblano chiles if you like. Just be sure and roast them under the broiler until black, place in a sealed plastic or paper bag for 15 minutes and then peel before chopping. I've also substituted half-and-half and buttermilk for the milk on occasion, with delicious results.