Hatch chile flour tortillas recipe
This time of year, I start to go chile pepper mad. Okay, I admit that I'm always cooking with chiles, but in August and September they are at their absolute best. Their flavor is so much brighter and livelier when you bite into one that's just been picked.
Of course, if you're in Texas or New Mexico, there's one chile pepper in particular that's garners the most attention this time of year—the Hatch chile. As I've written before, the Hatch chile doesn't refer to a type of chile, instead the term "Hatch" is where these chiles are from, which is the Hatch Valley in New Mexico, about an hour away from El Paso.
Hatch chiles, which come from the same stock as Anaheim chiles, are a dagger-shaped light green chile (though as they mature they will turn red, which is why some Hatch chiles will have red patches on them), which ranges in heat from mild to hot. By looks alone, you can't tell what you're getting so hopefully the vendor will let you know.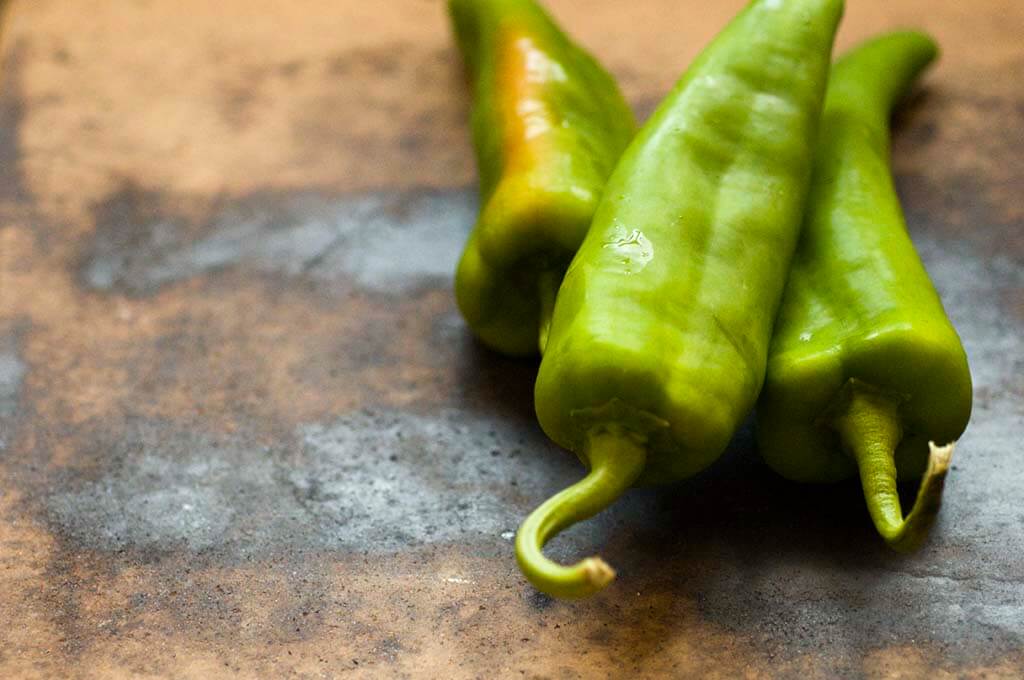 Because their season is brief—from August until mid-September—many grocery stores in Texas have festivals celebrating the harvest. One particular store, Central Market, goes especially wild for Hatch chiles, with chile roasters out in front of the stores and a host of fun products made with the chiles on the shelves inside.
One thing Central Market offers is their limited edition Hatch chile flour tortillas. I love these and if I'm in Texas when they're available, I always stock up and then keep them in my freezer so I can enjoy them long after the season has passed.

If you're never had these tortillas, they're soft, thin, and lightly flecked with small pieces of roasted chile throughout. The chile flavor is not overwhelming as it's a modest amount of chile, nor are the tortillas fiery. But when you take a bite that has a bit of the pepper in it, you will nod your head and say, "That's good!"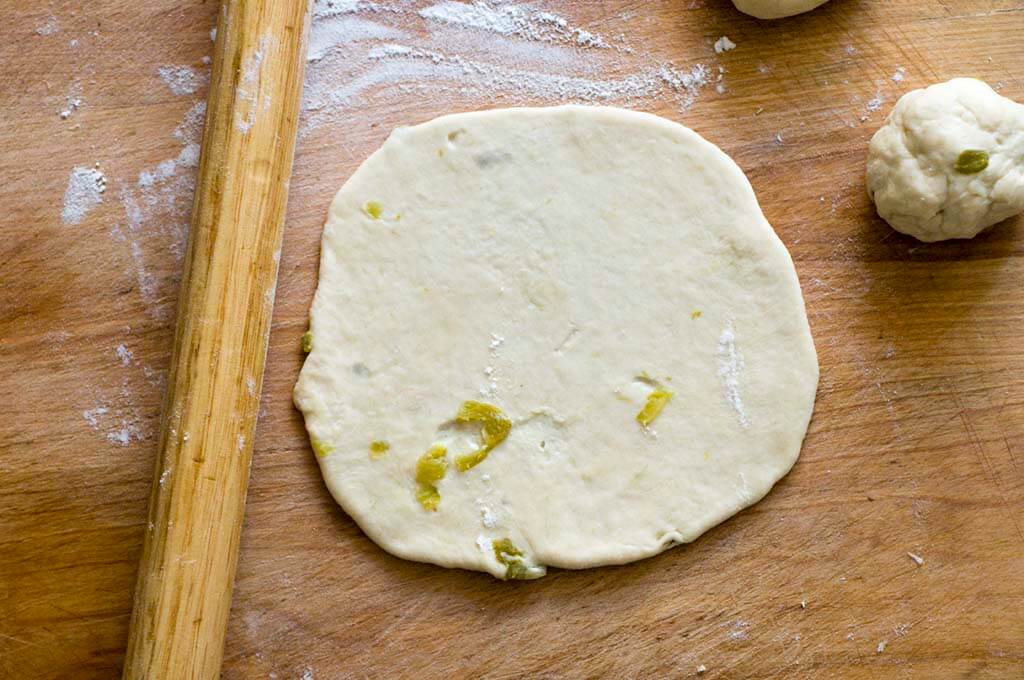 Now, for a long time I've wanted to make these tortillas at home. As I have no idea what is Central Market's tortilla recipe, my first step was to look at their list of ingredients. Using that as a guide, after some trial and error I finally came up with an excellent tortilla, though I will admit that mine are a bit thicker than theirs. This is not to say, however, they are any less delicious.
The biggest challenge with making these is getting the pieces of Hatch chile to stay in the dough as you roll it out. In the end, I realized that if some chile falls out as you roll, you can pick it up, press it back into the dough, flip the tortilla over, and then continue rolling. This should keep most of the chiles within. Also, because the chiles are wet, you may need to use extra flour when rolling, otherwise the dough will become too sticky.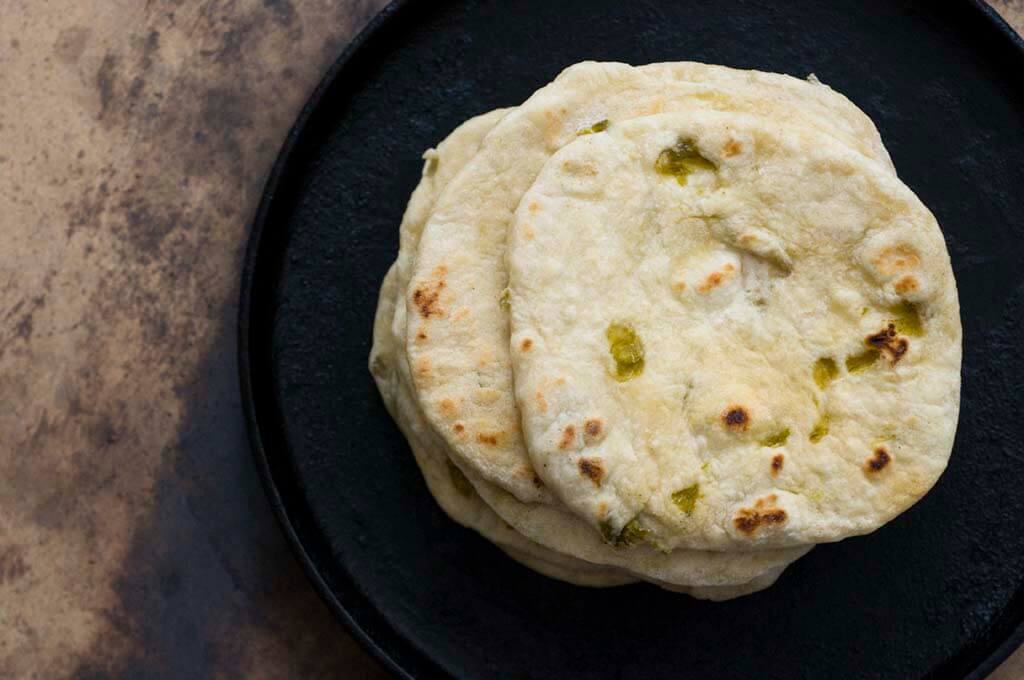 Other than that, however, if you've made flour tortillas before you will find the process very familiar. And if you haven't made flour tortillas before, don't be afraid and by all means, give this a try! It's a tender tortilla perfect for stuffing with eggs in the morning for tacos, though they also make for a fine quesadilla, and are even good just on their own, still warm from the skillet.
Hatch chile flour tortillas
Ingredients
1

Hatch or Anaheim green chile

2

cups

all-purpose flour, plus more for rolling

1

teaspoon

baking powder

1/2

teaspoon

kosher salt

1/4

cup

canola or vegetable oil

3/4

cup

warm water
Instructions
First you'll need to roast the chile in order to peel the tough skin. Place the chile under the broiler until blackened, about 5 minutes per side. Place chile in a paper sack or plastic food-storage bag, close it tight and let the chile steam for 20 minutes. Take the chile out of the bag and rub off the skin. Remove stem and seeds and dice the chile.

To make the tortillas, in a medium bowl stir together the flour, baking powder, and salt until well combined. Stir in the diced chile until well distributed. Pour in the oil and warm water, and stir until a soft dough is formed (if it feels too wet, you can a more flour, a tablespoon at a time.) Cover the dough and let it rest for 1 hour.

After an hour, divide the dough into 8 balls. Lightly flour a clean surface and one at a time place a dough ball on the floured surface, pat it out into a 4-inch circle, and then roll with a rolling pin from the center until it's thin and about 8 inches in diameter. If the chile peppers fall out of the dough as you roll, pick them up and then lightly press them in the center of the tortilla, flip the tortilla, and then continue rolling.

Keep the rolled-out tortillas covered until ready to cook.

In a dry cast-iron skillet heated on medium high, cook for 30 seconds on one side, flip it and then cook for 1 minute on the other side. It should start to puff a bit. Flip it again and cook for 30 seconds more. Place cooked tortillas in a basket lined with cloth or a tortilla warmer. Repeat process for remaining balls of dough.

These will keep refrigerated for 1 week.