Cemita sandwiches with homemade rolls
Have you ever had a cemita? It's a sandwich found in the Mexican state of Puebla. At first glance, you may think it looks like a hamburger as it's housed on a round, sesame-seed bun. But after you take a bite you'll realize this isn't a hamburger at all—instead it's a festival of flavors and textures nestled between a pillow-soft bun.
The roll, which is also called a cemita, is where the sandwich gets its name. It's an egg-rich bread topped with sesame seeds that is sort of a cross between challah and brioche. (And it's not to be confused with the cemita or semita found in Northern Mexico, which is a Mexican sweet bread spiced with star anise).
The other distinguishing characteristic of a cemita is the liberal use of the minty herb papalo. When I had my first cemita, it was that bright note cutting through all the other flavors that made this sandwich sing.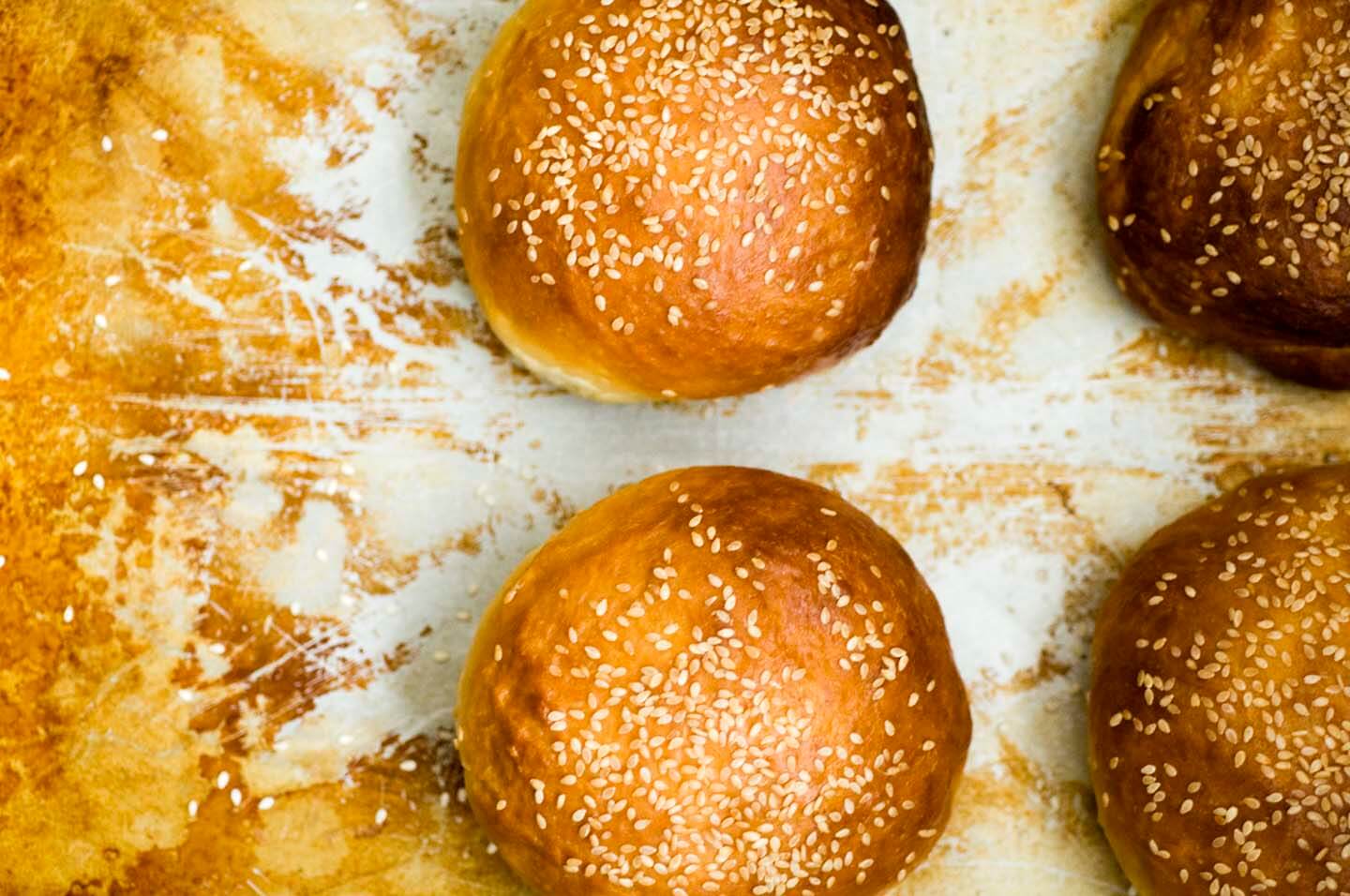 Papalo isn't always in season, however, so you may sometimes have a cemita made without it. But without the sesame-seed roll, you no longer have a cemita, you just have a sandwich.

Recently I was at a Jackson Heights taco truck that I'd never been to before, but the line was long and the condiments were fresh and plentiful—two signs the food should be delicious. To work on my Spanish I struck up a conversation with one of the other customers and asked him what to order. He said everything was good as the food tasted like what you would make at home.
We don't often think about street food as home food, but ever since that conversation I'd been obsessed with making a cemita at home. And since the cemita is nothing without the bread I knew that I'd have to figure out how to bake that particular bread in my own kitchen.
I speak just enough Spanish to get into trouble when I visit forums on Mexican food sites, so until I learned that there were two cemitas, I was wondering why there were no sesame seeds and so much sugar in the recipes I found. And yet I still couldn't find a proper recipe for the bread that I wanted.
After much delicious research out in the field, however, I decided to combine several recipes to create the tender cemita bread. Eggs and buttermilk make the crumb soft and dense, oil and sugar make it sweet and moist and the sesame seeds add crunch and contrast. Sure it's a bit decadent, but lean times sometimes call for affordable pleasures.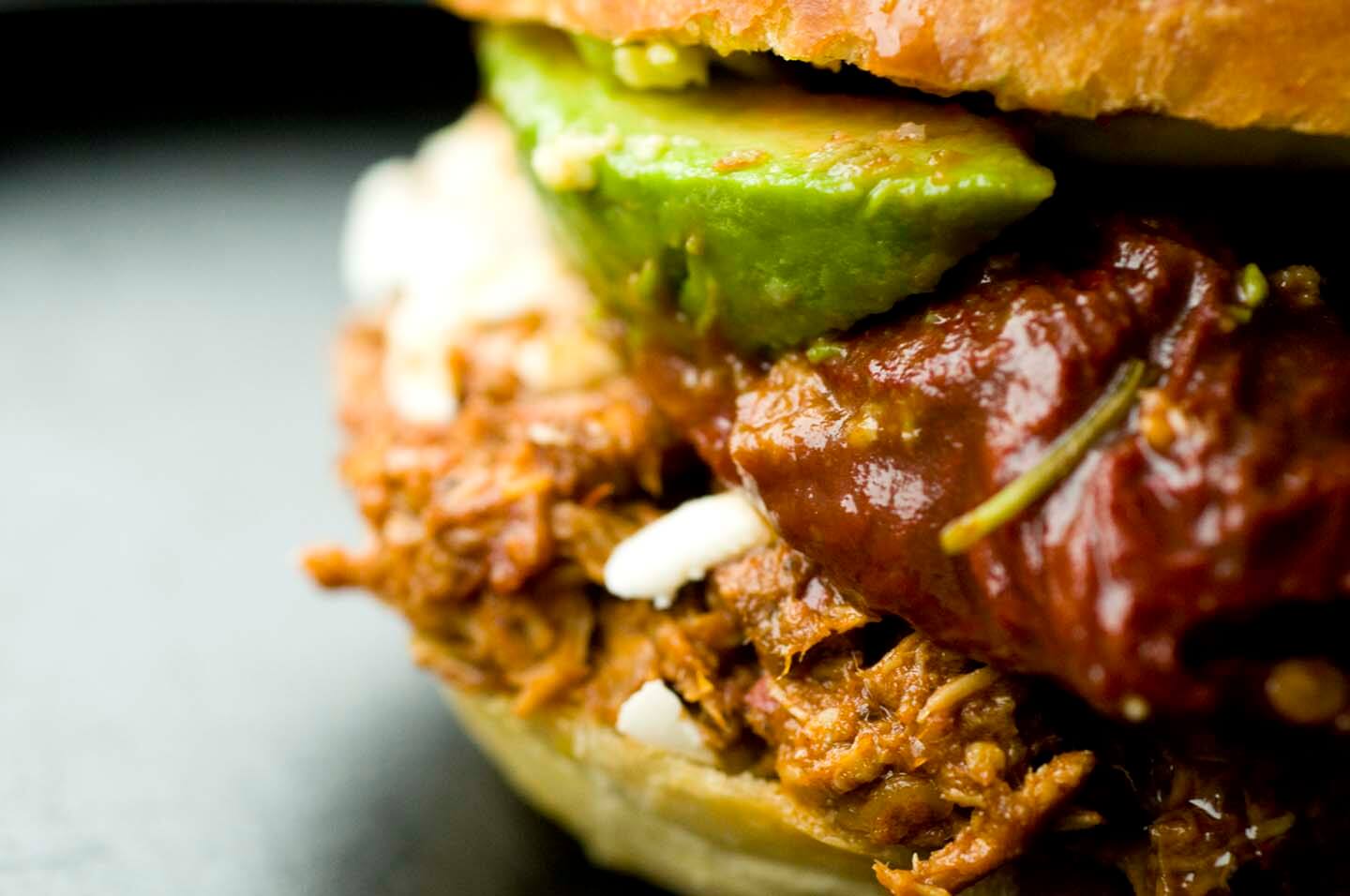 This roll is intended for a cemita sandwich, though I find that it's also darn good as a bun for hamburgers, as a home for barbecue or simply on its own, warm from the oven and slathered with cool butter.
Cemita sandwiches with homemade rolls
Ingredients
Ingredients for the cemita rolls:
2

cups

all-purpose flour

1

teaspoon

kosher salt

2

tablespoons

sugar

2 1/4

teaspoons

dry yeast (1 packet)

2

eggs, room temperature

½

cup

buttermilk

¼

cup

canola oil

1

tablespoon

whole milk

1

tablespoon

water

¼

cup

sesame seeds
Ingredients for the cemita sandwich:
1

cup

papalo leaves

1

can

Chipotle chiles in adobo

1

ripe avocado, peeled, pitted, and cut in slices

1

pound

cooked carnitas or chorizo

1

pound

Mexican Oaxacan cheese or fresh mozzarella, shredded
Instructions
To make the rolls, mix the flour, salt, sugar, and yeast together. Whisk the eggs together with the oil. Heat the buttermilk on low until it's warm (110 degrees if you want to use a thermometer). Do not let it come to a boil!

Stir into the dry ingredients the warm buttermilk, eggs, and oil. Mix until the liquid is incorporated and then let it rest for 15 minutes.

After it's rested, knead the dough on a floured-surface until it's smooth, though note that it will still be a bit sticky. That's OK.

Place the dough in an oiled bowl, cover it, and let it rise until it's doubled in size, about an hour and a half.

Divide the dough into 8 balls and let them rest, covered for 15 minutes.

To shape the rolls, take each ball and then flatten it so it looks like a disc.

Place each roll a few inches apart on a parchment-paper lined baking sheet. Cover the baking sheet and let the rolls rise for 30 minutes.

Meanwhile, preheat the oven to 400° F.

When rolls have risen, mix the milk and water and brush the top of each roll with the wash. then sprinkle with the sesame seeds. Bake the rolls for 20 minutes or until lightly browned.

To make the sandwiches, take a roll and slice it in half.

Lay the avocado slices on each half of bread.

Pile high the meat, cheese, chipotles and papalo on one half of bread, place the other half on top and enjoy!
Notes
Papalo can be found at most Mexican markets. The bread only lasts a day, but freezes well.