Iron pan, perfect cornbread
Classic things bring me joy. Perhaps it's part of my frugal nature, but give me something that is destined to last for years over something trendy or disposable any day. One of my oldest treasures is my cast iron skillet. It's my favorite tool in the kitchen and if I've cooked a meal, chances are at least one dish was touched by my iron skillet's surface, seasoned by almost a hundred year's worth of food memories. If I think about it enough, it almost gives me chills to think of all that history gracing each meal.
I wish my iron skillet was an old family heirloom because that would make for a better story. As much as I'd like to embellish, however, I have to admit I bought my iron skillet in an antique shop. (Hey, at least it's old!) I found it in Iowa City many years ago, and the shop owner told me it was cast in the early 1900s. There's no date or brand on it, so unless I carbon dated it there's no real way of knowing its true age. It's said, however, that a flat bottom means the cookware is older than one with ridges; mine is flat. It's also blacker than midnight and heavier than a house. (Making it ideal for both toning my arms and shooing away door-to-door salesman.) And working with it is a dream as it heats evenly, is nonstick and transfers brilliantly from the stove top to the oven. It's a true one-pan wonder.
Even though I haven't inherited any of my family's iron cookware, my grandmother, my mother and my uncles all use cast iron that has been passed down through the generations. Yes, they have the pleasure of cooking with iron pots and pans that were also used by my great-grandmothers. There were no blacksmiths in my family, so my great-grandmothers bought their cast iron back in the early 1900s, but that doesn't make them any less amazing; it's thrilling to cook with something that has served people for a hundred years. One skillet my mom has is tiny, probably six inches in diameter. When I was young, I considered it my own personal pan because it was perfect for frying one egg, the first thing I learned to cook. So, I reckon my love for iron cookware was set at a young age.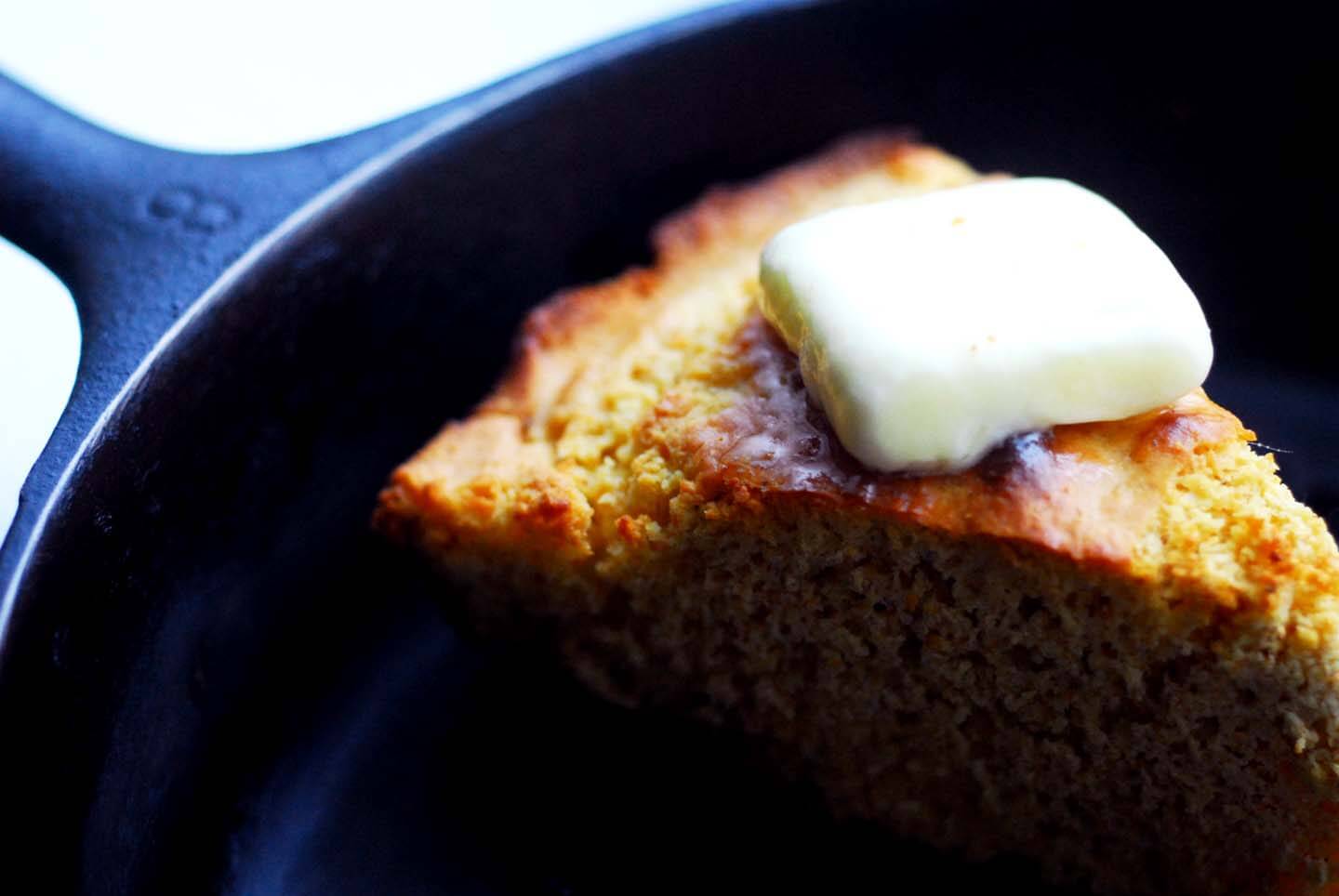 You can find old iron skillets at garage sales, flea markets or antique stores. If you wish to purchase one new, Lodge out of Tennessee is the only company still manufacturing them in America today (though Wagner, another classic brand, is supposed to resume production this year). Until recently, new iron cookware only came raw and in order to make it usable you had to season it yourself. But apparently some consumers want instant gratification, so Lodge introduced a pre-seasoned line under the Lodge Logic label. I find it sort of illogical, but I guess you have to give the people what they want. (There have been rumors that Lodge is phasing out its unseasoned iron ware, but I haven't seen anything to validate this.) If you buy your cast iron new, I highly recommend getting it unseasoned. Seasoning is not only fun, but it's a way of bonding with your new cast iron friend.
Once you buy your cast iron piece, seasoning it for the first time is an easy process. First rinse with hot water and dry completely. (Do not use soap!) Coat the entire piece of cookware (both inside and out) with either vegetable oil, lard or bacon grease. Cook it in an oven set at 450-500 degrees until it quits smoking (about 15 minutes). Take it out, pour out any oil and put it upside down back in the oven at 250 degrees for two hours (you might want to put some foil under it to catch the excess fat). After you've let it cool, do the touch test. If it's smooth, it's ready to go, but if it's sticky it didn't get hot enough. Scrub off the gummy bits and start over.
After it's seasoned, you don't want to wash it with soap because that will ruin the finish. To clean it, just stick it in water and scrub (if you need more grit than a sponge or steel wool use salt). To dry it, put it on a stove and heat it until all the water is burned off, otherwise the cookware will rust. If, after using it for a while, you start to see rust, rub it with steel wool and re-season the cookware. It may seem like a lot of work, but trust me, if you take care of your cast iron, it should provide you with a long, happy cooking relationship.
I can do a lot with my cast iron skillet: scramble eggs, fry fish, broil beef, bake biscuits, sautee vegetables and roast chiles. I suppose I could use other cookware for these jobs, but I don't like to fuss with lots of pots and pans—using the same skillet works for me. But there's one dish that nothing but a cast iron skillet will do: cornbread. Why? If you bake it in anything else cornbread will not achieve the desired crispy crust.
Now, I don't want to start a debate about cornbread—but it is a fact that there are differences between Northern and Texan cornbread: Northerners like it sweet while Texans like it salty. We are also known to jazz it up with jalapenos, green chiles or cheese. But the one thing a Texan will never, ever put into their cornbread is sugar. That said, my mom—who has a legendary sweet tooth—admits to putting honey in hers (so I have to question her Texan creditentials), but never mind that. Cornbread is for dinner, not dessert.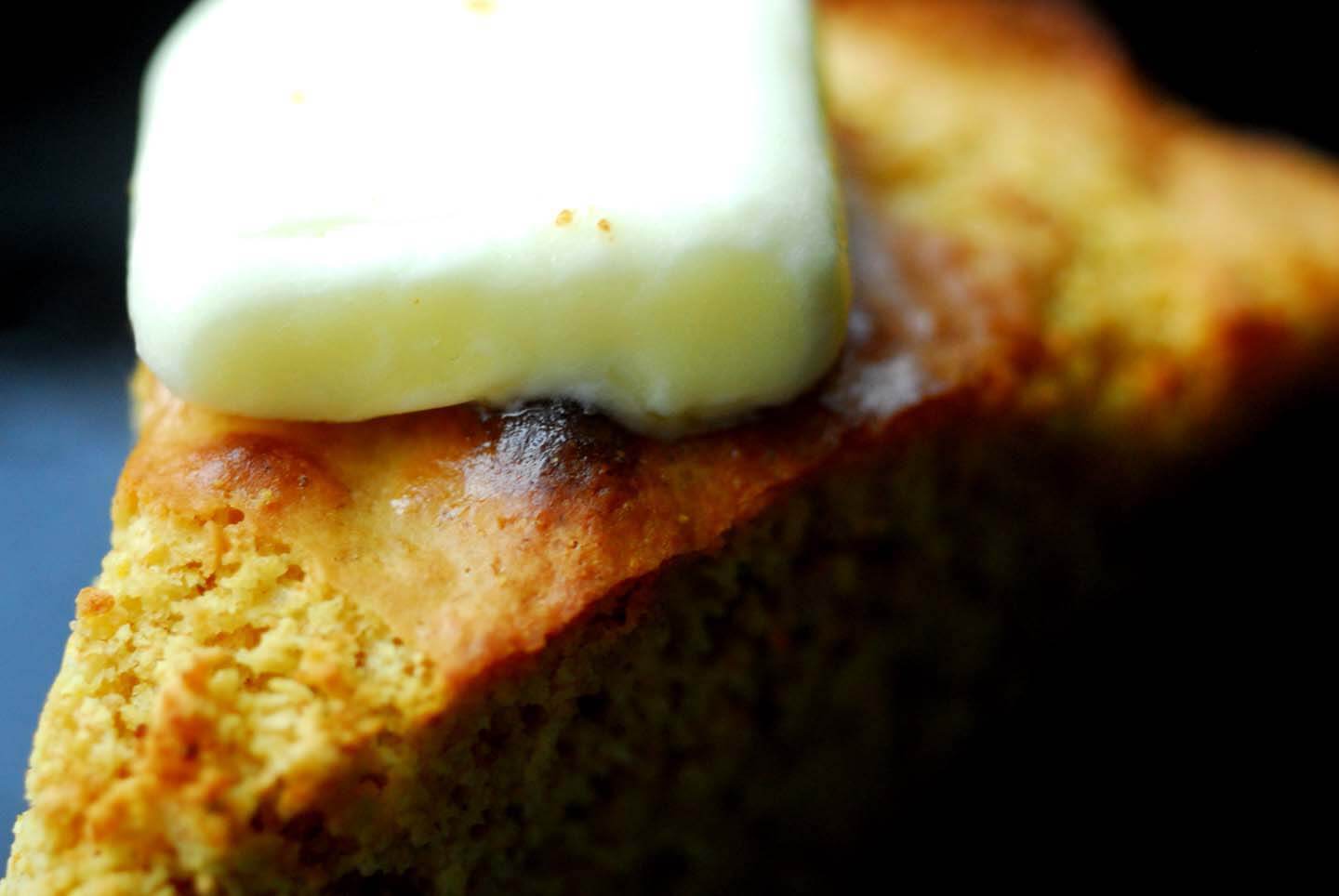 Here's a classic Texan cornbread recipe, baked in a cast iron skillet, of course. Be sure and get the cast iron good and hot, as that's what sears the batter and makes for a crispy, crunchy crust.
Cornbread
Ingredients
1/4

cup

bacon drippings or vegetable oil

2

cups

finely ground cornmeal, yellow or white

½

cup

all-purpose flour

1

tablespoon

baking powder

1

teaspoon

kosher salt

1

large egg

2

cups

buttermilk
Instructions
Preheat the oven to 450°F.

Put the drippings or oil in a large (10-inch) cast-iron skillet and place in the oven as it preheats.

In a large bowl, stir together the cornmeal, flour, baking powder, and salt. Whisk together the egg and buttermilk then stir into the dry ingredients until well combined.

Take the skillet out of oven, pour the hot oil into the batter, then stir until the batter is smooth and well combined. It will be thick.

Pour the batter into the skillet and bake for 20-25 minutes, or until the cornbread is lightly brown on top and and an inserted knife comes out clean.