Jalapeño bacon Brussels sprouts gratin
If your family is like mine, the week before Thanksgiving is filled with a flurry of messages deciding what everyone is making. There's been lots of give and take and back and forth. Most of my family has a signature holiday dish but there is always room for improvisation and so I've been pondering what I could offer.
When thinking about my contribution, in the past my cranberry and poblano salsa has been popular, so it'll make a return appearance. This hominy casserole is always welcome. And in my first book, there's a green chile macaroni and cheese that was a huge hit a year I made it, so that's an option, too. Those are all welcome choices, but I wanted to cook something new.
Enter Brussels sprouts.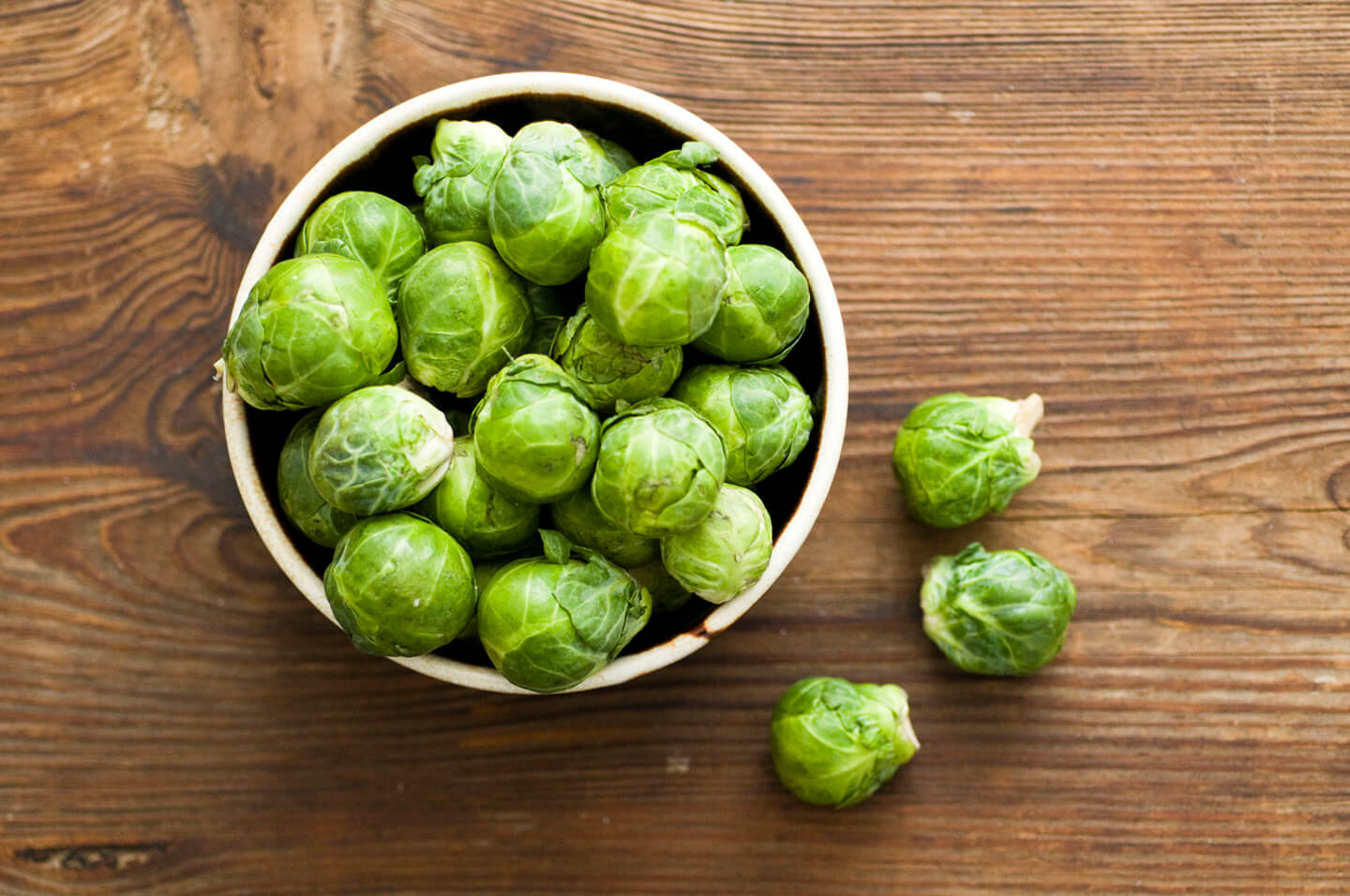 Brussels sprouts are a fall vegetable that are a member of the Brassica family, which also includes kale, broccoli, cabbage, and cauliflower. Indeed, Brussels sprouts look like miniature cabbages because basically that's what they are. As such, they can be cooked like cabbage, which means they are often boiled or shredded to make a slaw.

My family has never served Brussels sprouts at Thanksgiving, though we did eat them when I was young. My mom simply boiled them and then smothered them in butter—a classic Texan way to prepare Brussels sprouts. As a matter of fact, for years that was the only recipe offered for this vegetable in Texan newspapers and cookbooks, at least until the 1960s when things got wild and one food writer suggested tossing them in ketchup. Fortunately, that trend did not stick.
Trying to decide what to do with mine, an idea arrived when a friend shared a recipe for a Brussels sprouts gratin full of cheese and bacon. It looked enticing, but I began to think that since the big dinner is already so loaded with food that perhaps a lighter version of Brussels sprouts would be more welcome instead.
To test my idea, I tossed some Brussels sprouts with garlic, olive oil, and salt and threw them in the oven. They came out crispy and were a good dish. But I couldn't stop thinking about how much better they would taste if blanketed in cheese and bacon. Sometimes you need to live a little, and because it's a holiday I decided to try a batch of creamy Brussels sprouts and see how they compared.
For my version of the Brussels sprouts gratin, I took inspiration from Julia Child's technique in which she smothers hers in a roux-based cheese sauce. Following her lead, I made a creamy, cheesy sauce, and then livened it up with garlic, jalapeños, and bacon. I stirred in some lightly blanched Brussels sprouts, topped everything with more cheese, and then slipped it under the broiler for a minute or two to get the whole thing bubbling and browned.
Cheese, jalapeños, and bacon—I will admit it wasn't a fair fight and the jalapeño bacon Brussels sprouts gratin was declared the winner of my clash of the vegetables. Yes, I can have a light touch with my vegetables any other day of the year, but since I'm so thankful that I get to spend time with my family, something a little extravagant to celebrate the occasion is in order.


In this case, luxury comes in the form of a skillet of Brussels sprouts in a cheesy, creamy, smoky, spicy sauce topped with even more cheese. Sure, it's a bit over the top but my family is worth it. We can be virtuous again on Friday.
Jalapeño bacon Brussels sprouts
Ingredients
2

pounds

Brussels sprouts

1

tablespoon

kosher salt

2

tablespoons

unsalted butter

2

jalapeños, seeded and diced

2

cloves

garlic, minced

3

tablespoons

all-purpose flour

2

cups

whole milk or half and half

1/4

teaspoon

ground cumin

Pinch

cayenne

Black pepper

12

ounces

(3 cups) shredded white Cheddar and/or pepper Jack,

6

slices

cooked bacon, crumbled
Instructions
On high heat, bring a 4-quart pot of water to a boil. As the water is heating, trim the Brussels sprouts. First, thinly slice off the woody bottom of each sprout, then either cut the sprout in half, if the circumference of the sprout is less than an inch wide, or into quarters, if the circumference is larger than an inch wide.

When the pot of water is boiling, leaving the heat on high, add the salt and the Brussels sprouts to the pot and cook for 5-7 minutes or until tender. Drain the Brussels sprouts in a colander and rinse with cold water to stop the cooking.

Preheat the broiler and place a rack 6 inches away from the heat.

In a 10-inch cast-iron skillet, melt the butter on low heat and add the jalapeños. While occasionally stirring, cook the jalapeños until lightly softened, about 2-3 minutes. Add the garlic and cook for 30 more seconds. Whisk in the flour and cook until lightly browned and fragrant, about 1 minute. Pour in the milk and whisk until everything is well combined. While occasionally stirring, cook until the milk has thickened, about 5 minutes. Be sure not to let it come to a boil.

Turn off the heat and stir half of the cheese into the sauce until it's melted. Add the cumin, and cayenne, then taste and adjust seasonings, adding black pepper and salt to taste. Stir in the Brussels sprouts and crumbled bacon until well combined. Evenly top the sprouts with the remaining cheese and place under the broiler for 1 1/2 to 3 minutes or until the top is browned. (My broiler takes 2 minutes but yours may take more or less time so keep an eye on it so it doesn't burn.)

Alternatively, if you don't have a cast-iron or broiler-proof skillet, pour the gratin into lightly greased 2 1/2-quart broiler-proof baking dish and broil it that way.

Allow the gratin to rest for 10 minutes before serving. Serve warm.