"It's all good, but whatever you do, you must get the creamed corn," said the woman waiting in line behind me at Killen's Barbecue. It was my first time to visit this new Pearland, Texas smoked-meat hot spot, and she and I had been discussing the menu.
I'd heard good things about owner Ronnie Killen's brisket, beef ribs, sausages—heck, all of the smoked meats had been lauded as some of the best new barbecue in the state. So her recommendation surprised me.
"I don't usually order sides at a barbecue place," I said. She shook her head and said, "Trust me. You don't want to miss this corn." She was correct. While I did enjoy the ribs, the turkey, and the brisket, it was the corn that I kept dipping into, savoring each sweet and creamy bite.
After my visit to Killen's I went to visit a friend, and when I told her where I'd been the first thing she said was, "Did you try the creamed corn?" Then two weeks later, when I was back in New York, another person who'd eaten there said the same thing. Clearly, Killen's much-lauded creamed corn merited investigation so I could cook something similar in my own kitchen.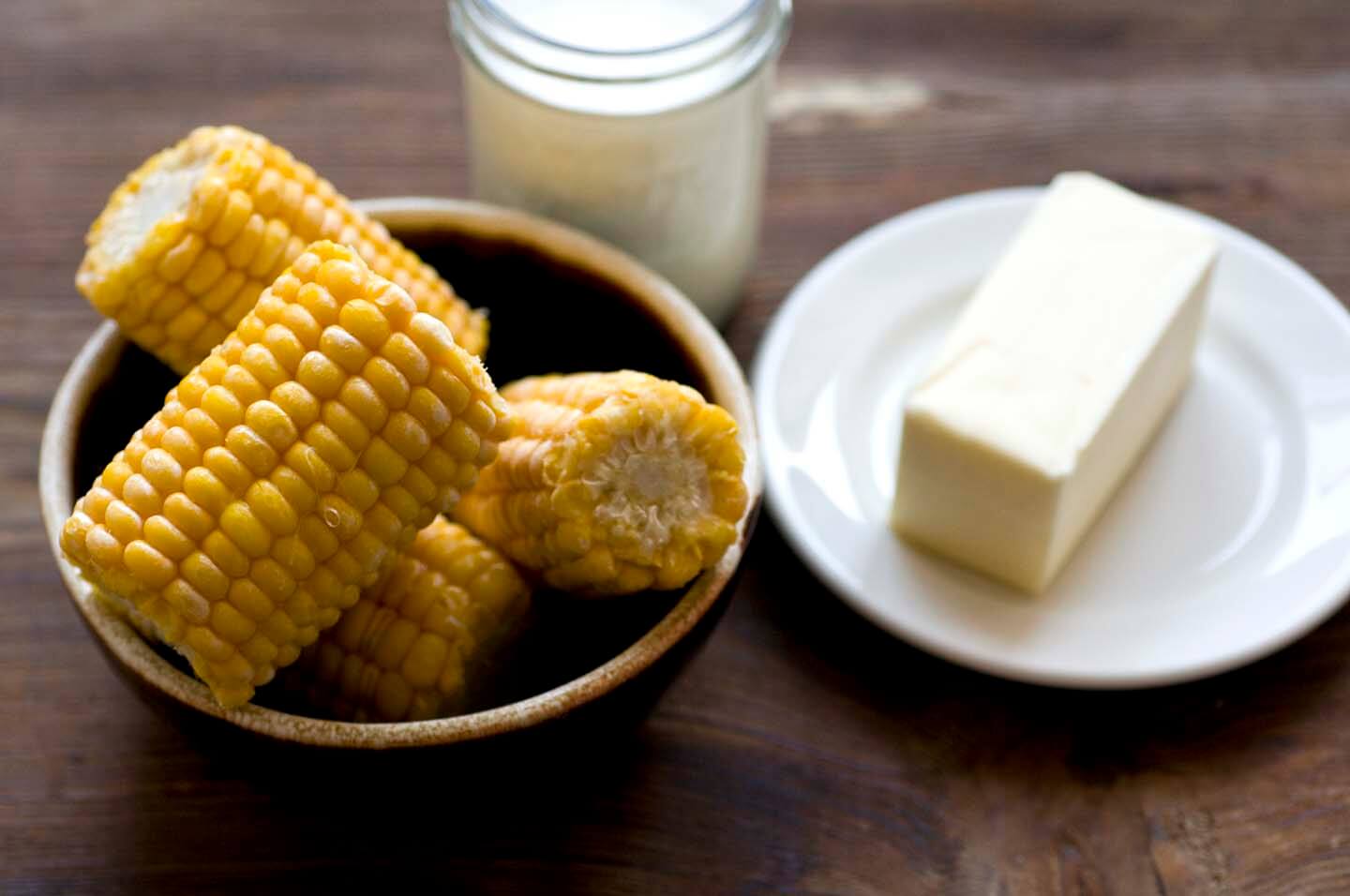 A little research lead me to his recipe. Ronnie Killen had generously shared his technique with several Houston media outlets, and I discovered his method is quite simple. He uses fresh cobs of corn and after he removes the kernels, he infuses cream and milk with the cobs for a spell, so the cobs' sweet corn flavor will enrich the sauce even more. Lots of butter and a bit of sugar also add to the dish's rich appeal.

Now, if it were September, I'd have no trouble finding fresh corn, but since it's November, my search was a little more difficult. But I wanted creamed corn, so I went about trying to make it out of season.
After removing the kernels, I slipped the cobs into a mixture of half and half (which was my shortcut way of getting both cream and milk) and let them rest on low heat for about 15 minutes. Meanwhile, I cooked the kernels with butter.
Because I wasn't using the freshest corn, I also added some garlic and peppers to Killen's basic recipe, two additions that nobody should mind. Likewise, he finishes his dish with Parmesan cheese, but to keep in tune with Tex-Mex flavors I added, I used salty Cotija cheese, instead.
While some use canned corn when fresh isn't available, I also tried the recipe with frozen corn. And even though you aren't able to do the cob infusion, the addition of garlic, spicy jalapeños, and cheese still made it a very fine dish.
So after my changes, was my jalapeño cream corn recipe the same side dish I ate in Pearland? Not really, but this wasn't a bad thing—the dish I made was just different. I chalk that up to not using the best corn at the height of the season, and look forward to making it his exact way next summer.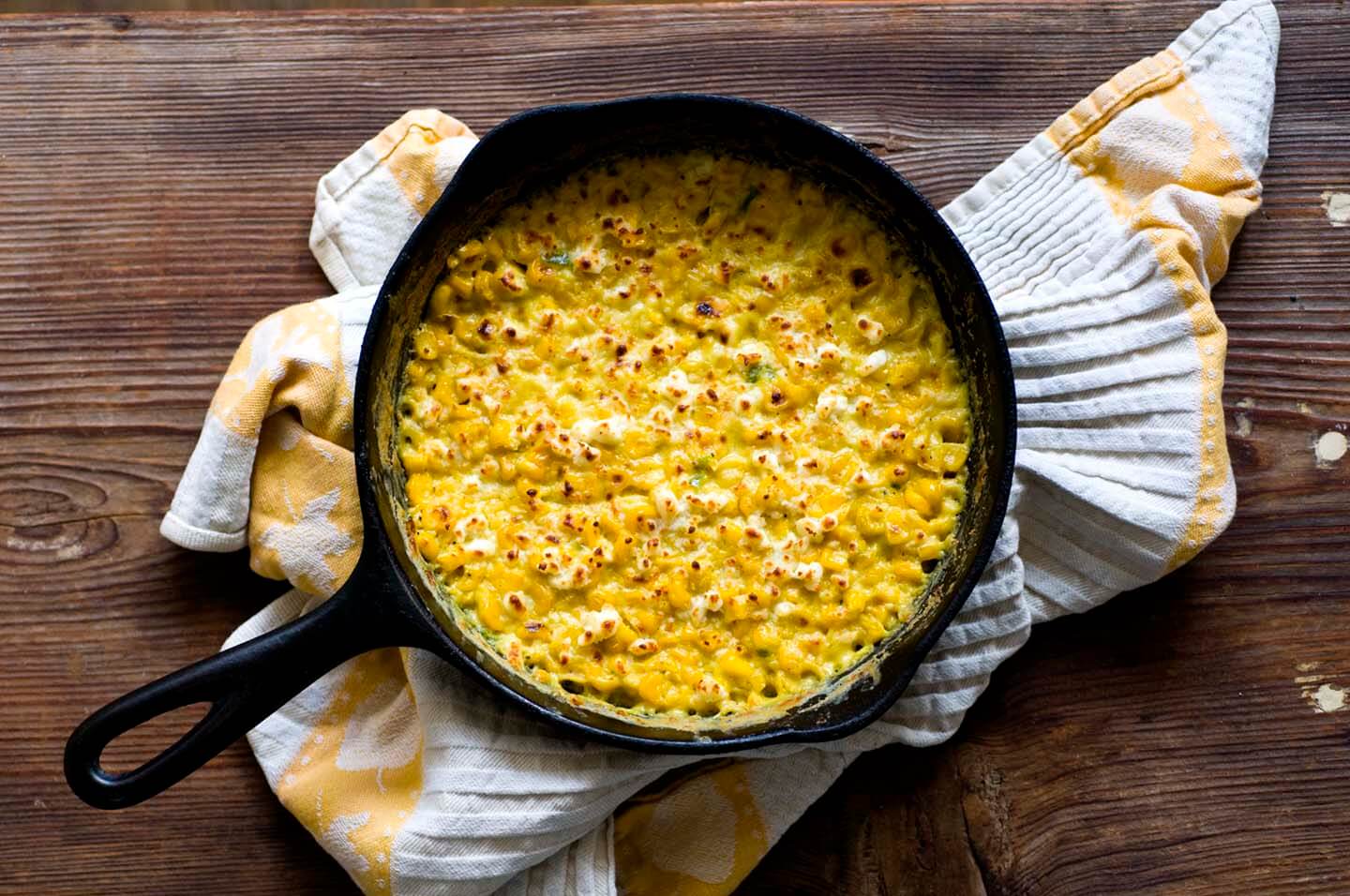 That said, I dare anyone to stop taking bites of this jalapeño creamed corn, as it's a star in it's own right. And because it can be made with frozen corn as well, this is a creamed corn I know you'll enjoy year round.
—————
Would you like more Homesick Texan? Well, I've started offering additional recipes for paid subscribers to help with the costs of running the site. While I'm not taking anything away, if you'd like to support Homesick Texan and have access to exclusive, never-seen-before subscriber-only posts, please consider becoming a member; annual subscriptions are as low as $25. Thank you for reading, your consideration, and your support!
—————

Jalapeño creamed corn
Ingredients
8

ears of corn, shucked or 6 cups frozen corn

2 1/2

cups

half and half

1

stick unsalted butter

1

jalapeño, seeded and diced

1

clove

garlic, minced

Salt

1

tablespoon

granulated sugar, can use more or less, depending on corn sweetness

Pinch

of cayenne

1/4

cup

crumbled Cotija cheese or grated Parmesan cheese
Instructions
If using fresh corn, with a knife remove the kernels from the cob. Place the cobs in a medium pot and pour in the half and half. Turn the heat on low and let the cobs and half and half cook for 15 minutes. Before removing the cobs and discarding, scrape the sides to release any more milky corn essence. If using frozen corn, skip this step, and simply add the half and half to a blender.

Meanwhile, add the butter to a large skillet and turn the heat on low. Once the butter has melted, add the corn kernels, fresh or frozen, the jalapeño, and the garlic. Stirring occasionally, cook the corn for 15 minutes. Add salt to taste.

Remove the kernels from the heat, and place 3/4 cup of the kernels in the blender with the half and half. Blend until smooth.

Add the remaining corn kernels, corn puree, sugar, and cayenne either to a large cast-iron skillet or a medium pot. Turn the heat on low, and while stirring occasionally, cook until it's reduced and thickened, about 20 minutes. Taste and adjust seasonings if needed.

Turn on the broiler and place a rack six inches away from the heating element. If using a cast-iron skillet, sprinkle the Cotija cheese evenly over the creamed corn, place the skillet in the oven, and broil until lightly browned on top, about 1 to 2 minutes.

If instead you're using a medium pot to cook the creamed corn, lightly grease a 9-inch casserole dish. Pour in the creamed corn, sprinkle the Cotija cheese evenly over the creamed corn, and broil until lightly browned on top, about 1 to 2 minutes.

Serve warm.