King Ranch chicken casserole
Casseroles are an ancient dish, found all over the world. Yet for some reason, whenever I hear the word, I don't think of France (the origin of the name), I think of church suppers, potlucks and home.
We Texans, like most Americans, love our casseroles. Though what usually sets a Texan casserole apart from its neighbors is the spices used. Not shy with the peppers, most Texan casseroles have a bit of a kick. And one of the most popular casseroles we make is King Ranch Chicken Casserole, a soft, slightly spicy, cheesy mixture of tomatoes, corn tortillas, chicken, cream and peppers. It goes down easy and is the ultimate comfort food.
Casseroles today have a sort of retro appeal, yet I find they're a terrific dish to prepare in the cooler months. Not only can you make them ahead of time, they can also feed many, freeze well and taste terrific as leftovers.
The rise of the casserole's popularity occurred in the mid-part of the last century, an advent that coincided with the introduction in 1934 of Campbell's Cream of Mushroom Soup—that ubiquitous ingredient found in almost every casserole recipe. It was the rare pantry that didn't have a few cans of these on the shelf when I was young. And I know people that still swear by it as a secret ingredient, such as my Cajun friend who throws it into his etouffee in place of using a roux.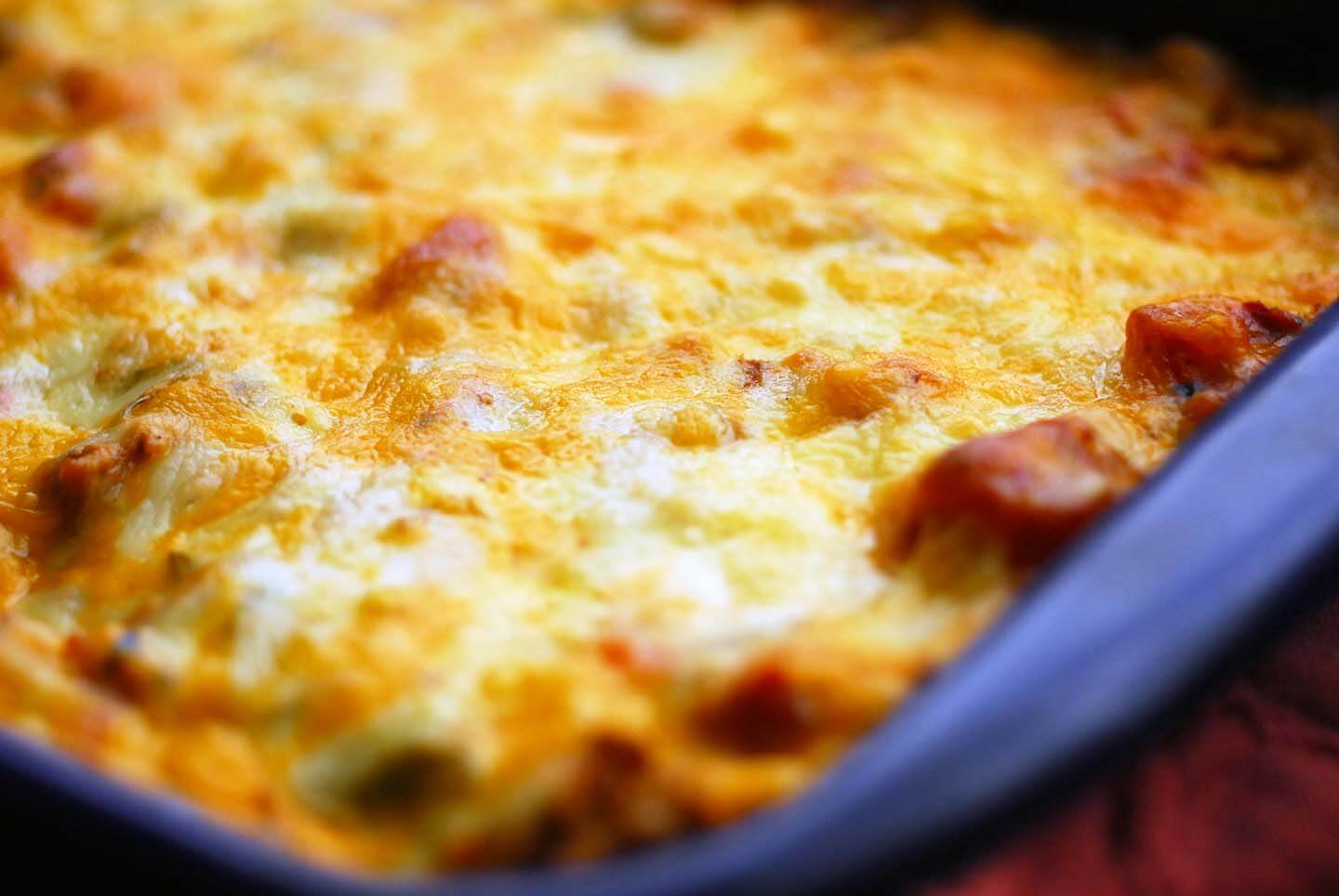 Campbell's Cream of Mushroom Soup used to get me in trouble as a kid. Why? Because I was the rare person (maybe the only person) who actually enjoyed eating it as it was intended—as a soup. I liked to alternate eating cans of it with Graham crackers topped with melted chocolate chips as my after-school snack. So when my mom needed a can for a casserole, sometimes she'd find her supply depleted because I'd had the urge to whip up a pot of liquid, mushroomy joy. It was not a pretty scene.
In hindsight, however, I shudder to think I used to savor this pasty white liquid riddled with tiny dots of processed mushrooms. I realize I probably ate it because it was one of the few commercial food items on hand in a house filled with health-food-store fare. Eating it was a bit of rebellion. So now that I'm a bit wiser about food, when I make casseroles today I don't use canned soup. Instead, I make my sauces with butter, chicken broth and flour. Classic American casserole heresy, perhaps. But the results are just as delicious.
King Ranch Chicken is basically an enchilada casserole, but it's creamier than most. And yes, most recipes for it call for canned cream soup. This certainly makes preparation simpler, but it can taste just as good without. But before discussing my recipe specifics, let's take a look at the legend of this dish.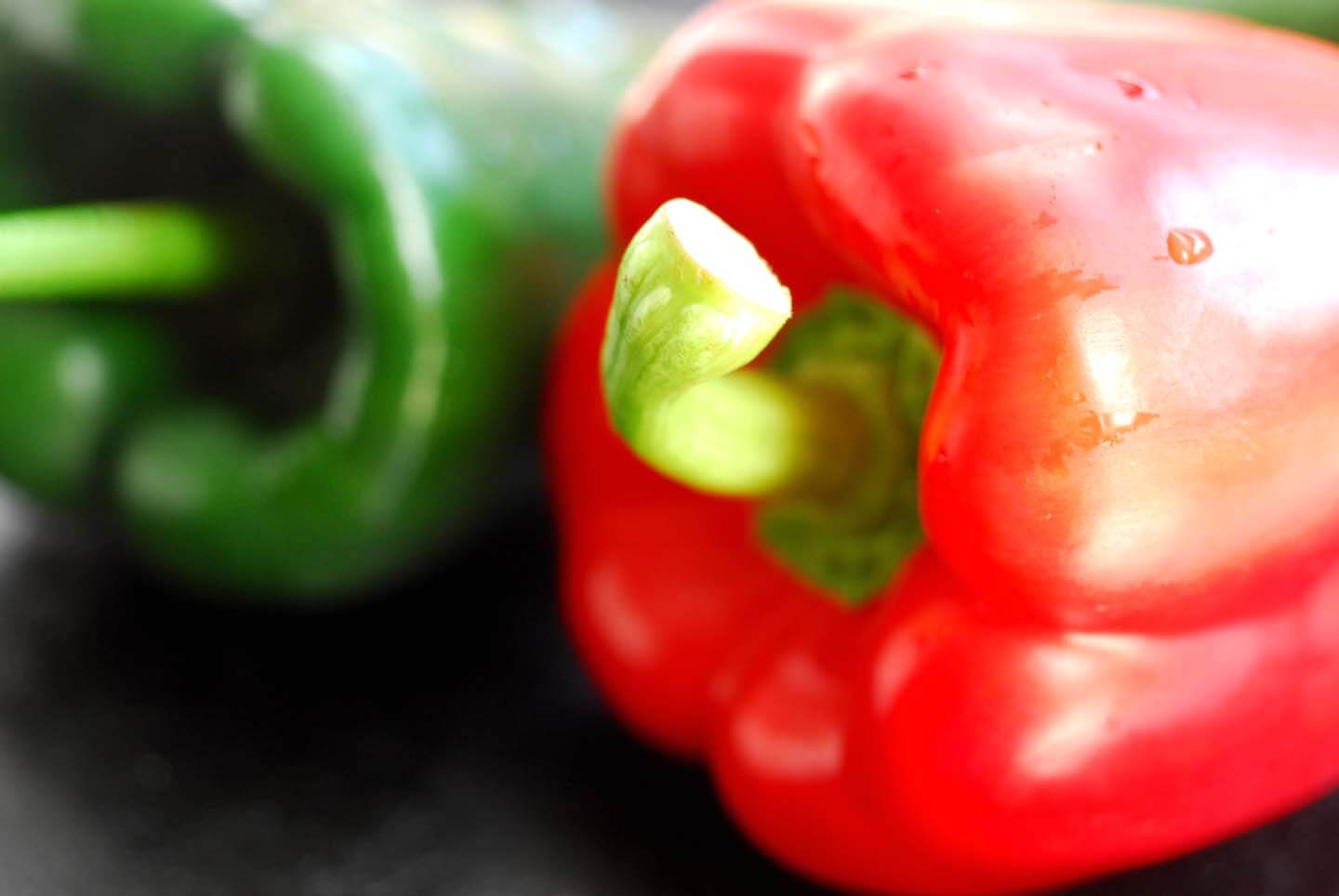 Sadly, the history and origin of King Ranch Chicken is a bit murky. While the name invokes that epic south Texas ranch—so gigantic it covers more ground than the state of Rhode Island—the ranch claims no ownership on this recipe. Some surmise that perhaps it was a ranch-hand that developed the dish, but this has not been proven. Then there are those who say someone tacked on the name "King Ranch" because that ranch is emblematic of the state itself in both its size and its myth. Yet one has to ask why the recipe calls for chicken, when both the ranch and the state are known for its beef.
While the casserole could have been named after the ranch, since nobody has come up with a clear connection to it in regards to this dish, I've developed my own theory. Are you familiar with Chicken A La King? It's a creamy mixture of chicken, mushrooms and bell peppers served on toast. Now let's take a look at what makes up King Ranch Chicken: chicken (of course!), bell peppers, cream of mushroom soup, with the addition of tomatoes and green chiles (such as a can of Ro-Tel), all layered on corn tortillas. Do you see where I'm headed with this? I believe that someone added ingredients found in traditional Texan dishes—such as the spicy tomatoes and corn tortillas—to their traditional Chicken A La King recipe. In naming this new, Southwestern Chicken A La King they added the word "ranch"—because it conjures up a certain Texan feeling—and did away with the "a la." And voila! King Ranch Chicken.
But in the end, it doesn't really matter where the name comes from—it's how it tastes. This is the quintessential home-cooked meal, a perennial favorite that no matter how sophisticated your palate, you'll never refuse a heaping plate of the gooey, cheesy, tomato-y delight. It sticks to your bones and makes your tummy warm—plus it travels well and is always a big hit at potlucks.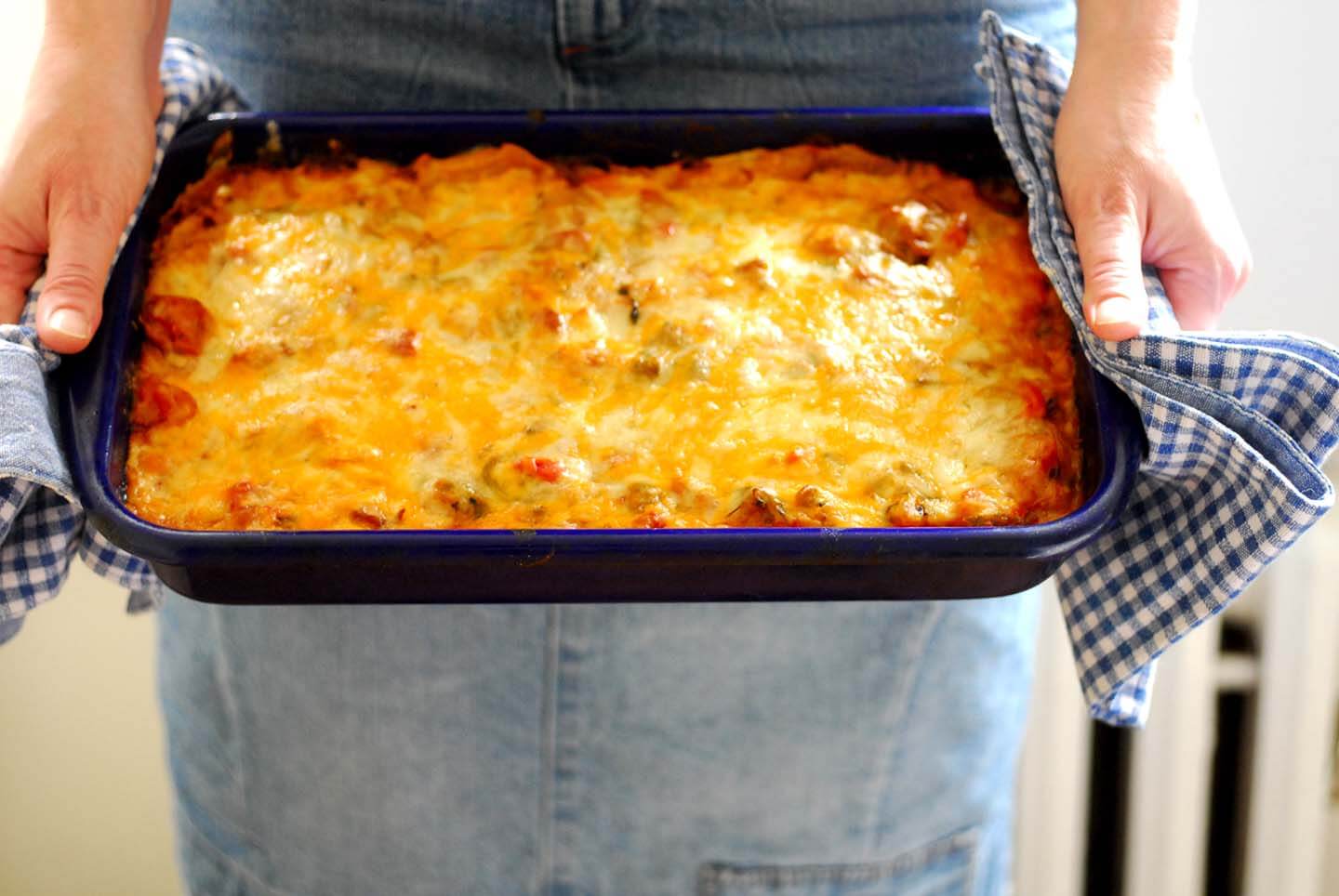 Here's my recipe, which is a sort-of fancy-pants version that doesn't call for canned soup. (Though you hardly notice the lack if you're a true fan of the canned-soup version, and it doesn't taste too sophisticated—this is still simple food.) The one I grew up eating, however did use canned soup, and came from my grandmother (it was a favorite dish served when she and my grandfather used to get together with their friends and play the domino game 42). You'll also find this version in countless church and Junior League cookbooks—and I have to admit, processed canned soup aside, it's still tasty.
So if you're looking for an easy yet tasty meal, why not tuck into a heaping, pleasing plate of King ranch chicken? Your mouth, as well as your friends and family, will thank you.
—————
Would you like more Homesick Texan? Well, I've started offering additional recipes for paid subscribers to help with the costs of running the site. While I'm not taking anything away, if you'd like to support Homesick Texan and have access to exclusive, never-seen-before subscriber-only posts, please consider becoming a member; annual subscriptions are as low as $25. Thank you for reading, your consideration, and your support!
—————

Slightly fancy-pants King Ranch chicken casserole
Ingredients
1 1/2

pounds

boneless, skinless chicken–either breasts, thighs or a combination

4

teaspoons

freshly squeezed lime juice

4

teaspoons

ancho chile powder or chili powder

Salt

Pepper

2

tablespoons

olive oil

4

tablespoons

unsalted butter

1/2

medium yellow onion, diced

1

red bell pepper, seeded and diced

1

poblano pepper, seeded, stemmed, and diced

3

cloves

garlic, minced

2

tablespoons

all-purpose flour

1

teaspoon

ground cumin

1/2

teaspoon

cayenne pepper

1

cup

chicken broth

1

10-ounce can Ro-Tel tomatoes, drained

1/2

cup

half and half

1/3

cup

sour cream, plus more for serving

1/4

cup

chopped cilantro, plus more for serving

2

tablespoons

Vegetable oil

10

corn tortillas

1 1/2

cups

(6 ounces) shredded pepper Jack

1 1/2

cups

(6 ounces) shredded cheddar
Instructions
Season the chicken with 2 teaspoons of the lime juice, 2 teaspoons of the ancho chile powder, and a generous dash of salt and pepper. In a skillet heated on medium, cook the chicken in the olive oil on each side for about 10 minutes. When the chicken is done (after about 20 minutes), shred it with two forks. Taste and see if it needs more salt and pepper. There should be about 3 cups of chicken.

Melt the butter in a saucepan on medium low, and add the onions, red bell pepper, and poblano pepper. Cook for 10 minutes or until the onion and peppers are soft and fragrant. Add the garlic and cook for 30 more seconds. Stir in the flour, cumin, cayenne, and the remaining 2 teaspoons of ancho chile powder, and cook for 1 more minute.

Pour in the chicken broth and cook on low until the mixture is thickened, a few minutes. Stir in the half-and-half and Ro-Tel cover the pot, and simmer for about 15 minutes, stirring occasionally.

Uncover the pot, and add the sour cream, the remaining 2 teaspoons of lime juice, and the cilantro, and add salt and pepper to taste. Turn off the heat.

Preheat the oven to 350° F and have ready a 9×13 baking dish.

To heat up the tortillas, start with 1 tablespoon of the oil to a large skillet heated on medium-high, and add the tortillas, one at a time, cooking about 30 seconds per side or until softened. Add more oil as needed.

To assemble the casserole, ladle 1/2 cup of the sauce onto the bottom of the baking dish. Layer half the tortillas along the bottom of the pan (on top of the sauce). To make sure entire pan is evenly covered, you can rip some of the tortillas into strips to fill any gaps. Add half the chicken, half the remaining sauce, half the remaining cilantro and 1 1/2 cups of grated cheese.

Repeat the layering, leaving the cheese layer on top. Cook uncovered for 30 minutes or until brown and bubbling. If you like, top with additional sour cream and cilantro for serving.
Notes
If you can't find Ro-Tel tomatoes, you can use a can of regular diced tomatoes and a 4-ounce can of diced green chiles, or if tomatoes are in season, can use two cups of diced fresh tomatoes with the diced green chiles.)