Long days, strawberry shortcake nights
During the strawberry's brief yet vibrant season, I try to eat them every day. I eat them with balsamic vinegar. I eat them in pies. I eat them in salads. I eat them with granola. I eat them with yogurt. I eat them with cream. And, of course, I eat them by themselves. But my favorite way to eat strawberries is in that classic concoction: strawberry shortcake.
Strawberry shortcake is a simple dish—a sliced biscuit, lightly sweetened strawberries and fluffy, whipped cream are its only requirements. I grew up eating this as my mom loves to make strawberry shortcake and hers is the best. And I'm not alone in my opinion, as I've seen others sigh when their shortcake bowls have been spooned clean.
The sad thing, however, is that when I was a kid I didn't realize I was eating proper strawberry shortcake. Randall's Supermarket sold round yellow sponge-cake cups and called them shortcakes. (They were only a about an inch high, so they were, indeed, short). And because I was gullible, I was mislead into believing that they were the real deal and what my mom was serving me was incorrect. Not that it mattered, because I still preferred her shortcake. The packaged sponge-cake kind never satisfied as the juice and cream turned the cakes into a soggy mush; you need the heft of a biscuit to carry the weight.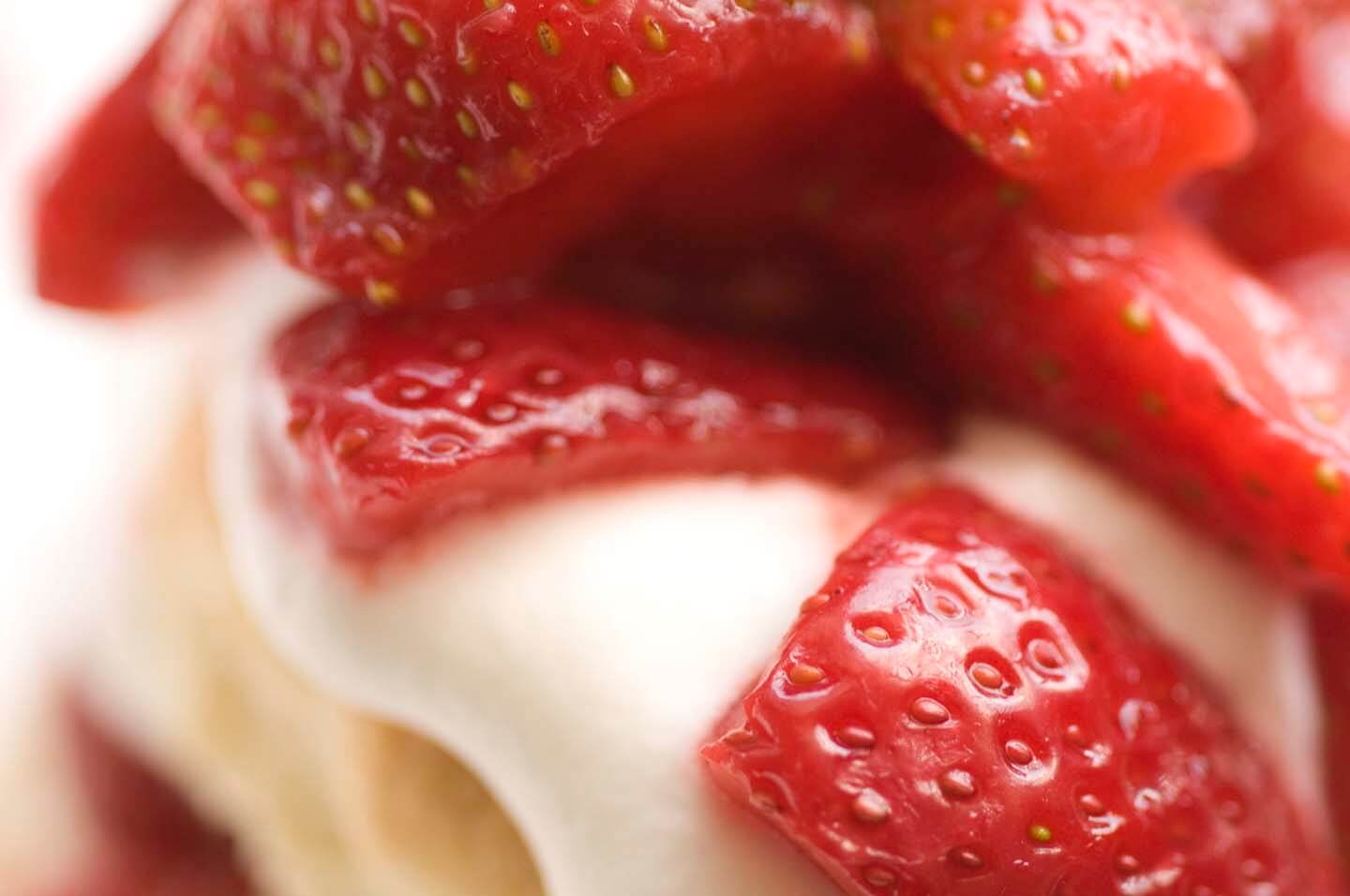 As longtime readers are well aware, I love to make biscuits. But my mom has always been more of a scone maker than a biscuit maker and so I was curious what recipe she used for her shortcakes. She surprised me when she said that it had probably come from The Complete American-Jewish Cookbook by Anne London and Bertha Kahn Bishov. It turns out that this is one of her most cherished cookbooks, the source of many of her favorite recipes. Who knew that an Episcopal priest could be such a fan of kosher cooking?
Now if you're an avid plant person like myself (my thumb's not completely green yet, but I keep trying!), you probably have mint and basil overtaking your windowsills, fire escapes or gardens. Fortunately, they both complement the sweetness of the berries, so I've enjoyed adding them to my whipped cream; ginger also gives a spicy kick. I've also been known to use sweetened Greek-style yogurt instead of whipped cream with my shortcake. Its thick texture and tart flavor make it a terrific vehicle for the berries' juice.

So yes, this is a simple recipe and a simple dish without much of a story. But it never fails to please me and since it's my birthday, I thought I'd share some of it with you.
How do you like to eat your strawberries?
Strawberry shortcake
Ingredients
2

pints

strawberries, rinsed, hulled, and quartered

1/4

cup

sugar

1

cup

heavy whipping cream

1

teaspoon

vanilla extract

2

tablespoons

honey

8

biscuits
Instructions
Toss the strawberries with the sugar in a bowl, and leave out at room temperature for a couple of hours, stirring occasionally.

Pour the cream into a chilled bowl, and whip with either a whisk, eggbeater or mixer until thickened (be careful to not whip it too much or you'll turn it into butter!). Gently stir in the honey and vanilla. Cover and chill until ready to use (though if it sits too long it will revert back to its liquid state and will need to be whipped again).

Cut each biscuit in half, and on the bottom half place some strawberries and whipped cream. Put the top half on and add some more berries and cream.