Mexican coffee ice cream pie
Here's a question for you: Do you eat ice cream pie with a spoon or a fork? And while we're on the subject—do you place your slice of ice cream pie on a plate or do you place it in a bowl? While I suppose there is no right or wrong answer, it has been something for me to ponder as I've made my way through a pan of Mexican coffee ice cream pie.
Ice cream pies became popular in Texas in the 1950s. At this time, home freezers were arriving on the market and demonstration agents would travel around the state showcasing their company's appliances abilities to keep things cold and solid. It was quite a luxury to not only make ice cream but then to also spoon it into a pie crust and freeze it again for later to serve as a pie.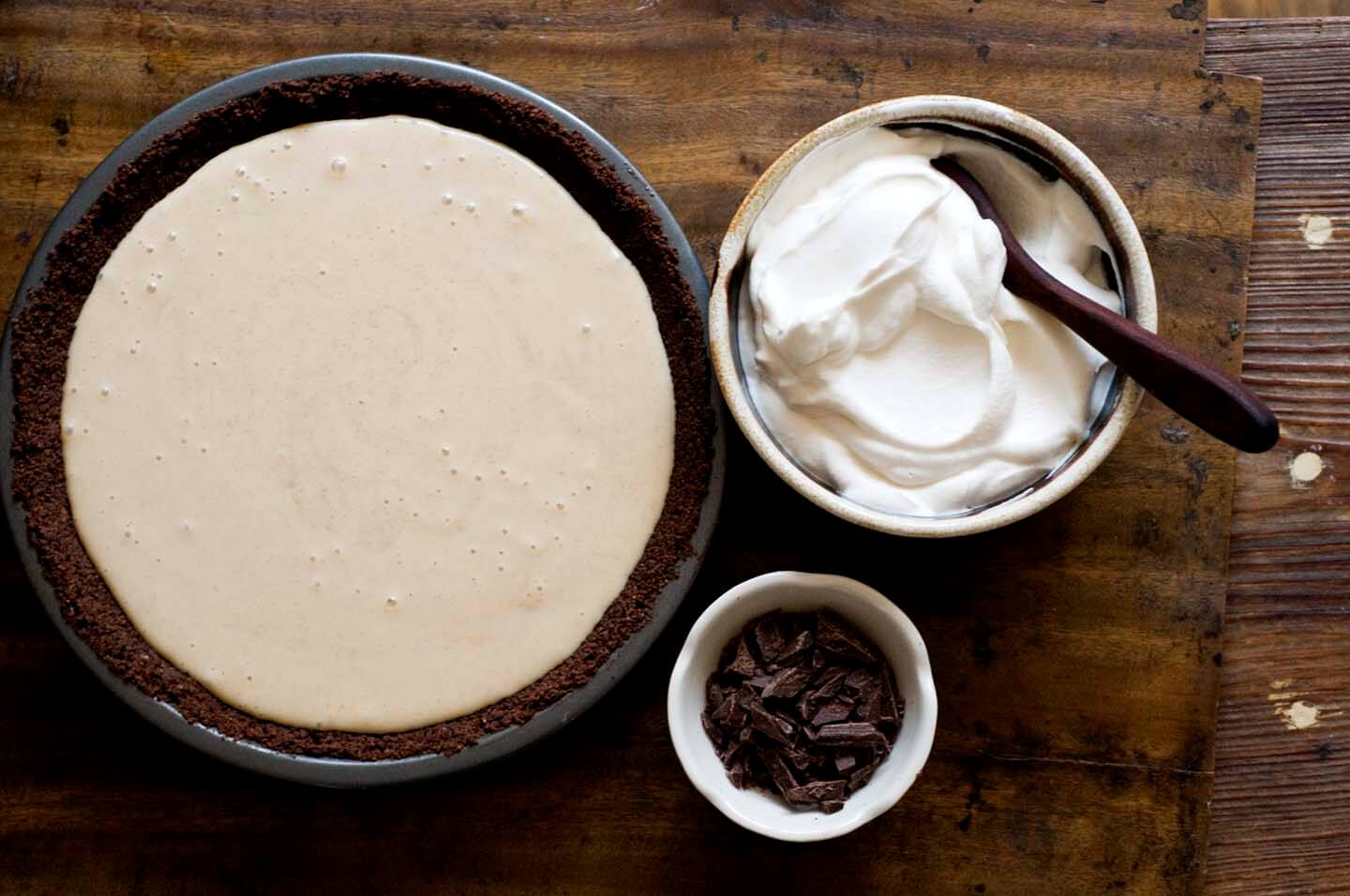 The most common flavor for ice cream pies during this time was strawberry. It was the choice of the demonstration agents and also one that the local dairies usually sold, too. When I spoke to my grandmother about the subject, she concurred that not only was it a popular dessert at the time but indeed, strawberry was the flavor of choice. Though as much as I like strawberry ice cream my favorite flavor is coffee ice cream. So when I got an itch to share an ice cream pie with you, I decided I would it be coffee, or rather, Mexican coffee, flavored instead.

Mexican coffee, which is also known as café de olla, is coffee that's been brewed with that rich, dark sugar known as piloncillo, and then spiced with vanilla and cinnamon. Sometimes orange zest is added to the coffee, as well. It's a fine cup of coffee and the bittersweet coffee combined with the dark sugar and warm cinnamon is especially suited for cooler days.
To make my Mexican coffee ice cream pie, I took my basic ice-box pie filling of cream cheese and sweetened condensed milk, and then infused it with brewed dark roast coffee, cinnamon, vanilla, and orange zest. That said, I have to admit originally I was aiming only for a chilled, not frozen, coffee-flavored pie. But after I realized it wasn't going to set properly in the refrigerator, I threw it in the freezer overnight and was delighted to discover that the simple combination of a few ingredients created an ice cream filling that didn't require churning or a specific maker.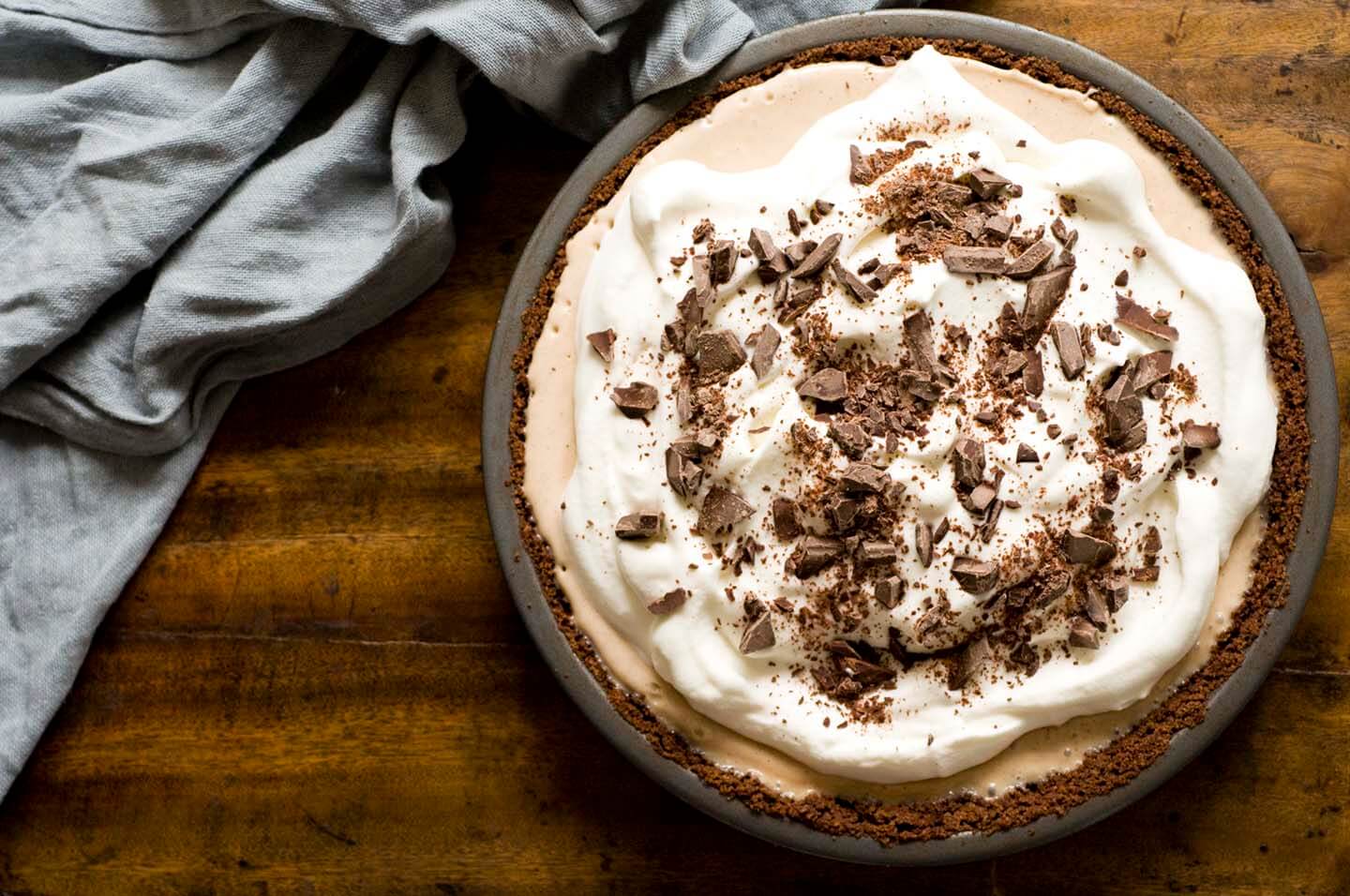 As for the crust, I opted to go with a chocolate graham cracker crust. While chocolate isn't a traditional addition, I love the combination of chocolate and coffee together so it worked just fine for me. And then to finish, I topped it with cinnamon vanilla whipped cream and some chopped chocolate because a little more chocolate never hurt anyone.
Now, this pie might not be for everyone. That said, if you're the sort of person who likes to conclude a meal with a cup of coffee and perhaps a piece of chocolate, this is the pie for you. Or if you're the type of person who likes to begin their day with a cup of coffee, this is also the pie for you. And if you're the type of person who loves coffee ice cream and always wondered how it would taste in a pie, then this is definitely the pie for you. Though you don't have to take my word for it. Last week when I was in Texas, I made this pie for my mom's birthday. She said it was the best thing ever. (And then she asked for the recipe.)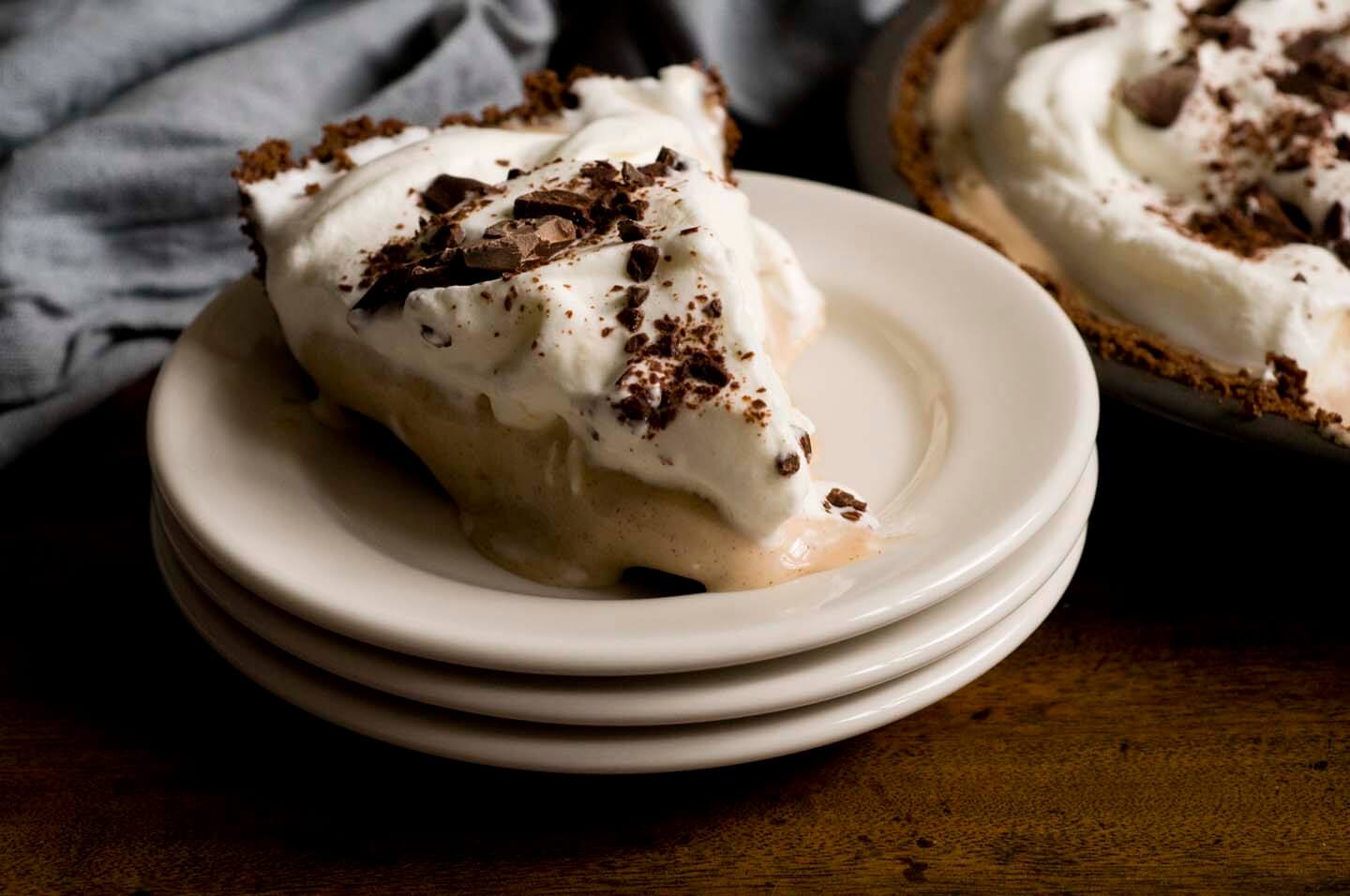 Making the pie takes little effort though you do need to freeze it for about 8 hours before you can enjoy it. This means, that if you're like me, you'll make it the night before so you can have a slice in the morning, as everyone knows that coffee is a fine way to being a day and if you can get your morning coffee in the form of a slice of pie, all the better! The only thing you need to decide is whether to use a spoon or a fork (or a plate or a bowl). But no matter how you serve it, this Mexican coffee pie will put a smile on your face, which isn't a bad way to end (or begin) your day at all.
Mexican coffee ice cream pie
Ingredients
Ingredients for the chocolate graham-cracker crust:
1 1/2

cups

finely crushed graham crackers (about 9 large rectangles)

1/4

cup

cocoa powder

1/4

cup

brown sugar

1/4

teaspoon

ground cinnamon

1

teaspoon

vanilla extract

8

tablespoons

butter, melted, still warm
Ingredients for the Mexican coffee ice cream filling:
1

( 8-ounce)

package of cream cheese,room temperature

1 14-

ounce

can of sweetened condensed milk

1/4

cup

brewed strong coffee, such as espresso or a dark roast

1

teaspoon

freshly grated orange zest

1/2

teaspoon

ground cinnamon

1

teaspoon

vanilla extract
Ingredients for the whipped cream topping:
1

cup

heavy cream

1

teaspoon

vanilla extract

2

teaspoons

sugar

Pinch

of cinnamon

1

ounce

dark chocolate, finely chopped
Instructions
To make the crust, preheat the oven to 350°F and lightly grease a 9-inch pie pan. In a food processor or with a rolling pin, finely crush the graham crackers until they're the texture of sand.

Mix well the graham crackers with the cocoa, cinnamon, and vanilla extract. Stir in the warm, melted butter until a dark dough is formed. It might be a little crumbly, but that's okay. Pat the dough into the pie pan, using your hands, a measuring cup, or a spoon to get it even. Bake for 7 minutes and then let the crust cool for 30 minutes.

To make the filling, in a blender mix together the cream cheese, sweetened condensed milk, coffee, orange zest, cinnamon, and vanilla extract. Pour into the cooled crust, and then place in the freezer covered for at least 8 hours to freeze the filling. (I cover my pie with another pie pan.)

After the filling has frozen, make the whipped cream. First place the mixing bowl and the beater in the freezer for at least 20 minutes so they can chill. To whip the cream, place in the chilled mixing bowl the cream, vanilla, sugar, and cinnamon and then whip with the chilled beater until soft peaks form. Be careful not to over whip the cream. Spread the whipped cream over the frozen filling then sprinkle on top the chopped chocolate.

If you're hungry, you can serve the pie immediately, but if you don't mind waiting another hour, place the pie back in the freezer so the whipped cream can become more firm.