A more natural chile con queso
If I share a secret with you, do you promise not to laugh? I like Velveeta. I know, I know—that stuff isn't even a proper dairy product. Instead it's a cheese food that can sit on the shelf (no refrigeration necessary) for years on end. But in Texas we have a special place in our hearts for Velveeta, especially when it's melted with a can of Rotel. We call that concoction chile con queso, or just queso for short.
Chile con queso, which translates to peppers with cheese, is pronounced "kay-so." And I admit, as trashy and processed as cheese food is, in its melted state it is good stuff—a party standard that can't be beat. But when you go to a restaurant and order queso, you would hope for something a tad more sophisticated. And sure, many places serve something they call queso compuesto, which is a fancy way of saying "queso and other good things"—good things being a scoop of guacamole thrown into the bowl, or some beans or fajita meat also added to the dip.
Restaurant queso, however, is often still made from processed cheese. It may be a higher quality, restaurant-grade of processed cheese, but nonetheless it's still a rectangular brick of cheese food. Don't get me wrong, I love the stuff, and can eat buckets of it. But I was curious if it was possible to make queso with real cheese and still have it taste like its processed-cheese brethren.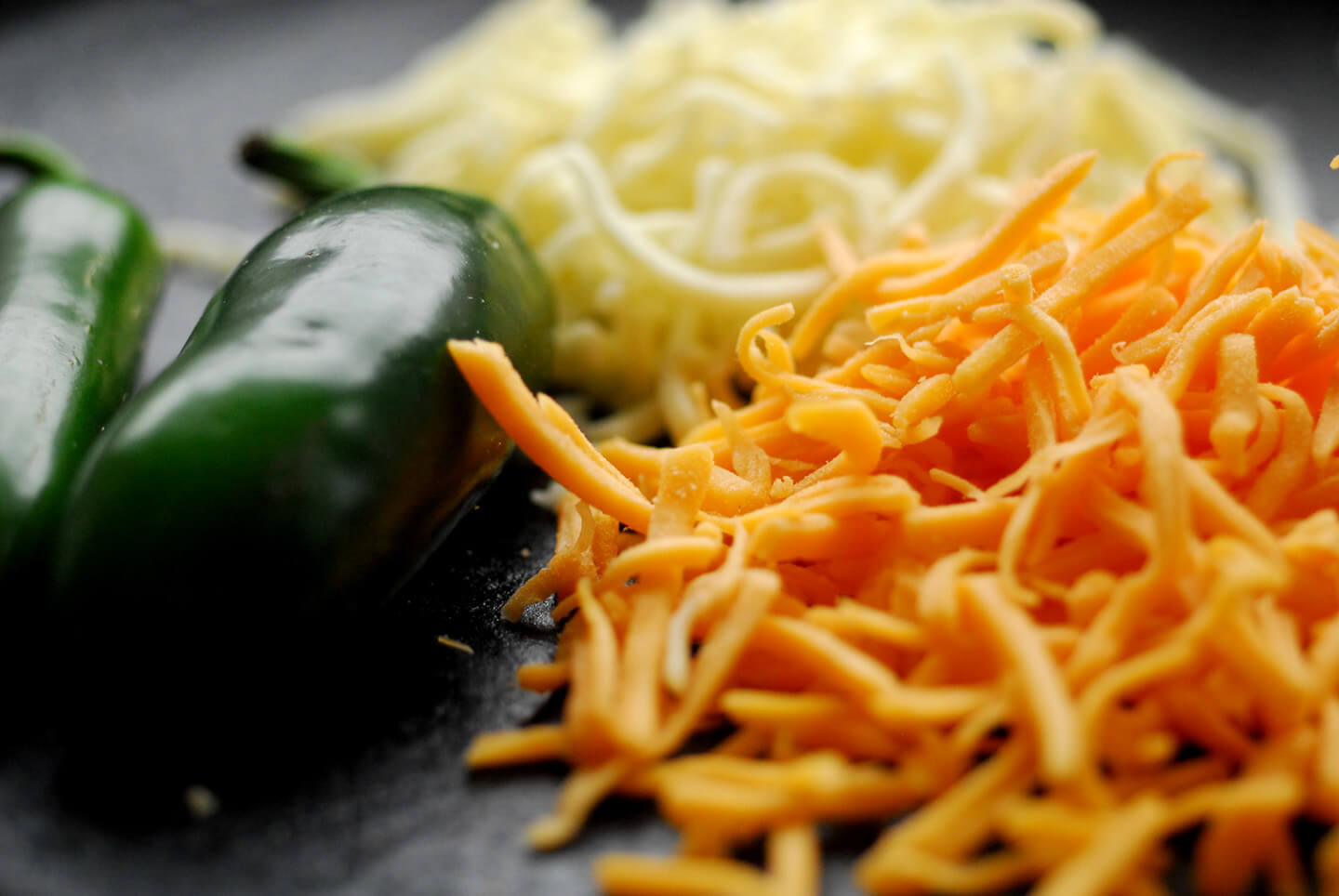 I decided to start my chile con queso recipe quest by doing a bit of research on the history of chile con queso. In its yellow, molten state it's a truly Tex-Mex creation, but there is a proper Mexican counterpart also known as chile con queso that is made with white Mexican cheese. Most often found in the northern states of Chihuahua and Sonora, this version is made with fresh poblanos or Anaheim chiles that are roasted and cut into strips. These roasted chiles, also known as rajas, join tomatoes and onions in a warm sauce made from milk and Mexican cheese, such as asadero. Instead of chips, it's served with warm tortillas.

So if Mexicans can make their chile con queso with real cheese, there's no reason Texans can't make it with real cheese either. I began searching for a recipe, and found one on Chow. It was called "Texas Queso Dip," which should have been a clue: this recipe was probably not for Texans since we generally don't qualify our food with the word "Texas." And when I read through the method, I had little hope that it would even taste good. The problem? To make a smooth cheese sauce you should have a roux, which this recipe didn't have. Instead, it tossed the cheese with cornstarch before melting it in milk. Despite my doubts, I went ahead and worked through the recipe as written, and indeed, it was a bust. The melted clump of cheese sat like an island in a sea of liquid. Alone, the two substances tasted fine, but queso is a velvety concoction and this was decidedly not.
I read other recipes where people would throw their shredded cheese in with some milk and peppers and microwave the mixture. Allegedly, a perfect queso would result, (I don't have a microwave to test these recipes) but I just can't buy it. The reason why Velveeta is so ubiquitous is because cheddar and Monterrey Jack don't meld into a smooth sauce with ease.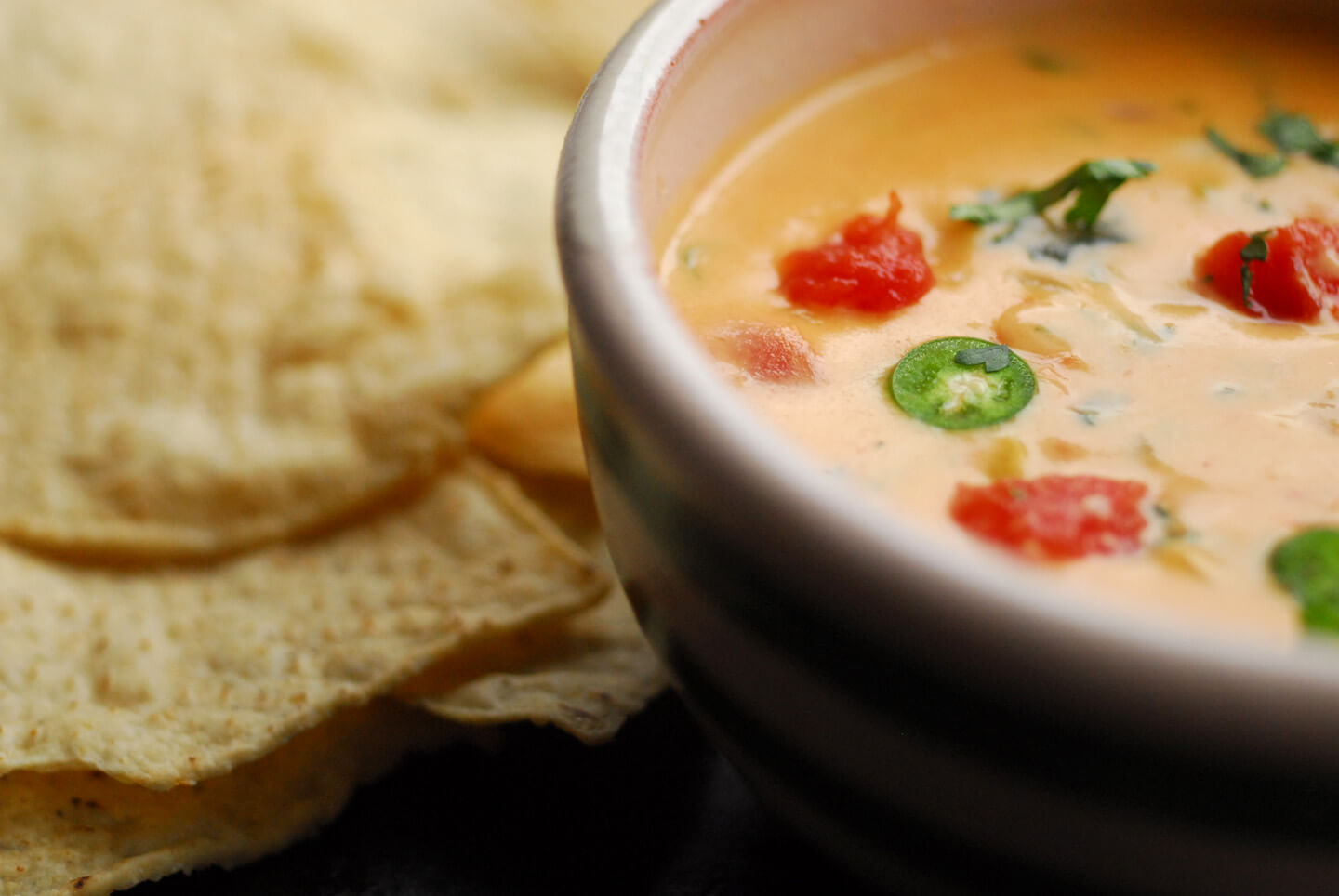 Enter my Tex-Mex hero Stephen Pyles. His queso recipe corroborated what I had long suspected—you need to make a béchamel sauce and then gently fold in the shredded cheese. And while his recipe as written did not state this, I had discovered through my research that the key to a smooth queso made without Velveeta is adding the shredded cheese to the béchamel slowly, a little bit at a time. This allows the cheese to melt evenly, avoiding the clumps and oiliness usually associated with real-cheese queso.
After making batch after batch of queso with real honest-to-God Longhorn cheddar and Monterrey Jack, I am overjoyed to report that yes, it tastes just as good, if not better than our classic Velveeta with Rotel. As an added bonus, it's almost as easy. And while I never have a brick of Velveeta lying around my kitchen, I almost always have all the ingredients for real queso on hand, which after eating it almost every night this week, I still haven't decided if that's a good thing or a bad thing.
This is good stuff, and you can customize it any way you wish. Say you want it to be bright orange, then just use cheddar. Want it to be extra spicy? Use super hot chiles such as Serranos. Don't like cilantro? Then don't include it—it'll still taste good!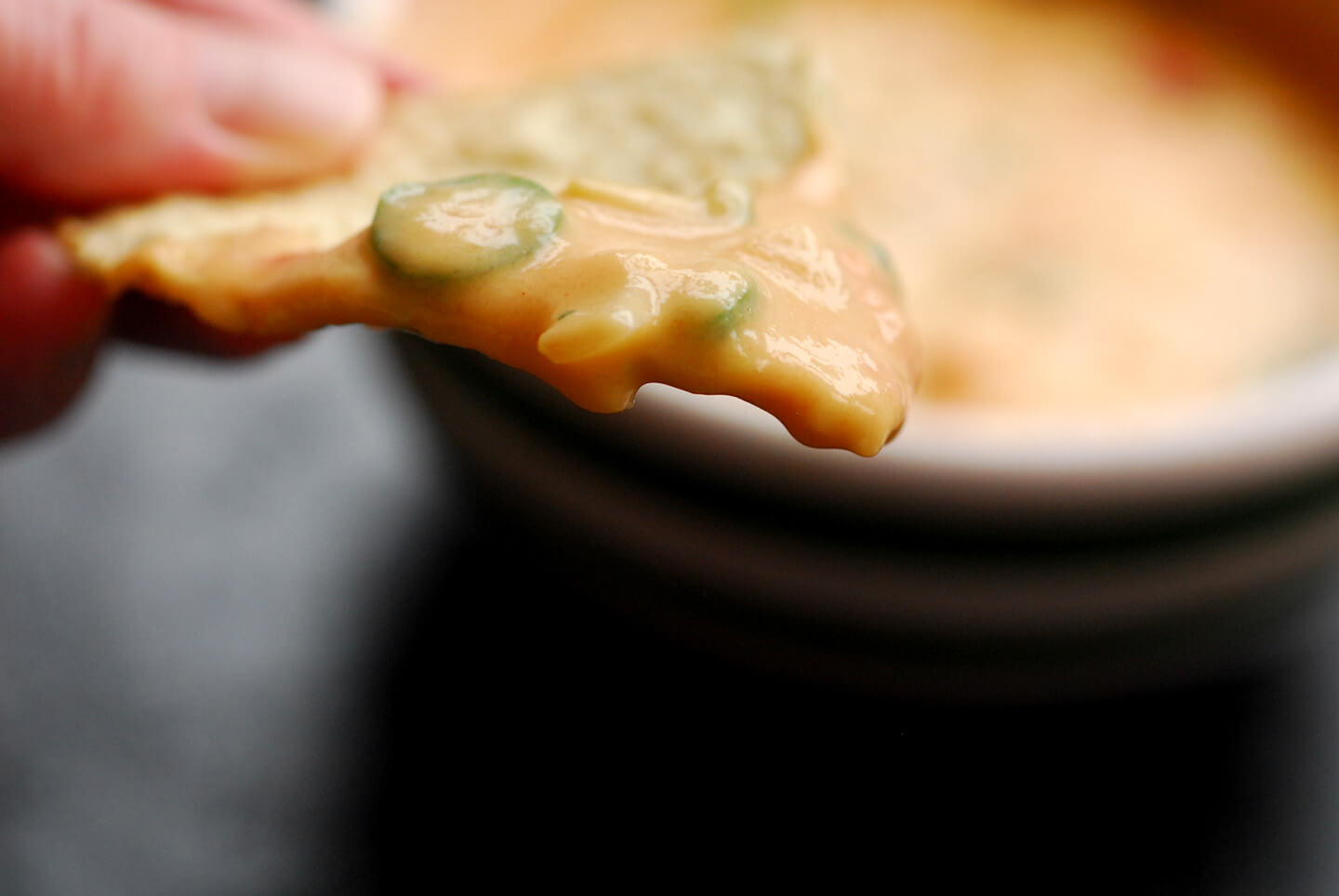 Now that I'm a fresh ingredient, real-cheese queso convert, will I forever shun my old friends Velveeta and Rotel? Of course not! There's a time and place for everything, and sometimes nothing but melted processed cheese will do. I am very happy, however, that I can now make queso another way, too.
Do you ever make your queso with real cheese? How do you do it?
—————
Would you like more Homesick Texan? Well, I've started offering additional recipes for paid subscribers to help with the costs of running the site. While I'm not taking anything away, if you'd like to support Homesick Texan and have access to exclusive, never-seen-before subscriber-only posts, please consider becoming a member; annual subscriptions are as low as $25. Thank you for reading, your consideration, and your support!
—————

Natural chile con queso
Ingredients
2

tablespoons

unsalted butter

1/2

medium yellow onion, diced

3

Serrano chiles, seeded and diced

3

jalapeños, seeded and diced

4

cloves

garlic, minced

2

tablespoons

flour

1

cup

milk

6

ounces

mild Cheddar cheese, shredded (about 3 cups)

(see note)

6

ounces

Monterey Jack cheese, shredded (about 3 cups)

(see note)

1/2

cup

chopped cilantro

2

plum tomatoes, peeled and diced (about 1 cup, can use canned if tomatoes aren't in season)

1/2

cup

sour cream

1/4

teaspoon

ground cumin

Salt
Instructions
Melt the butter in a saucepan on medium-low heat, and then cook the onions and peppers for about 5 minutes or until onions are translucent. Add the garlic and cook for another minute.

Whisk the flour into the butter and vegetable mix then cook for about 30 seconds.

Add the milk to the pot, and then cook on medium, whisking constantly until sauce is thick, about 5 minutes. Stir in the cilantro and tomatoes.

Turn the heat down to low, and a 1/4-cup at a time, slowly add the shredded cheese stirring into the white sauce until completely melted. Repeat until all the cheese has been added. Note it's important that you shred the cheese yourself as pre-shredded has fillers that will prevent the sauce from being smooth.

Stir in the sour cream and cumin, then add salt to taste.
Notes
You can vary which chiles you use to control how hot you want the queso to be. Also, if the sauce is too thick, feel free to add a bit more milk a tablespoon at a time. The key, however, to a smooth sauce is adding the cheese very slowly and not adding any more cheese until the previous addition is completely integrated into the sauce. Lastly, it's very important to shred your own cheese as pre-shredded has fillers to prevent it from clumping that will also interfere with the queso dip becoming smooth.