A true, authentic Texas chili recipe
I love to buy chiles, especially when I find ones that are soft and pliant, so fresh you can imagine they were drying in a Mexican field maybe just last week.
I have to be careful, however, when shopping because my storage space is very limited. And the other day when I opened my cabinet, out came tumbling three bags of chiles that hit me on the head. I then realized that I needed to make something that would use up a lot of my supply. Fortunately, there was a big football game and nothing pleases people watching winter sports more than a big bowl of spicy red Texas chili.
Now, I've written about chili before and provided you with general guidelines on how I make my chili. I don't use beans, I don't use tomatoes but most importantly, I don't use measurements. It works for me, but can be frustrating if you've never made chili and desire more strict instructions.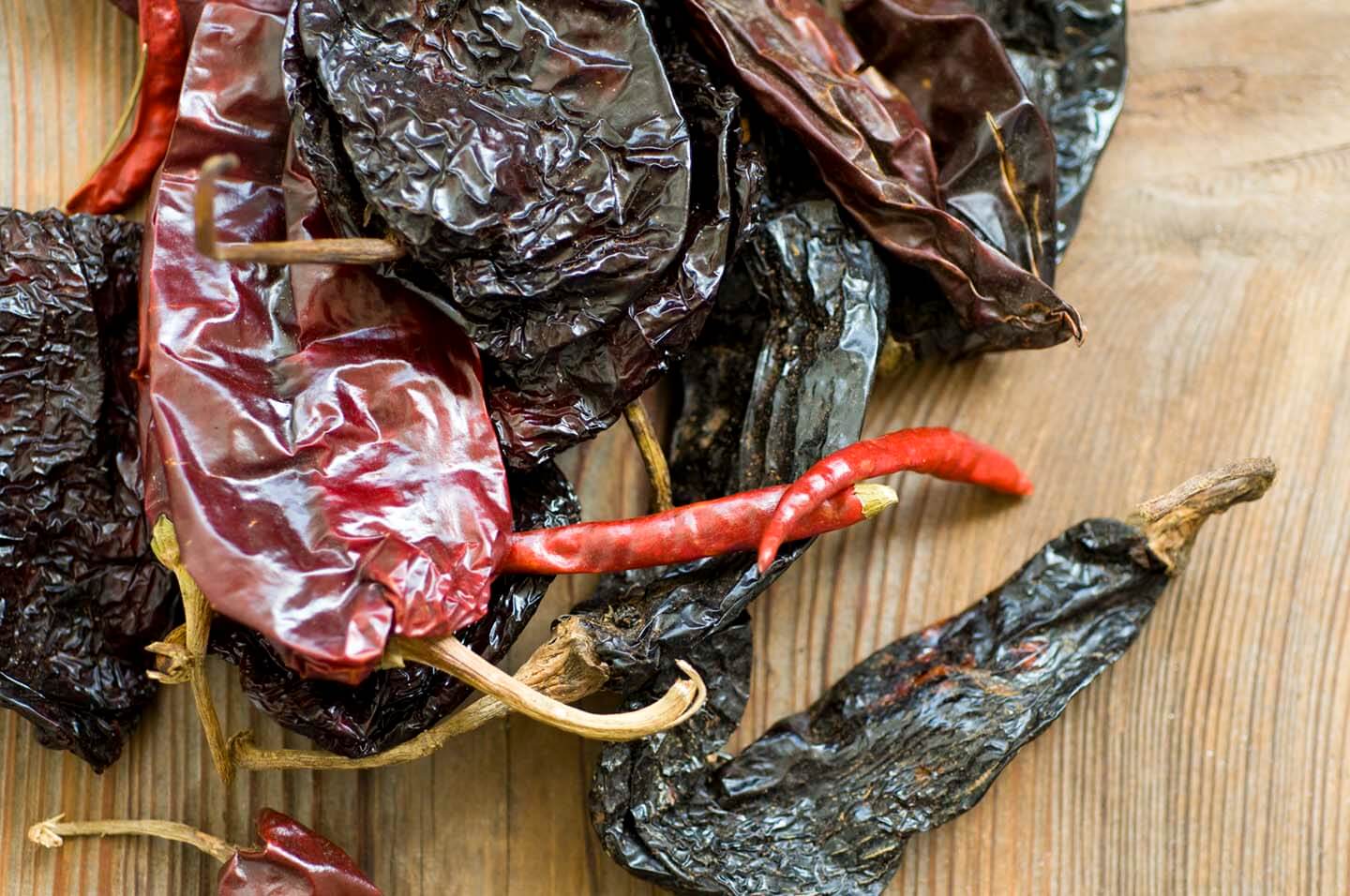 So for this batch, I decided to multi-task and wrote down what I was adding to the pot when I made my what I dubbed my seven-chile chili. Of course, there were a couple of mishaps—I added way too many ground cloves in the beginning and accidentally added cardamom instead of coriander during one spice addition. But the best thing about chili is that the longer it cooks, the flavors both deepen and blend into a complex dish where the sum of the bowl is greater than its parts.
People often ask if my chili is real deal Texas-style chili. I'll say yes because I'm a Texan and it's the chili I grew up eating. Though defining what authentic Texas chili is can be difficult. The term "chili" comes from chile con carne, which translates to peppers with meat. And that's at heart what I make, with the addition of some spices and aromatics. But there have been some grumbles.
Some people have grumbled because there's cinnamon and chocolate in my chili, though these flavors are commonly found in Mexican cuisine. Some people have grumbled because there aren't tomatoes in my chili, though I don't think that cowboys on the range had access to tomatoes all the time. And some people have grumbled because I don't use Gebhardt's Chili Powder, though I can't buy that in New York and using fresh chiles will trump chili powder any day.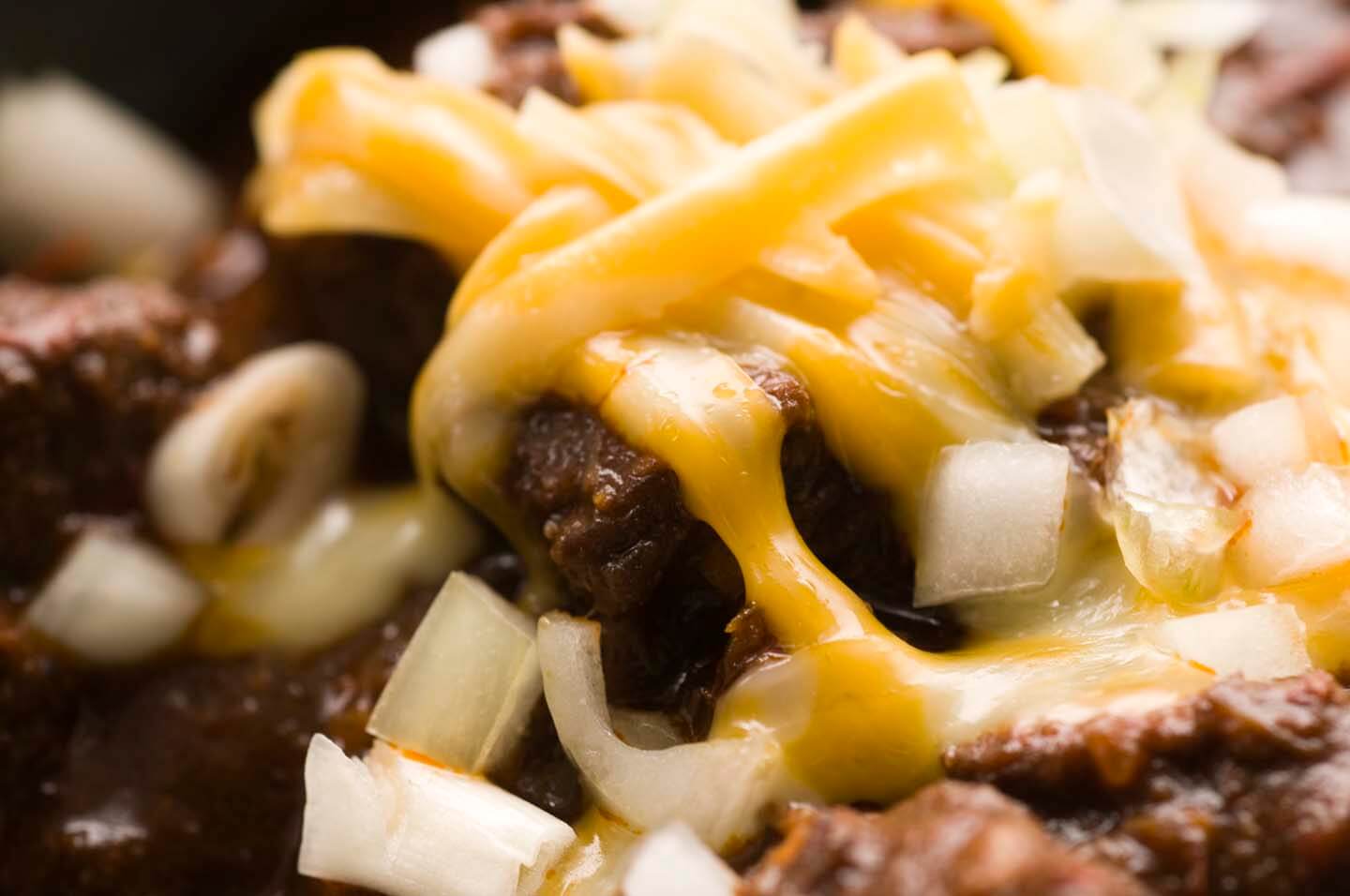 But no matter what people say, I love my chili and usually, those that eat it love it, too. So here is some of my chili with measurements. Enjoy!
—————
Would you like more Homesick Texan? Well, I've started offering additional recipes for paid subscribers to help with the costs of running the site. While I'm not taking anything away, if you'd like to support Homesick Texan and have access to exclusive, never-seen-before subscriber-only posts, please consider becoming a member; annual subscriptions are as low as $25. Thank you for reading, your consideration, and your support!
—————
Seven-chile Texas chili
Ingredients
6

anchos, seeded and stemmed

2

pasilla, seeded and stemmed

2

costeños, seeded and stemmed

2

guajillos, seeded and stemmed

4

chiles de arbol

4

pieces

bacon

4

pounds

chuck roast, cut into 1/4 inch cubes

1

large onion diced

6

cloves

garlic, crushed

1

cup

brewed coffee

1

bottle beer

2

cups

water

1

tablespoon

cumin

1/2

tsp

cinnamon

1/2

tsp

clove

1/2

tsp

allspice

1

tsp

coriander

1/2

tsp

cayenne

2

chipotles in adobo

Salt

1/4

cup

masa harina

1/3

Mexican hot chocolate tablet, grated
Instructions
Heat the dried chiles (anchos, pasillas, costenos, guajillos, and chiles de arbol) in a dry, cast-iron skillet on medium for a couple of minutes on each side. Turn off the heat and then add enough water to the skillet to cover the chiles, and let them soak for half an hour.

Meanwhile, in a large heavy pot, such as a Dutch oven, fry up your bacon. When done, remove from pan and crumble (Don't worry if you opt to eat a slice—you deserve it!) and leave the bacon grease in the pot (it should be about 3 tablespoons). In the pot, cook your beef in the bacon grease on medium heat, a few minutes on each side until lightly browned. You will probably have to cook these in 2 batches.

Remove the browned beef from the pot, and add your onions. Cook on medium until clear. Add the garlic and cook for another minute. Put the beef back in the pot, and mix in the coffee, the beer, water, bacon crumbles, cumin, cinnamon, clove, allspice, coriander, and cayenne. Add salt to taste and turn the heat up to high.

Your soaking chiles should be soft by now. Drain and rinse, discarding the soaking water (it will be bitter) and place them in a blender along with the canned chipotle chiles and one cup of fresh water. Puree until nice and smooth and then add the chile puree to the chili pot.

When chili begins to boil, turn heat down to low and let simmer for five hours, stirring occasionally. Taste it once an hour, and if the flavors are too muted, feel free to add more of any of the spices. Also, it starts to get too dry, add more liquid (your choice!).

After 5 hours, take a Mexican hot chocolate disc, and finely grate 1/3 of it into the pot. Scoop out 1 cup of broth and add the masa harina. Mix it well and then reincorporate it back into the pot. Stir until chili is thickened.

Let the chili simmer for another half hour or so. Taste and adjust seasonings. When done, serve with cheddar, onions and tortillas.
Notes
If you can't find all of these chiles, I would just use the more readily available anchos and chipotles. I'd use 6-8 anchos, following the same soaking and pureeing method, and two chipotles.