A few years ago, my publisher approached me about doing a one-pot cookbook. After writing the proposal, they decided that they didn't like it and passed on the project. My agent mentioned that I also wanted to write a cookbook on chile con queso, and they asked me to do that instead.
In my life, I strive to be a believer in things happening when they should. Now, I don't always hold true to that belief, as my prescription for anti-anxiety meds will tell you. But at the same time, the older I become the more I see all the threads of my life coming together to form a beautiful tapestry. Or perhaps it's a quilt.
No matter, these past three weeks I've been without any urge to cook, and after subsiding on frozen pizzas for far too long, I realized I had a fridge filled with mushrooms that needed to be eaten.
My inclination was to fry them. I wrote an amusing anecdote and was set to lug out my frying skillet and jug of oil when I learned that my dishwasher was broken. This was the second time it's been broken in the past three weeks, and the thought of cleaning a kitchen without my dishwasher did not sound fun.
(Lest you think I'm spoiled, please know that for the 24 years I lived in New York, I did not use a dishwasher. But it's easy to become attached!)
In any case, I realized it was time to pivot again. And I thought back to my one-pot collection of recipes. One was for a beef stroganoff. Mom cooked that for our family when I was young, and I loved the combination of salty beef, tender mushrooms, onions, noodles, and sour cream.
Her recipe had used ground beef, but I strove to make it more fancy by working with ribeye instead. Sure, the cut of meat was more tender and marbled, but no matter how many times I prepared the dish and made some adjustments, I never loved it.
It took me a while, but I realized the beef was the weakest link. The savory mushrooms and the creamy sauce were already filling, and it was much easier (and economical) to only work with mushrooms. So I did.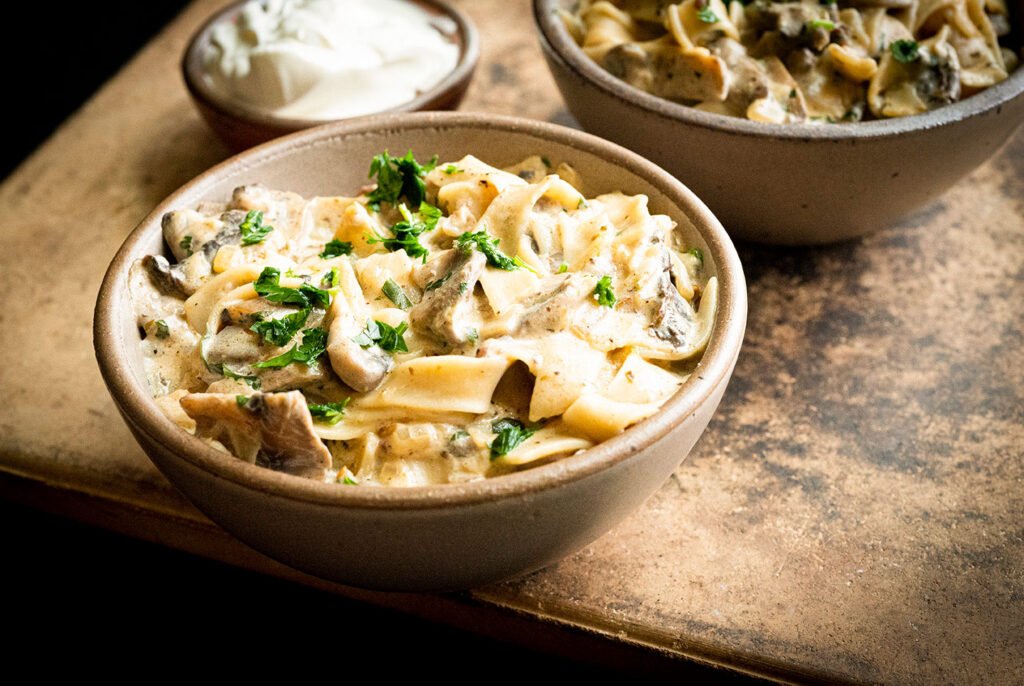 This mushroom stroganoff has become one of my weeknight standards. I like to add a chopped chipotle chile to my sauce for smoky heat. It comes together quickly and is comforting and savory. And with this new season, that's just what I need.
Mushroom stroganoff
Ingredients
8

ounces

egg noodles

4

tablespoons

unsalted butter

1/4

medium yellow onion, diced

4

cloves

garlic, minced

16

ounces

button or cremini mushrooms, thinly sliced

2

canned chipotle chiles in adobo, diced

2

tablespoons

chopped Italian parsley, plus more for garnishing

1

teaspoon

kosher salt

1/2

teaspoon

black pepper

1/2

teaspoon

ground cumin

1/4

teaspoon

dried dill weed

Pinch

cayenne

1/4

cup

dark beer such as Shiner Bock

8

ounces

sour cream, plus more for serving
Instructions
In a large pot, cook the noodles according to the package directions until tender. Drain.

Rinse out the pot and return it to the stove. Melt the butter on medium-low then add the onions. While stirring occasionally, cook until softened, about 5 minutes. Add the minced garlic and cook for 30 seconds.

Add to the pot the mushrooms, chipotle chiles, parsley, salt, pepper, cumin, dill weed, cayenne, and beer. While stirring occasionally, cook until the mushrooms are softened and the liquid is almost reduced about 7-10 minutes.

Stir in the sour cream until well combined, then add back the noodles. Toss until blended then serve warm garnished with parsley and with more sour cream on the side.