These past few weeks, I had the opportunity to go to Texas on two trips. Between the bluebonnets and the severe storms, the season can be extreme but it's still my favorite time to visit the state. There's nothing like Texas in the spring.
My first visit order of business was a conference in Austin, but after I landed I decided to drive to North Texas to see my Grandma on a quick visit before I had to get busy. She told me that the bluebonnets we'd planted in the fall were in full bloom and indeed they were. It was a fine beginning.


The next day I headed back to Austin to join my fellow Texas food lovers at the annual Foodways Texas Symposium. This year's theme was gender, so there were talks about community cookbooks, Helen Corbitt, the Chili Queens, and the Czech women who make kolaches, among other things. All of the meals were good, as you would expect at a food conference, but my favorite plate was probably the smothered pork chop served by Hoover Alexander of Hoover's in Austin.


After the conference, I spent a few more days in the Austin area visiting friends. Some of our shared dinners were home cooked and I was so busy catching up that I forgot to take photos, but I did manage to squeeze in a few extra meals. My first one was at La Mancha. After a few days in Texas, I decided I needed some vegetables so I ordered two quesos, one with spinach and one loaded with avocados and pickled red onions.


When you're in Texas, breakfast tacos are a must and I always love the ones at Veracruz All Natural in Austin. The make their own tortillas and their fillings are always fresh.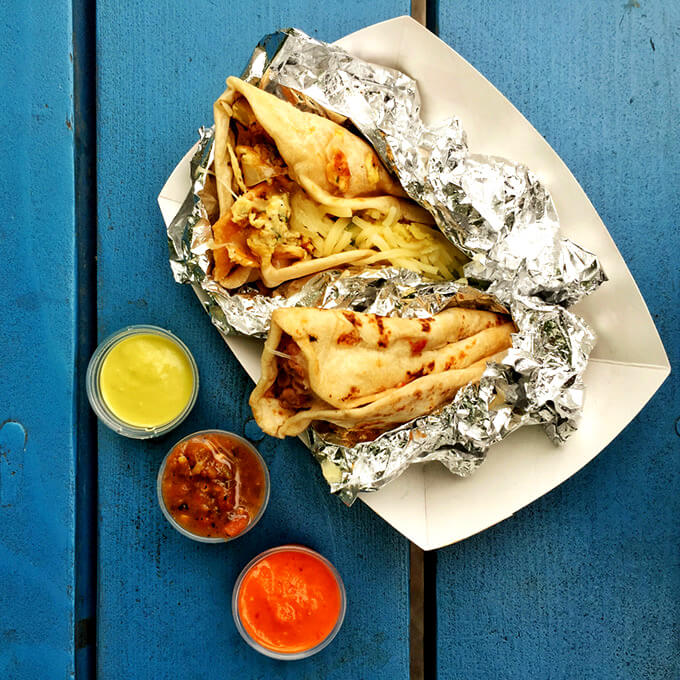 Eating at the bowling alley is a fun thing to do when I'm in Texas, and a morning spent at Dart Bowl scratched that itch. I had a plate of cheesy, greasy enchiladas topped with a fried egg.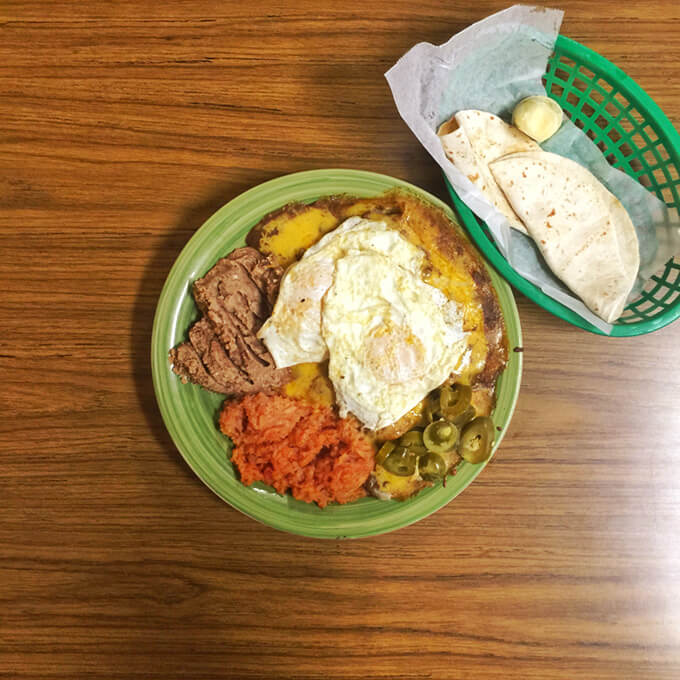 It was drizzling most of my time there, but if I'm in Texas in the spring I have to drive out to the country to see the flowers. One day I found myself near Lockhart, so I stopped into Black's and had a tray of the Texas trinity—brisket, sausage, and ribs. Earlier in the day, I'd stepped into an anthill while wearing sandals while taking a flower photo (I know, I know…I should have been wearing boots!) so these succulent smoked meats took the sting off a bit.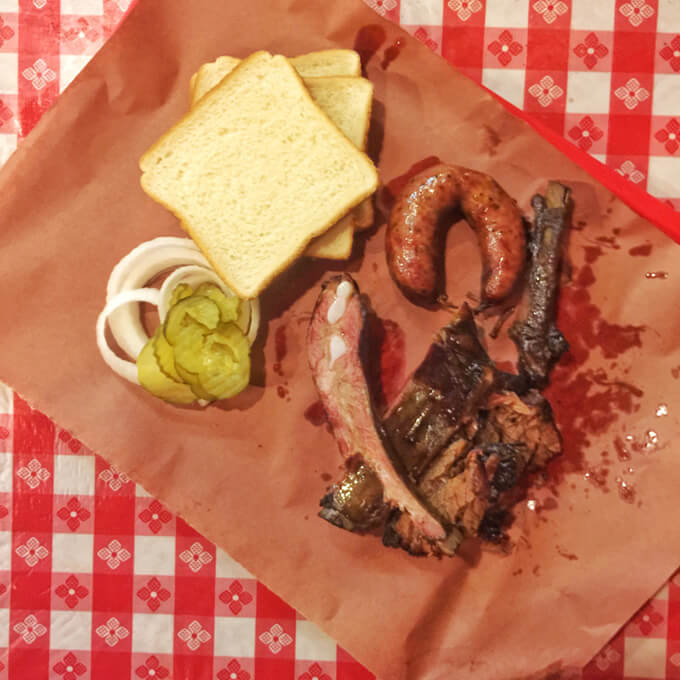 One of my drives brought me close to San Antonio. While I didn't have much time to spend there, I did manage to enjoy some enchiladas, queso, and the excellent brisket taco at Garcia's. The latter is absolute perfection, as the tender, smoky, and peppery thick slices of brisket are nestled in a homemade flour tortilla. A scoop of guacamole on the side is highly recommended, as well.
Crawfish were still in season, so I stopped into LA Crawfish and had some Vietnamese crawfish, which were made extra flavorful with lots of butter, garlic, and chiles.


There's nothing better than a freshly made Texas burger with hand breaded onion rings. A trip to Top Notch fit my requirements quite nicely.


While I was sad to leave Texas, two weeks later I ended up returning. My mom's house had been flooded, so my brother and I both went to Houston to help her pack the stuff upstairs and move into her temporary home. Before we started, however, we stopped into Soto's Cantina for dinner. I know I've spoken of this place before, but every Texas family has a neighborhood Tex-Mex place and this is my mom's. As always, it was wonderful. I stuck to the classics with a combo made up of a cheese enchilada, tamale, taco al carbon, rice and beans. That paired with chips and salsa was a fine meal.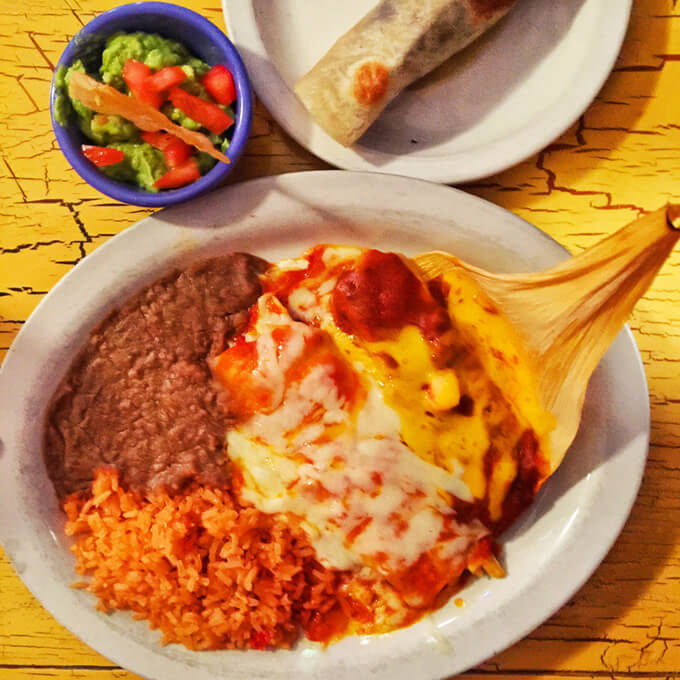 One day after a long day of work, we dropped into Torchy's. The tacos were satisfying but the guacamole and queso were even better.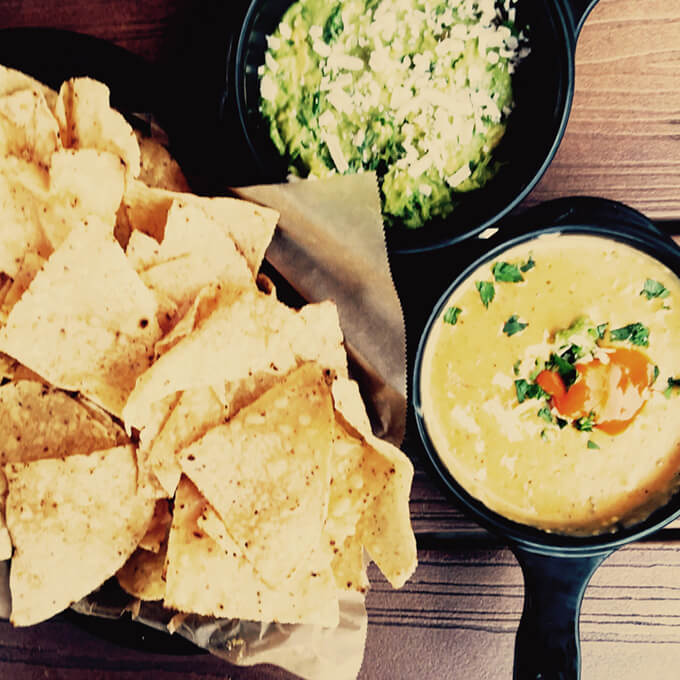 Craving something sweet, we went to Connie's for custard. I'd never been, which was odd considering how long it's been open, but my mom and brother both love it. They warned me that there are only two flavors—vanilla and chocolate—but both were superb. Plus, you can mix in a variety of fruits and nuts to jazz up the simple scoops. I had Texas buttered pecans swirled into my cup of vanilla, which was a caramelized blend of crunchy, buttery nuts with a creamy base that was the both salty and sweet. I often say I don't have a sweet tooth and don't require dessert, but I ate the whole thing with no problem.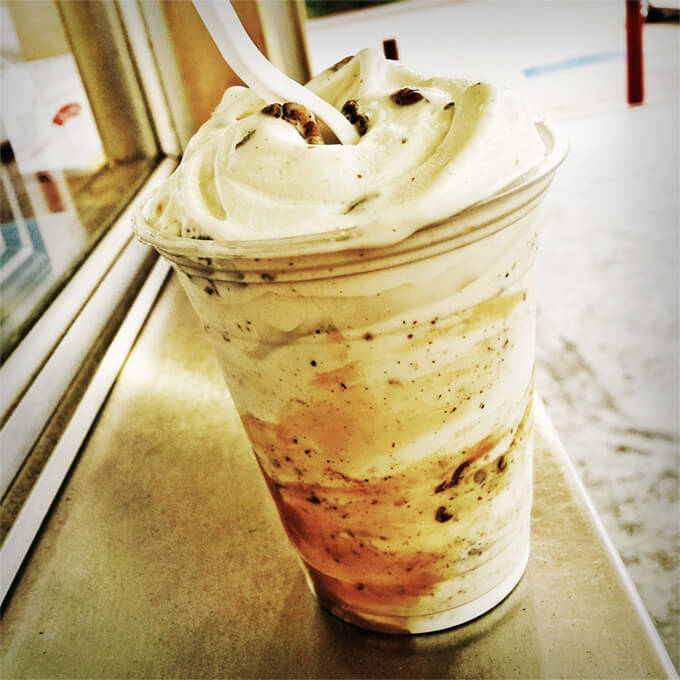 The best meal of that trip, however, was at my mom's church. The tables were loaded down with a host of dishes, which included countless cold salads, hot casseroles, breads, briskets, pulled pork, soups, beans, pickles, and desserts such as banana pudding and homemade cookies. There's nothing like a community meal where everyone contributes to the gathering, and since the weekend had been a testimony to how people can do great things when working together, that church dinner was my favorite meal of all.