Fried catfish with hushpuppies and chipotle dipping sauce
One of the best things about traveling around the United States is the chance to chow on a region's seafood specialty. For instance, in Maine, you'll find lobster rolls. In Massachusetts, fried clams. In Louisiana, a hearty bowl of gumbo. And in Texas you'll find fried catfish.
After barbecue, fried catfish is the dish of choice when a group of Texans gather to celebrate. Family reunions, wedding receptions, birthdays, Juneteenth and Fridays (especially during Lent if you're Catholic) are all best served with endless supplies of delectable deep-fried, cornmeal-coated catfish.
Statistics say that more than 50% of the nation's catfish consumption occurs in Texas. That's no surprise since in countless small towns across the state it's more ubiquitous than either Tex-Mex or barbecue—chance are, in most places if there is only one restaurant it's a catfish joint. That's certainly the case for my grandparents. A stone's throw up the road from their farm (which is in the no-light town of Chambersville) is the one-light town of Weston. It has a gas station, a post office and a cafe called Grady's that specializes in, you guessed it—catfish.

While for years, catfish was not consumed in polite society outside the South—Texans have long been fans of this unattractive bottom-feeding fish. You can understand people's aversion: catfish's contact with the ugly stick left it with freakish long whiskers and a slimy, scale-less skin much more suited for an eel than a fish. Because it's not pretty, it was initially a poor-man's food—a cheap meat ubiquitous in the countless streams, creeks, rivers and ponds that dot Texas' landscape. And since they're a cinch to catch, many families would send their children down to the creek to bring home dinner.
Today, however, most people buy their catfish pre-filleted at the store, and chances are it's been farmed in Mississippi. Yep, Texans get riled up about this fact, as many consider this big business the state's birthright. No matter, I'm not here to discuss aquacultural politics, I'm here to talk about the sweet, moist and delicate deliciousness that is catfish.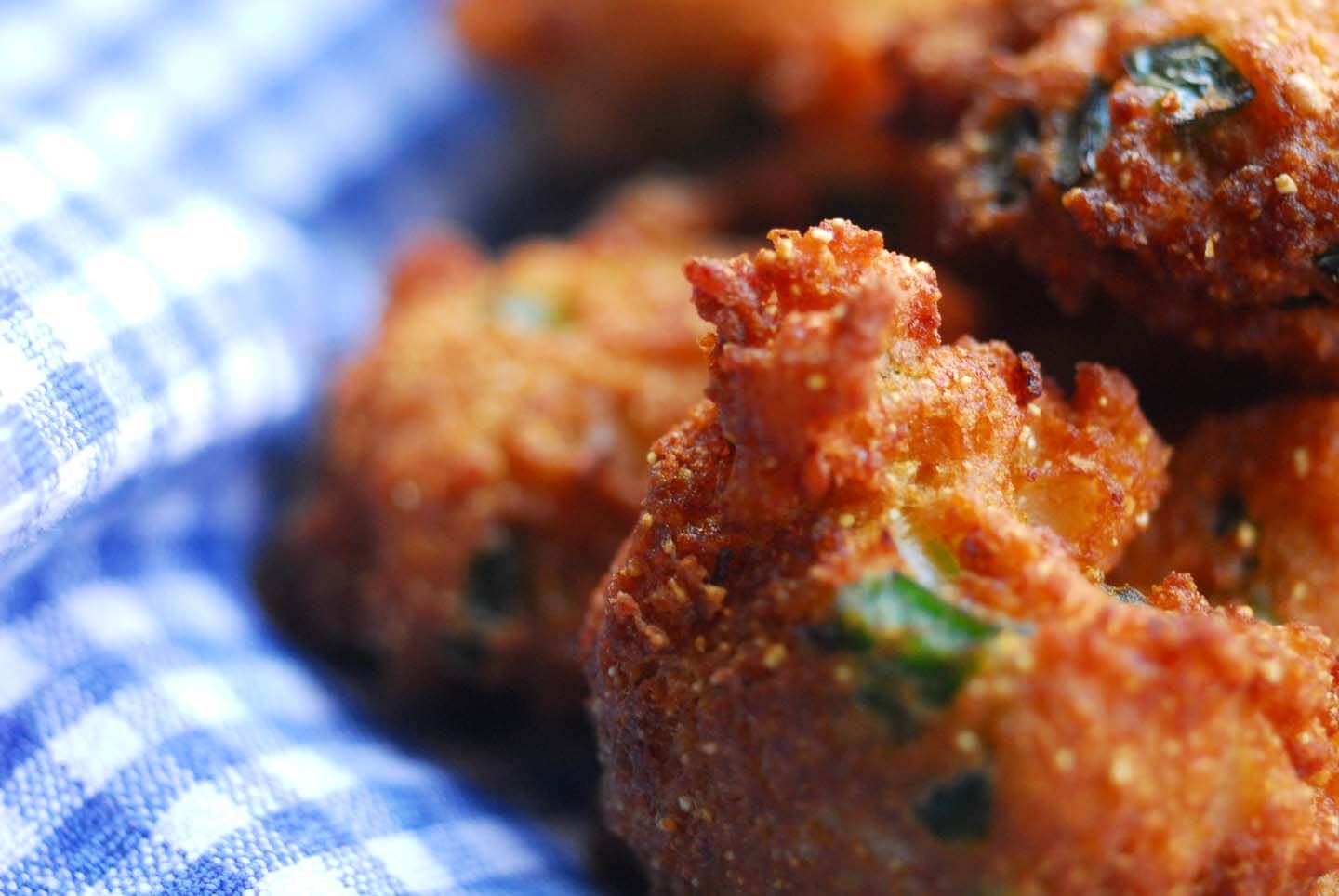 There are many reasons why it's popular beyond its terrific taste. Catfish is also inexpensive to buy (though not as cheap as dragging in a trot line filled with them), so even if you don't have access to a stream, you can feed large amounts of people for very little money. And while many fish get a bad rap these days due to mercury levels, you won't find catfish on those lists. The official catfish season begins in March and runs through August, which is probably why I saw a large display in the fresh-fish section at Whole Foods recently. It's been a while since I've cooked it, and even though I'm going to a catfish fry in Austin at the end of the month, I couldn't resist.
Fried catfish is a simple affair, and while there are endless variations and debates on how best to create your batter, all agree that yellow corn meal is the grain of choice. I prefer to dip my catfish in an egg and milk bath before doing my corn-meal dredge, others prefer beer or some just omit the liquid all together and just dredge. The latter is probably the most authentic method, especially when you think of cowboys and long-ago pioneers with limited rations on hand for cooking. But no matter how it's battered, I've yet to eat a fried catfish I didn't love.
Cole slaw, collard greens and potato salad are all fine accoutrements, but I don't think any fish fry is complete without hush puppies. These little balls of fried corn dough and peppers are not only addictive but also a perfect complement to the catfish. Plus, it's an excellent way to recycle the oil after frying your fillets. And while fried catfish are so flaky and juicy they don't need a sauce, I like to dip them in chipotle-lime mayonnaise. This, of course, would be considered sacrilege in certain circles, but I don't mind—it's tasty.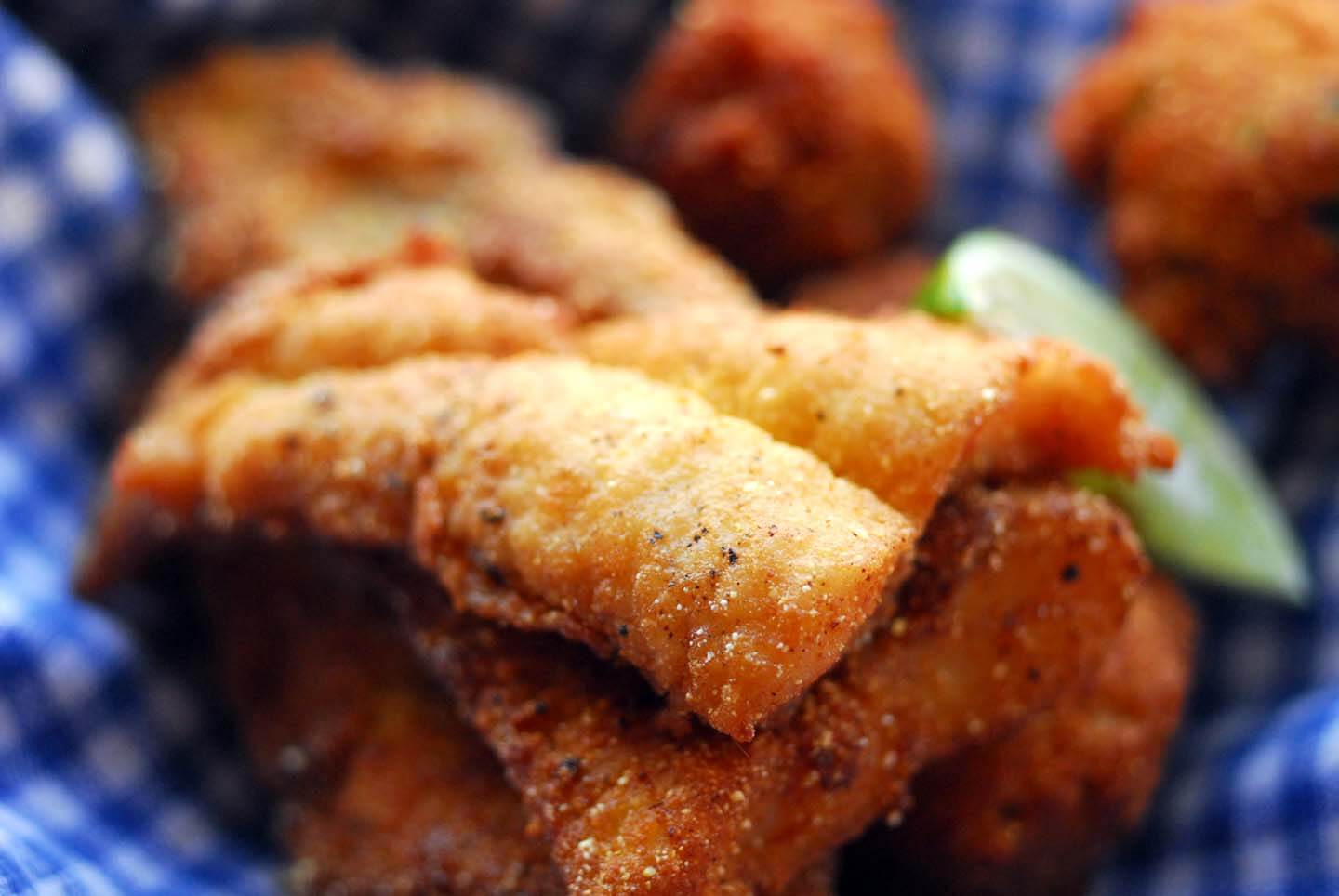 Since catfish has swum out of the South, it's been gussied up—either broiled with garlic and lemon, baked en papillote with seasonal vegetables or incorporated into bouillabaisse. And these are commendable (if not healthier) options. But I still find fried catfish the most satisfying way to enjoy this homely critter. And unlike the brutal drama of chicken-fried steak, cooking catfish is almost downright civilized. It doesn't make much of a mess and it's fast—you can fry enough catfish and whip up enough hush puppies to feed your friends and family in under an hour. So even if you're simply celebrating the end of the day, there's really no time that isn't right for a good ol' catfish fry—Texas' offering to this nation's list of seafood specialties.
Fried catfish with hushpuppies and chipotle dipping sauce
Ingredients
Ingredients for the catfish:
1

pound

catfish fillets, cut into inch-wide strips

1

teaspoon

kosher salt

1

teaspoon

black pepper

1

cup

yellow cornmeal

2

large eggs

1/2

cup

whole milk

Oil for frying
Ingredients for the hush puppies:
3/4

cup

yellow cornmeal

1/3

cup

all-purpose flour

1/2

teaspoon

baking powder

1/4

teaspoon

baking soda

1/2

teaspoon

kosher salt

Oil for frying

1/2

cup

milk or buttermilk

1

large egg

2

teaspoons

canola oil or melted bacon drippings

1

jalapeño, seeded and finely diced

1/3

cup

diced onions
Ingredients for the chipotle-lime mayonnaise:
2

chipotle chiles in adobo sauce, chopped

1

teaspoon

freshly squeezed lime juice

1

cup

mayonnaise

1

tablespoon

chopped cilantro
Instructions
To prepare the catfish, salt and pepper the fillets with half the salt and pepper. Put the cornmeal on a plate and stir in the remaining salt and pepper. Beat the eggs and milk together in a bowl. Dip the fillets in egg-milk mixture and then dredge in cornmeal, covering both sides.

To make the hush puppy batter, mix together the cornmeal, flour, baking powder, baking soda, and salt. Whisk together the milk and egg and stir into the dried mixture until well combined. Add the oil, jalapeño, and onion and stir until well combined.

Line a sheet pan with paper towels. Heat up about 3-inches of oil in an iron skillet or a Dutch oven.

You'll want to cook the hush puppies first, so they won't taste fishy. To cook, working in batches, add tablespoon-sized balls of dough in hot oil, until crisp and golden brown (about 2 minutes). Remove with a slotted spoon to the paper-lined sheet.

To cook the fish, place battered fish into hot oil and cook 4 minutes, turning once. Remove with a slotted spoon tot he paper-lined sheet.

To make the chipotle-lime mayonnaise, stir together the chipotle chiles, lime juice, mayonnaise, and cilantro.

Serve the catfish and hush puppies warm with the chipotle-lime mayonnaise.