Spicy buttermilk onion rings
There was a lot of chatter last week about a certain California hamburger chain that opened in the Dallas area. Apparently, people were so excited they camped out all night so they could be the first in line to try these fast-food burgers, and news reports said that one woman even cried when she finally ate her burger.
Now that's a head scratcher. Why the heck are people so excited about this burger? First of all, Texas is not only the place where the burger was born, but also many of its countless burger joints routinely top national best-of lists. But even more troublesome to me is that this California burger chain doesn't even offer the quintessential Texas hamburger side dish—yes, I'm talking about onion rings.
Onion rings are said to have been invented by The Pig Stand—a Texan drive-in restaurant chain that opened in Dallas in 1921. (The Pig Stand is also credited with the invention of Texas toast.) That said, you can find plenty of citations of fried onions and French-fried onions dating back to the late 1890s, so perhaps the Pig Stand was the first to serve onion rings at a fast-food establishment.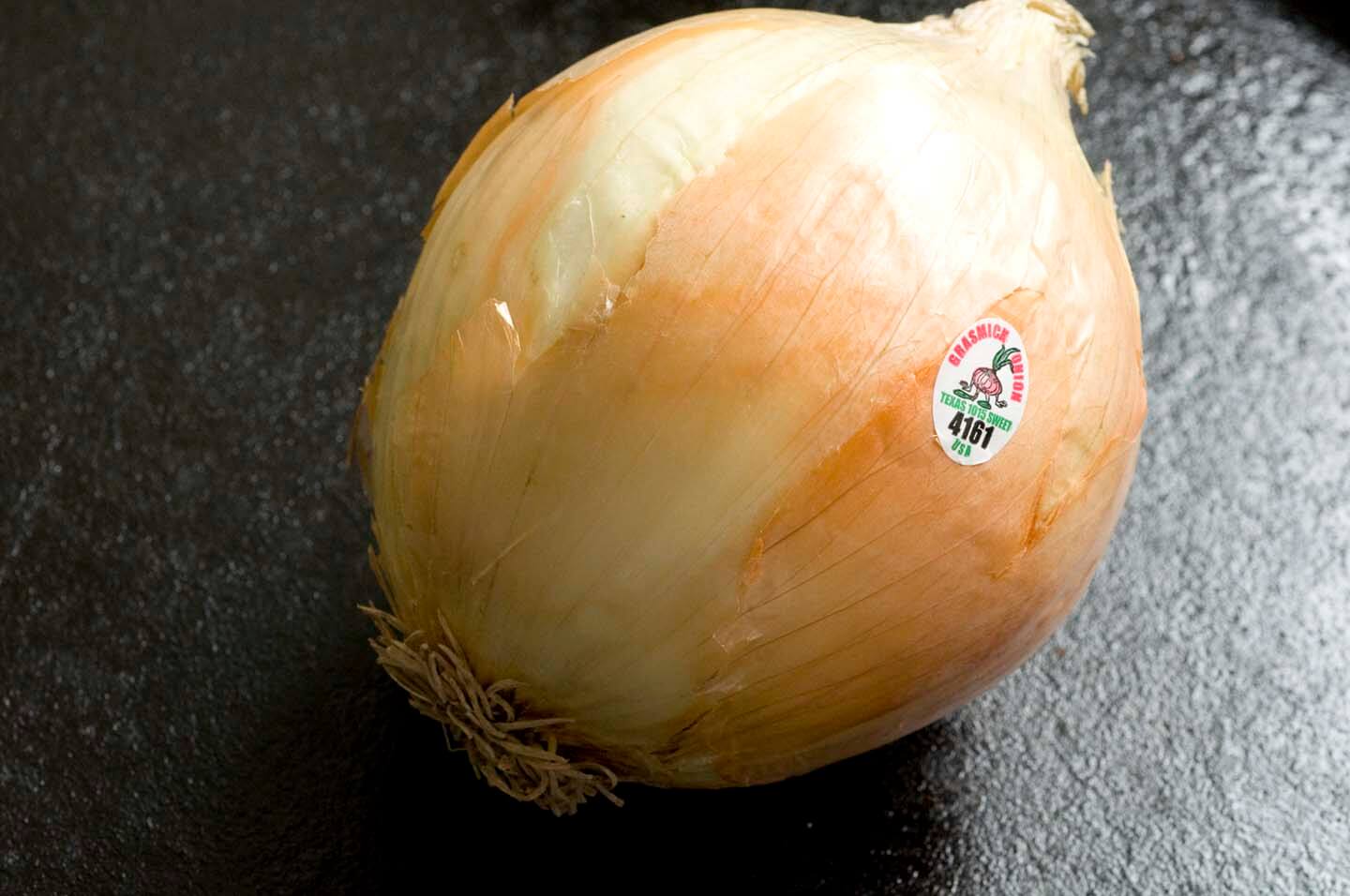 Of course, some may argue would say that the origin of onion rings is as debatable as the origin of the hamburger. But since Texas at least claims provenance for both, it makes sense to me to have a stack of onion rings with my cheeseburger. Most Texas-based burger establishments would fulfill this desire, but not that place from California. Nope, if you want onion rings with that burger you'll just have to make them at home.

In season right now are Texas 1015 sweet onions, which I believe make the tastiest onion rings. If you're unfamiliar with the Texas 1015, it's a large sweet onion that grows in the Rio Grande Valley that was developed by Texas A&M in the 1980s, so named because October 15 is the optimal planting date.
Onions are one of Texas' leading crops and the Texas 1015 is the state's official onion. They're similar to other sweet onions such as Georgia's Vidalia onion and Washington's Walla Walla onion, but I believe that Texas 1015 sweet onions are the sweetest and the juiciest. They're so delicious that you can even eat them raw, and it's quality that makes them optimal for frying, as well.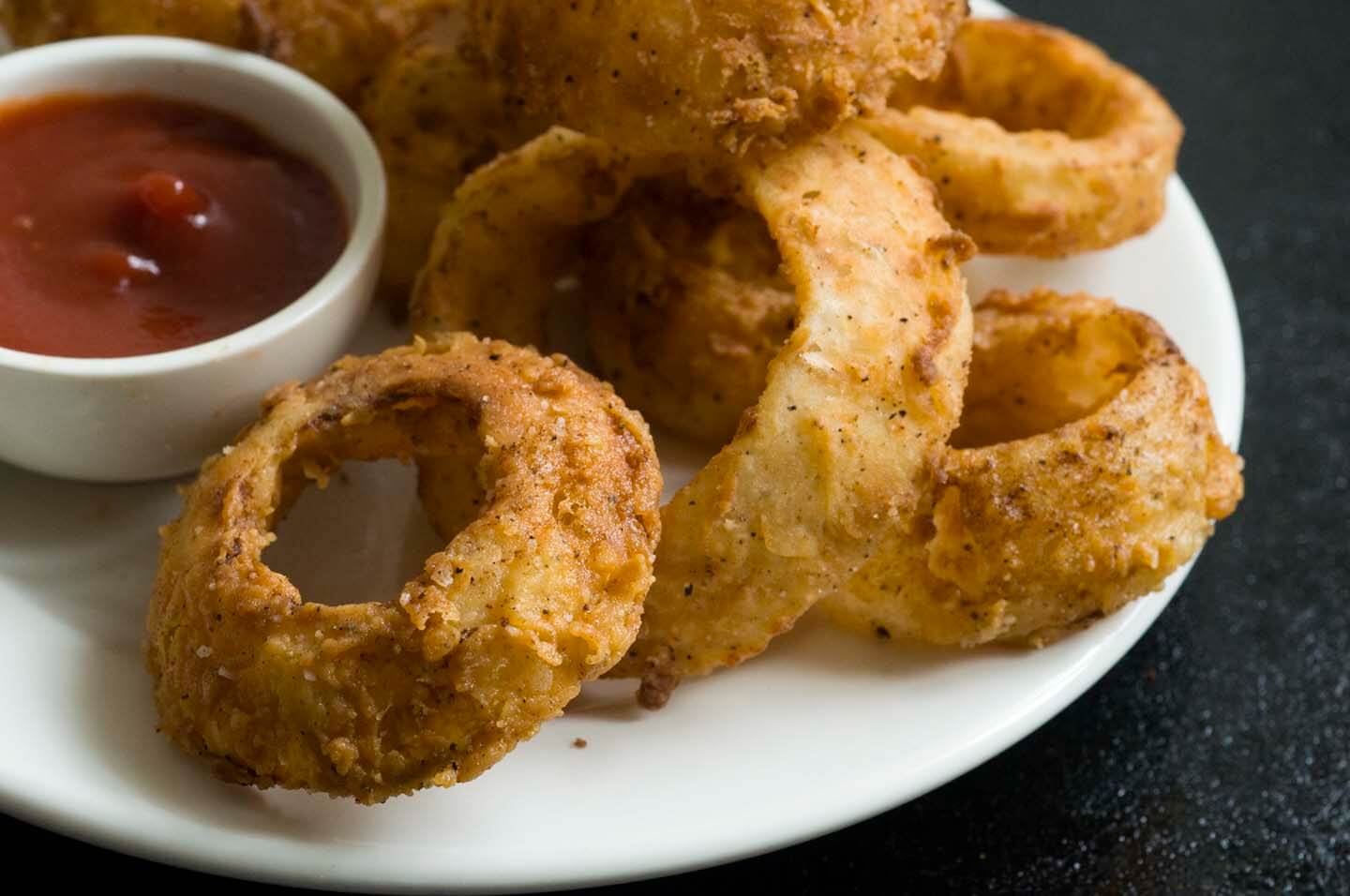 I used to wonder why onion rings often cost more than French fries, but after making them at home, I gained an appreciation for the work that goes into creating a perfect batch. Sure, it takes a bit of time and finesse to make sure the breading adheres to the onion, and your frying oil must be the right temperature to keep the onion rings from being soggy. But once you get the hang of it, you will have a plate filled with spicy and crisp fried onion rings—the perfect accompaniment to a Texas burger.
Spicy buttermilk onion rings
Ingredients
2

large

Texas 1015 sweet onions, cut into 1/4-inch rings

1 1/2

cups

buttermilk

2

cups

all-purpose flour

1 1/2

teaspoons

kosher salt

1

teaspoon

black pepper

1

teaspoon

chipotle powder or chili powder

1/2

teaspoon

oregano

1/2

teaspoon

ground cumin

Oil for frying

Ketchup, such as chipotle ketchup, for serving
Instructions
Place the onion slices in a large bowl and cover with the buttermilk. Allow to soak for 15 minutes.

Mix together the flour, salt, black pepper, chipotle powder, oregano and cumin. Taste and adjust seasonings. Divide the flour mixture, placing half in a large food-safe plastic bag and the other half on a plate.

Heat up 2 inches of oil in a large pot or cast-iron skillet to 350° F. Line a large baking sheet with paper towels.

To batter the onions, remove them from the buttermilk, reserving the buttermilk in the bowl, and place them in the plastic-bag with the flour. Shake until coated. Working one-at-a time or in small batches, take the floured onions and dip back into the buttermilk and then dredge in the flour on a plate. Fry in the hot oil until light brown, for about 2 minutes, turning once. Drain on paper towels.

Serve warm with ketchup or your preferred dipping sauce.