The first time I heard the term pastalaya, I wasn't quite sure what it entailed. Was it an island in the Mediterranean? An Italian adjective that connoted happiness? Or was it a band that specialized in upbeat music? Its meaning and origin were a mystery to me but I liked the word itself very much.
While my suppositions were decent guesses, it was soon explained to me that pastalaya was a portmanteau that combines two dishes–pasta and jambalaya–into one. With that in mind, the pasta refers to Italian noodles and the laya represents a Cajun and Creole specialty that is a savory blend of rice, aromatics, tomatoes, and protein, such as shrimp, sausage, and chicken. Basically, pastalaya is a jambalaya that has pasta as its starch instead of rice.
Jambalaya is a hearty one-pot meal as is pasta most of the time, so pairing the two together makes sense. Not only are there plenty of Italian Americans in Louisiana, but their influence on the cuisine can also be seen in items such as muffulettas and anchovy salads. Taking a Cajun and Creole dish and giving it an Italian twist is a natural choice.
Many Louisiana natives I know balk at breaking tradition with their cuisine, so when I asked about pastalaya (which some call jambalaya pasta instead), a few predictably declared it an abomination. Though plenty of others feel it's a welcome evolution.
Indeed, tossing pasta with a creamy parmesan sauce with Cajun ingredients such as crawfish is already an established practice, so pastalaya isn't too much of a stretch. Likewise, some prefer pasta as their starch instead of rice, so this dish works well for them, too.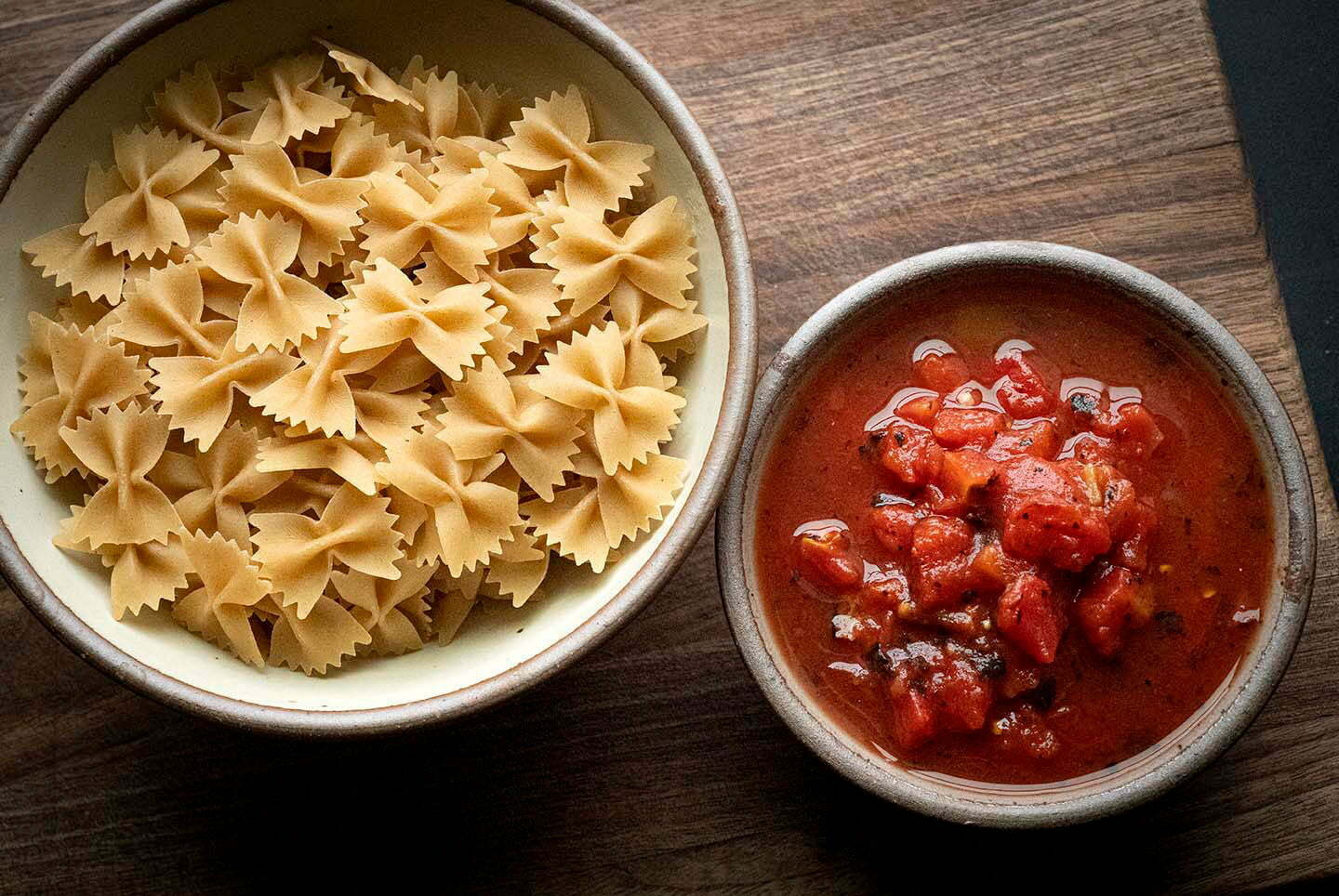 While its exact history and origins are unknown, it became widespread in Louisiana in the 1980s, with notable Creole and Cajun chefs and restaurateurs such as the Brennan family and Paul Prudhomme including it on their menus. From the late 1980s onward, it could also be found in Texas, and even made an appearance in the 1996 cookbook from Austin home-cooking restaurant Threadgill's.
To make pastalaya is quite simple. It follows the same method as jambalaya, which cooks the Cajun trinity of celery, onions, and peppers. You also add to the pot tomatoes, broth, and the uncooked starch, which in this instance is pasta, to bring everything together. Poultry and pork are often included, too.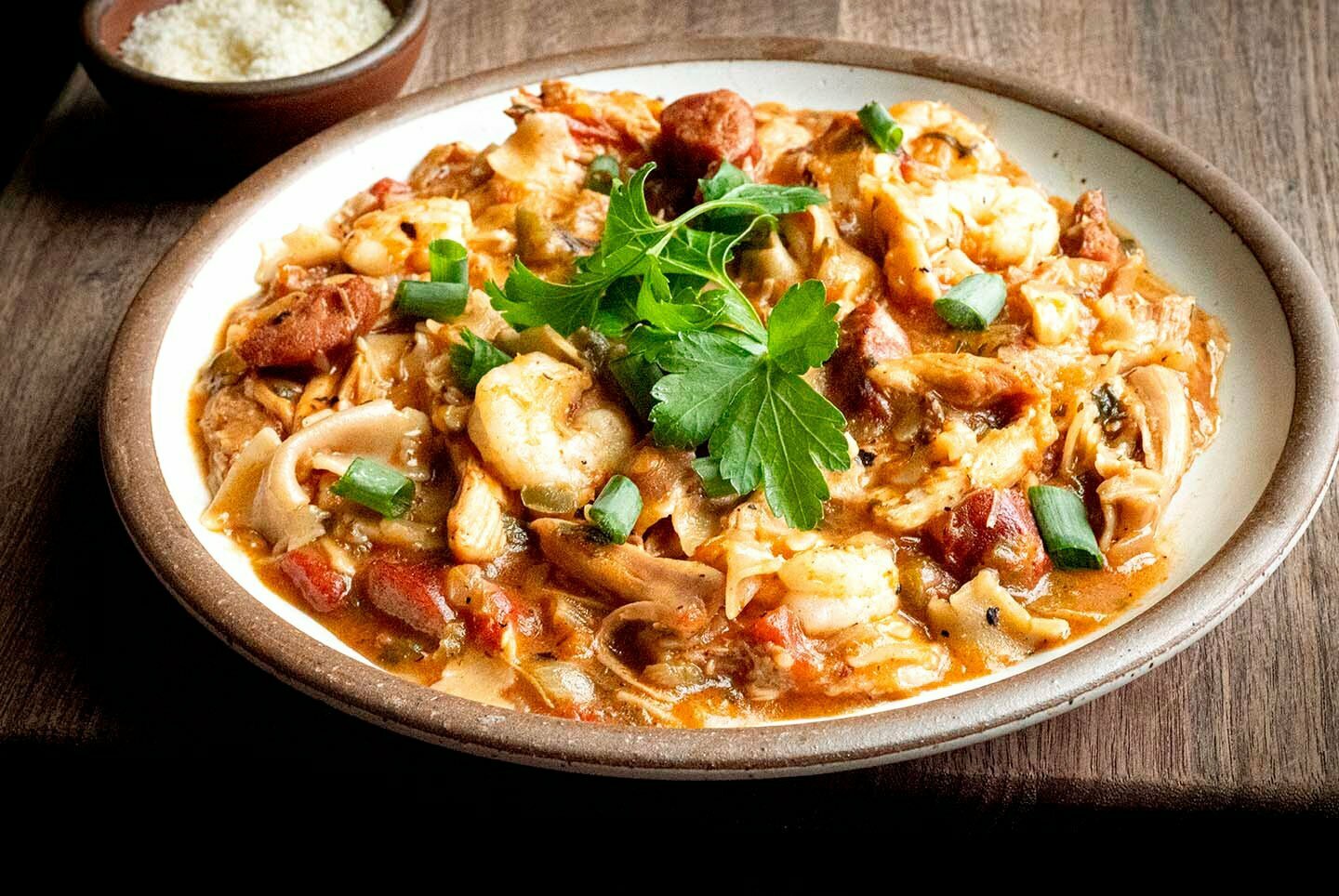 After 15 minutes or so the pasta will be tender, and you can then stir seafood into the pot, if you like, as it takes less time to cook. To finish, green onions and fresh parsley are added, and I also like to shower it with a sprinkle of Parmesan cheese.
—————
Would you like more Homesick Texan? Well, I've started offering additional recipes for paid subscribers to help with the costs of running the site. While I'm not taking anything away, if you'd like to support Homesick Texan and have access to exclusive, never-seen-before subscriber-only posts, please consider becoming a member; annual subscriptions are as low as $25. Thank you for reading, your consideration, and your support!
—————
Pastalaya (Jambalaya pasta with chicken, sausage, and shrimp)
Ingredients
For the chicken:
1 ½

pounds

bone-in chicken thighs

5

cups

water

2

tablespoons

kosher salt

1

tablespoon

black pepper
For the pastalaya:
2

tablespoons

olive oil

1

medium yellow onion, diced

2

ribs celery, diced

2

jalapeños, seeded, stemmed, and diced

1

bell pepper, seeded, stemmed, and diced

6

cloves

garlic, minced

1

pound

Andouille or other smoky sausage sliced into half-moons

1/2

cup

chopped fresh parsley, plus more for garnishing

1

teaspoon

dried thyme

1

teaspoon

dried oregano

1

teaspoon

smoked paprika

1/4

teaspoon

cayenne

1 14-

ounce

can diced tomatoes, preferably fire-roasted, and its juices

4

cups

chicken broth (prepared or from the chicken above)

1

teaspoon

Worcestershire sauce

8

ounces

dried pasta, such as farfalle

8

ounces

raw shrimp, peeled and deveined

1

tablespoon

freshly squeezed lime juice

Sliced green onions, for serving

Parmesan cheese, for serving
Instructions
To make the chicken, place the chicken thighs in a Dutch oven or large pot, skin side down, then cover with water. Add the salt and pepper then bring to a soft boil on medium heat. Once it begins to gently bubble, turn the heat down to low and simmer uncovered for 12-15 minutes or until the internal temperature is 150°F.

In order to retain the broth that's formed from cooking the chicken, strain the chicken in a colander over a large bowl. Measure out 4 cups of the broth. If you have less, make up the difference with water or prepared broth.

As for the chicken, when it's cool enough to handle, remove the skin and bones then shred the meat with your hands.

(If you don't want to cook chicken, to save time you can substitute 3 cups shredded cooked chicken and 4 cups of prepared chicken broth instead.)

To make the pastalaya, rinse out the pot and return to the stove. Pour in the oil and heat on medium-low. Add the onion, celery, jalapeño, and bell pepper, and while occasionally stirring, cook until softened, about 5 minutes. Stir in the garlic and cook for 30 more seconds.

Add the sausage, and while stirring, cook until warm and some fat has been released, about 5 minutes. Stir in the parsley, thyme, oregano, paprika, and cayenne until well combined.

Stir into the pot the tomatoes, the reserved 4 cups of chicken broth, and Worcestershire sauce. Turn the heat to medium high and bring to a boil. When boiling, stir in the pasta, then cook until tender, stirring occasionally to keep it from sticking, about 12-15 minutes. (If you notice the liquid getting too low, you can add more broth or water to the pot.)

While the pasta cooks, lightly season the shrimp with salt and pepper. Taste the shredded chicken and see if it needs any additional seasoning.

Once the pasta is tender, add the shrimp and shredded cooked chicken to the pot. Cook until the shrimp are pink and opaque, about 4 minutes. Stir in the lime juice, then taste and adjust seasonings.

Garnish the pastalaya with parsley and sliced green onions and serve warm with Parmesan cheese.
Notes
Substituting beer or wine for some of the broth is delicious, too. And if you wish to make this vegetarian, you can use mushrooms and/or tofu for the meat, along with vegetable broth. Likewise, other pasta shapes such as fusilli, penne, or fettuccine can be used, instead.