Aaron Franklin's pinto beans
Now, I probably don't need to tell you who Aaron Franklin is, but if you're not familiar with him he has a barbecue joint in Austin called Franklin Barbecue, and is generally regarded as one of the finest pitmasters in barbecue. He's most renowned for his brisket, and every day hundreds of people will wait in long lines to try a sample of his beef.
He recently came out with a book called Franklin Barbecue: A Meat-Smoking Manifesto, which explains his method. While there aren't many recipes per se, as far as cookbooks go it's a wonderful read. The book starts off with the story of how he got into the barbecue business, and this section is especially compelling to me, as he not only goes into how much time and hard work he put into developing his barbecue technique, but he also describes how he'd sit quietly in his first barbecue trailer and dream about all that could be.
He then talks about everything you need to know to create beautiful barbecue, from building your own smoker to butchering your meat. The only thing he doesn't cover is how to chop down trees for wood. I reckon he's saving that for his next book.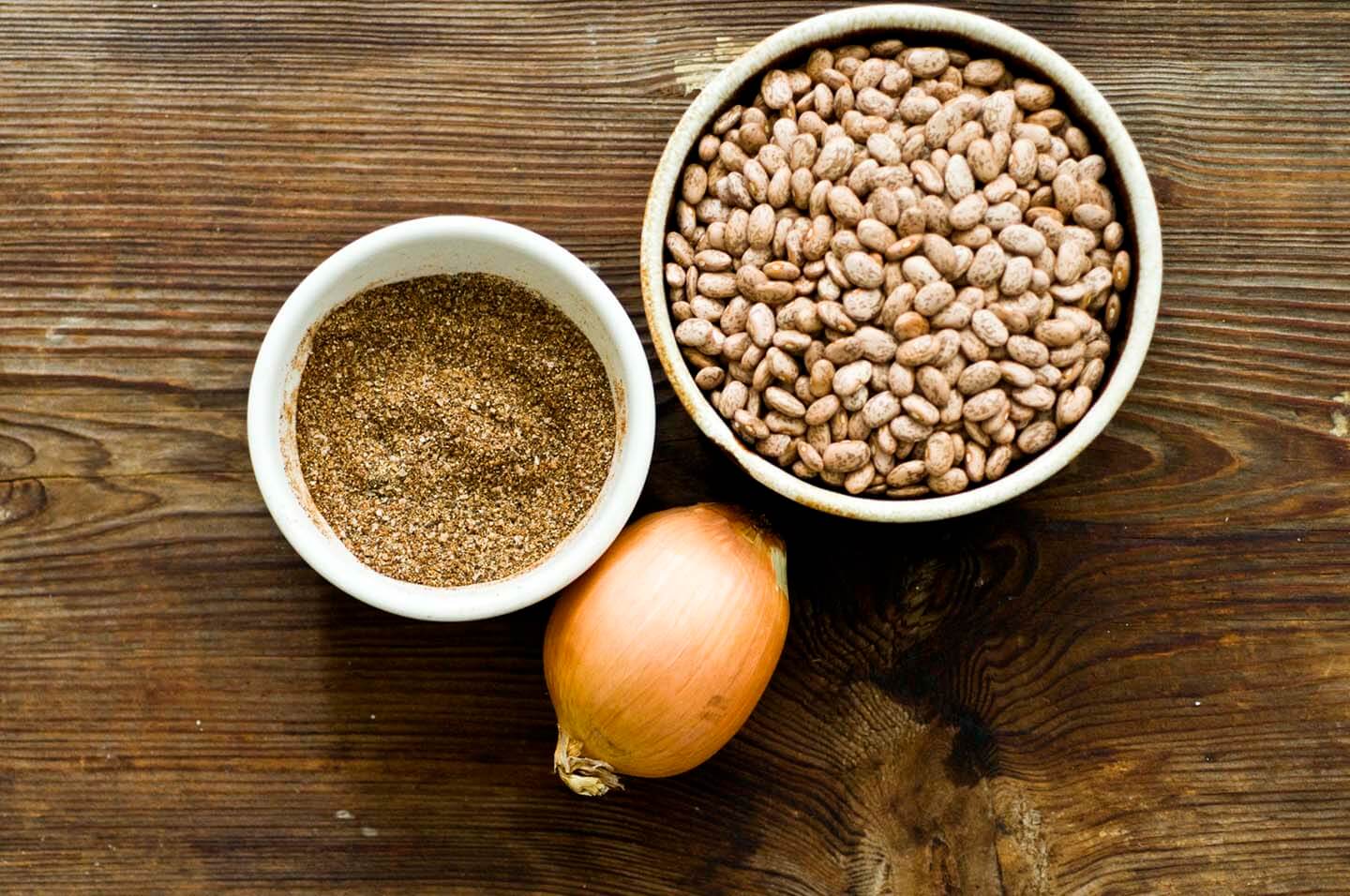 I read a lot of cookbooks, but this might be the first that actually made me so homesick I almost cried. It's clear that Aaron loves Texas but I also regretted that I didn't have a backyard space to put into practice some of his barbecue philosophies, let alone the space and tools to weld a new smoker.

That said, as much as I enjoy Aaron's brisket I think his beans may be even better. I've talked before about how much I love his pinto beans, which are peppery, flavorful, and rich. They're perfectly seasoned and one time when I was at an event where he was serving barbecue, it was his beans I went back for seconds, not the meat. So while I'm not immediately able to smoke meat his way, in his new book he has shared a recipe for his beans and I can make that in my tiny kitchen.
His recipe is fairly simple. You soak the pintos with diced onion and a blend of spices, and then cook the beans with chopped smoked brisket. Of course, when you're making these at home, you probably won't have Franklin Barbecue brisket (unless you have leftovers, but I understand that rarely happens). But when I made the recipe with some local barbecue, the beans still turned out excellent.
Aaron's instructions are for stovetop cooking, but I found that the recipe also works in a slow cooker, too. The most important thing if you choose to do it that way is to remove the lid for the last two hours of cooking so the broth can reduce.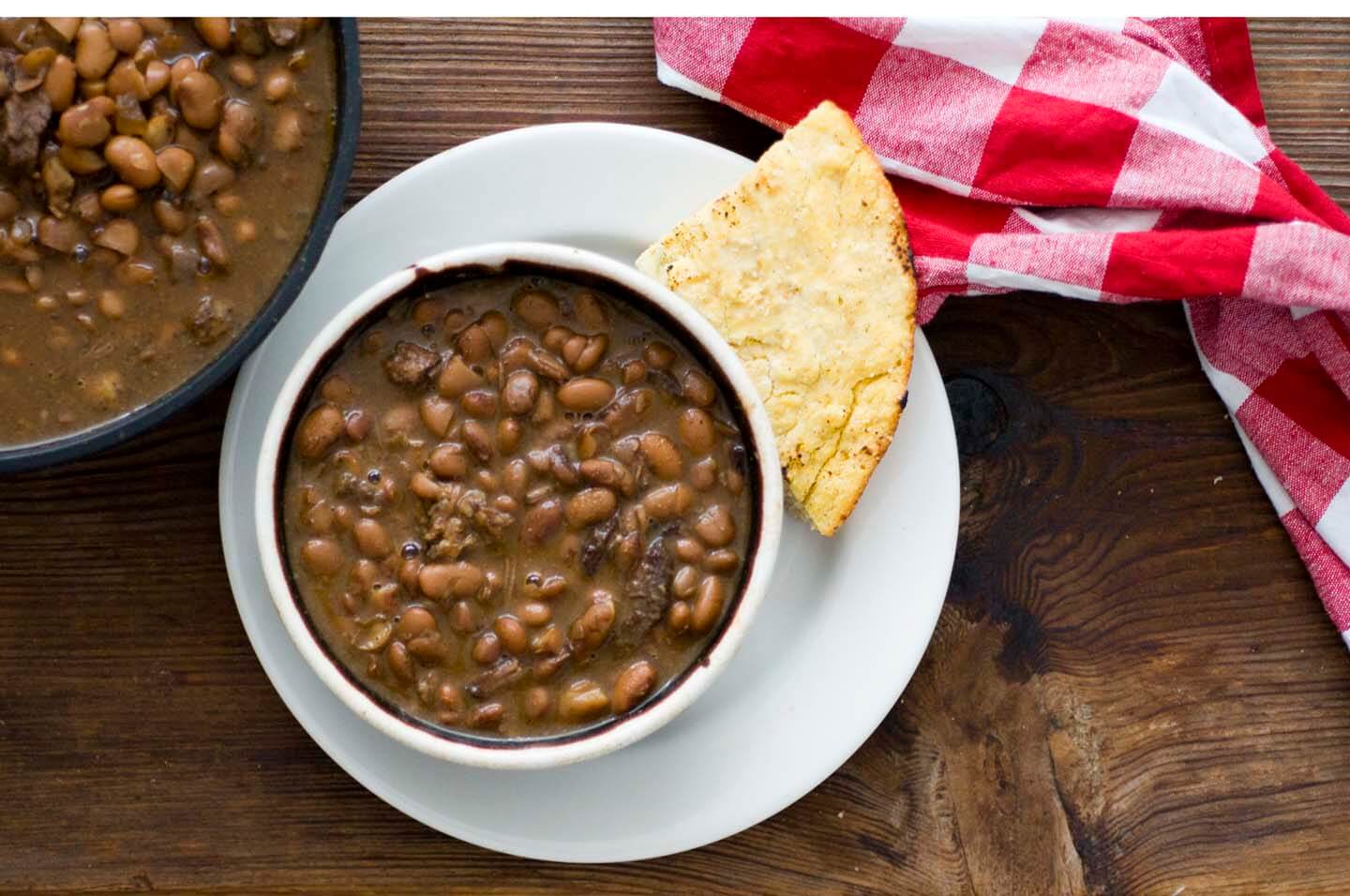 These barbecue pinto beans make a fine side for your next gathering, though they're hearty enough to be served on their own with slices of warm cornbread. And if you don't eat meat, you could even make them vegetarian. While the brisket contributes a layer of flavor, it's only a supporting player. In this dish, the beans are the true stars.
I look forward to someday following Aaron's approach for smoking meat. But these incredible pinto beans aside, his book still holds much value for me, as it's not just about barbecue—it's also a reminder that hard work and dreaming big are the keys to achieving any goal you may seek.
—————
Would you like more Homesick Texan? Well, I've started offering additional recipes for paid subscribers to help with the costs of running the site. While I'm not taking anything away, if you'd like to support Homesick Texan and have access to exclusive, never-seen-before subscriber-only posts, please consider becoming a member; annual subscriptions are as low as $25. Thank you for reading, your consideration, and your support!
—————

Aaron Franklin's pinto beans
Ingredients
1

pound

dried pinto beans

1/4

medium yellow onion, diced

1/4

cup

chile powder

1

tablespoon

kosher salt

1

tablespoon

black pepper

2

teaspoons

onion powder

2

teaspoons

garlic powder

1/4

teaspoon

ground cumin

1

cup

chopped smoked brisket
Instructions
Rinse the pinto beans and remove any rocks. Place the beans, onion, chili powder, salt, black pepper, onion powder, garlic powder, and cumin in a large pot. Cover with 2 inches of water, stir until the spices are well distributed, and then soak the beans uncovered for 8 hours. Alternatively, you can bring the pot to a boil, turn off the heat, cover the pot, and let them quick soak for 1 hour.

To cook the beans, add the brisket to the pot. (Do not drain the soaking liquid.) You want there to be at least an inch and a half of water above the beans, so add more water to the pot if needed. Bring the pot to a boil, then turn down the heat down to low, cover the pot, and then gently simmer for 1 hour.

After 1 hour, remove the cover and then continue to cook the beans until they're tender, which will depend on the age of the beans. This can happen anywhere from 1 hour to 3 hours.

If you want to make these in the slow cooker, after soaking, cook them covered on low for 6 hours, then remove the lid and continue to cook on low for 2 more hours.
Notes
If you're not using kosher salt but table salt or sea salt instead, reduce the amount of salt to 1 tablespoon, otherwise the beans may be too salty.