Sopapillas with a side of honey
Sopapillas are total decadence for me. You'd think after concluding a stomach-swelling multi-course meal of chips and salsa, queso, guacamole, tamales, rice, refried beans. and enchiladas that it would be impossible to find room for just one more dish. But I can never refuse a warm, steamy basket of this sweet, fried bread, dusted with cinnamon sugar and drowning in honey.
When I was little, sopapillas meant special occasions. Because my mom always had amazing cakes and cookies at home, we seldom ordered dessert when dining in restaurants. But if it was my birthday, I would insist on having sopapillas.
It was always a huge presentation, with the waiter wielding a sopapilla stuffed with a lit candle while the restaurant's mariachis sang "Feliz Cumpleanos" at the top of their lungs. Never mind the chocolate sheet cake waiting for me at home, this was the way to celebrate!
This last Thanksgiving, my whole, extended family left the farm and went into town to eat an excellent Tex-Mex meal at San Miguel's in McKinney, TX. It had been a long time since I'd eaten sopapillas, especially as they aren't on menus here in New York City.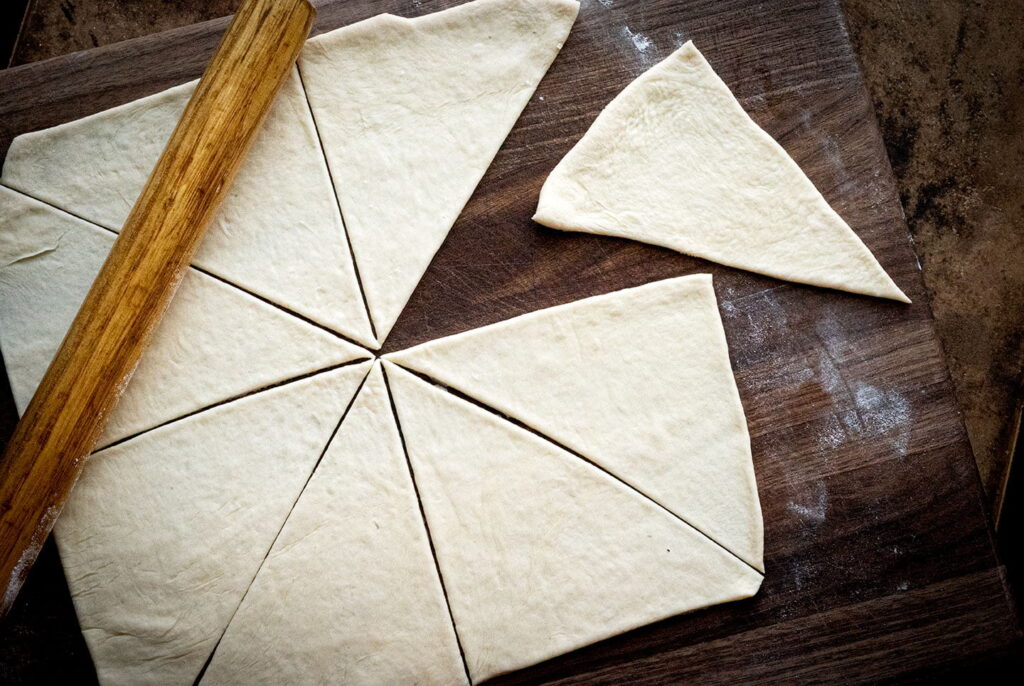 With a farmhouse filled with pies, however, I just sadly assumed sopapillas were not an option on this outing. But as a waiter is inclined to suggestively sell, it was little surprise when ours asked if we'd like to order this delectable treat.
After his query, the table was silent. As I've said, my family just doesn't order desserts. It killed me to not shout out, "Yes, yes, I need a sopapilla!" but I kept my mouth shut as I didn't want to appear disrespectful towards my grandmother's baking bounty.
Thankfully, my uncle was not so shy and he saved me from my delicious dilemma by saying, "Of course! We'd love some sopapillas!" So my family shared a small order, and after that first sticky bite into the golden-brown, honey-drenched dough, we all agreed: sopapillas are sweet heaven indeed.
If you've never had one, sopapillas are a big puff of light, crispy, and slightly chewy fried dough, perfect for catching pools of honey. They're originally from Spain, and variations can be found in countries throughout Latin America including Argentina, Chile, and Peru. These versions are often flat, similar to buñuelos, but the Tex-Mex style, along with the New Mexican style, is puffy.
Even though I'd never tried making them before, after I found a recipe, I realized it was within my range. Now, some recipes call for baking powder as the leavening. For mine, however, I chose to go with a yeast dough instead.
While both styles will puff when it hits the hot oil, I find that the yeast dough has more complexity in its flavor. Even if you've never worked with yeast before, the recipe is not complicated.
First, you stir ingredients such as flour, salt, butter, sugar, and yeast to make the sweet dough. (Some recipes call for shortening or lard, but I prefer the flavor of butter.) You let it rise, and then roll it out with a rolling pin, cut it into triangles, and fry each in vegetable oil for a couple of minutes.
When I threw the first one into the pot, it was like magic watching it puff up and quickly transform from flat dough into an airy, golden delight.
While I won't be making these every day, I'm thrilled I discovered how easy it is. The dough was very pliable and yielding. And I was hesitant about cooking them in a frying pan full of sizzling oil, but they cooked fast with nary a hiss or a splatter.
The recipe yields about 18, depending on how large you cut the triangles. And they are a real crowd pleaser, sure to impress anyone with your deep-frying prowess. If you don't like sweets, you could serve them savory as they do in New Mexico, stuffed with beans, cheese, and green chili.
But I won't have anything to do with that—I prefer my sopapillas topped with cinnamon, sugar, and honey. Powdered sugar is another popular topping, and I also know some who like a scoop of ice cream with theirs. No matter how they're served, for me, they're total Tex-Mex dessert decadence.
—————
Would you like more Homesick Texan? Well, I've started offering additional recipes for paid subscribers to help with the costs of running the site. While I'm not taking anything away, if you'd like to support Homesick Texan and have access to exclusive, never-seen-before subscriber-only posts, please consider becoming a member; annual subscriptions are as low as $25. Thank you for reading, your consideration, and your support!
—————
Sopapillas
Ingredients
1

package active dry yeast

1 1/2

cups

warm water

4

cups

all-purpose flour

1

tablespoon

kosher salt

2

tablespoon

unsalted butter, melted

2

tablespoons

granulated sugar

Oil, for frying

Sugar, for dusting

Cinnamon, for dusting

Honey, for serving
Instructions
Mix the yeast with the warm water in a large bowl and let it sit for 5 minutes.

Combine the flour and salt. Add the butter and sugar to the yeast/water mixture and then slowly add to the flour and salt.

Knead for 2 minutes, until the dough is smooth and elastic.

Rise in a covered, greased large bowl for 1 hour or until dough is doubled in size.

After the dough has risen, punch it down, and on a floured surface, roll it out into a 1/4-inch thick rectangle. Using a knife or pizza cutter, cut out 3 inch squares, and then cut squares on the diagonal into triangles.

Heat up 3 inches of oil in a big pot to 375° F. Fry 2 triangles of dough at a time in the oil for 1 minute on each side or until golden brown and puffed. The dough should puff when it hits the oil. If it doesn't, the oil may not be hot enough and you'll need to adjust the heat.

Remove the sopapillas from the oil with a slotted spoon or spatula and place on a plate lined with paper towels. Sprinkle with with cinnamon and sugar, then serve hot with honey. Serve warm.
Notes
For thicker sopapillas, roll the dough out to 1/2-inch.