Sour cream chicken enchiladas recipe
When I was in college, on Saturday afternoons a large group of us would celebrate the weekend by going to lunch at the local Tex-Mex restaurant. We'd toast the weekend with tall glasses of iced tea and salty chips dipped in salsa, and as we were in North Texas, most of us would order the house special—sour cream chicken enchiladas.
Tex-Mex is the large umbrella phrase that covers what people have determined to be Americanized Mexican food, but it's a very broad term as a Tex-Mex plate found in North Texas will be very different than a Tex-Mex plate found near the Gulf. This is what I discovered when I went to college in the small town of Sherman near the Oklahoma border. Green sauce was gone, with sour-cream based enchilada sauce to be found in its place. Different, yes, but just as satisfying.
The sour cream enchiladas were stuffed with shredded chicken that had been spiced with generous amounts of salt and black pepper, a simple blend that still had flavor. The sauce itself was a creamy blend of sour cream and chicken broth. A few pickled jalapeños were added, yet they provided more color than fire, as all that cream mitigated any heat. But what this sauce lacked in piquancy, it made up for it in creamy comfort and a taste so smooth I'd always order an extra bowl on the side.
My love for these enchiladas is firmly embedded into those four years I was in college—I hadn't eaten them before and I hadn't eaten them since. While my tastes have changed since then, I am still a fool for sour cream (give me a spoon and a carton and I'll be eating myself silly in no time) so I decided to revisit this North Texas classic.
After following what was purported to be a close approximation of this restaurant's recipe, I was struck by how bland the sour cream sauce was—I couldn't believe I used to love it so much! I tried punching it up with some cayenne, garlic and cumin, but it was still too flat for me—it needed some tang. I was afraid lime juice would curdle the sauce, so I pureed it with some roasted tomatillos instead.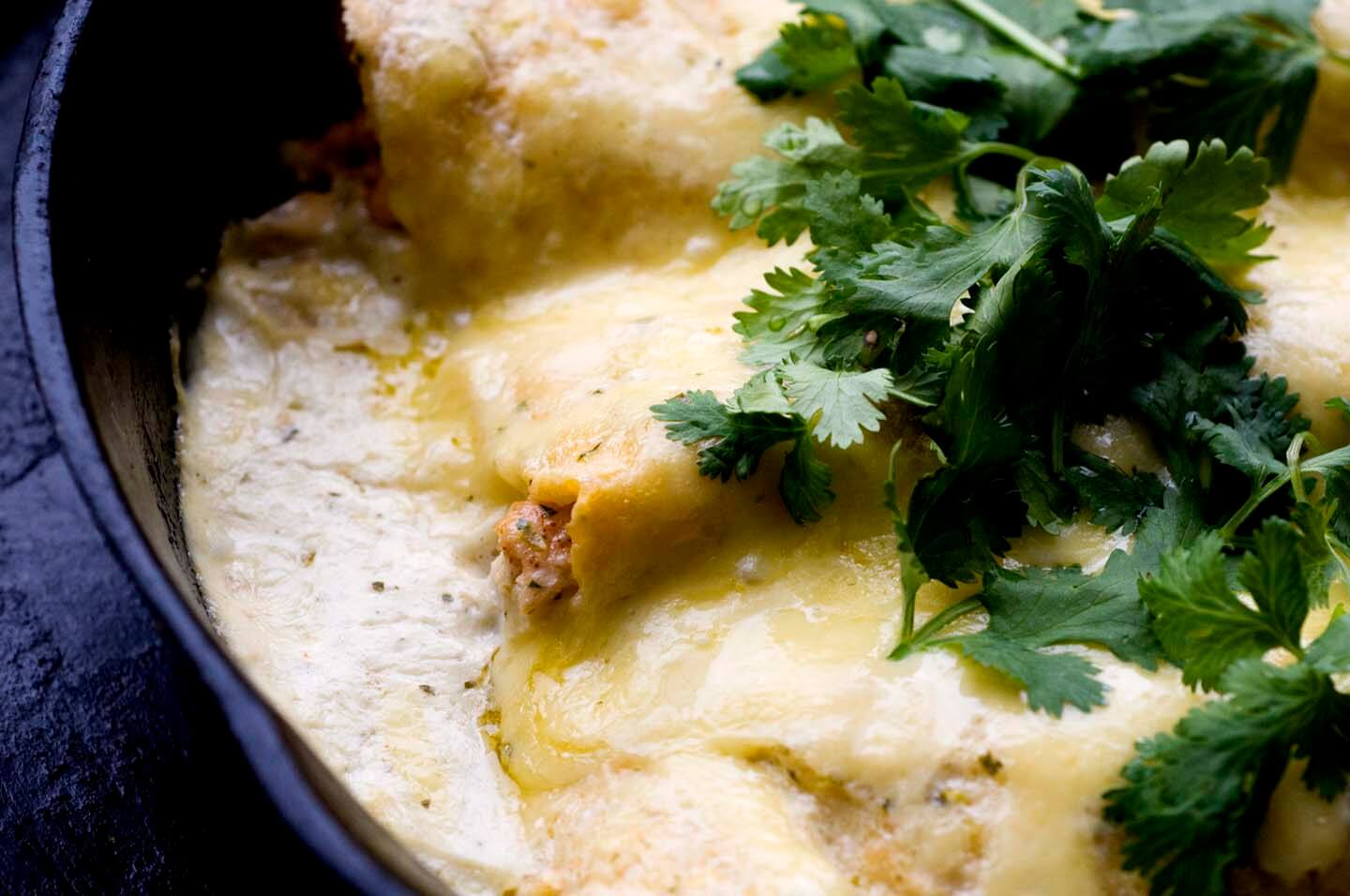 I took another bite. I wasn't bored this time! In fact this sauce was a nod to two long-ago favorites as it was the marriage of my Houston green sauce with my North Texas sour-cream sauce. But I shouldn't have been too surprised. I mean, I've certainly changed since I was 18 so why couldn't my sour cream sauce change as well? And if I do say so myself, we're both much improved by the changes made through the years.
—————
Would you like more Homesick Texan? Well, I've started offering additional recipes for paid subscribers to help with the costs of running the site. While I'm not taking anything away, if you'd like to support Homesick Texan and have access to exclusive, never-seen-before subscriber-only posts, please consider becoming a member; annual subscriptions are as low as $25. Thank you for reading, your consideration, and your support!
—————

Sour cream chicken enchiladas
Ingredients
Ingredients for the filling:
4

boneless, skinless chicken breasts

1

teaspoon

kosher salt

1

teaspoon

black pepper

1

tablespoon

olive oil
Ingredients For the sour cream sauce:
2

tablespoons

unsalted butter

2

Serrano chiles, seeded and diced

2

cloves

garlic, minced

2

tablespoons

all-purpose flour

2

cups

chicken broth

2

cups

sour cream

1

teaspoon

ground cumin

1/4

cup

chopped cilantro

8

fresh tomatillos, husked and cut in half or one (10-ounce) can tomatillos

Dash of cayenne

Salt

Pepper
Ingredients for the enchiladas:
1

tablespoon

canola oil

12

corn tortillas

1/2

medium-sized onion, diced

2

cups

(8 ounces) shredded Monterey Jack cheese

1/2

cup

chopped cilantro, for serving
Instructions
Preheat the oven to 350° F and lightly grease a 9×13 baking dish.

Sprinkle the chicken breasts on each side with the salt and black pepper. Heat the oil a large cast-iron or ovenproof skillet set on medium heat. When it shimmers, add the chicken and cook on each side in the oil for 3 minutes. Place in the oven and bake for 30 minutes. When the chicken is done, take the chicken out of the oven and let cool. Then shred with two forks. Keep the oven on, as you'll be using it again.

Meanwhile, to make the sauce, in a saucepot on medium-low, melt the butter. Throw in the diced Serrano chiles and cook until soft, about 3 or 4 minutes. Add the minced garlic and cook for 30 seconds. Whisk in the flour and cook for 1 more minute. Pour the chicken broth into the pot, and while whisking, cook until the chicken broth has thickened. Stir in the sour cream, cumin, cayenne, and cilantro. Remove from heat.

If using fresh tomatillos, place them under the broiler on a foil-lined sheet and cook on each side until blackened, about 4 minutes per side. Place in a blender along with the sour cream sauce and puree into smooth. If using canned tomatillos, skip the broiler step and just place them in the blender with the sour cream sauce and proceed.

To make the enchiladas, heat the canola oil in a skillet and cook the corn tortillas on each side a couple of minutes until soft. Wrap in a cloth to keep warm as you continue to cook all 12.

To assemble the enchiladas, pour one cup of the sour cream sauce in the bottom of the baking dish. Take each corn tortilla and place in the middle 1/3 cup of shredded chicken, 1 teaspoon of diced onions and 1 tablespoon of cheese (I'm not usually this scientific but if you've never made them before and desire exact measurements this would be it!).

Roll the tortillas around the filling and place the rolled tortillas seam side down in the casserole dish. Cover the enchiladas with the remaining sauce and cheese and bake for 25 minutes or until top is brown and bubbling.

Serve warm topped with chopped cilantro.