On weekend mornings in South Texas, people stop by their local taqueria or market to pick up a container of beef barbacoa and a stack of warm tortillas. They'll then scoop a few tablespoons of the slick shredded beef into the tortilla and top it off with salsa and a squirt of lime. Each tender bite is usually followed by a quick pull on a bottle of Big Red, a cream soda flavored with berries that is native to these parts
Barbacoa was traditionally made with a whole cow's head wrapped in burlap or maguey leaves that had been buried in the ground and slowly cooked over coals for a day or so.
Only one Texas restaurant, Vera's in Brownsville, is still allowed to sell traditional barbacoa cooked in this fashion. Instead, these days most places just steam their meat. Likewise, using a whole cow's head is now forbidden to prevent the spread of disease, so beef cheeks are now the meat of choice.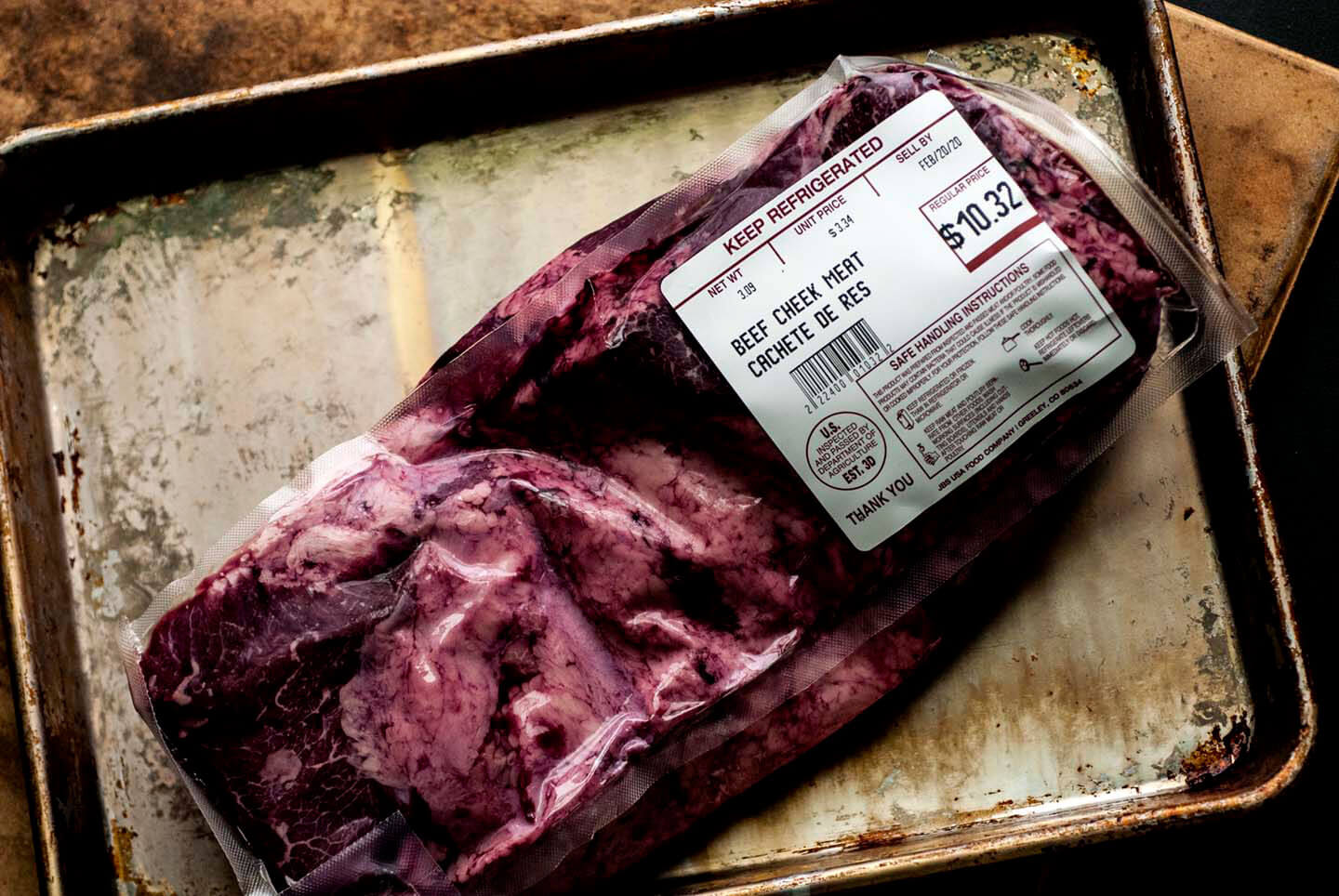 While some people at home still make their barbacoa in the same fashion as their ancestors, most use either an oven or a slow cooker. I've had delicious results using both myself.
For my South Texas barbacoa, I season beef cheeks with lots of salt, pepper, and garlic. To approximate cooking the meat over fire, I also add smoked paprika. Then I nestle the meat in banana leaves as another echo back to the dish's underground, coal-fire beginnings. In the absence of banana leaves, however, a tight wrap in foil works just as well, too.
Beef cheeks are extremely fatty and as such, you'll need to spend a few minutes after the meat has cooked removing the fat. Be sure and leave some, however, as it's part of what makes barbacoa such a decadent treat.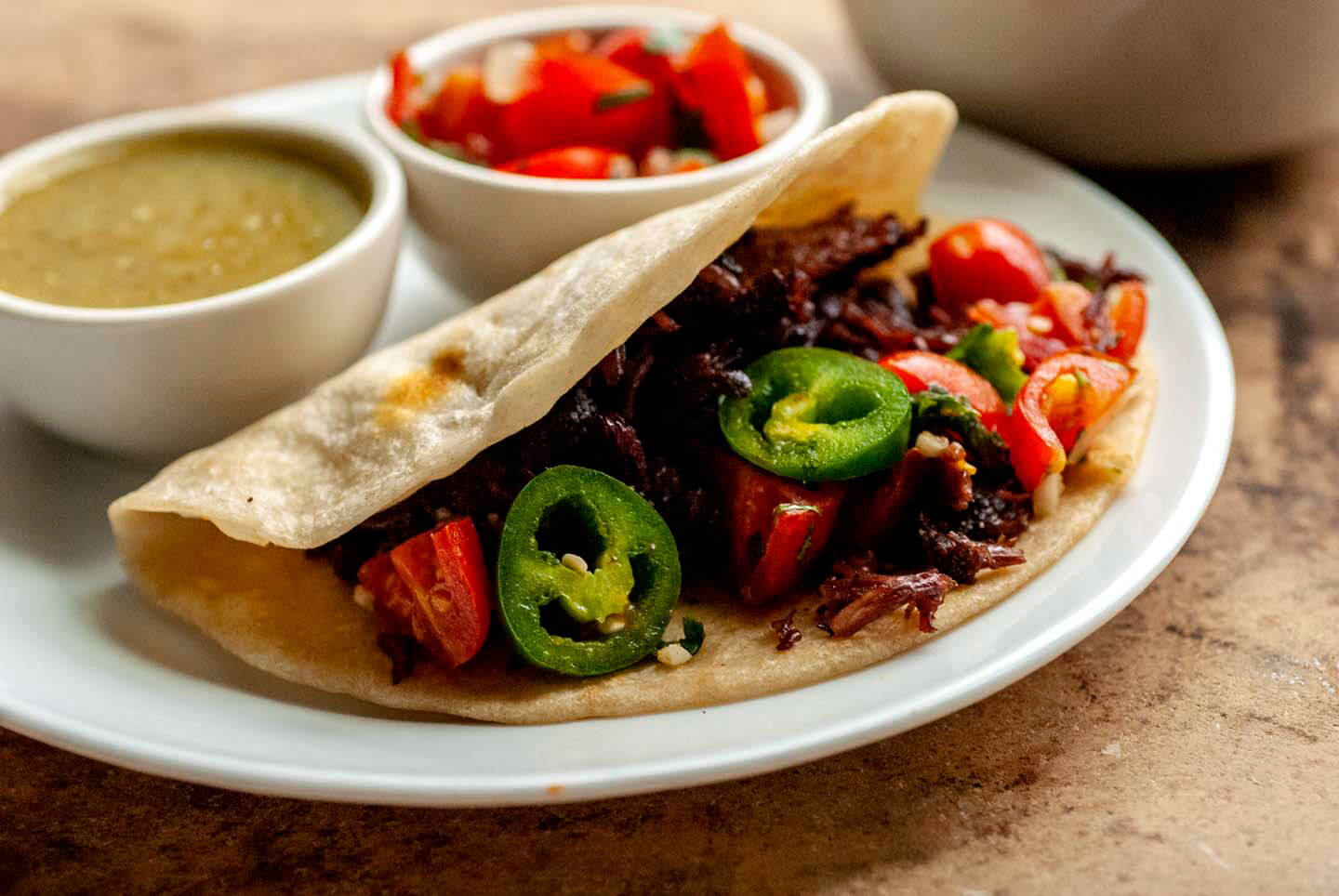 If you can't find beef cheeks, chuck roast or the point part of the brisket will be a fine substitution. And be sure to serve with a stack of flour tortillas and salsa verde. Some also like to top it with chopped cilantro and onions, though my preference is pico de gallo, as it adds a spicy brightness that cuts through the meat's richness.
—————
Would you like more Homesick Texan? Well, I've started offering additional recipes for paid subscribers to help with the costs of running the site. While I'm not taking anything away, if you'd like to support Homesick Texan and have access to exclusive, never-seen-before subscriber-only posts, please consider becoming a member; annual subscriptions are as low as $25. Thank you for reading, your consideration, and your support!
—————

South Texas barbacoa
Ingredients
1

tablespoon

kosher salt

1

tablespoon

black pepper

1

tablespoon

smoked paprika

1

tablespoon

granulated garlic

1/4

teaspoon

cayenne

3

pounds

beef cheeks, chuck roast, or point end of the brisket

2

tablespoons

fresh lime juice
Instructions
If using an oven, preheat to 350°F.

Stir together the salt, black pepper, smoked paprika, garlic, and cayenne. Generously season the meat and then if using an oven, wrap tightly in banana leaves or foil. Place the wrapped meat on a sheet pan and bake for 5 hours.

If using a slow cooker, don't wrap the meat and instead just place it dry, with no liquid, in the slow cooker and cook on high for 6 hours or low for 8 hours.

After the meat has cooked, allow it to rest and cool for 30 minutes before either unwrapping or removing from the slow cooker. Once it's cooled, strain and remove some of the fat to your preference.

Squirt the meat with lime juice then taste and adjust seasonings. I usually add a generous sprinkle of more smoked paprika, for instance.

Shred the meat and then serve with warm tortillas, pico de gallo, and salsa verde.
Notes
You can find beef cheeks at most Mexican markets and in Texas, also at HEB. Banana leaves can often be found at these stores, too, though sometimes they may be in the freezer section.