Strawberry cream cheese kolaches
Last week I began the writing phase of my book, which means every morning I get up early and begin working. Because I like to write without any distractions, I don't talk to anyone or go online until I've met my daily word count. And every day last week, there was some new terrible news waiting for me when I finally plugged back into the world. What a week it was.
While there was no shortage of people to be praying for, I have to say that my heart was most heavy for the Texas town of West. A fertilizer plant there exploded late Wednesday and the impact was so extreme that it was felt over 50 miles away. Not to mention, when you saw images of the blast, the mushroom cloud reminded you of a war bomb. To date, 14 people have been reported dead with many still missing and injured. What an awful, horrible event.
The town is a few miles from Waco, almost at the halfway point of the route between Dallas and Austin, so people making that journey have long stopped in West to rest, fill up the tank, and grab something to eat. West has a large Czech population and it's famous for offering Czech sausages and pastries, such as kolaches. And as Texans love their kolaches, it's for this reason this tiny Texas town has such a large hold on so many Texans' hearts.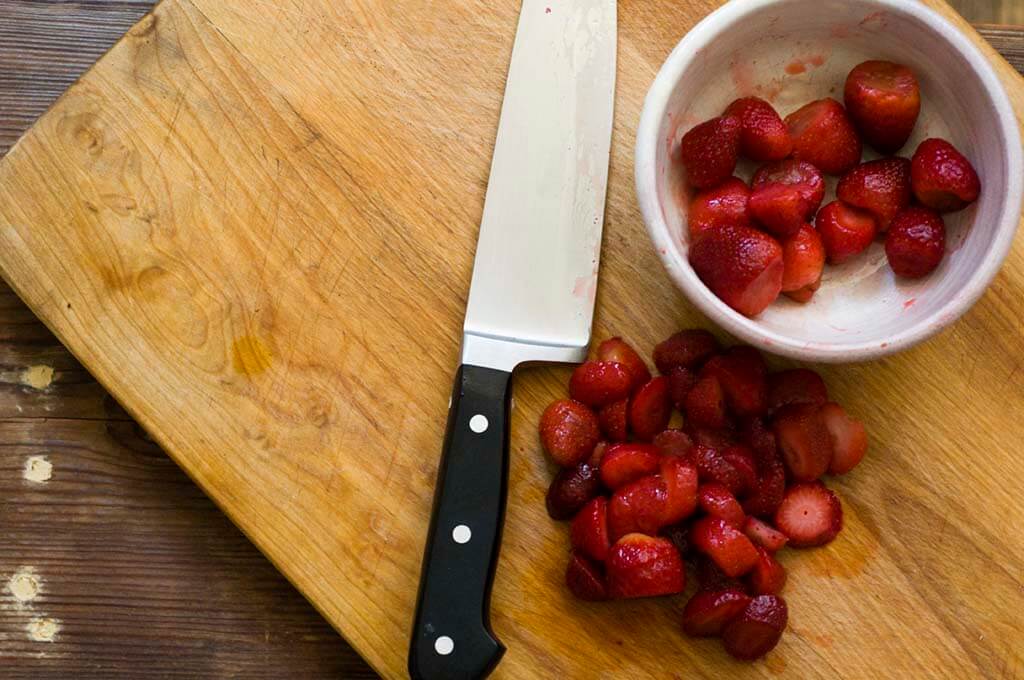 If you're not familiar with a kolache (pronounced koe-lah-chay), it's a Czech pastry that's typically filled with fruit, cheese, poppy seeds, sausage, or eggs. If it's a sweet filling, the roll will be round or square with an indention at the top that's been stuffed. If it's made with sausage or something else savory, then the filling is completely encased in the dough and a mystery until you take that first wonderful bite.

Kolaches are what I like to call share food. In other parts of the country, people will bring bagels or doughnuts when they get together with people in the morning. But in Texas, we offer kolaches. Sure, you could eat just one, but if you're buying one kolache, you might as well get a few more to share with others as they're just too good to enjoy on your own.
My grandparents lived in Waco in the early 1950s (and my mom was even born there), and whenever they'd go on road trips to visit their North Texas family, like so many of us, they would stop in West and buy a box of kolaches to share with those they were going to see. My grandma said they'd often pick up boxes of kolaches to take to church or to ladies' meetings, too.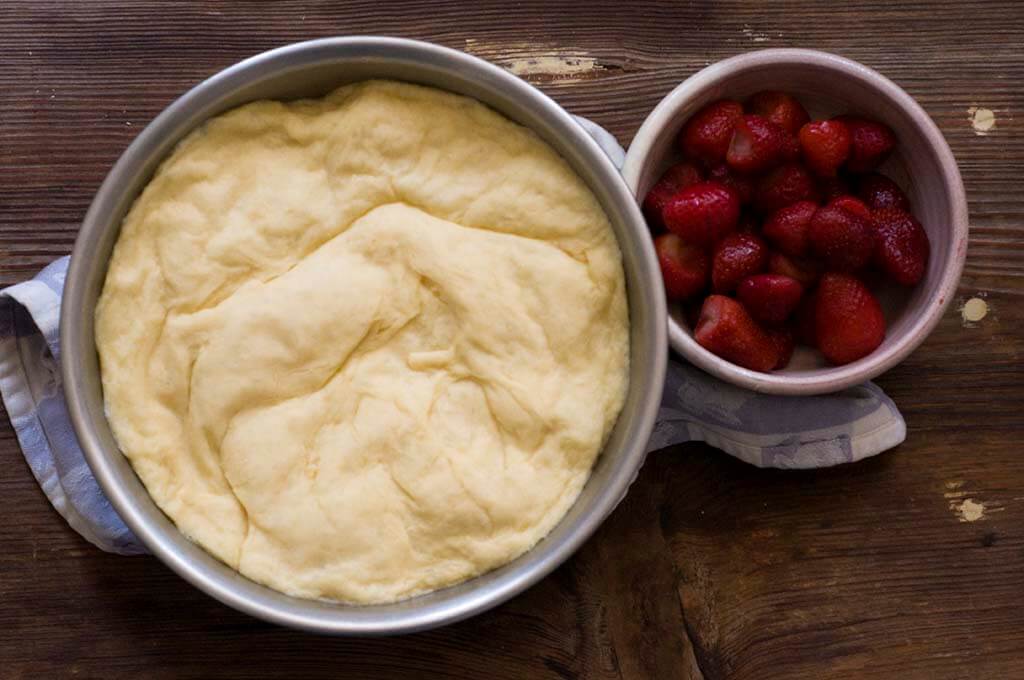 Even today, whenever my uncle makes the trip from Austin to the farm, he usually will stop and pick up a box for the family to enjoy. Though this principle applies even if you're baking them at home. If you make them from scratch, then you'll definitely want to share them with others as all that love and effort is too good to keep to yourself.
For me, baking can be therapeutic so when I heard the awful news about West, I took to my kitchen and made a batch of kolaches in honor of the town. I shared them with some friends and now I also share them with you. Because strawberries are in full swing down in Texas, I made a strawberry filling to celebrate the season. Though when you're feeling sad, a little extra sweetness doesn't hurt, so I decided to add a cream cheese filling to the kolaches, too.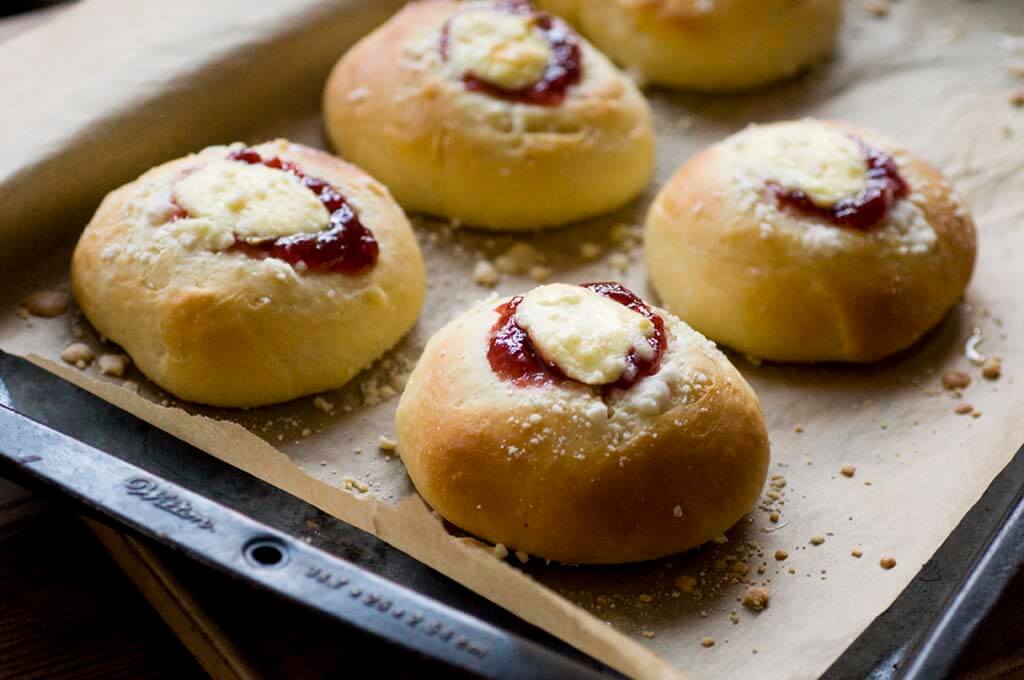 It's times like these that can make you even more homesick, as the bad news can leave you feeling helpless as you're so far away from home. These strawberry cream cheese kolaches certainly won't change what happened, but as I ate them I felt closer to Texas. And while my heart was still heavy, for a moment that connection helped lighten the load.
Strawberry cream cheese kolaches
To keep this recipe from being overly long, I've directed you to my previous kolache recipe for the dough and posypka and only included instructions for the strawberry and cream cheese fillings. Please make the dough as directed and be sure and have the melted butter on hand for brushing when the kolaches come out of the oven.
Ingredients
Ingredients for the kolaches:
Ingredients for the strawberry filling:
8

ounces

fresh strawberries, hulled and sliced

3/4

cup

granulated sugar

1

tablespoon

lemon juice

1/4

teaspoon

ground cinnamon

Ingredients for the cream cheese filling:
Ingredients for the cream cheese filling:
8

ounces

cream cheese, room temperature

1/4

cup

granulated sugar

3

tablespoons

all-purpose flour

1

egg yolk

1/2

teaspoon

vanilla extract

1

teaspoon

lemon zest
Instructions
To make the strawberry filling, place the sliced strawberries, sugar, and lemon juice in a pot and allow them to sit with the burner off for 30 minutes or until the strawberries begin to release some of their juices. After they've released some juices, turn the heat to medium high and while occasionally stirring, cook the strawberries until thick and jammy, about 10-12 minutes. Turn off the heat, stir in the cinnamon, and mash the berries with the back of your spoon or a masher. Allow to cool and then refrigerate until needed. (The cooler the strawberry filling is, the less likely it will run as it bakes, says this cook from experience. I'd make this when the dough is doing its first rising or even the night before.)

To make the cream cheese filling, beat the cream cheese and sugar together until fluffy. Stir in the flour, egg yolk, vanilla, and lemon zest until smooth. Refrigerate until ready to use.

After the kolache dough has done the first rising, form it as directed on 2 parchment paper lined baking sheets, cover, and allow it to rise for 30 more minutes.

After this time, preheat the oven to 375°F. Uncover the rising dough and with the back of a spoon or your thumb, gently form a well in the center of each roll. Fill the well with 1 teaspoon of the strawberry filling and then top that with 1 teaspoon of the cream cheese filling. After filling the kolaches, sprinkle the posypka generously over all of them.

Bake for 12-15 minutes, or until the rolls are golden brown. While baking, melt the remaining 4 tablespoons of butter that's listed in the kolache dough recipe. When you take the kolaches out of the oven, brush with the melted butter and serve warm.