Every spring when the wildflowers bloom, Texans will say thank you to Mrs. Claudia "Lady Bird" Johnson, the former first lady and native Texan who made it her life's work to protect and preserve native plants in their natural habitat. But besides her commitment to keeping Texas and America beautiful, Mrs. Johnson was also known as a gracious hostess who entertained with taste and ease.
When people come over for dinner, it's not unusual if you like a dish to ask for the recipe, and I've heard that Mrs. Johnson was always quick to give friends her family's recipes, such as her chili or her method for making spoon bread.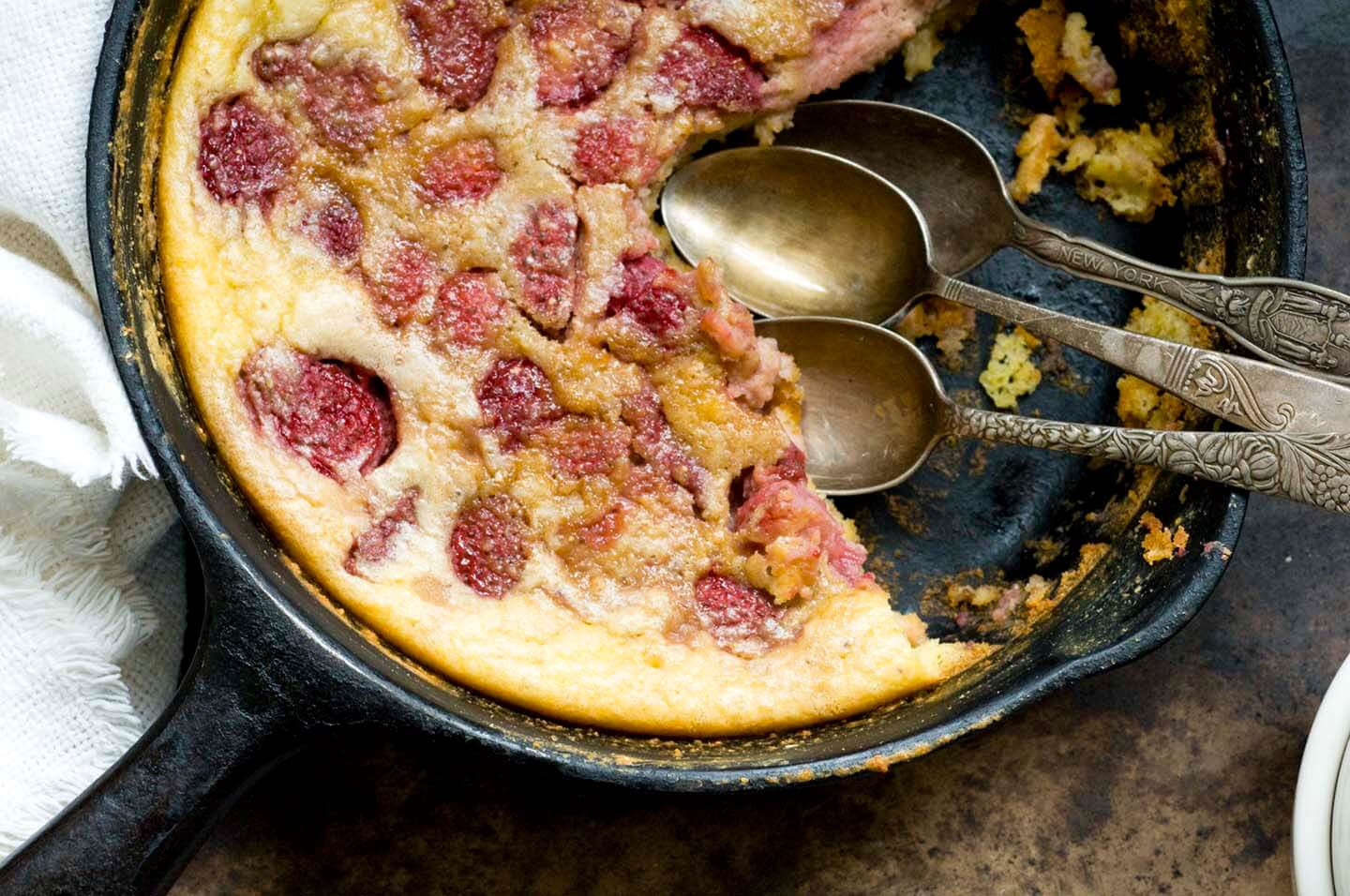 If you're not familiar with spoon bread, it's an old American cornmeal-based baked pudding that's dense, custardy and smooth, much like bread pudding. While it's usually associated with the South, it's been documented in early American cookbooks from New England going back to the early 1800s.

Spoon bread is a simple dish, made with cornmeal, milk, eggs and a bit of baking powder. Traditionally, it's served as a savory side that pairs well with hearty meat dishes or a bowl of beans. But it's also like a thick bowl of hot cereal before you pour on some milk, which makes it good at breakfast, too. Matter of fact, I read that the Mrs. Johnson preferred to serve it in the morning along with homemade venison sausage.
Now, while it's typically a savory dish, since strawberries are now in season (at least in Texas—local ones should hopefully arrive in New York City soon), I took Mrs. Johnson's recipe and added a bit of sugar and strawberries to make a sweet dish instead. And when topped with a dollop of whipped cream and a handful of more strawberries, you have a springtime dessert that, as the name implies, is best eaten with a spoon.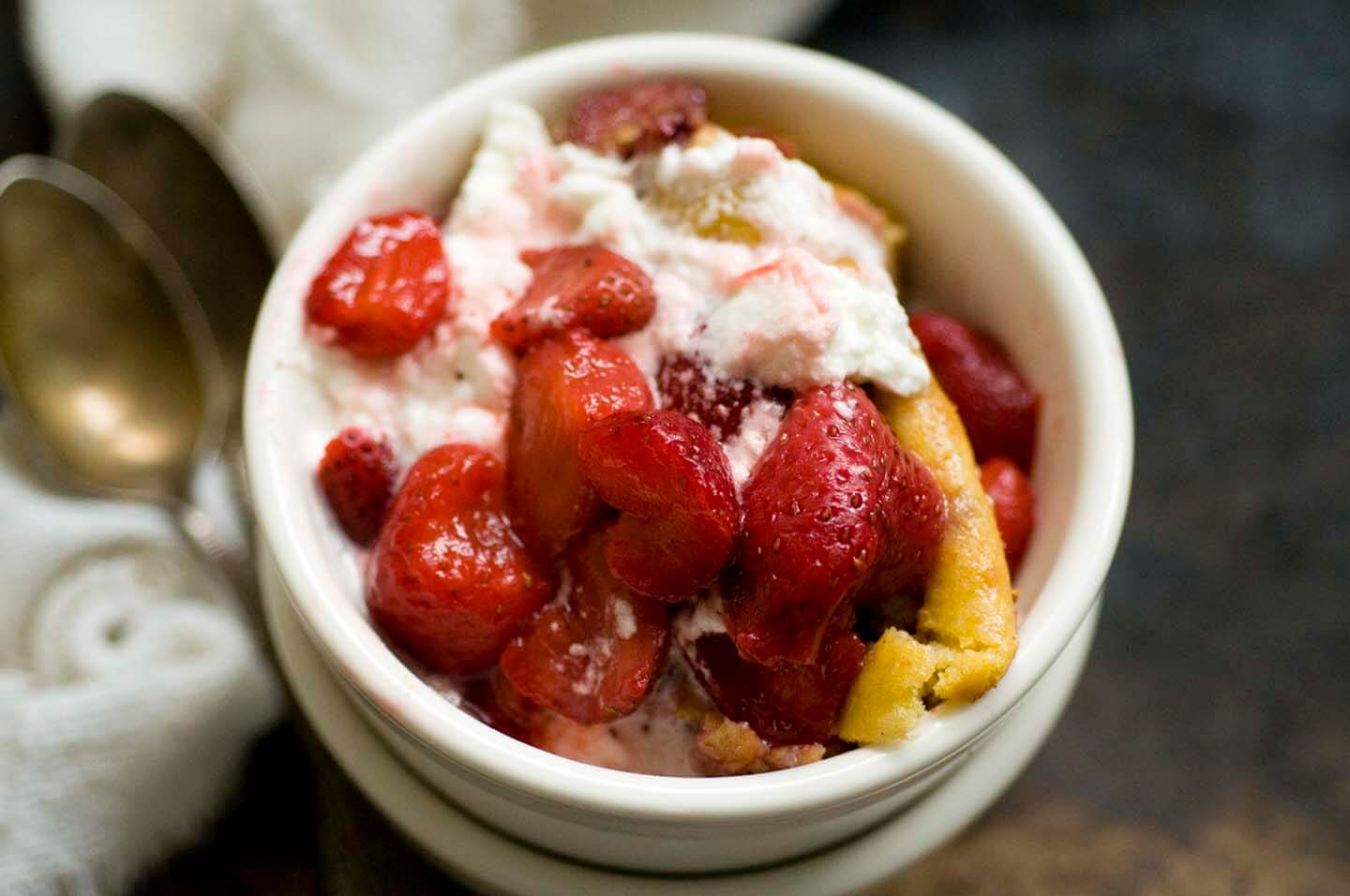 If you're a fan of cobblers, this dish is for you. While the spoon bread is smooth rather than flaky, as it's made with eggs and cornmeal rather than flour and fat, the interplay of cornmeal with the berries is sweet and satisfying. And in case you're wondering, this strawberry spoon bread keeps for a day or so in the refrigerator. While it's best served warm I've been known to dip my spoon into it cold, as well.
So even though she's no longer with us, if you try this be sure to say thank you to Mrs. Lady Bird Johnson for all the beauty she gave us, along with her recipes for wonderful Texan food.
Strawberry spoon bread
Ingredients
2

pints

fresh strawberries, hulled and quartered

3/4

cup

granulated sugar, divided

3

cups

whole milk, divided

1

cup

cornmeal

3

tablespoons

butter

3

large eggs, beaten

1

tablespoon

baking powder

1

teaspoon

salt

2

cups

heavy whipping cream

2

tablespoons

honey or sorghum syrup
Instructions
Sprinkle the strawberries with 1/4 cup of sugar, and leave at room temperature for an hour or until juicy.

Preheat the oven to 350°F and place a metal bowl in the freezer. In a large cast-iron skillet, on medium heat, stir together 2 cups of milk and the cornmeal and bring to a boil. Turn off the heat and stir in the remaining milk and butter. Once the butter has melted, stir in the eggs, baking powder, salt and remaining sugar. Drain the juice from half the berries (reserving the juice by pouring it back into the remaining berries) and stir the strawberries into the spoon bread batter.

Place the skillet into the oven and bake uncovered for 35 minutes or until the bread is set and golden brown. While it cools, whip the heavy cream in the chilled metal bowl with a whisk, eggbeater or electric mixer. Once it's tripled in size and soft peaks have formed, stir in the honey or sorghum syrup.

Serve the spoon bread warm topped with the remaining strawberries and whipped cream.