Summer squash and green chiles
On a recent visit to Texas, I was staying with a friend and cooked her family dinner. There was an abundance of squash and green chiles in their refrigerator, so along with a block of cheese, crushed crackers, and milk, I made a squash casserole.
It was a hit, as anything that's creamy, cheesy, and rich can be. Yet my friend commented that as delicious as it was, she was craving a less fussy dish that focused solely on the yellow squash. She explained that when it's in season, yellow squash's sweet and savory essence doesn't need much adornment.
The next day, I paid a visit to my grandma's farm. My uncle Austin, who's recently moved up there to help around the place, was in the kitchen making a pot of vegetarian chili for supper. While he was cooking, I asked if he needed any help. He pointed to a pile of yellow squash and asked if I'd like to do something with it. Even though I'd just had squash the night before, I thought back to what my friend had said, and decided to come up with a lighter, simpler recipe that allowed the squash to shine.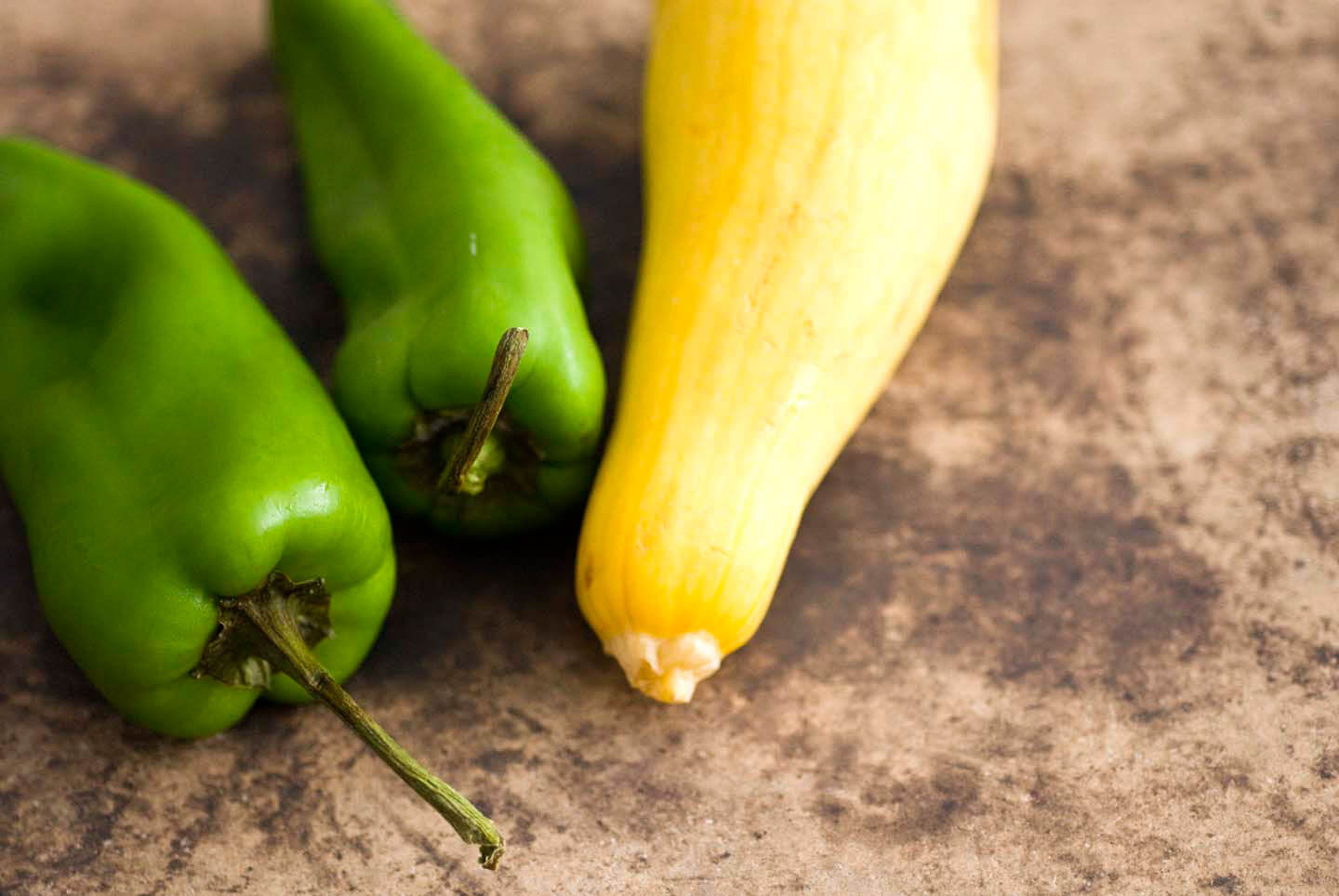 After scouring through the refrigerator, I saw my uncle had roasted a large batch of green chiles and I grabbed a few of those. I also diced some onion and thinly sliced the small yellow squash, chosen for its delicate size because my uncle said they had the best flavor.
In a large cast-iron skillet, I melted a large pat of butter than cooked the onion until it was just beginning to caramelize. Then I slid in the slices of yellow squash and seasoned everything with a few dashes of salt and pepper. After chopping the green chiles, I mixed them with the squash, tasted everything, and added a few squirts of lime juice for brightness.
The squash was tender with just enough crunch to be interesting, the chiles added a whisper of heat but not too much, and the onions and seasonings enhanced the flavor of the squash without overpowering it. It was quick, easy, and a pure taste of late summer.
At the table, the squash was devoured with everyone enjoying second helpings. There were also some leftovers, which were evenly divided between the guests, though everyone lamented there weren't more to go around.
Later during my trip to Texas, I returned to my friend's house. When I offered again to cook dinner, she asked if I could do something with her never-ending stash of squash. Thinking back on what she'd earlier suggested, I prepared the squash in the more austere fashion that I'd done at my grandma's, though I also added garlic and cilantro, which gave the squash even more spark.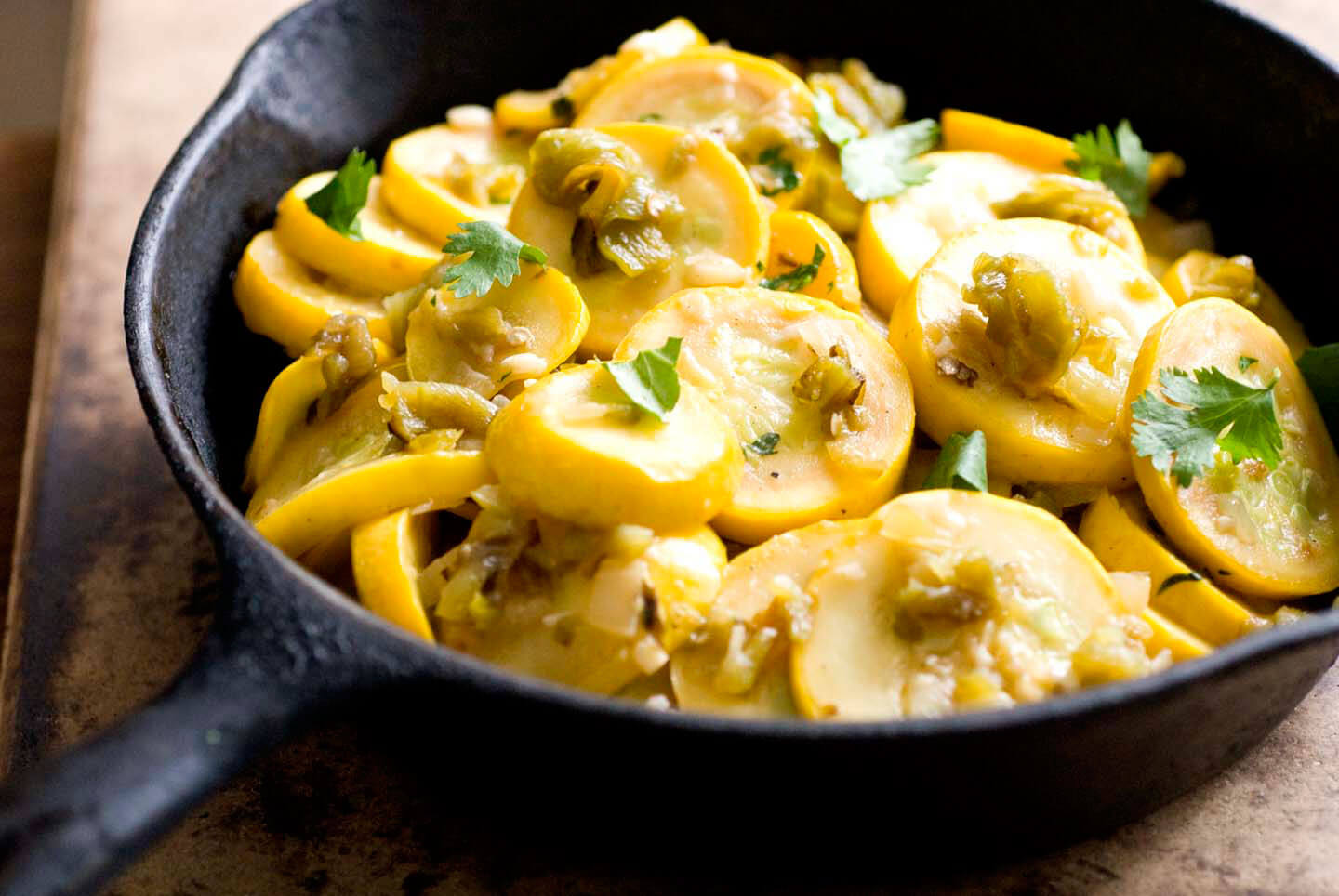 This time, the squash was served as a side to chicken. As my friend took a bite, she smiled and said that she loved it, much like my family had done before. And since both she and my family have requested the recipe, I now share it with you.
Summer squash and green chiles
Ingredients
4

Hatch or Anaheim chiles

2

tablespoons

unsalted butter

½

medium yellow onion, diced

2

cloves

garlic, minced

2

pounds

summer squash, sliced into 1/4" rounds

¼

chopped cilantro

1

teaspoon

kosher salt

1/2

teaspoon

black pepper

1

tablespoon

freshly squeezed lime juice
Instructions
First you'll need to roast the chiles. Place the chiles under the broiler until blackened, about 5 minutes per side. Place the chiles in a paper sack or plastic food-storage bag, close it tight and let the chiles steam for 20 minutes. Take the chiles out of the bag and gently rub off the skin. Remove the stem and seeds and dice the chiles.

In a large skillet, heat the butter on low heat. Add the onion and while stirring occasionally, cook until the onions are softened and just beginning to darken, about 7-10 minutes. Stir in the garlic and cook for 30 more seconds.

Add to the skillet the squash, salt, and pepper and while stirring occasionally, cook until squash is softened though still a bit crisp, about 7-10 minutes. Stir in the diced green chiles and cilantro. Taste and add more salt and pepper if needed.

Finish with a squirt of lime juice and serve warm.