Summer squash, corn, and chorizo tacos
Back when my grandma had a vegetable garden, during summer visits I enjoyed watching her come into the kitchen every morning with that day's harvest. Sometimes there might be tomatoes and sometimes there might be greens, but there was always, always squash. Like the rising of the sun, you could always count on a batch of summer squash that needed harvesting each day.
While my grandma no longer keeps her garden, we still enjoy eating squash. And when it's in season you'll find it on my table in the form of Tex-Mex squash casserole, green chile squash casserole, squash enchiladas, squash slaw, and even squash pickles. But I'm always looking for new ways to use up summer squash since it's plentiful and prolific this time of year.
The past month, I've taken to making squash tacos. Now, I know that might sound a little strange but hear me out. First, I take some diced yellow squash and zucchini and cook that with onion, jalapeños, garlic, and corn. I don't cook it for too long, just enough to soften it a bit and begin to get the juices flowing. This way it still has a bit of crunch to it, which goes well with the satisfying pop of fresh, sweet corn.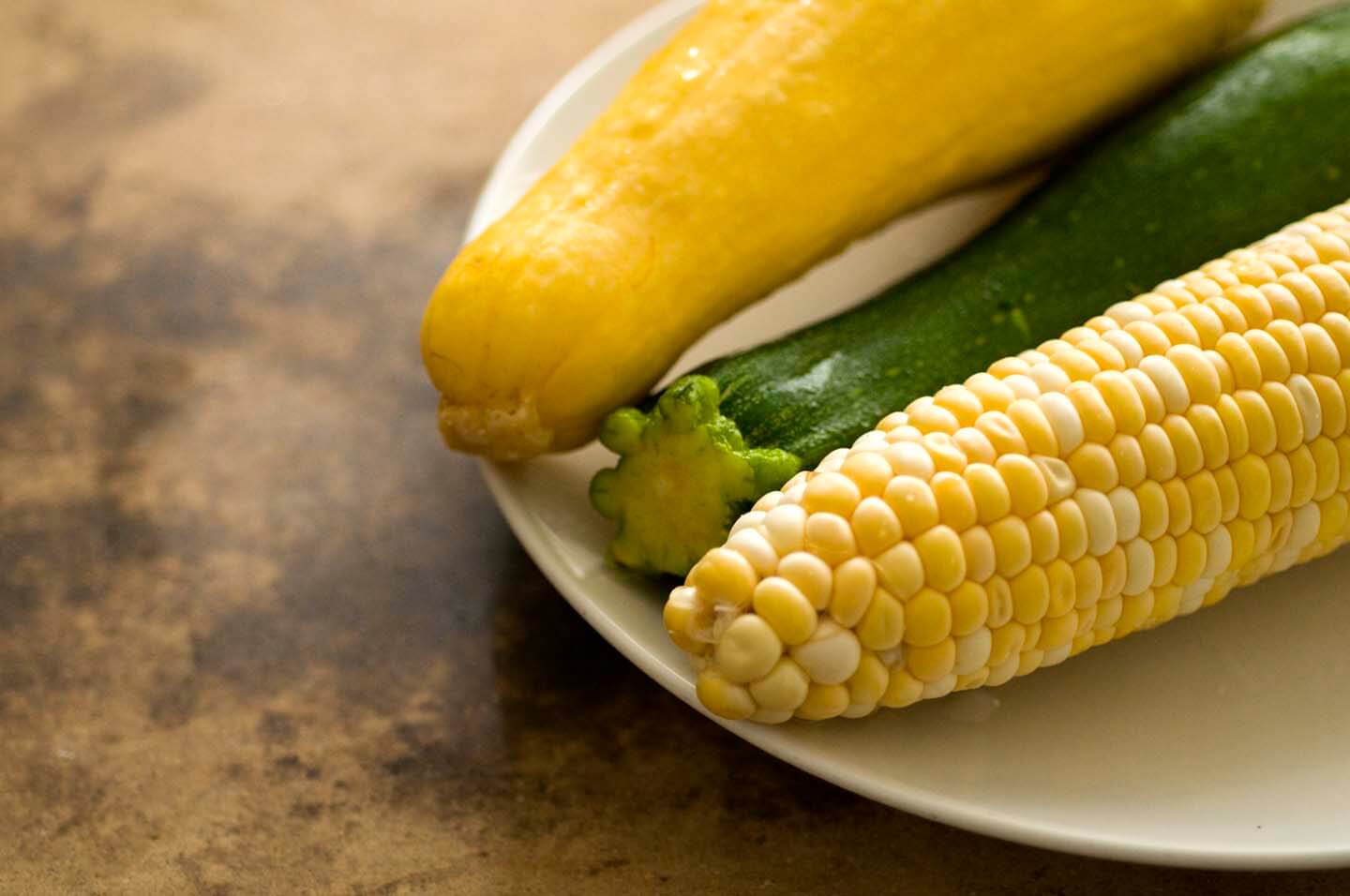 After it's ready, I take the squash and corn mixture and layer it onto a warm tortilla along with some crumbled Mexican chorizo for additional protein, though beans or bacon would work well, too. I top the squash with some creamy avocado slices, a handful of crumbled queso fresco, and a squirt of lime juice. A splash of fresh salsa is also welcome. Then I fold and eat, repeating as necessary. It's quick, healthy, and good.

Sure, squash tacos aren't something you see very often, but perhaps this should change. Not only is squash abundant and inexpensive, but it takes well to other taco-friendly ingredients such as chile peppers, avocados, cheese, and salsa. Plus it's a natural partner with corn tortillas, as both corn and squash often grow together.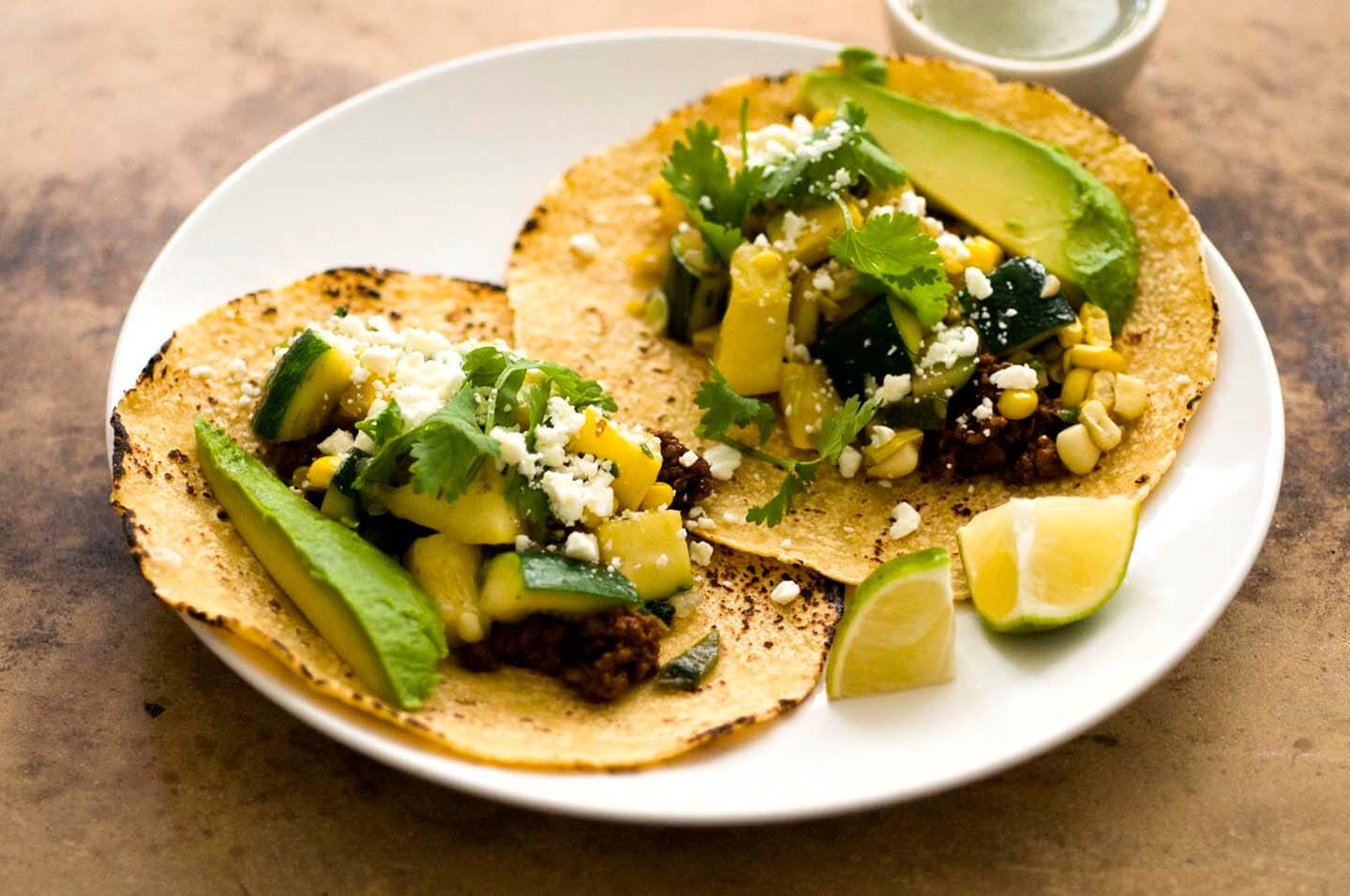 I don't have a summer garden, so my squash consumption is determined by what I buy at the market, but many of you deal with a daily bounty, much like my grandma used to do. So if you're scratching your head wondering what to do next, consider the squash, corn, and chorizo taco. Everyone that sits at your table will be glad that you did.
Summer squash, corn, and chorizo tacos
Ingredients
2

tablespoons

safflower oil

1/2

pound

Mexican chorizo, removed from its casing

1/2

medium yellow onion, diced

2

jalapeños, seeded and diced

4

cloves

garlic, minced

1

zucchini, diced

1

yellow summer squash, diced

1/2

cup

chopped cilantro

1/2

teaspoon

kosher salt

1/2

teaspoon

ground cumin

1/2

teaspoon

dried oregano

Pinch

cayenne

2

cups

fresh corn kernels

Corn or flour tortillas, for serving

1

avocado, pitted and sliced, for serving

Queso fresco, for serving

Sliced limes, for serving

Salsa, for serving
Instructions
In a 12-inch skillet, heat 1 tablespoon of the oil on medium-low heat. Add the chorizo and while occasionally stirring, cook for 7-10 minutes or until its internal temperature is 145°F.

With a slotted spatula, remove the chorizo from the skillet and place in a bowl or on a plate. Leaving the heat on medium low, add the remaining 1 tablespoon of oil and then add the onions and jalapeño. While occasionally stirring, cook until softened and fragrant, about 5 minutes. Add the garlic and cook for 30 more seconds.

Add to the skillet the zucchini, yellow summer squash, cilantro, salt, cumin, oregano, and cayenne. Stir until everything is well combined then cook until the squash is softened and just beginning to release some of its liquid, about 5 minutes. Stir in the corn and cook for another 2 minutes. Taste and adjust seasonings.

To assemble the tacos, place on warm tortillas the cooked chorizo and the squash and corn mixture. Top with avocado slices and queso fresco. Serve with limes and salsa for additional garnishing on the side.
Notes
The chorizo can easily be replaced by beans, bacon, or even eggs if you prefer.