This sweet potato cobbler is a little late. My plan had been to write about it back in June, as it's an adaption of Nathan Jean "Mama Sugar" Sanders' recipe, a wonderful woman who is renown for her annual Juneteenth celebration where this cobbler is served. But life and stuff got in the way, so I'm sharing it now.
I met Mama Sugar back in March, when Foodways Texas bestowed upon her a lifetime achievement award for her contribution to Texas food. Besides hosting her annual party, Mama Sugar is also a legend in the cowboy world, as she is the leader and cook for her trail-riding group The Sugar Shack Trailblazers. When they're out on the trail, Mama Sugar and her crew keep the trail riders well fed with her pancakes, stews, and barbecue. But the dish she is probably most famous for her is her sweet potato cobbler.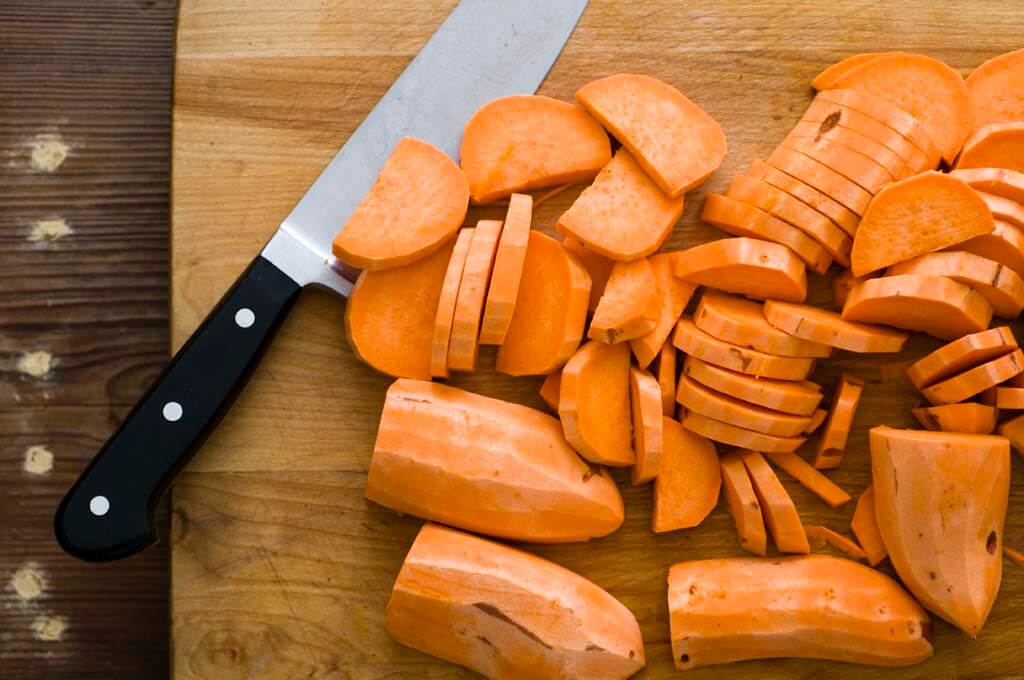 My first encounter with her version of the recipe was in a 2006 Gourmet article written by Robb Walsh. I wasn't familiar with the dessert and as a fan of sweet potato pie I was curious how a sweet potato cobbler might taste. That said, I clipped the article, filed it away, and never got around to making it. After the symposium, however, I was reminded that I needed to see what the fuss was about.
Sweet potato cobbler is an old-fashioned dish, and while I'm not exactly sure how long people have been making it, the earliest recorded recipe I could find was in "The Sunny Side Dessert Book," by S. T. Stone published in 1893. It's not particularly common, but through the years you do see recipes for it appear in cookbooks, along with references to it in literature, though I could not find any recipe for it in any newspaper food sections or popular magazines (the Gourmet article notwithstanding). So while it's clearly something people enjoy, it hasn't quite entered the popular Texan dessert canon as much as its cousin, sweet potato pie.
When I finally made the recipe, I made some changes to make do with what I had on hand. Her recipe calls for cane syrup, but I instead made a simple syrup with granulated sugar and brown sugar. I then goosed up my sweet potatoes with a few more spices, stirring in some nutmeg and vanilla, and I also added orange zest to both the filling and the biscuit crust to make the dish a little more bright.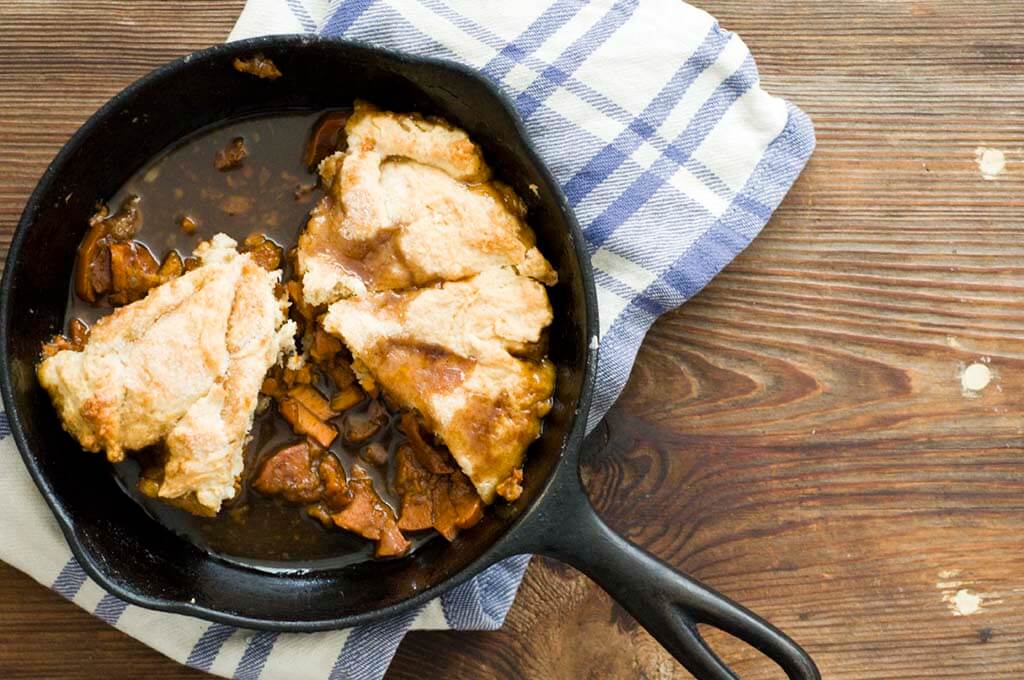 This is an outstanding cobbler. While sweet potato pie is a custard-based dessert, this dish is instead much like other fruit cobblers in that the sweet potatoes are sliced and left intact. As they simmer and then bake in the dark syrup, they yield into a sweet, tender filling that goes well with the soft biscuit crust.
If you love sweet potatoes, you will love this, too. Of course, it will make a fine addition to your Thanksgiving dessert table, though now that colder days are finally here, there's no reason to wait until then. And speaking from experience, it makes for an excellent breakfast as well.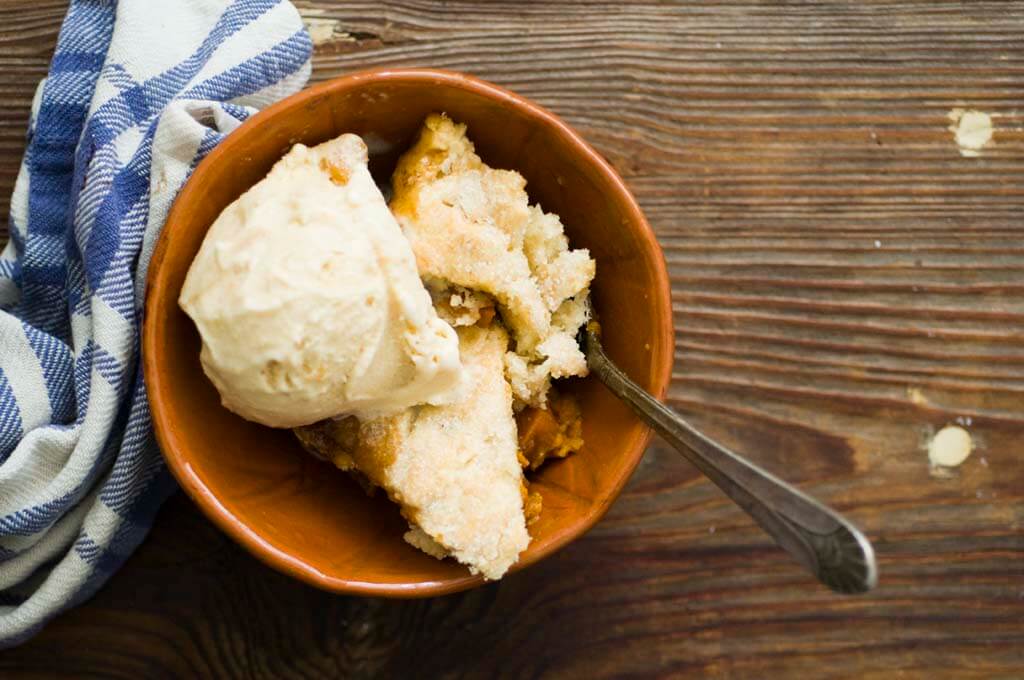 Now that I think about it, while a good cobbler is welcome at any time, I believe this cobbler's richness and warm spices make it more in tune with autumn than summer. So the wait has been worthwhile. But before you head into the kitchen to start slicing your sweet potatoes and rolling out your crust, I'd like to share with you some words of wisdom from Mama Sugar. When she spoke to us, she said: "Cooking is what you put into it, cooking is love." And that's the truth.
Sweet potato cobbler
Ingredients
Ingredients for the filling:
2

pounds

sweet potatoes

4

cups

water

1

cup

granulated sugar

1/2

cup

brown sugar

1

teaspoon

ground cinnamon

1/2

teaspoon

ground allspice

1/4

teaspoon

ground nutmeg

1/4

teaspoon

kosher salt

2

tablespoons

unsalted butter

1

teaspoon

pure vanilla extract

1

tablespoon

orange zest
Ingredients for the cobbler:
2

cups

all-purpose flour

3

tablespoons

granulated sugar, divided

1

tablespoon

baking powder

1

tablespoon

orange zest

3/4

teaspoon

kosher salt

4

tablespoons

cold unsalted butter, cut into 1/2-inch cubes

3/4

cup

buttermilk

Whipped cream or vanilla ice cream, for serving
Instructions
Peel the sweet potatoes and then cut in half lengthwise then slice into half-moon shapes, about 1/2-inch thick. Place the cut sweet potatoes into a pot large enough to hold them, along with the water, granulated sugar, brown sugar, cinnamon, allspice, nutmeg, salt, butter, vanilla extract, and orange zest. Bring the pot to a boil then turn the heat down to low and simmer until the sweet potatoes are tender but firm.

Lightly grease a 9×13 baking dish or a large cast-iron skillet. Once the potatoes are done, transfer them with a slotted spoon to the baking dish, leaving the liquid in the pot. Turn the heat on the pot to high, and boil the liquid until it's reduced by 1/2 and slightly thickened, about 15-20 minutes, while occasionally stirring. You should have about 1 cup.

Meanwhile, to make the dough, stir together the flour, 2 tablespoons of sugar, baking powder, orange zest, and salt. Work into the flour mixture the cold butter until it resembles peas. Pour in the buttermilk and stir until well combined.

Preheat the oven to 375°F.

Place the dough on a lightly floured surface. Knead it a couple of times and then it out until it's roughly a 9×13 inch rectangle or a 10-inch round circle, depending on whether you're baking the cobbler in a baking dish or skillet.

Evenly pour over the sweet potatoes the syrup and then place on top of the sweet potatoes the cobbler dough. Sprinkle over the dough the remaining 1 tablespoon of granulated sugar, and then cut into the dough several slits so steam can release. Bake uncovered for 30-35 minutes, or until the top is golden brown. Allow to cool for 20 minutes, then serve. Serve each slice topped with whipped cream or vanilla ice cream.