Tamale cornbread dressing
The first time I heard of tamales used as a stuffing was in Mary Faulk Koock's The Texas Cookbook, where she tells a story about a friend of hers in Amarillo who packs his turkey with dozens of tamales before throwing it on a grill and slathering it with barbecue sauce.
"Brilliant!" I said to myself. "I must try that!"
Of course, with no outdoor space I knew that my opportunities to grill a turkey were limited. But using tamales as a stuffing (or dressing, as we say down South), was very intriguing.
In my family, my uncle is on dressing duty every year so it's not a dish I've spent much time making or refining. But I couldn't stop thinking about incorporating tamales into the dressing, especially since tamales embrace some of the finer qualities of a dressing with their soft, steamed dough wrapped around a piquant, flavorful filling. And when you throw in some crumbled cornbread and roasted jalapeños, you've taken something traditional and elevated it to something unique.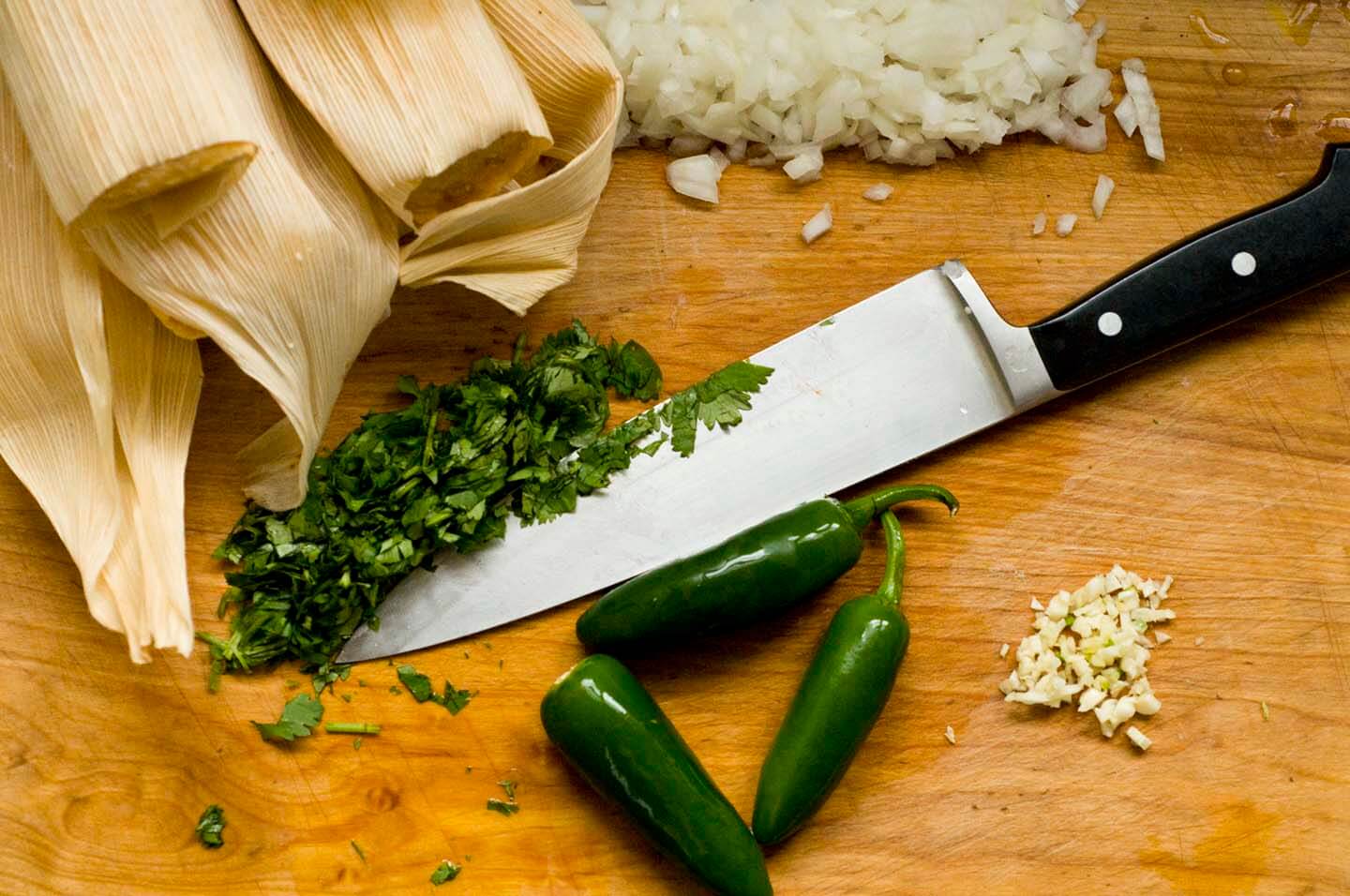 Even though I'll be celebrating Thanksgiving with my family at my grandma's farm, I'm a firm believer that feasting well and showing gratitude shouldn't just be limited to one day. It's for this reason my friends and I often get together and throw an early Thanksgiving dinner before we travel for the holiday. And when I learned I was on side-dish duty, I knew just what I would make.

A little poking around led me to a few recipes for tamale cornbread dressing. Interestingly, most of them hailed from Austin though I did find one from the Rio Grande Valley. After much thought, I decided to adapt an Austin Chronicle recipe that appealed to me because it had lots of cheese and corn. I also threw in some cilantro, cumin, and garlic for more flavor, and in a nod to my uncle's dressing I swapped out the poblano chiles for jalapeños, which added more fire and pop to each bite.
While I made mine with beef tamales, it would be just as good with pork, chicken, turkey or any other type of tamale that you prefer. This recipe makes enough to serve eight hungry people, though it can easily be doubled if you have a larger crowd.
If you love cornbread and tamales, this dressing is for you. Sure, it's special enough for the big feast, but I have a feeling it will be making more appearances in my kitchen during the colder months, especially if I have leftover cornbread I want to use. After all, as my uncle says, dressing is one of the ultimate comfort foods.
Tamale cornbread dressing
Ingredients
2

tablespoons

butter, divided

1/2

medium yellow onion, diced

2

cloves

garlic, minced

4

cups

crumbled cornbread (1/2 of a baked 10-inch skillet)

1/2

teaspoon

ground cumin

1/2

teaspoon

dried sage

1/4

cup

chopped cilantro

3

jalapeños, seeded and diced

1

cup

frozen corn kernels

4

ounces

pepper Jack, shredded (1 cup)

6

beef, pork, or chicken tamales, chopped

2

cups

turkey or chicken broth

Salt

Black pepper
Instructions
Preheat the oven to 350° F.

In a large cast-iron skillet, melt the butter on medium-low heat. Add the onions to the skillet and cook until translucent, about 5 minutes. Add the garlic and cook for 30 more seconds.

Once cooked, remove the skillet from the heat and transfer the cooked onions and garlic to a large bowl. Add to the large bowl the crumbled cornbread, cumin, sage, cilantro, corn kernels, diced jalapeños and pepper Jack cheese. Stir until well combined. Gently stir in the chopped tamales, and return the dressing to the skillet. (Alternatively, you can place the dressing in a greased 9×9 baking dish.)

Pour over the dressing the chicken broth and gently stir to combine. Adjust seasonings and add salt and pepper to taste. Cover the skillet with foil and bake for 45 minutes. Remove the foil and bake for 15 more minutes or until top is lightly browned and the edges are crisp.