Over the past few months, I've been spending time in Texas trying to figure out if I want to move back there, either on a permanent basis or at least part of the year. Most of my travels (and housing research) were spent between the Dallas-Fort Worth area and Houston, though I will say that those small Central Texas towns in between Houston and Austin hold much appeal, as well.
In any case, driving around Texas trying to figure out what to do with your life can make you hungry, so I often found myself eating multiple meals a day. Here are some of the highlights from my recent trips, which hit the Texas trifecta of Tex-Mex, barbecue, and chicken-fried steak.
It's no secret that I love Tex-Mex and that Herrera's Cafe on Sylvan in Dallas is one of my favorite spots. I've recently been flying into Dallas Love Field, which puts me all the closer to get my fix of crisp chips, satisfying salsa, and the fluffiest, creamiest sour cream chicken enchiladas around.
Another Dallas favorite is Mia's, home of legendary brisket tacos. The tender brisket nestled into tortillas with melted Monterey Jack and roasted strips of poblano chiles and onions are a classic. The restaurant's Loteria-inspired table cloths are also fun.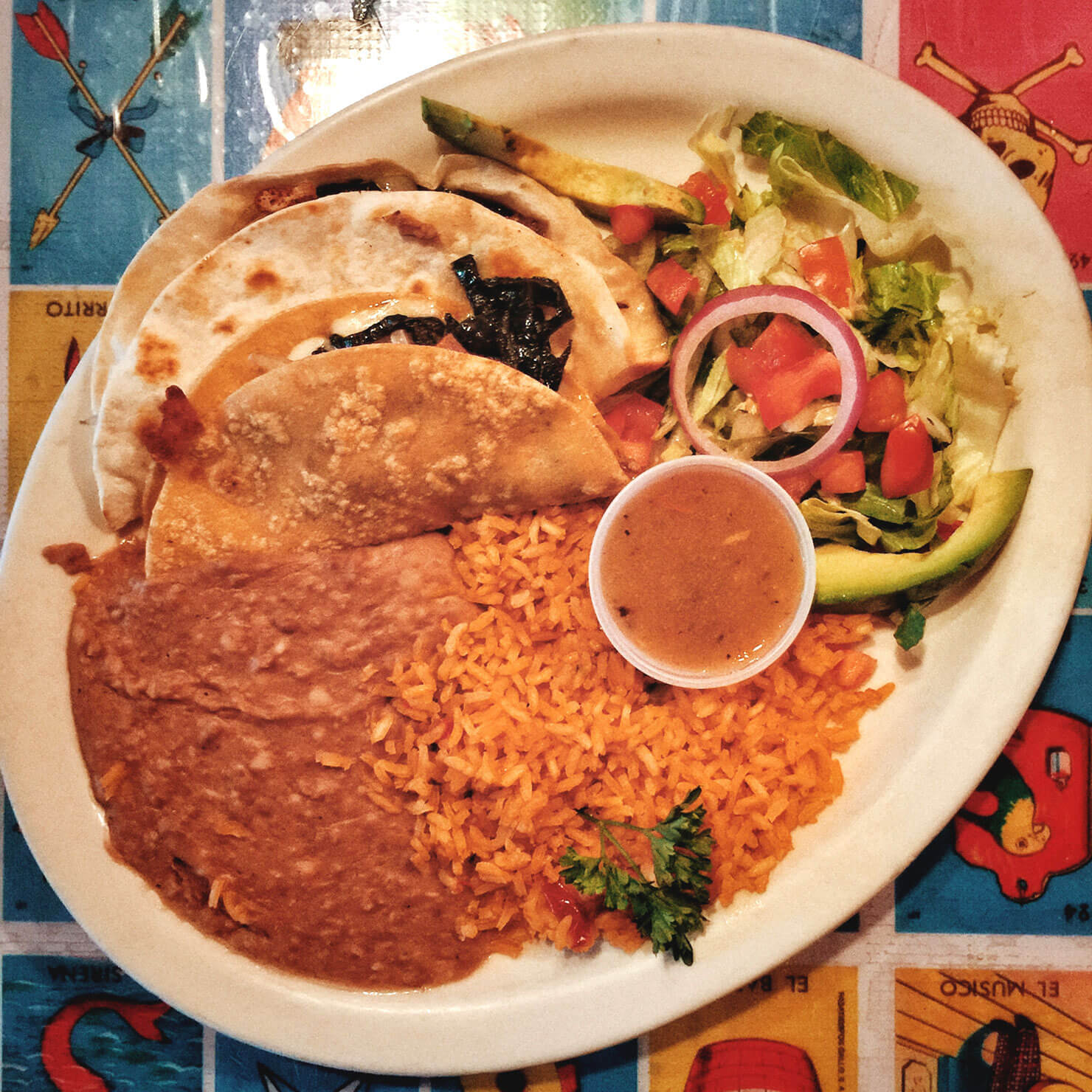 One day after visiting the Modern Art Museum of Fort Worth, I had a craving for barbecue. When I looked up nearby spots, Jesus Barbecue came up on the list. I loved the name and headed over there, only to learn that it's a Tex-Mex spot, too. So instead of smoked meats I ordered a cheese enchilada plate, which was oozing with long strings of molten cheese smothered in a soulful, earthy chili.
A trip to my mom's place in Cypress had me close to Tomball, home of one of my favorite barbecue spots Tejas Chocolate and Barbecue. A visit there means I'll load up on its regular items such as tender moist brisket and its sweet and savory carrot soufflé. But what makes the trip always fun is the rotating specials. One time I had a brisket poblano tortilla soup, which was outstanding. This visit I had a smoked barbacoa boudin sausage laced with cilantro, green onion, and lime. This Cajun-Tex-Mex-Barbecue mash-up felt so Houston to me.
For many years, I've been following Houston-native Ford Fry as he opened his Superica Tex-Mex restaurants in Atlanta. Homesick Texans from Georgia swear by his food and were always telling me I should visit. I still haven't made it to Atlanta yet, but was excited to hear he had recently opened a branch in the Houston Heights. On my visit, the sturdy yet thin salty tortilla chips, along with his take on the classic Houston-style green and red salsas may have been my favorite items, but the pork-rich refried beans, tender steak, queso, and rich enchiladas were excellent, too.
One afternoon, two Houston friends and I decided to indulge in Mexican seafood at Caracol. We ordered almost half the menu, and I was so excited to try everything that I didn't take many pictures. For instance, the chicharrón de calamar, crispy fried squid in a Serrano and garlic coating was so addictive that it was gone in seconds. But also recommended were these smoky and juicy wood-roasted oysters covered in Parmesan cheese, chipotle butter, and toasted bread crumbs.
Driving around the beautiful countryside in Grimes County one day, I passed a sign for a spot called Cow Talk Steak House. Delighted by both the name and the graphic, I stopped in to see what was on offer. There was a large selection of steaks on the menu, of course. But I opted for that day's steam-table lunch special, which included chicken-fried steak, chicken spaghetti, a combination of vegetables such as mashed potatoes and green beans, hot rolls, cold salad, and slices of homemade German chocolate cake and banana cake. All of it tasted like it was homemade and had been made with love. I can't wait to return.
Along with red and green salsas and fajitas, Houston's Tex-Mex is marked by the prevalence of puffed queso tostadas. One day I had lunch at El Tiempo, where I ordered my favorite combo, the fajita and cheese stuffed avocado served with a taco al carbon. While this plate didn't arrive with a queso tostada, when I asked for one they were happy to oblige.
On another trip out of Love Field, I stopped at Mockingbird Diner across the street. The chicken-fried steak sandwich on a homemade roll was tender and juicy, and the green beans larded with thick pieces of bacon were equally good.
Of course, I didn't always eat in restaurants and on my final night in Texas, I stayed at my grandma's farm. My uncle made the family a chili enchilada casserole layered with homemade chili, cheese, tortillas, and onions, which went well with salad, carrots, and a big bowl of guacamole.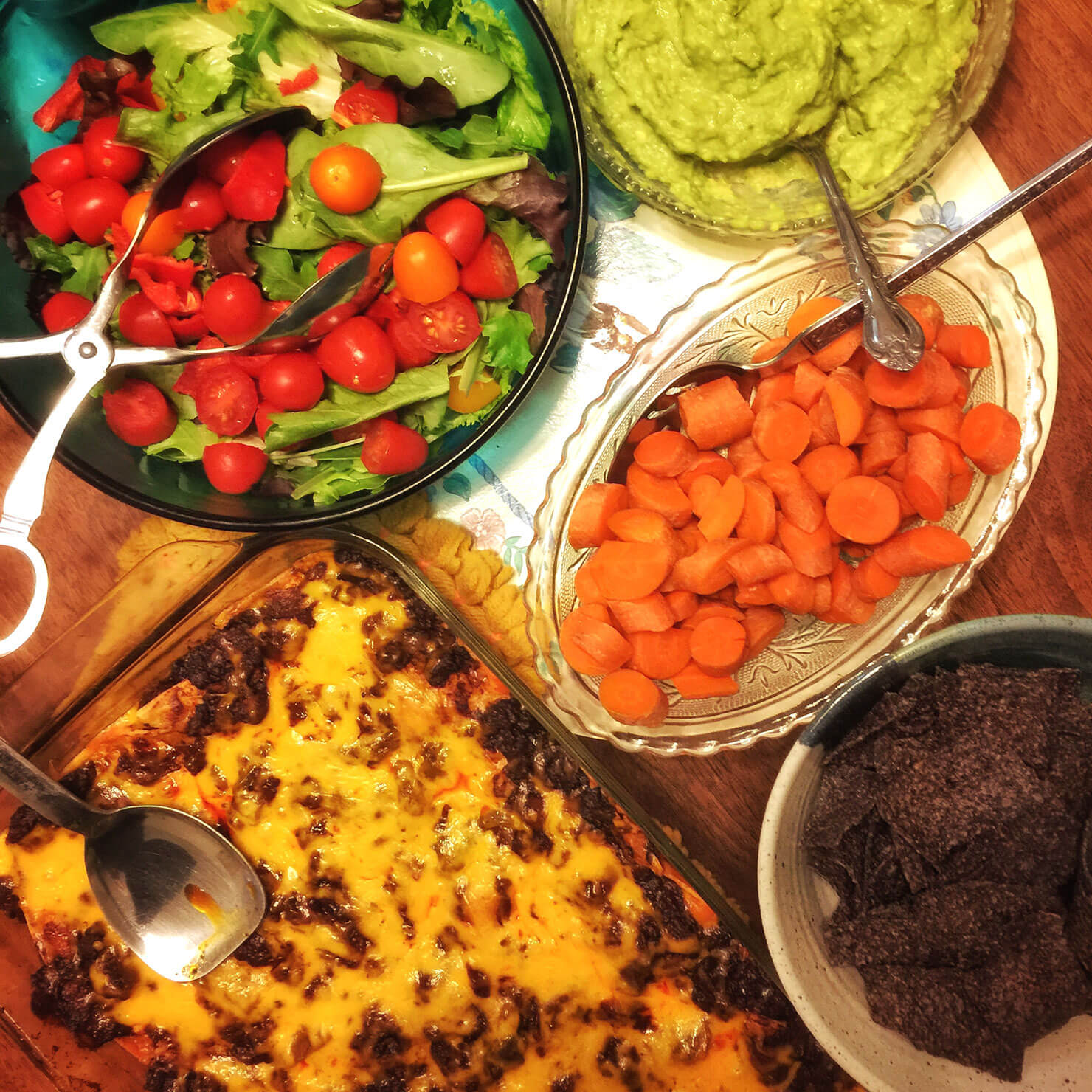 This was Texas home cooking at its finest and a perfect finish to my inspiring and revitalizing trips. I can't wait to return soon!