"I have four words for you," said a friend. "Tex-Mex fried pie!"
"Isn't that three words?" I said.
"Whatever," he said. "But have you had one?" I replied that I had not. "You should," he said. He then went on to explain that a Tex-Mex fried pie was like a regular fried pie, but was filled with meat and beans instead of fruit. I asked if the crust was made with masa and he said, nope—it was a regular piecrust. "If you love bean and cheese tacos, you'll love this," he said.
And that was that—I was intrigued.
Now, I'm no stranger to making fried pies but I was still curious to see what sort of recipes existed for this savory delicacy. So imagine my surprise when the first one I found appeared in Yankee Magazine. Yes, I said Yankee. And it was strange.
The filling was a mix of ground beef, bell peppers and crushed potato chips. Now, I could understand, maybe, crushed tortilla chips. But potato chips just seemed odd in a recipe described as "Tex-Mex."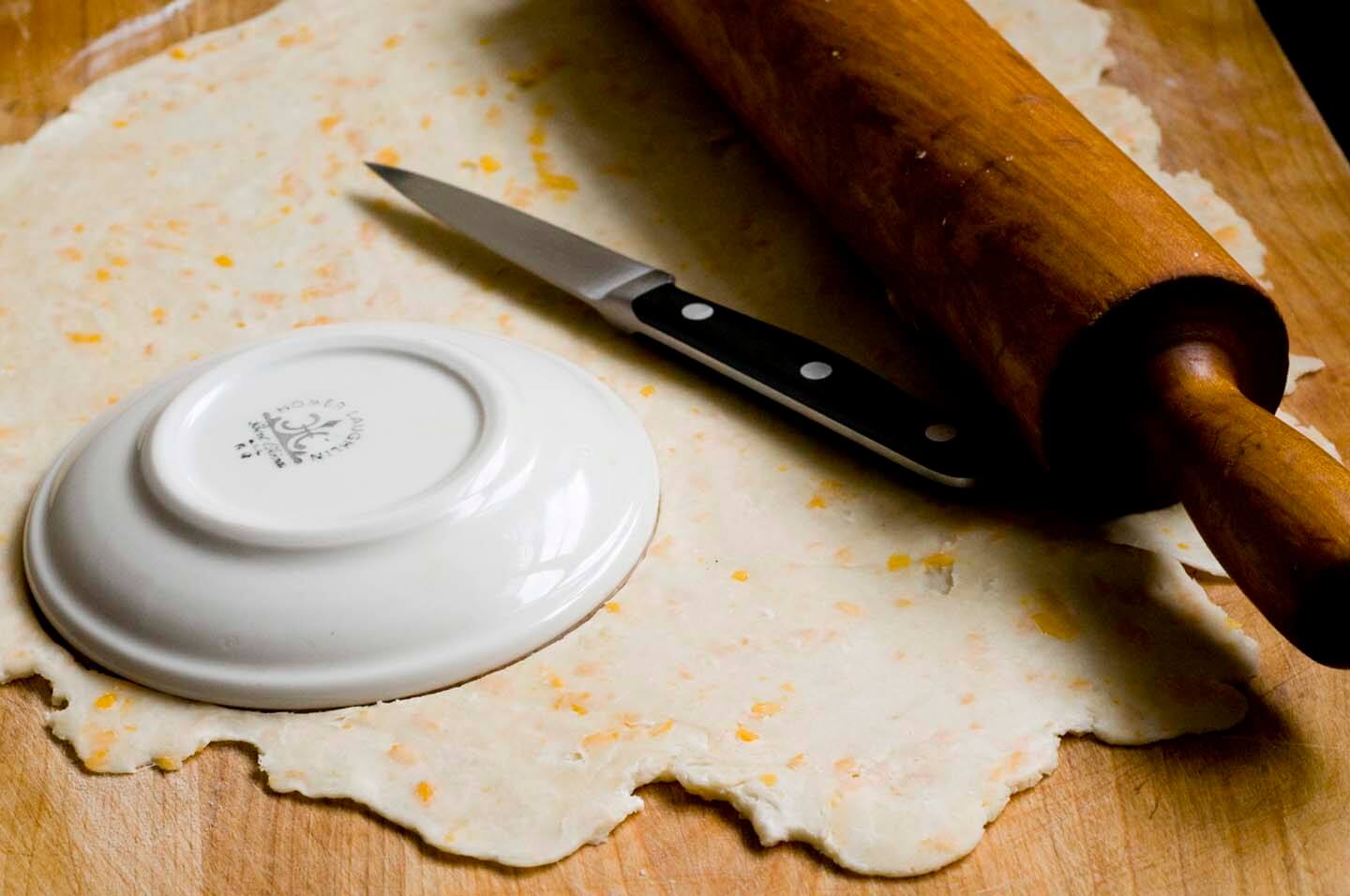 What was even more odd was that further research revealed that the genesis of that recipe was actually Texan, as it had come from someone at the State Fair—the center of the universe for all things fried. That said, despite its provenance, without much spice or any jalapeños it still seemed bland so I decided to just make up my own.
One thing I did like about the recipe was there was some cheese added to the crust. I kept that idea, but I completely changed the filling. For mine, I went with spicy Mexican chorizo instead of ground beef, and of course I added refried beans. And for heat, I threw in some diced jalapeños and then finished it with cheddar cheese.
The filling was rich and addictive, the sort of thing that goes well with a handful of tortilla chips, a fluffy flour tortilla or yes, a fried piecrust. And once I fried up a batch and took my first bite, I knew just what my friend had been talking about—these Tex-Mex fried pies were indeed very good. (Some of you may be asking, what's the difference between these and an empanada? Not much, I admit, as both are pastries stuffed with a filling. Though for my empanadas, I use a different crust and I always bake them.)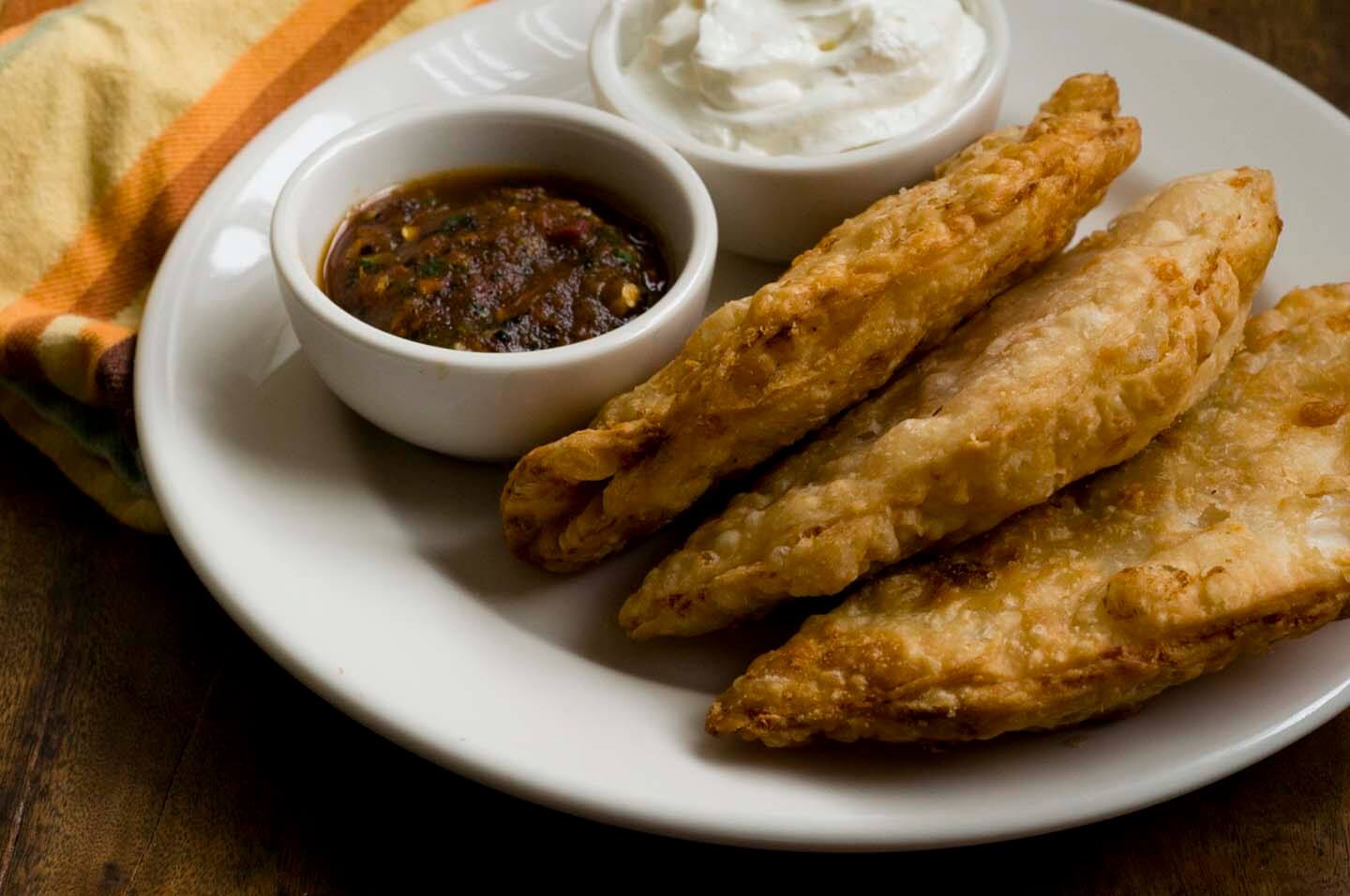 You can eat them on their own, but they're also terrific dipped into roasted salsa and sour cream. They make for a fine appetizer, a light lunch or an afternoon snack. And because they're portable, when I head to Texas next week for my book tour, I'll pack some with me for the plane trip, too.
Tex-Mex fried pies
Ingredients
Ingredients for the crust:
2

cups

all-purpose flour

1/2

teaspoon

kosher salt

4

ounces

(1 cup) Cheddar cheese, grated

1/2

cup

lard, chilled

1/4

cup

cold water
Ingredients for the filling:
1

tablespoon

bacon grease or vegetable oil

1/4

medium yellow onion, diced

1/2

pound

Mexican chorizo

2

cups

refried beans or 1 (15-ounce) can

2

jalapeños, seeded and diced

6

ounces

(3/4 cup) Cheddar cheese, shredded
Ingredients for the pies:
Vegetable oil for frying

Salsa and sour cream for serving
Instructions
To make the crust, mix together the flour, salt, and Cheddar cheese. Add the lard, either with a fork, your hands or a pastry cutter. When the flour is clumped together, slowly add the cold water, a tablespoon at a time, until the dough is moist enough to come together. Form the dough into a ball, then wrap and place the dough in the refrigerator to chill for at least an hour.

To make the filling, heat up the oil in a large skillet on medium-low. Add the onions and cook until soft, about 5 minutes. Remove the Mexican chorizo from the casing (if homemade and already loose, you can skip this step) and add to the skillet along with the diced jalapeños. Cook until chorizo is lightly browned, about 5 minutes. Stir in the refried beans and cook until heated. Turn off the heat and stir in the cheese.

To make the fried pies, roll out the chilled curst until it's no more than 1/8 of an inch thick. Cut out 4-inch diameter circles. Roll out any leftover scraps and continue to cut out 3-inch circles until all the dough has been used. You should have about 12.

Place 2 tablespoons of filling in the center of each crust. Moisten the edges and fold the edge over, sealing the edges with your fingers and then press down on the edges with a fork. (If there's any filling left over, save it for tacos or use as a dip.)

In a cast-iron skillet, heat 1 inch of oil to 350° F. With a spatula, gently place 2 or 3 pies into the hot oil, cooking for about a minute on each side or until lightly browned. Drain cooked pies on a rack or a paper-towel-lined plate. Repeat for the remaining pies.

Serve warm with salsa, sour cream, or just by themselves.