Back when I first lived in New York, finding black-eyed peas was a challenge. While I do enjoy them year-round, it was around New Year's Day that I became most concerned about their elusive nature.
One of the first posts I published on this site described these struggles, and as was common back in the day, I included two recipes. While there's nothing wrong with sharing more than one recipe, in my opinion, the search engines feel differently, so I've decided to take the Texas caviar recipe that was on that post and give it its own home.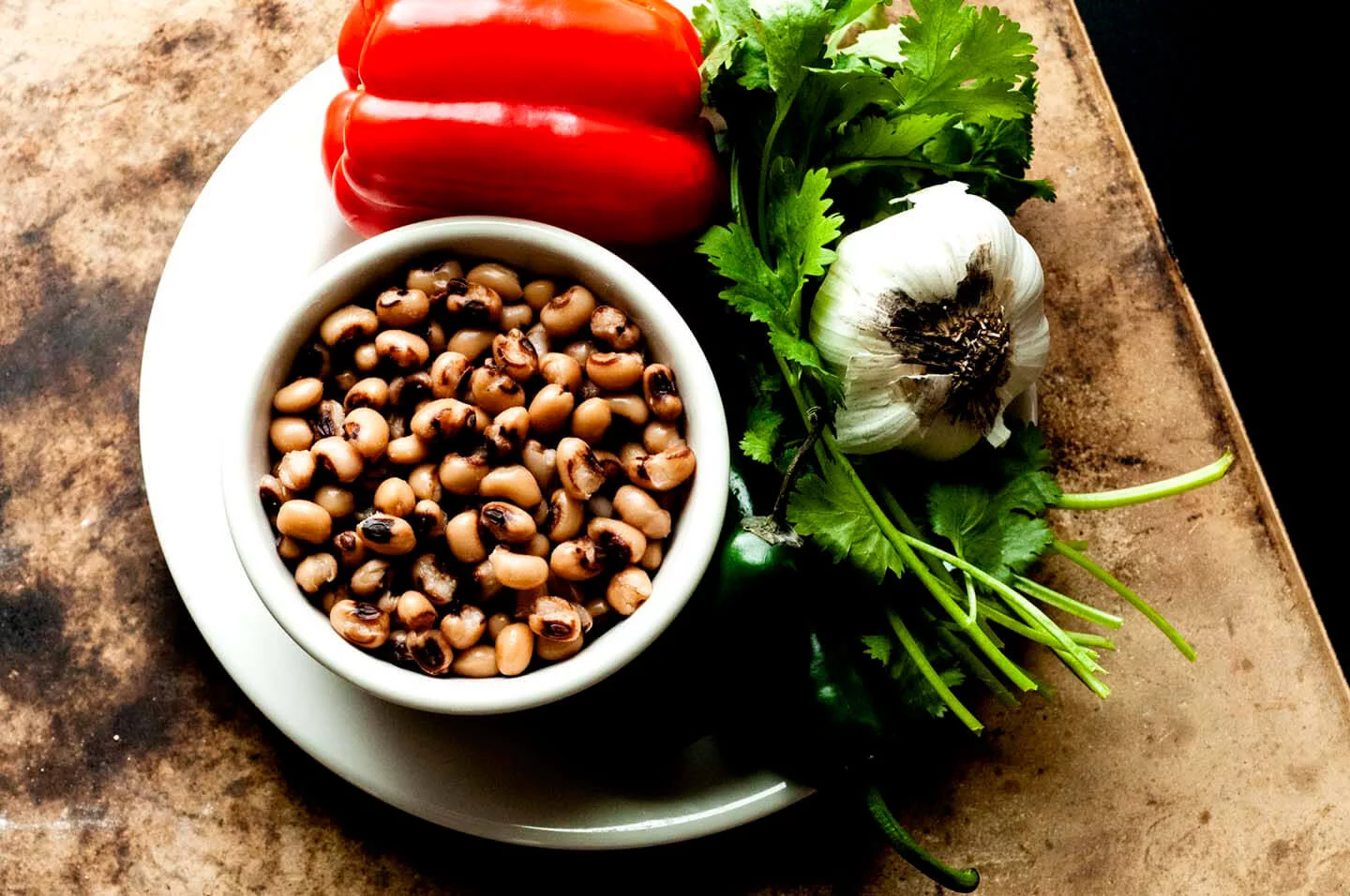 The initial Texas caviar recipe I posted isn't even one that I make any longer, as I've made adjustments to my method over the years. Ironically, the original recipe I used came from a New York restaurant. But as I've evolved in my cooking, the recipe has grown with me, so I share the version I prepare now with you.
Texas caviar has been served in Texas since the 1950s. The recipe was developed by Helen Corbitt, the New York chef who moved to Texas and spent most of her career as the culinary director at luxury department store Neiman Marcus.
When she moved to Texas, she learned that black-eyed peas were a New Year's Day mainstay to ensure prosperity. She told the Syracuse Herald Journal in 1958, "They told me a good Texan eats them whether he likes them or not. And I didn't like them either."
To make them more palatable, she mixed the black-eyed peas with slivers of onions, garlic cloves, and a vinaigrette dressing. Here is her original version, which she called "pickled black-eyed peas."
Her creation went from being known as pickled peas to Texas caviar around the time her first cookbook was published in 1957. Why is it called Texas caviar? Most likely to elevate the humble pea and make it sound fancy enough to be sold in Neiman's.
Over the years, her recipe has been adapted and has evolved by many, with additions such as green bell peppers, jalapeño peppers, tomatoes, avocado, hominy, spices, and fresh corn. Sometimes, other beans are used instead, such as pinto beans, black beans, or garbanzos. Lime juice, such as in this version, often replaces the vinegar. It has also been called cowboy caviar.
For those who were familiar with the old recipe on this site, I've taken away the Worcestershire and now use red bell peppers instead of yellow as the red ones are easier to find. I swapped red onions for green onions, use grape tomatoes instead of canned ones, and added a hit of ground cumin for its earthy flavor, as well.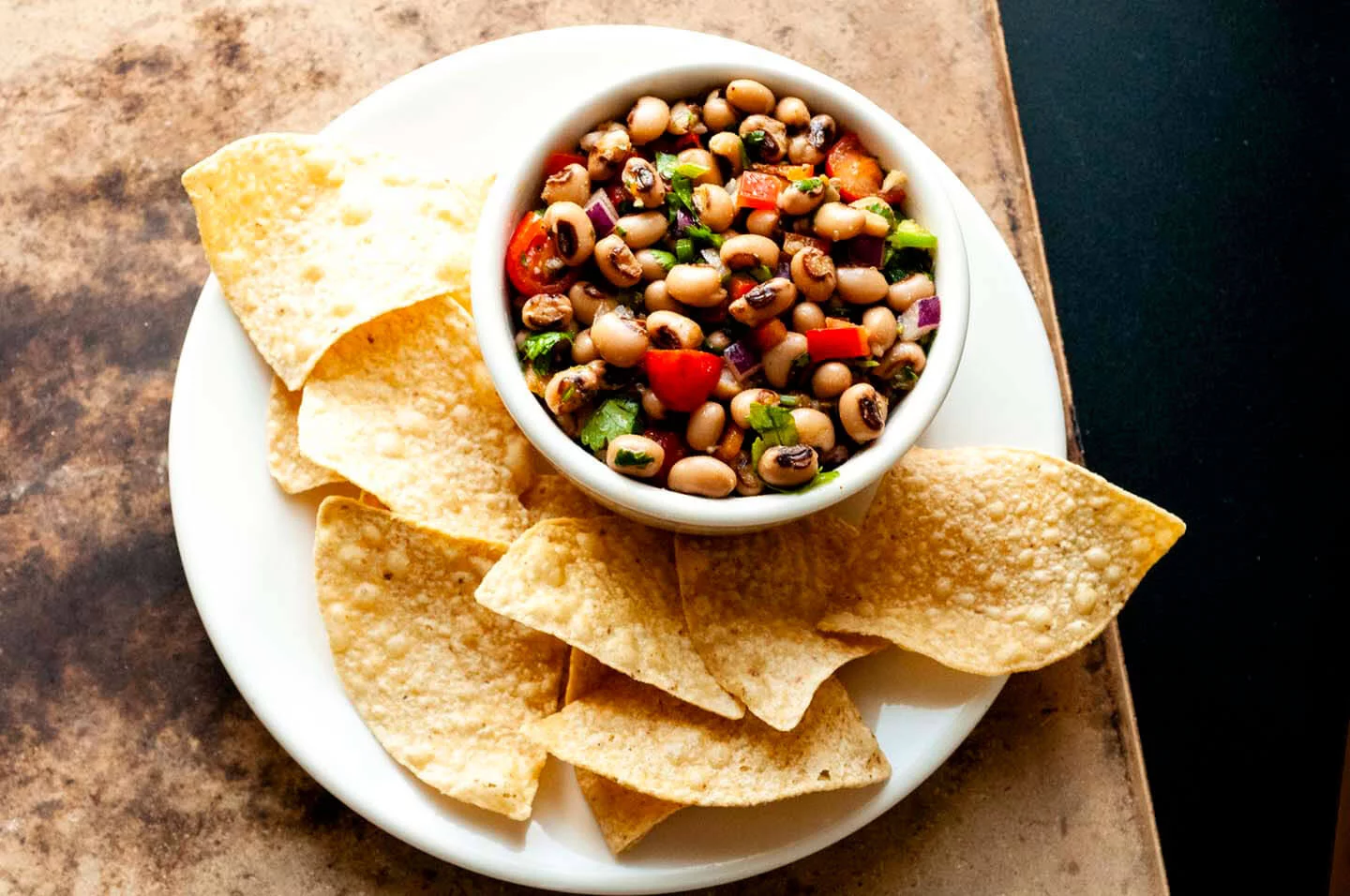 The result is a refreshing dip, appetizer, or side dish that pairs well with barbecue, burgers, tortilla chips, or even queso. It's both vegan and gluten free and also high in protein, making it a healthy snack.
And while it's welcome on New Year's Day for that boost of good fortune, I find that it makes a fine accompaniment all year round.
—————
Would you like more Homesick Texan? Well, I've started offering additional recipes for paid subscribers to help with the costs of running the site. While I'm not taking anything away, if you'd like to support Homesick Texan and have access to exclusive, never-seen-before subscriber-only posts, please consider becoming a member; annual subscriptions are as low as $25. Thank you for reading, your consideration, and your support!
—————
Texas caviar
Ingredients
4

cups

cooked black-eyed peas (or 2 (15-ounce) cans), drained and rinsed of all juice

1/2

cup

diced red onion

2

cloves

fresh garlic, minced

1

cup

diced grape tomatoes

2

jalapeño chiles, seeded and diced

1

red bell pepper, seeds and stem removed, diced

1/2

cup

cilantro, chopped

2

tablespoons

olive oil

2

tablespoons

lime juice

1

teaspoon

ground cumin

1/4

teaspoon

cayenne

Salt

Black pepper
Instructions
In a large bowl, stir together the black-eyed peas, red onion, garlic, grape tomatoes, jalapeño, red bell pepper, cilantro, olive oil, lime juice, cumin, and cayenne until well combined. Taste and adjust seasonings, adding salt and black pepper to taste.

Chill for 4 hours. Serve cold either as a side salad or dip. Will keep in the refrigerator for 3 days.