Texas pulled pork with coffee-chipotle barbecue sauce
We don't often eat pulled pork in Texas. This isn't to say that pulled pork isn't delicious, but when you go to a Texas barbecue joint you order beef—be it brisket, shoulder, sausage or ribs. And if you do see pulled pork at a Texas barbecue joint you might inquire about the provenance of the pit master as pulled pork is just not found in our usual repertoire of smoked meat.
Yep, Texas is cow country and that's why our barbecue is based on beef. But we certainly do eat pork—tender pork ribs are always on a barbecue menu; crisp, succulent carnitas fill countless tacos and a bowl of slow-simmered fiery red posole is a fine way to welcome in the New Year.
So why is pulled pork less available?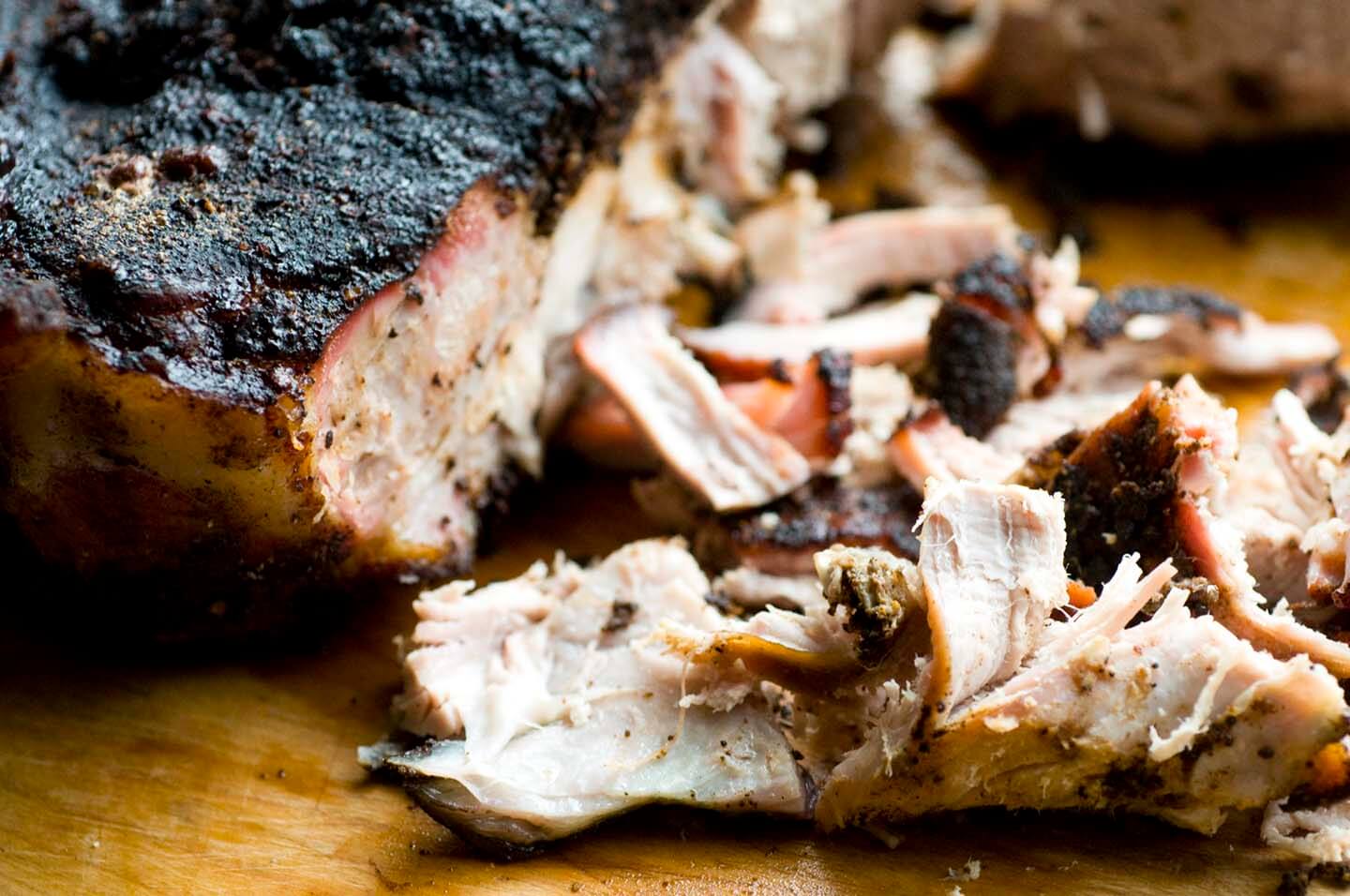 I don't know the answer to this question. And while my first barbecue love will always be moist brisket piled high with pickles and onions, having traveled to other barbecue regions in the South that showcase the pig, I have come to appreciate a pulled pork sandwich. How could you not enjoy tender strands of lightly sauced meat that's been topped with cole slaw and stuffed into a bun? It's a fine sandwich indeed.
So, if Texas barbecue joints did have a pulled-pork tradition, how would it taste? I decided to do some experiments. Now, please keep in mind that I'm working with an oven and no smoke so this isn't true barbecue. But I have discovered that when you cook meat in a coffee rub with plenty of chipotle powder and smoked paprika for heat and smoke, if you close your eyes you just might swear you're in Texas. I decided to apply this rub to a bone-in pork shoulder in an attempt to make a pile of Texas pulled pork.
Much consultation led me to the conclusion that the best way to cook pulled pork in an oven was to cook it dry at a low temperature for a long time. I was dubious at first, but there's so much fat in a pork shoulder that it keeps the meat moist. And the lack of extra liquid insures that that you'll get a nice bark, which is fun to chop up and mix in with the juicy soft strands of meat.
I usually eschew sauce with my barbecue, but I thought a smoky chipotle sauce brightened with a bit of lime would enhance the flavor of the meat. (Note that many barbecue places in the South—namely Eastern North Carolina—simply toss their pulled pork with apple cider vinegar and chili flakes—this is tasty as well.) Tangy cole slaw and homemade buns completed the meal.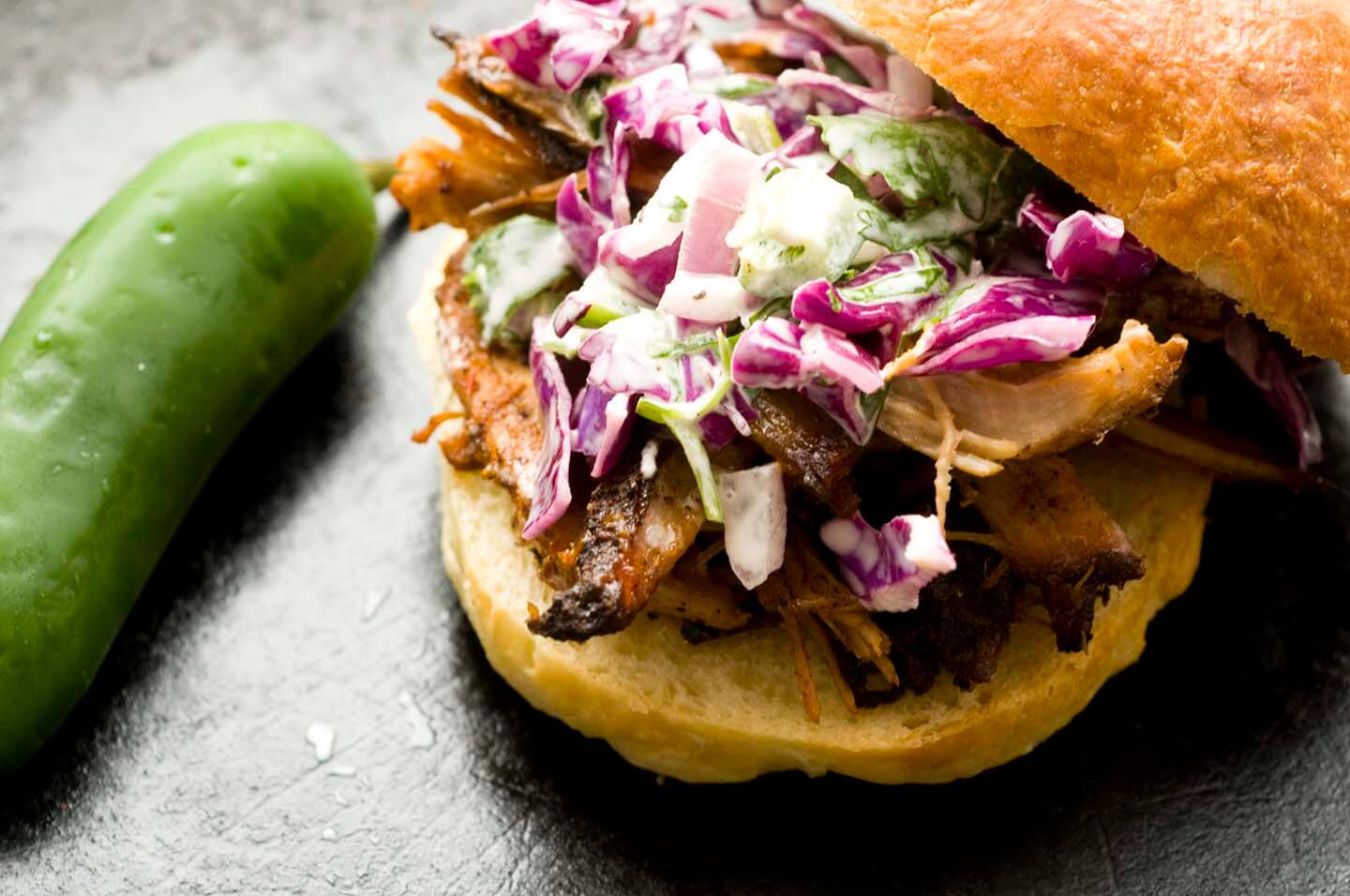 Will Texas barbecue joints ever embrace pulled pork? I don't know the answer to that question, but I reckon probably not—we are beefeaters after all. But if you do get a hankering for pulled pork with the flavors of Texas, this is a good place to start.
—————
Would you like more Homesick Texan? Well, I've started offering additional recipes for paid subscribers to help with the costs of running the site. While I'm not taking anything away, if you'd like to support Homesick Texan and have access to exclusive, never-seen-before subscriber-only posts, please consider becoming a member; annual subscriptions are as low as $25. Thank you for reading, your consideration, and your support!
—————

Texas pulled pork with coffee-chipotle barbecue sauce
Ingredients
For the coffee-chipotle rub:
1/2

cup

brown sugar

1/4

cup

black pepper

1/4

cup

finely ground dark coffee

1/4

cup

smoked paprika

2

tablespoons

kosher salt

1

tablespoon

chipotle powder

2

teaspoons

granulated garlic

2

teaspoons

cinnamon

2

teaspoons

cumin

2

teaspoons

allspice
For the pulled pork:
1

(4-pound)

bone-in pork shoulder
For the chipotle-coffee barbecue sauce:
1

teaspoon

canola oil

1/2

half a medium onion, chopped

4

cloves

garlic, minced

2

cups

ketchup

1/4

cup

yellow mustard

1/4

cup

molasses

1/2

cup

chopped cilantro

1/4

cup

brewed coffee

2

canned chipotles chiles, chopped

2

teaspoons

Worcestershire sauce

1/4

cup

lime juice

Salt

Black pepper
Instructions
To make the coffee-chipotle rub, combine the brown sugar, black pepper, finely ground dark coffee, smoked paprika, salt, chipotle powder, granulated garlic, cinnamon, cumin, and allspice.

Take the pork and coat on all sides with the coffee-chipotle rub. Wrap pork in plastic, place on sheet or large plate and refrigerate for 8 hours.

Take the pork out of the refrigerator and let it come to room temperature, about half an hour. Preheat the oven to 250° F.

Place pork in a lightly oiled (either a few squirts of spray oil or about 1 teaspoon of canola oil) roasting pan or dutch oven and cook uncovered, fat side up 8 hours or about two hours a pound.

To make the chipotle-coffee barbecue sauce, heat the oil in a saucepot on medium and cook the onions for 10 minutes or until translucent. Add the garlic and cook for another minute. Add the ketchup, mustard, molasses, cilantro, coffee, chipotle chiles, Worcestershire sauce, and lime juice. Turn down the heat to low and cook for half an hour, stirring occasionally. Transfer the sauce and puree until smooth. Taste and add salt and black pepper. The sauce will keep in the refrigerator for 2 weeks.

After the pork has cooked, remove the meat from oven and let it sit for an hour. Do not be alarmed by how black it is–it's not burnt that's bark that's been formed by the coffee rub. Pull meat into strands and toss with as much or as little sauce as you prefer. (I like to do it with 1 cup and then serve the extra on the side.) And be sure and chop some of the bark and mix it with the tender interior meat.