One of my favorite guilty pleasures when I was in preschool was ketchup on biscuits. I'm not sure how I got into the habit of doing this, but a bit of that old, strange love lingers on today when I eat barbecue: I won't put sauce on the meat but I'll dip those soft, spongy slices of white bread in a bucket of a tomato-based sauce if given the chance.
I realize this isn't the most sophisticated thing to eat, heck, some of y'all might even say it's downright gross. Well, fortunately, a reader asked me if I had a recipe for tomato jam. Now, I'd never eaten tomato jam but I'd certainly heard of it. I even have a T-shirt from the Tomato Jam café in Asheville, North Carolina that my mom sent to me. (I haven't been to Asheville but I hear it's the Austin of North Carolina, which means it's probably a very cool place.) So when this reader asked me for a recipe, I told her I'd get right on it.
First, I checked my old recipe files to see if any of my grandmas and great-grandmas had directions on how proper tomato jam was done. They didn't. So before I came up with one, I asked the reader what exactly tomato jam was supposed to taste like. She said it was a wonderful mix of sweet and savory; she ate it on her biscuits while her grandpa spread it on his rye toast.
A sweet and savory tomato spread that isn't ketchup? I was curious. I started thinking about how I would make my jam, and decided I'd do my usual citrus, sugar and spice blend as I do with my apricot jam.
A little research led me to Mark Bittman's recipe in the New York Times where he had the same idea. I followed his approach with a few modifications and, I must admit, this tomato jam was curious. It looked like a cross between strawberry jam and ketchup. Which seemed odd. But once it cooled a bit and I could really taste it, I was hooked.
Tomato jam is indeed sweet, spicy and savory and, because I'm Texan, I also make it a little bit fiery. It's like a more sophisticated ketchup, though it could certainly pose as a fruit spread as well. (Though I'm not sure if tomato jam is quite ready to be paired with peanut butter.)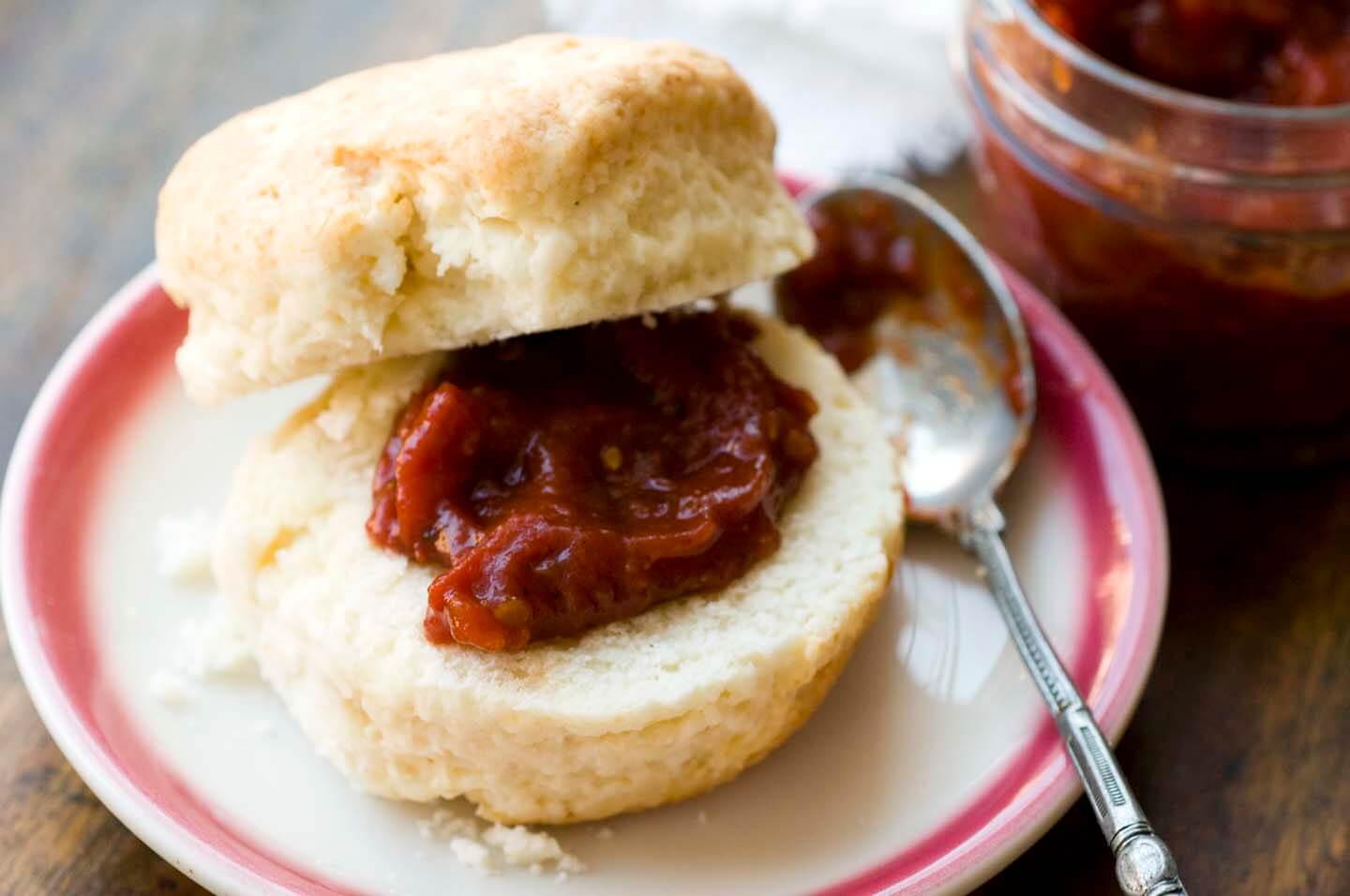 Spreading it on my biscuit, I was a kid again dipping my biscuits into ketchup. But this time it was not only socially acceptable but a heck of a lot more sophisticated and delicious as well. I'm now a fan of tomato jam and I think it's splendid on burgers, grilled cheese sandwiches, eggs and, of course, biscuits as well. And if you try it, perhaps you'll find it splendid, too.
Do you eat tomato jam? What do you like to do with it?
Tomato jam
Ingredients
1

pound

Roma tomatoes, chopped and cored

1/2

cup

sugar

2

tablespoons

lime juice

2

teaspoons

lime zest

1/4

teaspoon

ground cinnamon

1/4

teaspoon

allspice

1/2

teaspoon

cumin

1/2

teaspoon

sea salt

1/2

teaspoon

ground black pepper

1

or 2 dried chiles de arbol, crumbled

Pinch

of chipotle powder
Instructions
Combine all the ingredients in a pan, bring to a boil and then simmer, stirring often until tomatoes have dissolved and jam is thick and glossy, about 45 minutes. Pack jam into a sterilized container. Keeps in the refrigerator for 2 weeks.
Notes
Variations on this could be made by adding chopped jalapeños, chopped cooked bacon or I've even heard of people stirring in a bit of bourbon. And if you thinking this is close to chipotle ketchup, it is, though that has a few different spices and vinegar to give it that familiar tang.