My latest book, Queso, is now published and is available wherever books are sold, such as one of these fine establishments.
Amazon
Barnes & Noble
Indiebound
A fun, full-color look at everyone's favorite cheese dip, with history, tips, facts, and 50 recipes from beloved food blogger Lisa Fain, "the Homesick Texan."

Queso (aka chile con queso) is a spicy, cheesy, comforting cult favorite that has long been a delicious addition to any party, barbecue, or family gathering. This appealing and accessible book features a mix of down-home standards and contemporary updates, from historical, regional, and Mexican quesos to vegan and dessert quesos, including Chile Verde Con Queso, Squash Blossom Queso Fundido, Fajita Queso, Cactus and Corn Queso Poblano, Frito Salad with Queso Dressing, Pulled Pork Queso Blanco, and Sausage Queso Biscuits. Whether you're relaxing with friends, having a few people over to watch the football game, or entertaining a hungry crowd, queso is the perfect party food for good times.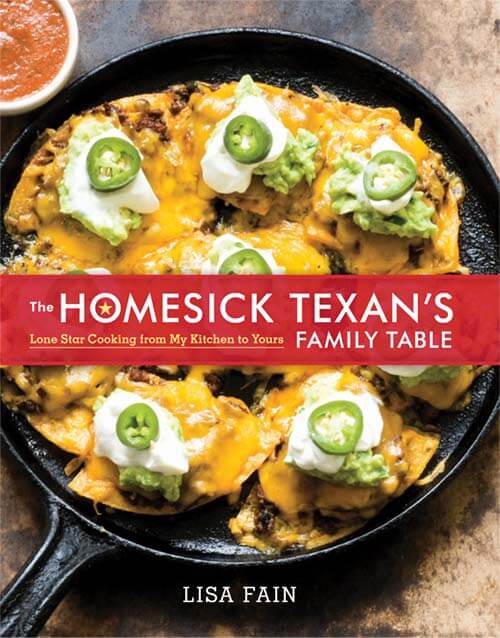 The Homesick Texan's Family Table
My new book, The Homesick Texan's Family Table is now published and is available wherever books are sold, such as one of these these fine establishments:
Amazon
Barnes & Noble
Indiebound
Powell's
Books-a-Million
The Homesick Texan's Family Table is about making memories at the table with those that we love. Whether your feeding your family or welcoming a crowd, staying at home or heading to a gathering, there are over 125 recipes to share with your family and friends. And, of course, there are plenty of stories and full-color photos of both delicious food and the beautiful state of Texas.
Praise for The Homesick Texan's Family Table:
"She had us at potluck! The fact that Lisa Fain says her most memorable meal was a family potluck warms our heart. We share with her a mutual desire to get people back around the table, since enjoying a meal with family and friends really is the best way to create lasting memories. Lisa invites you in with stories of her family and their connection to the recipes, and her warm, personal writing envelops you like a comforting blanket."
—Crystal Cook and Sandy Pollock, authors of The Casserole Queens Cookbook
"Lisa Fain's new book, The Homesick Texan's Family Table, takes readers back to the origins of her inspiration—the family celebrations and community gatherings where platters of enchiladas, bowls of ranch-style beans, and great conversations combine to create lasting memories. It's a magical place that's changed the way we entertain—bring on the chiles, the masa, the chorizo!"
—Matt Lee and Ted Lee authors of the Lee Bros. Charleston Kitchen
"Who doesn't want to wake up to chilaquiles, enjoy a spicy soup for lunch, dive into a plate of peppery ribs, and finish up with a delicious, zippy version of cowboy cookies? With Lisa Fain's recipes, anybody, anytime, anywhere can rustle up down-home Tex-Mex fare—be it for an everyday meal or a special celebration. Now I just need a Texas-sized table to hold it all!"
—David Lebovitz, author of My Paris Kitchen and The Sweet Life in Paris
"I've always admired Lisa Fain's remarkable ability to express sentiment through flavor—and with her latest book, this talent is on full display. Her beautifully photographed recipes inspired me to not only revisit some of my own family favorites (which I dressed up with the help of the salsas, jams, and pickles in her 'Accompaniments' chapter), but also introduce her family's classic flavors into my home. Hello, Frito Salad!"
—Martha Foose, author of Screen Doors and Sweet Tea and A Southerly Course
"On the heels of her best-selling debut, The Homesick Texan Cookbook, popular food blogger Fain (homesicktexan.com) offers a new collection of comfort foods with unique Texas twists. She updates traditional macaroni salad by adding cumin, chipotle chiles in adobo sauce, and homemade sorghum mustard pickles and reimagines banana pudding as a scratch-made jarred dessert with crumbled peanut butter oatmeal cookies and vanilla custard. The author claims she's cooked these recipes in her tiny New York kitchen and assures readers they can also prepare them with minimal space and equipment. VERDICT Fain enlivens popular dishes with cheese, chiles, bacon, cilantro, lime, and other bold ingredients. Highly recommended."
—Library Journal
"Tex-pat Lisa Fain knows just how to lasso Texas hearts, near or far away. In her second cookbook, every other page seems to beckon to the Lone Star soul. Just close your eyes and imagine Buttermilk Bacon Fat Flour Tortillas, Apple-Jalapeño Dutch Baby Pancake, Chipotle Ranch-Spiced Oyster Crackers, Crazy Nachos (inspired by Herrera's Mexican restaurant), and Molasses and Spiced-Pecan Ice Cream. There's even a recipe for divinity. Fain's gorgeous photography helps this cookbook, from mouthwatering food shots to the wide-angle Texas vistas that lead off each chapter."
—Dallas Morning News
A three-recipe sampler:
Frito Salad, Chorizo and Potato Breakfast Tacos, and Mexican Chocolate Cake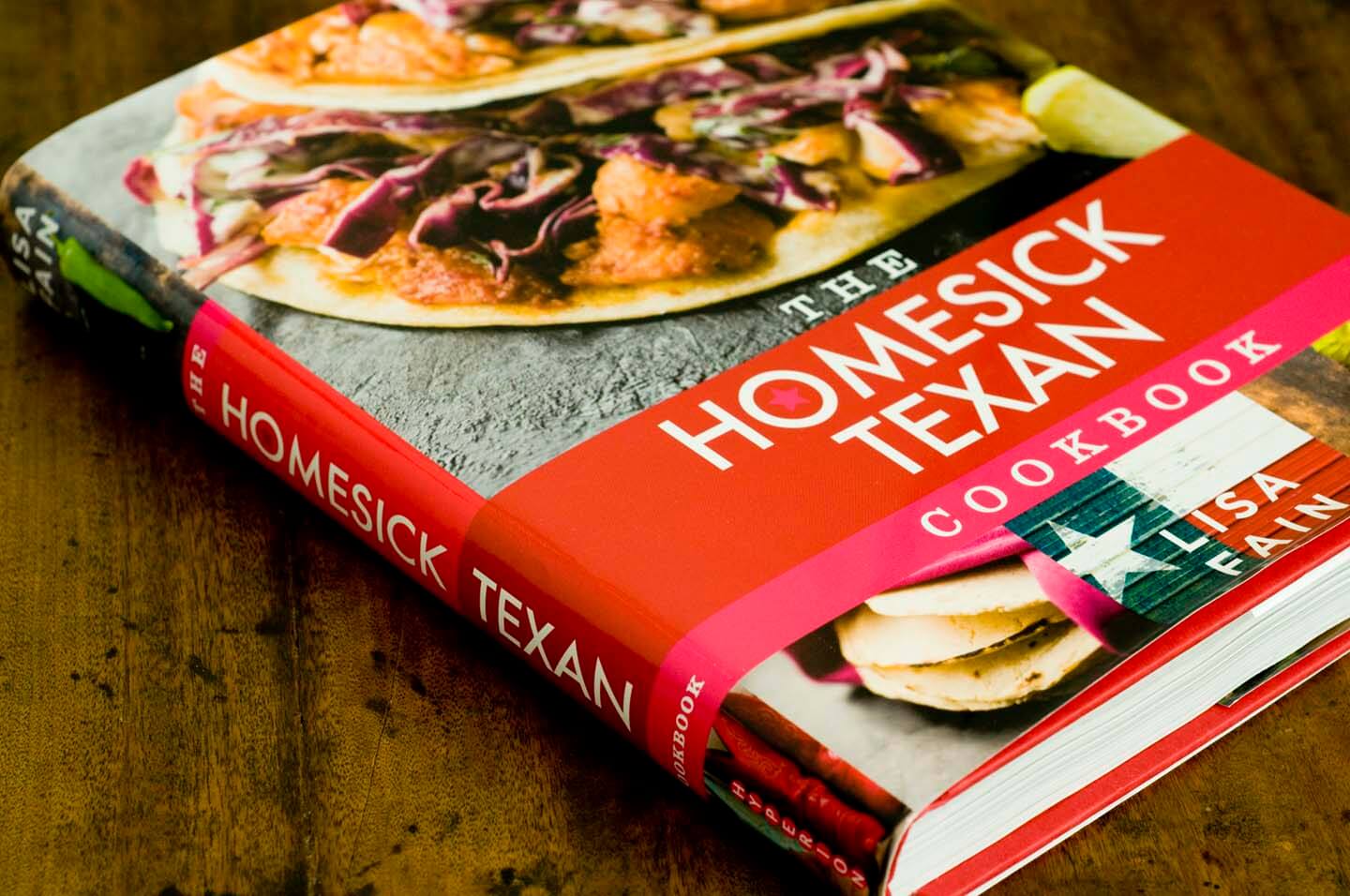 My first book The Homesick Texan Cookbook can be ordered from these fine booksellers:
Amazon
Barnes & Noble
Indiebound
Powell's
Books-a-Million
Praise for The Homesick Texan Cookbook:
Finalist for an IACP award in the American category.
Named one of 2011's notable cookbooks by The New York Times and The New York Times Book Review.
Named one of the top 10 cookbooks of 2011 by The Washington Post.
Named one of the top 10 cookbooks of 2011 by Amazon
Named one of the 10 best cookbooks of 2011 by Epicurious
"An unexpected highlight of my summer reading was a book featuring a hot and juicy threesome: jalapeño, cilantro and lime. Lisa Fain calls these the Tex-Mex trinity, which is a recurrent combination in her "Homesick Texan Cookbook" (Hyperion, $29.99), to be published on Sept. 13. This is her first cookbook and I couldn't put it down: Coffee-Chipotle Oven Brisket; Dr Pepper Ribs; Tex-Mex Meatloaf (bound with crushed tortilla chips) with a Chipotle-Tomato Glaze; Jalapeño-Mustard Roasted Chicken — just a few reasons to go on living as summer draws to a close."
–Alex Witchel, New York Times
Named one of the year's top 10 cookbooks by Details magazine. "Blogger Lisa Fain's ode to her home state lassos you in with its road-trip-style photos, family anecdotes, and Tex-Mex how-tos."
–Ian Knauer, Details
"You don't have to be a homesick Texan to appreciate Lisa Fain's evocative, unpretentious prose and her accompanying seriously delicious (and easy to make) recipes."
–Ed Levine, founder, SeriousEats.com
"Finally, the voice and the down-home Texas cooking I love on the Homesick Texan blog is now between hard covers! Lisa Fain has an original voice, and I love her food–completely accessible, honest, and delicious."
–Michael Ruhlman, author of Ratio and The Elements of Cooking
"The sometimes funny and sometimes poignant memories of this seventh-generation Texan pining for the cooking of her homeland bring The Homesick Texan Cookbook to life. Lisa Fain's move to Manhattan has given Texans everywhere a great new resource for surefire recipes and Lone Star lore."
–Robb Walsh, author of Legends of Texas Barbecue Cookbook and The Tex-Mex Cookbook
"Written with equal parts humor and tenderness, Lisa Fain's book makes it easy to imagine your kitchen lies deep in the heart of Texas. Her enticing recipes for a wealth of toothsome Texas favorites prove once and for all that nothing soothes the homesick soul like good old Texas cooking."
–Rebecca Rather, author of Pastry Queen Parties
And this is what the jacket will say:
When Lisa Fain, a seventh-generation Texan, moved to New York City, she missed the big sky, the bluebonnets in spring, Friday night football, and her family's farm. But most of all, she missed the foods she'd grown up with.
After a fruitless search for tastes of Texas in New York City, Fain took matters into her own hands. She headed into the kitchen to cook for her friends the Tex-Mex, the chili, and the country comfort dishes that reminded her of home. From cheese enchiladas drowning in chili gravy to chicken-fried steak served with cream gravy on the side, from warm bowls of chile con queso to big pots of fiery chili made without beans, Fain re-created the wonderful tastes of Texas she'd always enjoyed at potlucks, church suppers, and backyard barbecues back home.
In 2006, Fain started the blog Homesick Texan to share Texan food with fellow expatriates, and the site immediately connected with readers worldwide, Texan and non-Texan alike. Now, in her long-awaited first cookbook, Fain brings the comfort of Texan home cooking to you.
Like Texas itself, the recipes in this book are varied and diverse, all filled with Fain's signature twists. There's Salpicón, a cool shredded beef salad found along the sunny border in El Paso; Soft Cheese Tacos, a creamy plate unique to Dallas; and Houston-Style Green Salsa, an avocado and tomatillo salsa that is smooth, refreshing, and bright. There are also nibbles, such as Chipotle Pimento Cheese and Tomatillo Jalapeño Jam; sweet endings, such as Coconut Tres Leches Cake and Mexican Chocolate Chewies; and fresh takes on Texan classics, such as Coffee-Chipotle Oven Brisket, Ancho Cream Corn, and Guajillo-Chile Fish Tacos.
With more than 125 recipes, The Homesick Texan offers a true taste of the Lone Star State. So pull up a chair–everyone's welcome at the Texas table!